August 29, 2010
F1 Update!: Belgium 2010
If there's one thing you can expect at Spa, it's that the weather is unpredictable. Would the circuit in the Ardennes give us another wet race, or would the unpredictability throw up a dry circuit? THIS is your F1U! for the 2010 Grand Prix of Belgium!
*PREDICTABLE, REALLY
: When the cars pulled up to the grid, the latest weather forecast was that it was going to rain, but not for ten to fifteen minutes. Knowing that, all the heavy hitters took to the track on the soft slicks, ready to run hard and fast. A lousy start by polesitter Mark Webber let the McLarens of Lewis Hamilton and Jenson Button and the Renault of Robert Kubica blow by him, with Felipe Massa's Ferrari sitting right on his diffuser. Still, it looked like the first lap would be normal, if a little confused... until it began to rain on the downhill section of the circuit. Even with that, everybody seemed to be able to drive their vehicles through the spitting weather... until they reached the final chicane. Hamilton just couldn't get himself whoa'd up and blew the turn, which should have left the door open for Button, Kubica et al to go by.
Except
nobody
could make the turn, and it wasn't just the first five, either. It looked like the entire field blew the chicane... except for HWMNBN, who actually seemed to get his car turned into it. Then Rubens Barrichello's Williams plowed directly into the right-rear tire of the Ferrari. Rubens, front suspension turned into splinters and shards, retired on the spot. Surprisingly, HWMNBN was totally undamaged other than a flat tire and drove directly into the pit lane for a set of Intermediate tires. As the leaders came around to finish Lap 2, the carcass of the Williams had not yet been cleared so a safety car was called.
*TOTALLY PREDICTABLE
: While three or four other cars dove into the pits to switch to Inters, the leaders stayed out on their slicks. The safety car went in after one lap, and we here at F1U! braced ourselves for the inevitable pileup in La Source when the slick tires skated on the wet track. Except it never happened. The rain had totally stopped, and the track, while not exactly dry, wasn't treacherous anymore. HWMNBN ripped his Inters to shreds in a couple of laps and had to stop again, dropping to the back of the field. Such a shame. A few laps later, Vettel wrecked Jenson Button and earned himself a drive-through penalty for doing so (see the
Mooooooo-oooove Of The Race
, below).
*PREDICTABLE, REALLY
: It stayed dry until Lap 34, when it began to drizzle again. Of course, this happened seconds after Race Control sent a message to the teams saying that rain was expected in 10 minutes. Typical, really. The leaders stayed out on their slicks, hoping to get just one more lap in before it became too damp... and Lewis Hamilton, leading by nearly 15 seconds, missed a turn and went into a gravel trap. He managed to keep from getting stuck, but everybody took the hint and pitted. Somehow, HWMNBN managed to spin off track despite his full wet tires, broke his suspension and came to a stop right on the racing line. Another safety car came out, but nothing would keep Lewis Hamilton from winning the race a few laps later, bringing another exciting race at Spa-Francorchamps to an end.
*DRIVER OF THE RACE
: Slappy Schumacher loves Spa. He's won the race six times, had a seventh victory taken away from him, and has proven that he knows the place like the back of his hand. He proved it again today, dragging himself up from the depths of the grid from 21st to end up 7th. It pains us to say this, but his performance today really deserves to be given the Driver of the Race award. Ow.
*TEAM OF THE RACE
: Trying to cleanse our palate, we're going to give this one to Force India. Adrian Sutil finished fifth after a beautiful drive. His teammate Vitantonio Liuzzi claimed 11th place, but was promoted to 10th after Toro Rosso's NKOTT was hit with a 20-second time penalty for cutting the chicane while defending against Liuzzi. Last year, of course, FI got their first podium here at Spa, and while this finish wasn't quite as good, it was still an encouraging result for this "bubbling under" team.
*MOVE OF THE RACE
: We're breaking with tradition a little here today, in that we're not giving the MotR to a pass, but an avoidance! On Lap 40 with the rain coming down, Jarno Trulli lost control of his Lotus at Pouhon, perhaps the highest-speed turn on the track, with five or six others bearing down on him. Trulli's car continued to rotate down the track, but yet Vitantonio Liuzzi and Heikki Kovaleinninninnie managed to avoid him without losing control themselves, despite the wet conditions and the high closing speed!
Thus was disaster avoided, but only because of quick reflexes and high skill. Nice job, guys!
*MOOOOOOOOOOO-OOOVE OF THE RACE
: When the best drivers in the world race like cows, they earn themselves the Moooooo-ooove of the Race. It's hard to argue that Seb Vettel isn't one of the best drivers in F1, but
boy
does he do stupid stuff sometimes. Today, he was closing in on Jenson Button as they approached the final chicane. Close behind on wet pavement, he moved inside then decided to dodge to the outside with a quick flick of the wheel. Predictably, his Red Bull's tires couldn't handle the traction demands and voomph! Away he went:
Of course, you can't drive in F1 without having near-superhuman reflexes so he was already correcting his slide even as it was beginning. And then the tires got grip again.
Even though he was correcting the fishtail caused by his first correction, he couldn't gather it up a second time and was surely destined for the grass... except for one little thing.
Button's McLaren was in the way. Vettel's nose speared right into Button's left sidepod, shattering the radiator, ending his race and perhaps his championship hopes. Vettel drove right into the pits, got a new nose and continued on. For his overenthusiastic passing attempt (again), we present Seb Vettel with this Moooooo. Blech.
*SELECTED DRIVER QUOTES OF THE RACE
:
more...
Posted by: Wonderduck at 08:52 PM | Comments (4) | Add Comment
Post contains 1469 words, total size 10 kb.
August 01, 2010
F1 Update!: Hungary 2010
It was just as bad as we thought it'd be. But the winner wasn't who we expected. THIS is
your
F1U! for the 2010 Grand Prix of Hungary.
STRATEGERY
: At the start, the RB6 of Seb Vettel pulled away from HWMNBN's Ferrari at a rate of one second per lap, and there was nothing anybody could do about it... until Heikki Kovaleinninninnie's Lotus lost a wing endplate. This wound up right in the center of the track, a hazard that brought out the Safety Car. Everybody dove for the pit lane except for Vettel's teammate Mark Webber, who inherited the lead. But then Vettel decided to give his teammate a gap as the Safety Car pulled in, holding up the field while Webber tagged right behind the SC... and earned himself a drive-through penalty in the process. Still, no worries for Vettel: he was substantially faster than everybody else but his teammate, and Webber would have to pit to get off his soft tires. Except when he did his drive-through, he came out behind HWMNBN's Ferrari, and Webber made his supposedly fragile soft tires last until Lap 43 while stretching his lead out to about 25 seconds. He stopped, changed tires and came out a few seconds ahead of second place. Race over, it was only a question of how far ahead Webber would be. The answer was almost 18 seconds, with Vettel third, unable to get around the Ferrari.
BORING
: The Hungaroring has been on the F1 calendar for 25 years. This particular race seemed about that long on it's own. When the F1U! staff is fast-forwarding through coverage, it's bad. THIS is how we go into F1's summer break? Great. Thrilling, I'm sure.
*DRIVER OF THE RACE
: Mark Webber. To go 43 laps on a set of soft tires is impressive enough. To do so while turning fast lap after fast lap while opening an insurmountable lead is nearly miraculous. Yet that's exactly what the Red Bull driver accomplished on his way to becoming the season's first four-race winner. There must be some panic amongst the other teams at the moment.
*TEAM OF THE RACE
: Red Bull. First-third and they take over the lead in the Constructor's Championship and Driver's Championship? Yeah, pretty darn good. Could have...
should
have... been better, with only Vettel's stupid maneuver after the Safety Car prevented them from sweeping the top two steps of the podium. If ever a team needed the summer break...
*MOVE OF THE RACE
: Mark Webber wasn't the only one to stretch his tires; Rubens Barrichello did as well, running his hard tires for the first 60 laps. His luck on the worn rubber wasn't as good, though, and after he pitted he came out in 11th place, behind his old teammate, Slappy Schumacher. For four laps, Rubens harried Slappy until they came onto the front straight. Rubens pulled to the inside, and Slappy in his normal style decided to make it hard for him, despite his opponent being faster and on fresh tires. He began driving Rubens hard to the wall as the Brazilian pulled alongside. Barrichello's right tires got close to the concrete... very close... and then even closer than that. How close?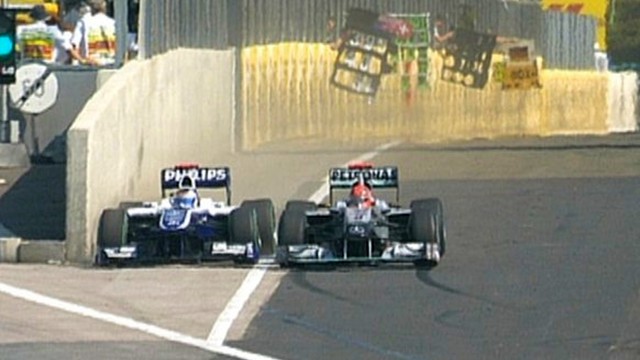 Yeah, about that close. Fortunately the wall ended before the Williams ended up grinding its starboard side down to the cockpit, and Barrichello made the pass cleanly, if angrily. He was heard on the radio demanding that Slappy be black-flagged. He wasn't, but he was given a 10 grid-spot penalty for the next race. We here at F1U think he should be flogged for such a dangerous stunt. We also think that Rubens Barrichello just won himself a Move of the Race.
*MOOOOOOOOOO-OOOVE OF THE RACE
: When the Safety Car came out, there was pandemonium in the pit lane, what with all the cars diving in to change tires. The first hint we got that something was wrong came when we got a camera shot of Adrian Sutil's Force India tangled up with Robert Kubica's Renault. And yes, Renault's lollypop man did release Kubica right into Sutil's path, but he had good reason to be distracted.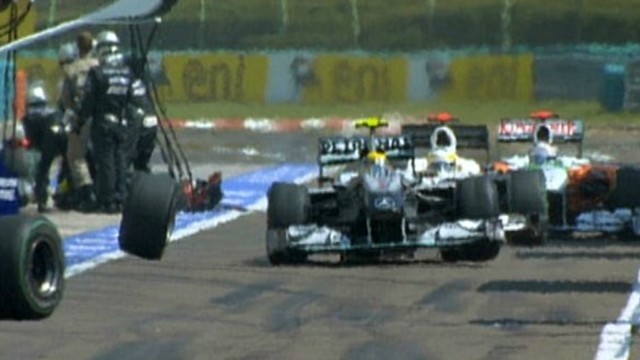 The Mercedes mechanics sent Nico Rosberg out without adequately tightening his right-rear tire, which came off at high velocity, rolled through the Sauber pitbox and into the Williams crew. At that point, it was "caught" by Nigel Hope, one of their mechanics. As Rosberg said later, "I was more worried about the (40-pound) tire than I was about Nige, one of my old Williams truck drivers. He's a big guy." Hope was taken to the medical station with bruised ribs. One Mooooooo-oove to the Mercedes guys!
*SELECTED QUOTES OF THE RACE
:
more...
Posted by: Wonderduck at 04:42 PM | Comments (5) | Add Comment
Post contains 1260 words, total size 9 kb.
37kb generated in CPU 0.0208, elapsed 0.0979 seconds.
46 queries taking 0.0834 seconds, 209 records returned.
Powered by Minx 1.1.6c-pink.