August 28, 2017
Quick 'n' DIrty F1Update!: Belgium 2017
Beautiful weather over Spa-Francopants, damn the luck. Everything was looking like it was playing directly into polesitter Lewis Hamilton's hands... if he could make it into La Source first, one could almost consider the race over. The question was, "could he"? Right along side him was the Ferrari of Seb Vettel who was out for blood, honor, and more points in the standings. And behind them were 18 ravenous beasts, screaming for better grid positions. So what happened? THIS is
your
Quick 'n Dirty F1Update! for the 2017 Grand Prix of Belgium!
*THE START, or A Sign Of Things To Come
: Hamilton did indeed make it into the first turn with the lead, but Vettel wasn't making it easy for the Brit, hanging on to his rear wing like there was a grappling hook between them. But behind them, all was not swell. While dodging an impending Renault, Sergio Perez managed to bounce his Force India tire-to-tire with his own teammate, False Esteban!... as they ran into Eau Rouge, perhaps the one place on any circuit you
don't
want to do that. Up at the front of the pack, Vettel was trying his best to get past Hamilton on the Kemmel Straight, only just barely failing to succeed. Things would be different, however in a few laps.
*THE LAST, BEST, CHANCE
: On Lap 12, Mercedes brought their leader in for new tires. As he stopped, Vettel pounded out a couple of sweet laps before he, too, came in for fresh rubber. Then came the moment he and the pitcrew had worked so hard for... he pulled out of the pits
ahead
of Hamilton's Mercedes. He stayed there, too... until the two cars reached the Kemmel Straight, at which point the Merc just out-powered the Ferrari to regain position. And that's the way it stayed for another 18 laps: Hamilton leading a Ferrari that refused to go away.
*FORCE INDIA GOES KABLOOEY
: On Lap 30, those two wacky Force India drivers, Sergio Perez and False Esteban!, were being stupid again, like they have been all season. Once again they were racing each other for position heading down from La Source to Eau Rouge where, as you may remember us saying, you don't want to do something like touch tires or anything. So when False Esteban! decided to make a move on the right-hand side of Perez, you expected one of two things to occur: either Perez would leave his teammate room, or False Esteban! would back out as he saw the space closing up. In fact, neither of these two things occurred, and the right-rear of Perez made rather impressive contact with the left-front wing of False Esteban!. A sizable chunk of the nose wing came free, flew all the way across the track, bounced off the catch fencing in front of the stands, then landed back on the circuit. Meanwhile, Perez's tire deflated as he was go up Eau Rouge and shed its carcass on the straight. Along the way, though, chunks of rubber and carbon fiber were strewn hither and yon as the Force India struggled around the track for the pits. Dangerous stuff, and he probably should have parked it for safety reasons. Because of all the debris, someone poked Berndt Maylander with a very long stick and the Safety Car was deployed.
*THE LAST LAST, BEST, CHANCE
: Both Hamilton and Vettel pitted behind the Safety Car for new tires with around 13 laps to go... and as they came out, one could not help but notice that the Mercedes was on the hardest tire compound available (the Soft rubber), while the Ferrari was on the softest (the Ultra-Softs). Here at the F1U! media center, quizzical looks were exchanged: "did we just see that?" After backing up the DVR a few times, and one time managing to restart the entire race video, we were indeed sure that we had seen what we thought we saw. The Merc was on the slowest tire, the Ferrari on the fastest... and while the Ultra-Softs would give up the ghose before the Softs, both should be expected to last until the end of the race. Advantage: Ferrari.
*TO THE END
: On the restart, Hamilton managed to keep Vettel behind, but that didn't stop the German from crawling all over the rear wing of the Mercedes. Hamilton managed to position his car perfectly in defense all lap long, forcing Vettel to regroup, try again, and try to force the Brit into a mistake. Amazingly, despite having the better tires and being at least as quick as the Merc all day, Vettel could not improve on that restart lap's efforts and finished just a bit over a second behind Hamilton. Behind them, Smiley Ricciardo proved that he has either nerves of steel or attachments of brass when he went three-wide with Mercedes' Valterri Bottas and Ferrari's Kimi Raikkonen to take third place off both drivers, then keep it, thus bringing a podium to a close.
*AFTERMATH
: False Esteban! has tweeted that his teammate was trying to kill him. Force India is, apparently, laying down team orders to prevent this from happening again... and if it does, owner Vijay Mallya has said that race suspensions are a real possibility. Ugly.
Next race is next week... when we'll be at Monza! See ya there.
Posted by: Wonderduck at 09:25 PM | No Comments | Add Comment
Post contains 894 words, total size 6 kb.
August 27, 2017
Belgian F1U! Delayed (UPDATED)
This weekend has been totally messed up from the beginning, culminating in the fiasco that was Sunday. From waking up at 11am to falling asleep during the race then getting sucked into a re-re-re-re-watch of the first
John Wick
film to taking a nap that wound up lasting four hours and just waking up, it's really just been a day where I've gotten even less accomplished than I normally do.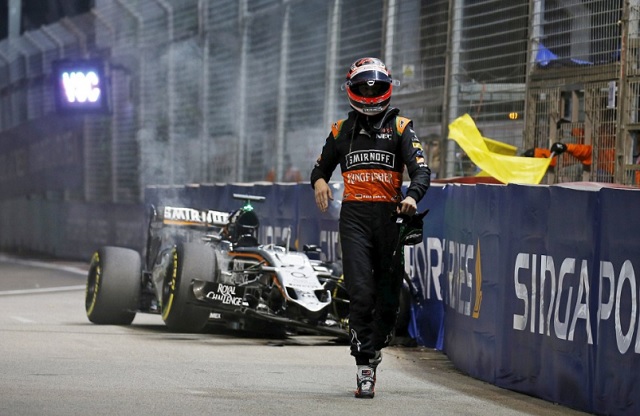 So it's 1130pm on Sunday night and there's no way I'm going to get the F1U! up tonight. Thus, instead of killing myself trying, I'm just going to throw a yellow flag and push it back a day. Sorry 'bout that, folks.
Update
: Here, while you wait, enjoy this...
I can't stop laughing.
Posted by: Wonderduck at 10:40 PM | Comments (5) | Add Comment
Post contains 127 words, total size 1 kb.
27kb generated in CPU 0.0068, elapsed 0.015 seconds.
21 queries taking 0.0095 seconds, 38 records returned.
Powered by Minx 1.1.6c-pink.