October 21, 2007
F1 UPDATE!: BRAZIL!
Never in a thousand years would we have predicted what happened at Interlagos today. Lets get right to it!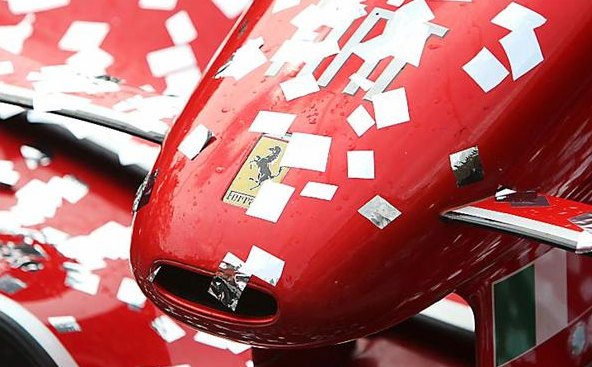 Quick, weigh that car!

*KIMI WINS THE DRIVER'S CHAMPIONSHIP:
Right from the start, it was obvious that this was going to be an...
interesting
race. Massa held off Raikkonen, and HWMNBN got past Hamilton by turn 1. And this is where the rookie made his first mistake:
he didn't need to race his teammate
. He just needed to stay close to him, and he'd win the DC. Instead, Hamilton tried to retake his position and blew the turn, tumbling down the order. Even then, things were not out of hand, and there was still an entire race to run.
Then Hamilton's car broke. The Legendary Announce Team almost immediately diagnosed the problem as the automatic clutch on the McLaren, and while he frantically tried to engage the fail-safe mechanisim that'd let him get on with the race (though at slightly reduced capability), he fell all the way back to 18th.
Meanwhile, the two Ferraris rocketed off into the distance. HWMNBN was third, but was never close to catching either of them. All that was left was figuring how Ferrari would get Kimi past Massa for the lead, and would Hamilton manage to haul himself up to fifth, in which case he'd still win the DC.
In the second round of pitstops, Ferrari brought Massa in a couple of laps early, allowing Kimi to rip off two very fast laps before HIS pitstop. When he came back out, he had gone from a few seconds behind Massa to less than a second ahead. Meanwhile, Lewis slowly dragged himself up to seventh, but it was late and he was 20 seconds behind sixth.
When the race ended, the longest of long-shots, Kimi Raikkonen, had managed to come from seven points behind in the DC to win the championship by the slimmest of margins: one point.
*UTTER DEJECTION:
There's no way that Lewis Hamilton could be feeling anything other than horrible right now. He had the championship wrapped up, and two mistakes in two races cost him the ultimate prize. In China, he beached his car in the smallest graveltrap of the season. In Brazil, he ran wide while needlessly racing his 'teammate', grinding his car over a curb, which may have caused the damage that caused his electronic clutch system to fail. In replays, pieces of his car are seen flying off; perhaps the shaking and rattling made a connection come loose. Rookie mistakes cost him the most important prize in motorsports.
*FINAL STANDINGS:
1) Kimi Raikkonen, Ferrari - 110 points
2) Lewis Hamilton, McLaren - 109 points (tiebreaker)
3) HWMNBN, McLaren - 109 points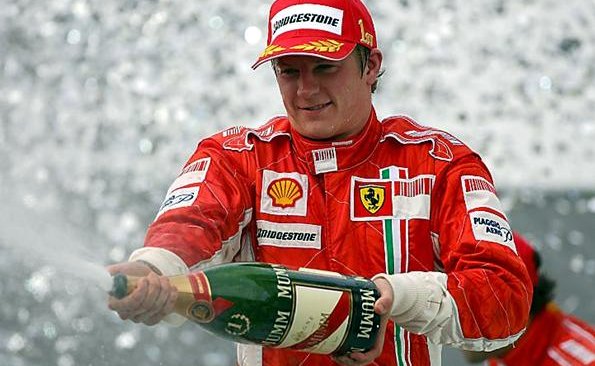 Drink! Drink! Drink!

*DRIVER OF THE RACE:
Kimi Raikkonen, Ferrari. He drove a perfect race. He won it on the track, instead of by any Ferrari chicanery. And he came from third in points to win the Driver's Championship. What more can you ask for from a driver?
*TEAM OF THE RACE:
Ferrari. 1-2 on the podium, nearly forty seconds ahead of third place, and dual championship victories, Constructor's and Driver's. Not to sound repetitive, but what more can you ask for from a team?
*MOVE OF THE RACE:
On lap 61, Nick Heidfeld is 4th, Nico Rosberg is 5th, and Robert Kubica is 6th. Rosberg makes a move inside Heidfeld, who barely moves until the last instant. Both drivers wind up losing just a little bit of grip on braking, and slide wide... and Kubica blows the doors off of
both
of them, jumping from 6th to 4th in one sweet move. Honorable Mention goes to... Robert Kubica, for his muscular pass of Mark Webber at turn 1 of lap 8.
*MOOOOOOO-OOOVE OF THE RACE:
Sometimes even the best drivers in the world have sub-optimal days, like Lewis Hamilton. Then there are those drivers who would LOVE to have a sub-optimal day, because it would make their race better. It's those wretched racers that the Mooo-oove was created for, and today, we're pleased to present the MotR to a very deserving recipient: Renault's Giancarlo Fisichella. Last year, we were amazed that Renault would willingly name Fisi their number-one driver, and he didn't disappoint; finishing with 21 points, NINE behind his teammate, the rookie Heikki Kovaleinieninnie. Ah, but today was was the true low point of his season. On lap two Fisi ran wide and rolled off-track. Not bothering to check around him, he blithely drives back onto the asphalt, right in front of the fast-moving Spyker (welllll...) of Sakon Yamamoto. The result?
How they make GP2 cars...

Owtch. Brilliantly done, Giancarlo Fisichella. Here's your Mooooooo-oove!
*DRIVER QUOTES OF THE RACE:
more...
Posted by: Wonderduck at 02:16 PM | Comments (5) | Add Comment
Post contains 1191 words, total size 9 kb.
October 07, 2007
F1 UPDATE!: SHANGHAI!
Wow. Just... wow. THIS... is F1 UPDATE!
*WHAT'S THE WORST THAT COULD HAPPEN?:
That's what Lewis Hamilton had to be thinking as he sat on the grid, waiting for the lights to go out. The McLaren has been a brick all season, never retiring due to mechanical failure. It was the fastest chassis. And he was the best driver in the field. No sweat. Even the rain wouldn't've worried him overmuch; didn't he win the GP of Japan in rain a lot worse than the drizzle falling now? When the lights went out, he rocketed away and dominated the field. His 'teammate' was pinned behind both Ferraris. He didn't even worry when the rain stopped; yeah, he was on intermediate tires, but Race Control was saying the rain would start again in a few minutes. But it didn't. The first round of pitstops was for fuel only; both McLaren and Ferrari sent their cars back out on worn tires. This is not as big a deal as you might think; when intermediates wear down, they go smooth, like slicks. Yes, if it starts to rain, they're useless, but Race Control had decided that it wouldn't rain again for a while...
more...
Posted by: Wonderduck at 08:51 PM | Comments (7) | Add Comment
Post contains 1211 words, total size 8 kb.
31kb generated in CPU 0.0137, elapsed 0.4024 seconds.
46 queries taking 0.3934 seconds, 212 records returned.
Powered by Minx 1.1.6c-pink.