July 26, 2009
F1 Update!: Hungary 2009!
We admit that we're writing this while the race is still running on FOX. The ending doesn't seem to be in doubt, and it's been a pretty dull race for the most part. THIS is
your
F1 Update! for the Hungarian Grand Prix!
*MISSING MAN FORMATION
: There was never any question but that Felipe Massa wasn't driving this race, but we were surprised to hear that Ferrari wouldn't field a second car.
*ALL BETS ARE OFF
: It's now a free-for-all for the Driver's Championship. With Seb Vettel retiring from the race and Mark Webber finishing third, suddenly Webbo is second in the points. Throw in Button finishing a weak 7th and Rubens Barrichello's customary bad getaway at the start forcing him to scramble for 10th place, and we're starting to get a little tighter in the Constructor's Championship, too. Suddenly, however, the 600lb gorilla known as McLaren have to be considered in the running for something with their runaway victory and 5th place finish. About the only thing we feel safe to call is that Farce India won't win either championship.
*DRIVER OF THE RACE
: "The car has come alive. I can win with it now." Those were the words of Lewis Hamilton back before the the German Grand Prix, and perhaps it was only because of his bump in the first turn of that race that he couldn't make them come true then. But he has now. Once he got past Mark Webber for second (see below), it was pretty clear that he was going to be running the show. Once HWMNBN removed himself from the lead for a pitstop on lap 11, it was clear sailing for Hamilton, who turned in one of his usual flawless runs from the front.
*TEAM OF THE RACE
: McLaren. 1st and 5th for a team that looked like it was more likely to be dicing with the Farce Indias for 20th at the start of the season? They're back, and they're ready to take over.
*MOVE OF THE RACE
: On lap 5, Hamilton was dueling with Mark Webber coming down the front straight, neither driver giving an inch as they rocketed towards turn 1. Webber had the middle of the track staked out, and Hamilton swung to the outside, looking like he was going to try to outbrake the Red Bull. Instead, he slowed early, cut to the inside of the Aussie, then jammed his finger down on the KERS button and flew away. Totally effortless, and there wasn't a darn thing Webber could do about it, save for wrecking both cars.
*MOOOOOO-OOOVE OF THE RACE
: In
a repeat of the 2006 Hungarian Grand Prix
, HWMNBN came into the pits for fuel and a tire change. Unfortunately, the chief engineer gave the two-time champion the okay to go before everything was finished being tightened down. The result?
For the record, a F1 car loses a lot of grip when there are tires on only three corners. Congratulations, Renault, not only do you get the MOOOotR, but
you've also been suspended for the European Grand Prix
for "allowing HWMNBN to leave the pits with a wheel not properly secured." Good jorb!
*DRIVER QUOTES OF THE RACE
:
more...
Posted by: Wonderduck at 03:52 PM | Comments (3) | Add Comment
Post contains 1009 words, total size 7 kb.
July 12, 2009
F1 Update!: Germany 2009!
What a confusing, irritating little race that was. THIS is your F1 Update! for the German Grand Prix.
*AUSSIE RULES
: He shattered his leg and arm in an off-season bicycling accident. Since the last race, he had surgery to remove some screws from his leg, though the titanium rod is still in place. It took him 130 races to get his first pole position, a F1 record for both futility and perseverance. He had gone 130 races without a victory. Until today. Mark Webber, Australian, Red Bull driver, has finally...
finally
... won a Formula 1 Grand Prix. Even a well-deserved drive-through penalty for his contact with Rubens Barrichello at the beginning of the race, a penalty that he
agreed
with, could do little to slow him down.
*BRAWN DROOLS
: After today's race, it has become obvious that the Brawns are no longer the fastest cars on track. What may very well be the case is that they may not be the second or even the
third
fastest. Toyota and Renault had faster laptimes than either Brawn, and Ferrari was on the podium. McLaren's weight-adjusted speeds in qualifying show them to have been faster than the Brawns as well. In past seasons, we've seen smaller teams, like Williams, come out like a house afire but by midseason the bigger teams have usually caught up. We may be seeing that here. For all their talent, Brawn just can't throw 200 people at a problem like Ferrari or McLaren or Toyota. We're not even sure they
have
200 people in their factory. What was looking like a runaway season suddenly looks much, much different with eight races to go.
*DRIVER OF THE RACE
: Well, gee, I wonder: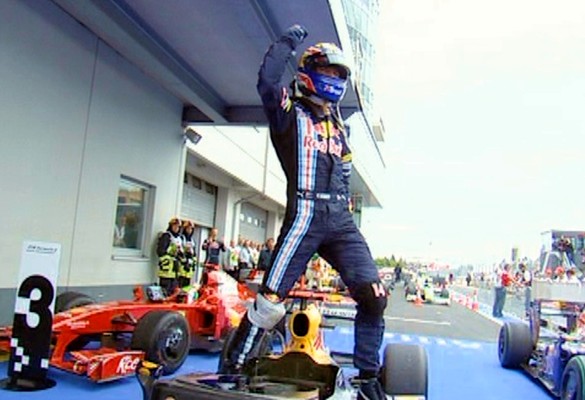 *TEAM OF THE RACE
: Their third straight one-two podium finish,
18.5
19.5 points behind in the Constructor's championship, and looking as dominant now as Brawn did at the beginning of the season, Red Bull is looking like the team to beat the rest of the way. They're also the first team this season to have both their drivers each win a race.
*MOVE OF THE RACE
: At first, we here at F1U! were pretty sure there wasn't going to be a MotR... if there was anything decent past the first lap, we didn't see it. It turns out that there was a very nice pass while our staff was in the loo. On lap 17, Jensen Button came out of the pits with fresh tires and a full load of fuel, but was behind Sebastien Buemi's Toro Rosso. Going into turn 2, he put himself on the inside of the rookie, and all the way through the turn 2-3-4 complex the two cars were side-by-side. Button had the better exit position from 4, however, and won the battle. A tidy little pass that made what turned out to be the Moooooo-ooove of the Race look even worse by example.
*MOOOOOO-OOOVE OF THE RACE
: Adrian Sutil was flying high in his Force India. After qualifying seventh, he was looking pretty good for the team's first ever points-paying finish. He swooped into the pits in eighth. Coming out with new shoes and a full tank of gas, he found himself side-by-side with Kimi Raikkonen's Ferrari. Wanting to hold his ground and not let the red car go by, he nudged himself over onto the racing line... right into the side of the Ferrari. Carbon fiber flew as the left-front endplate of his front wing was torn off, completely destroying the front end grip of the Force India. Dreams of points disappeared into the night as Sutil had to limp around for an entire lap before he could get a new nose put on, rejoining the race in 18th. Yo, Adrian! Here's your Moooooooo-ooove!
*DRIVER QUOTES OF THE RACE
:
more...
Posted by: Wonderduck at 04:27 PM | Comments (11) | Add Comment
Post contains 1183 words, total size 8 kb.
36kb generated in CPU 0.0158, elapsed 0.4958 seconds.
46 queries taking 0.4848 seconds, 214 records returned.
Powered by Minx 1.1.6c-pink.