March 24, 2013
F1 Update!: 2013 Grand Prix of Malaysia
Well, that was
different
. Going into the 2013 Grand Prix of Malayasia, all the talk was about tires and rain. The race was supposed to be run in the middle of a deluge, and both Red Bull and Mercedes had come out publicly and called for Pirelli to return to last year's tires. Heck, Red Bull even flat-out claimed that these tires were designed the way they were to specifically not work well with their car. Coming out of the 2013 Grand Prix of Malaysia, all the talk was about something entirely different.
This
is YOUR F1Update! for today's race!
*THE RACE
: Formula 1 is the pinnacle of motorsport. The best equipment, the best technology, the best drivers, the best mechanics, the best strategists, you name it, F1 is where it's at. But every now and again, the best will sometime pee their abilities right down the leg of their firesuits... a driver turns left instead of right, a team sets themselves on fire (metaphorically, it is hoped), that sort of thing. Rarely, however, it appears that everybody involved with the sport goes completely bugnutty at the same time. That's what we got today at Sepang. The weather didn't help any; as the cars made their way to the grid, rain was falling fairly heavily at some places on the circuit. Five or six cars wound up going off on the recon lap, though none of them suffered more than a broken nose. The race began with everybody on the Intermediate tires, and right away someone suffered a bit more than a broken nose.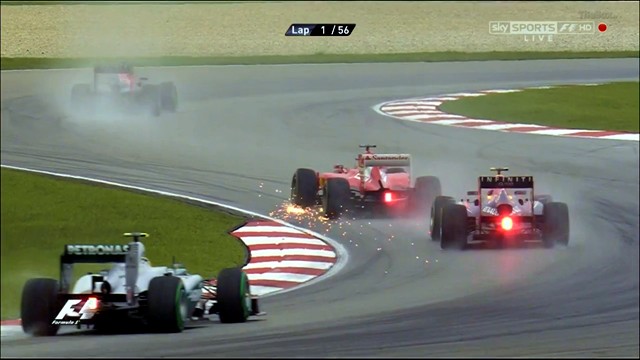 HWMNBN's Ferrari bumped into the back of Seb Vettel's Red Bull in the first turn complex, deranging his front wing drastically. However, he didn't appear to suffer any in performance, being able to keep the rest of the field (including Mark Webber, who had a great start) behind him. Still, from the sparks flying from the dragging wing, it was pretty clear that he had to pit at the end of Lap 1. According to the Legendary Announce Team's on-site reporter, Ferrari's mechanics were in the pit lane, new nose at the ready, as he came running down the long back straight... and drove right past pit-in. The team later said that they told him to stay out, hoping to get one more lap done before they changed the Spaniard onto slicks. We here at F1U! think that HWMNBN made the call on his own, and the team is covering for him. Whichever it was, it was a stupid mistake, one that every announcer on the planet was decrying the second he went past pit-in. Just a few seconds later, they were proven correct.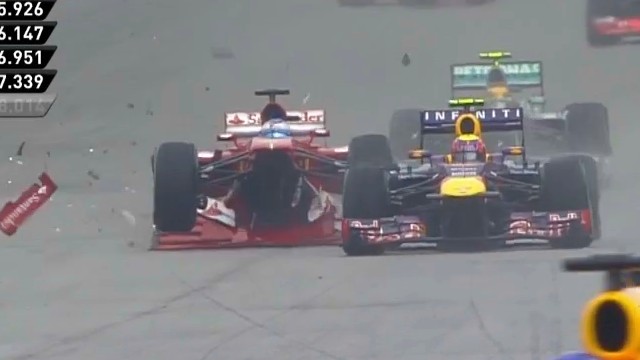 HWMNBN's wing came off, slid right under the "tea-tray" and popped his front tires off the ground right when he should have been braking for Turn 1. Once the tires ended up back on the tarmac, it was too late and he just skidded straight on into the kittylitter. Beached, he was out of the race on Lap 2. But that was merely the first of a parade of unforced errors committed by these, the best teams in motorsport.
*PITS. STAHP!!! STAAAAAHP!!!
: All the first round of pitstops needed to make everything perfect was circus calliope music and mechanics coming out in clown shoes. It all began with Shiv Hamilton, current driver for Mercedes, trying to stop at his old team McLaren's pitbox.
Then Jules Vergne, leaving his box, ran into Charles ToothPic, coming in for his first stop. During the next round of stops, around Lap 22, Force India brought Adrian Sutil in for a stop, and spent what seemed to be an hour trying to get tires off the car. It may have been a design flaw, but the team wound up retiring (pardon the pun) both Sutil and di Resta for safety reasons.
*THEN IT GOT UGLY
: On Lap 28, Seb Vettel was on the hard tires, and behind his teammate Mark Webber, on the mediums. Vettel began to bitch over the radio that Webber was too slow and the team tell the Aussie to let him past. As he was saying this, Webber was in the process of turning the fast lap of the race up to that point. By Lap 40, the race had settled down: Webber led Vettel, then there was a decent gap back to Shiv Hamilton, who led his teammate Nico Rosberg. Thanks to some blisteringly fast pit-in laps, Vettel managed to finish his final pitstop and come out right on Webber's tail. The two began to duel for the lead while Team Principle Christian Horner began to chastise Vettel: "Come on, Seb, this is silly." Red Bull has standing orders: after the final pit-stop, their positions are locked: the driver behind at the last stop must stay behind the leader. Both drivers had been given orders to turn down their engine power as well, better to preserve them for later races. Except Vettel decided to ignore
both
instructions. Meanwhile, down at Mercedes, Rosberg had been talking to his pit lane, pleading that he could pass Shiv Hamilton. THEIR Team Principle, Ross Brawn, had to get involved and explain that Hamilton had been instructed to drive to a time, protecting tires. The difference is, Rosberg and Hamilton obeyed their boss. Vettel, knowing that his teammate had turned his engine power down, decided to blow off team orders. He passed Mark Webber, though not without some effort, and rocketed away into the distance. Webber's firmly extended middle digit let us know his opinion.

*THEN IT GOT UGLIER
: The race ended with Vettel leading Webber, then Hamilton ahead of Rosberg. There was much symbolism involved in the way the Red Bull drivers crossed the finish line: Vettel swerved close to the inside wall, where the mechanics were gathered. Webber, on the other hand, took the checkered flag as far on the other side of the track as it was possible to go, clearly signifying his distaste of the goings-on. Hamilton and Rosberg crossed nose-to-tail, both close to the wall. Then, in Parc Ferme, Webber parked his car first and was nowhere to be seen when Vettel finally pulled in; instead of waiting for his teammate, he just went into the "green room." By contrast, Shiv Hamilton waited to speak to Rosberg before going up to the podium. In the green room, the tension between the Red Bull teammates was obvious, and it got worse during the podium celebration and post-race interview. When it came time to spray the champagne, Webber immediately moved very far away from Vettel, who went in the other direction, with Hamilton. Neither congratulated the other, neither even looked at each other. Then, during the interviews, the less than pleased Webber ended his statement with "...and in the end, Seb made his own decisions today, and will have protection as usual, and that's the way it goes." Meanwhile, Hamilton said in his interview segment that "to be truthful, Nico (Rosberg) should probably be up here instead of me." There's clearly going to be some rather heated discussions in a couple of teams between now and the next race in China.
*DRIVER OF THE RACE
: Felipe Massa. He finished fifth, kept his car clean, and showed what he can do when his teammate isn't in his way. A solid performance for a driver resurrecting his career.
*TEAM OF THE RACE
: Lotus. The first team to get both cars across the line without their drivers wanting to kill each other.
*MOVE OF THE RACE
: Vettel's pass on Webber towards the end of the race was pretty nice. Other than being done against team orders, against a teammate with a purposely-slowed engine, that is.
*MOOOOOO-OOOOVE OF THE RACE
: HWMNBN's decision to blow off the team and keep going on a broken front wing on Lap 1. OR Ferrari's decision to keep HWMNBN out with a broken front wing, whichever way you think it went. Just dumb.
*SELECTED DRIVER QUOTES OF THE RACE
:
more...
Posted by: Wonderduck at 08:40 PM | Comments (5) | Add Comment
Post contains 1521 words, total size 10 kb.
March 17, 2013
F1 Update!: 2013 Grand Prix of Australia
Hello, greetings and welcome to the new format of
F1 Update!
, the venerable (
not
vulnerable) flagship of The Pond. In the past, F1U! has evolved from a simple e-mail to a light-hearted romp to a much more formal, almost regimented, review of each race. Today, we here at F1U! are going to take it away from that style to a more conversational tone. There are undoubtedly going to be people who won't care for this change, but we're doing it because, to be blunt, it takes too much time to do it the more formal way. When the race is two hours and the F1U! takes four, there's something wrong, and this new style aims to fix it! So let's get to updatin'!
*FIRST RACE
: The most exciting part of any F1 season isn't the end, but the beginning. Nobody has the faintest idea about which teams are good, which need help, who the surprises are going to be, and perhaps most importantly, how the tires are
really
going to last. Offseason testing is one thing, practice sessions give you clues, but it isn't until the lights go out, you've got 300 pounds of fuel on board and a Lotus trying to get past you that you know how things are going to work out. When today's race began under cloudy skies but on a dry track, the front-row Red Bulls started exactly the way we expected them to. To whit, polesitter Seb Vettel galloped away and began to gap the field, and second-place Mark Webber had one of his patented Lousy Starts
©
, dropping from his starting position to seventh in a heartbeat. It looked very much like
a repeat of Australia 2011
was in the offing, but once Vettel got out to a two-second lead, it stopped there and began to shrink. Behind him, the Ferraris of Felipe Massa and HWMNBN, followed by the Lotus of Kimi Raikkonen, kept in touch and forced him to run hard.
*TIRE WAR
: One of the things you can't be sure of during the offseason is how the tires will last. Yes, everybody knows the super-softs won't last as long as the mediums, but they'll be faster, yadda yadda. What's important is
exactly
how long they'll go, and with the top 10 qualifiers on the super-softs to start the race, it was hardly a theoretical question. Answers came quickly: Vettel pitted on Lap 7, and everybody in the top 10 had stopped by Lap 12... the two Mercedes, coming in last, were coughing up a full second a lap to the fresher medium-shod cars. Once everybody stopped, we had a surprising leader: Force India's Adrian
F'n
Sutil. He had qualified 12th and thereby got to start on the tires of his choice, the longer-lived mediums.

*WAIT, WHAT?
: It quickly became quite obvious that Sutil wasn't a fluke. He made his mediums last some 20 laps, long enough that HWMNBN actually made a (strategic) second stop before Sutil made his first. The race clearly was going to be one of tire maintenance: he who made the fewest stops and could keep pace in worn tires was going to win. Sutil's Force India clearly was gentle on its tires, but the Lotus of Raikkonen was, too... and was a faster car, to boot. It was quickly clear that Force India's strategy was to hope for rain, not a bad plan this weekend, all things being equal. If it came before they had to stop for the mandatory super-soft tires, the team would win their first ever race... and the forecast was changing every minute and from team to team.
*AW DRAT
: Unfortunately, all of Force India's prayers to Indra went unanswered, and Sutil wound up having to stop for super-soft tires. These proved to be even worse than they had been earlier, giving him two good laps before they went to heck. He wound up falling all the way to 7th, and only a questionable team call kept his teammate, Paul di Resta, from passing him.
*UP FRONT
: While every eye was turned to the excitement of Sutil's story, Kimi Raikkonen's tire care had put him firmly in front, leading HWMNBN and Vettel. In fact, once the Finn drove past Sutil for the lead, it was clear that the win was going to be his, and that's the way it worked out. In fact, it wasn't even close: Kimi finished 12 seconds ahead of HWMNBN, who was 10 seconds clear of Vettel, who was 11 seconds up on Felipe Massa.
*WHAT DID WE LEARN?
: Having good pace in practice and qualifying means nothing when it comes to the long distances of the race. Being easy on your tires is better than one-lap pace. And that McLaren is in serious, serious trouble: they finished 9th and 11th, and never once looked good. There's even rumors of them switching back to last year's chassis.
*DRIVER OF THE RACE
: Adrian
F'n
Sutil. His first race back after being out of the sport in 2012 turned out to be pretty decent. If a rain shower had come by around lap 35, the race would have been his... and the sky looked like it could have happened at any minute.
*TEAM OF THE RACE
: Ferrari. HWMNBN's second place is hardly a surprise. Felipe Massa's fourth-place finish at a track he hates probably
has to be
counted as a surprise. They've got a nice jump on the constructor's championship already.
*MOVE OF THE RACE
: On Lap 32, Ferrari's HWMNBN was going to pass the Mercedes of Shiv Hamilton. It wasn't a question of "if", but when and that's all there was to it. Didn't mean that Shiv was going to make it easy for the Spaniard, however. When the Ferrari made its move, Hamilton held off on braking for as long as possible... and maybe a little longer. When he did finally step on the clampers, he immediately locked up his front-left tire and had zero ability to steer.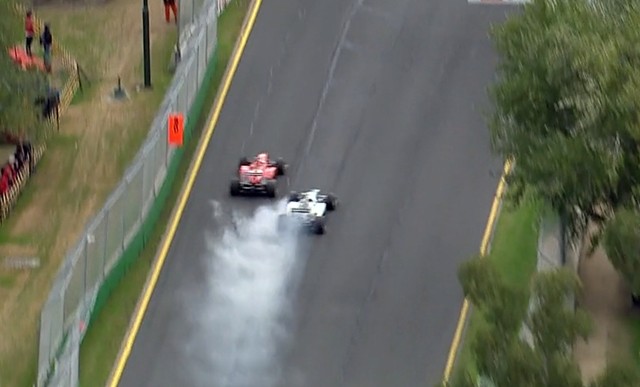 HWMNBN, who was past the Merc driver and just about to begin the turn, saw what was going on next to him (though with a smoke trail that long, it'd be hard to miss) and decided that he didn't need to turn right then... it could wait. While this let Hamilton keep the place for a few more seconds, it did keep the Merc out of the Ferrari sidepods. For that quick reaction, HWMNBN gets the Move of the Race.
*MOOOOOOO-OOOVE OF THE RACE
: A remarkably clean race today, with really only one bit of poor driving. On Lap 25, Papabile Maldonado was heading down to Turn 1 and did what hundreds of drivers had done before him: he moved as far outside as possible to get the best angle into the turn. And then the Williams driver went a few inches too far, his left side tires leaving the pavement and hitting the grass. The result was preordained.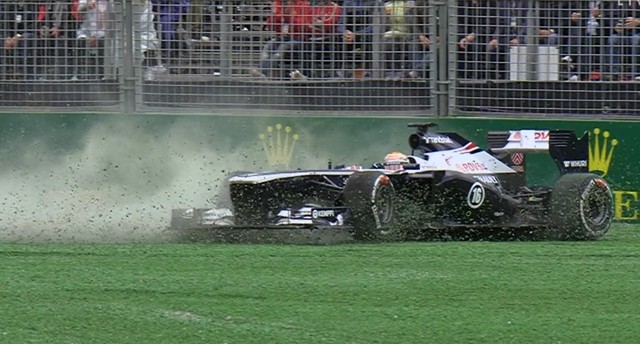 He was out of the race on the spot, the only car to be eliminated via a method other than technical fault. Here ya go, Maldonado: have a Moooooo-ooove!
*SELECTED DRIVERS QUOTES OF THE RACE
:
more...
Posted by: Wonderduck at 08:02 PM | Comments (4) | Add Comment
Post contains 1339 words, total size 9 kb.
40kb generated in CPU 0.1074, elapsed 13.351 seconds.
46 queries taking 13.3386 seconds, 209 records returned.
Powered by Minx 1.1.6c-pink.