October 27, 2013
F1 Update!: Inda 2013
There was not a cloud in the sky when the Thundering Herd formed up on the grid for today's race in Upper Noida. There didn't need to be, as the sky was invisible from all the smog. No matter, race time approached, and polesitter Hannibal Vettel had a chance to join the F1 Immortals. Would he manage the feat of winning four consecutive driver's championships, or would Ferrari's HWMNBN manage to extend the fight for another race? THIS is
your
F1 Update! for the 2013 Grand Prix of India!
*NOPE
: The lights went out, releasing the straining field towards the first turn like a quarrel from a crossbow. For Vettel, on soft tires and with nobody in front of him, this was no problem. HWMNBN though, on medium rubber and mired in 8th place, was about to discover why the midfield is often called the "carbon fiber zone." He lost one of the endplates of his front wing on Mark Webber's rear tire in Turn 1, then suffered a big impact with Jenson Button in Turn 4. Thus ended any chance the Spaniard of extending the championship chase as he was forced to pit for a new nose, emerging buried in 20th and never to be heard from again. He would finish the race in 11th, out of the points.
*THE REST
: With the question of whether Vettel would be crowned Champion out of the way early, it merely became a question of whether he would win the race, too. By the end of the first lap, he was almost three seconds in front of the Mercedes boys and his strategy had become clear: run as hard as he could for as long as he could on the soft tires, then switch to the mediums and let everybody else pit to regain places. After turning what were, essentially, two qualifying laps, he had nearly five seconds in hand. What WAS surprising is that he stopped immediately after. He emerged in 15th and immediately began his cruise to the front. And it
was
a cruise, too: very few of the drivers ahead of him bothered to put in even a token effort to keep him behind. Why bother, when he would have the benefit of DRS eventually? By Lap 10, he was in 5th place. By Lap 29, he was back in the lead, though he would pit a couple of laps later. This mattered not, as everybody around him pitted slightly earlier and he would regain the lead by Lap 35.
*CHALLENGE OVER
: There was only one car showing any signs of being able to duel with Vettel today, and that was the RB9 of Mark Webber, Vettel's erstwhile teammate. While it was questionable as to whether or not he could have caught the leader, if there was anybody in the field willing to give it a shot, it'd be the Aussie. After all, he's retiring after the season, and it's not like the two of them are exactly friends. Even
that
went the way of Vettel, when Webber's gearbox began to malfunction. Moments later, he was told to park the car with a failing alternator. While it's not clear if Vettel had the same malfunction, the team DID tell their young champion to stop using KERS and even his drinks button, all the better to relieve strain on his alternator.
*THE END
: A few laps later, Vettel swept across the finish line, almost 30 seconds ahead of second place Nico Rosberg in what might have been the single most dominating race the combination of Red Bull strategists and Red Bull driver had put together. Flat-out amazing. Not only was it his third straight win at India, and not only did it clinch his fourth consecutive driver's championship, but it also clinched the Constructor's Championship for the team as well. Possibly even more amazing is that this is Adrian Newey's
10th
constructor's championship as a car designer. There's rumors that Newey plans to retire after 2014, to take up the challenge of
America's Cup
boat design. We here at F1U! hope that happens; Newey is so good at his job that his abiltiy completely unbalances the championship. But it takes a good driver to get the most out of the car, and that's what Red Bull has in Sebastian Vettel, four-time World Driver's Champion. The donuts Vettel performed on the front straight after winning cost him a reprimand and €25000, but we think it was worth it.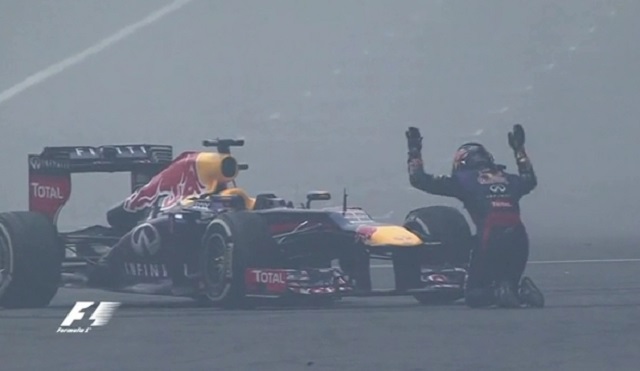 Next weekend, they race in Abu Dhabi. See you then, see you there!
Oh, and here's McLaren's
Tooned
, Ep06.
Posted by: Wonderduck at 08:35 PM | Comments (7) | Add Comment
Post contains 770 words, total size 5 kb.
1
Good on Vettel - he did it the hard way. Best driver on the track in the best car on the track...
Grosjean had a notable day too, 17th to 3rd and he didn't have the advantage of a Newey-beast. That's just damned good driving, would have made him the talk of the track on any other day.
Exactly how much of a strain is the drinks button? O_o; What, did the telemetry show that Seb was being too cool and needed a higher heart-rate or something?
Posted by: Avatar_exADV at October 28, 2013 01:31 PM (pWQz4)
2
When I saw that Vettel had won it, I began to wonder if it meant the last three races would be half-hearted. But I think not: even though Red Bull also won the constructor's championship, the rest of the places are still open to dispute, and where a team lands on that list controls how much prize money they get, doesn't it?
So even though the drivers as such have nothing left to be concerned about, the teams still do. And even though Vettel will probably win all the remaining races, second place is still important.
I hope.
(Red Bull has nothing to lose by going all out for the last three races. Nothing to conserve, nothing on the line, and I expect them to really put on a show.)
Posted by: Steven Den Beste at October 28, 2013 04:46 PM (+rSRq)
3
Hakkinen is next? But... We already had him an episode.
Posted by: Author at October 28, 2013 05:13 PM (RqRa5)
4
Is it just me or is this season of Tooned a lot less fun than the last one? I'm not even curious enough to watch this episode.
What was coolest about the first season is that it was mainly about Hamilton and Webber. This time, though, Webber and Perez may as well not even be there.
Posted by: Steven Den Beste at October 28, 2013 06:55 PM (+rSRq)
5
No, you're not wrong, Steven. It's trying to tell the history of McLaren's drivers champions, and it's just not as funny. And it was Hamilton and Button.
Actually, I'd like to see
Tooned
with Hamilton and Webber...
Posted by: Wonderduck at October 28, 2013 07:27 PM (GE6XS)
6
If I were McLaren, I'd want to spend the rest of the year going over past glories rather than reflecting on their poor present performance...
Posted by: Avatar_exADV at October 28, 2013 09:51 PM (pWQz4)
7
"Red Bull has nothing to lose by going all out for the last three races."
Except for being called bullies, which is apparently
all the rage
these days.
Posted by: RickC at October 28, 2013 10:25 PM (swpgw)
Comments are disabled. Post is locked.
26kb generated in CPU 0.0121, elapsed 0.1038 seconds.
47 queries taking 0.0961 seconds, 207 records returned.
Powered by Minx 1.1.6c-pink.