March 23, 2008
F1 UPDATE!: MALAYSIA 2008
Will Ferrari bring itself back from the disappointment of Australia? Will McLaren charge off into the distance and take a commanding lead in the dual championships? Will BMW consolidate their gains? Will we stop asking questions and get on with it? THIS is the F1 UPDATE! for the Grand Prix of Malaysia!
*

WHOOPS...
:
This might be getting ugly, and it couldn't happen to a nicer bunch of guys than Ferrari.
Those were the words of the owner of this website after Friday practice. Whoops. Kimi Raikkonen won by 22 seconds over 2nd place finisher Robert Kubica, and was over 70 seconds ahead of 8th place HWMNBN. The only dark spot on Ferrari's day was Felipe Massa burying himself in the kittylitter, costing the team a 1-2 finish. Since we can't sack the owner of this blog, we'll just point at him and jeer instead.
*

TARNISHING?
: We're starting to see signs that Lewis Hamilton may not be the greatest thing since rye bread. He appeared to be uncommonly hard on his front tires and brakes today, and that might have added to his day's troubles. In the last 15 laps of the race, he wasn't quite able to close up on Jarno Trulli's Toyota enough to mount a serious charge, and while some of that might be due to the improvement of the Toyota chassis itself, a good portion has to be laid at Hamilton's feet. We here at F1 UPDATE! believe that, perhaps, he's not as good as running in traffic as he is up towards the front. Understandable, since he rarely has to do so. We'd still take him...
*

DRIVER OF THE RACE
: Robert Kubica, BMW. Kimi Raikonnen won handily, but probably would have finished behind Massa had Felipe not decided to beach himself. Kubica, on the other hand, actually had to drive hard for his position, and was flawless with the lurking McLaren of Koveleinninnine just a few seconds back. Kimi, on the other hand, could have gone over to Kuala Lumpur International Airport, hopped a quick flight to Finland, had a drink or two, flown back to KLIA, picked up something in the duty-free shop, gotten back in his car, and resumed the race and
still
have a couple of seconds lead. Gotta go with Kubica this week.
*

TEAM OF THE RACE
: BMW-Sauber. They scored two podiums in a row for the first time ever, they put Kubica on the 2nd step of said podium, and Grizzly Nick Heidfeld had fast lap of the race. If that's not an indication that this team is for real, nothing is. They're still not up to Ferrari/McLaren levels yet, but they're closer now than they ever were before.
*
MOVE OF THE RACE
: Since we refuse to give a MOTR to anything that happens on the first lap of a race, we can't give it to Lewis Hamilton's breathtaking manuever at the turn 1, lap 1, where he started outside of HWMNBN, then dove underneath, passing the Renault AND Trulli AND Heidfeld, all in one go. No, instead, we're giving the MOTR to Heidfeld and HWMNBN for their sequence on lap 4. Both were behind David Coulthard's Chin on the short straight, and coming on strong. Heidfeld went right of The Chin, HWMNBN went left, and we had three-wide racing for a bit.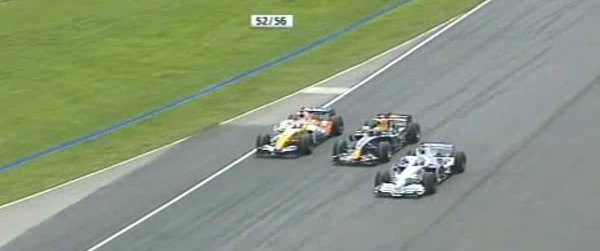 The Chin was probably apoplectic as Heidfeld went by, as he did a fine job of slamming the door on HWMNBN going into the turn. The Renault driver simply kept his foot in, and over the course of the next two turns and a short chute, got round the Red Bull. A gem of driving prowess from both Heidfeld and HWMNBN, though in different ways.
*

MOOOOOO-OOOVE OF THE RACE
: They can't all be gems, and the Mooooo-ooove celebrates the cow-like waddling that all F1 drivers display at one time or another. This race, the prize goes to Felipe Massa, who threw away a sure podium and a possible win simply by letting his rear-end pass his front-end on lap 31, turn 8. At the time, he was only a couple of seconds behind Kimi, but 20 seconds clear of Kubica. Even a simple spin would have been recoverable, but Massa went the extra mile by sliding offtrack, rolling backwards on the asphalt runoff area for a few lengths, then finding a big enough pile of gravel to high-center himself. He then proceeded to dig himself in for a few seconds.
Nicely done, lad... guess that lack of traction controll is a b*tch, huh?
*

DRIVER QUOTES OF THE RACE
:
"mmmbrblb mrlbrblblr." - Kimi Raikkonen (
note: when asked about taking a blast of champagne to the eyes on the podium, he answered 'Yeah we should put it in the mouth, not the eye. Things go wrong sometimes.'
)
"I'm the oldest looking 23-year old you'll ever see." - Robert Kubica
"Lewis who?" - Heikki Kovaleinninninnie
"Screw that 'engineer' crap." - Jarno Trulli
"Step 1: get off the darn racing line after Q3 is over. Step 2: make sure pitstops don't take 19 seconds. Step 3: remember that I'm rich and could go home with any grid girl I want." - Lewis Hamilton
"Fast lap of the race and as fast as the McLarens over a long stretch? Tell me how I ended up sixth, again?" - Grizzly Nick Heidfeld
"Why couldn't we have done this in Australia? Maybe the papers there would leave off me then..." - Mark Webber (
note: who's apparently taken a beating over his first-lap exit from his home country's press. Wouldn't it be nice to have press coverage of F1 here in the States? Who do we have to talk to to make that happen?
)
"Three years ago, I won a Driver's Championship. Two years ago, I won another Driver's Championship. Last year, I almost won a Driver's Championship. Today, I was happy to earn a single point. I hear Ferrari's going to be looking for a driver next year..." - HWMNBN
"
BMWs to the left of me / Renaults to the right / here I am, stuck in the middle with you
" - David Coulthard's Chin
"Tenth ain't so bad, right? Hey, waitaminnit..." - Jenson Button
"I am happy to have finished the race today as that was my first objective after the race in Melbourne." - Nelson (Don't Call Me Junior) Piquet (
note: real quote. Way to set your sights high, Junior...
)
"Renault once thought I could anchor a team. They were right, but the team was Farce India." - Giancarlo Fisichella
"D*MMIT! Last week I was DQ'd for leaving the pits under a redlight. This week, they say I was speeding in the pitlane. Can I run the entire race without making a pitstop? Beer." - Rubens Barrichello
"Wow, here's a surprise: Timo Glock ran into me." - Nico Rosberg
"I have nothing to say that is either relevant or true." - Ant Davidson
"Me too." - Takuma Sato
"I didn't run into another car or run over my pitcrew. I therefore consider this race a success, and my father won't berate me." - Kaz Nakajima (
note: Nakajima's father,
Satoru Nakajima
, drove for Lotus and Tyrell in the late '80s/early '90s. After Australia, he reportedly chewed his son out for his
buttsecks
ramming
colliding with the rear of Kubica's car during the race, then grudgingly gave him credit for the point he earned
)
"Fire. FIRE. FIRE!!! AIEEEEEEEE!!!" - Sebastian Vettel
"*angry stare*" - Felipe Massa
"Soon, I intend to make it to the first round of pitstops. It will be good to give the crew a chance to practice." - Adrian Sutil
"Someone hit me and broke my suspension. I didn't know that could happen to a non-Red Bull car..." - Timo Glock
"Formula 1 is hard." - SeaBass
Now we get two weeks off before the Circus hits Bahrain... tune in next time for all your F1 needs, right here at F1 UPDATE!
Posted by: Wonderduck at 07:06 PM | Comments (6) | Add Comment
Post contains 1324 words, total size 9 kb.
Posted by: Will at March 23, 2008 11:55 PM (ZhN+Z)
Posted by: Wonderduck at March 24, 2008 12:36 AM (UdB9M)
Posted by: Mallory at March 24, 2008 11:22 AM (YwBI6)
Posted by: Steven Den Beste at March 24, 2008 04:37 PM (+rSRq)
Posted by: buttons at March 24, 2008 11:01 PM (XAGhq)
Posted by: Wonderduck at March 25, 2008 08:26 AM (DcSb+)
Comments are disabled. Post is locked.
32kb generated in CPU 0.0145, elapsed 0.4304 seconds.
47 queries taking 0.4202 seconds, 282 records returned.
Powered by Minx 1.1.6c-pink.