June 06, 2015
F1 Quals: Canada 2015
Having loaded myself up on buttermilk pancakes from
Scandahoovia Inn
(warning:
swedish
pancakes have been known to instantly clog arteries. Fortunately, lingonberries have restorative properties equaled only by a high-level cleric's healing spells... and it goes with just about everything!) and conversation with the folks, I returned to Pond Central to watch myself some Qualifying for the 2015 Grand Prix of Canada. So how'd it turn out? Here's the provisional grid:
Pos.
Driver
Team
Q1
Q2
Q3

1

Lewis

Hamilton

Mercedes

1:15.895

1:14.661

1:14.393

2

Nico

Rosberg

Mercedes

1:15.893

1:14.673

1:14.702

3

Kimi

Räikkönen

Ferrari

1:16.259

1:15.348

1:15.014

4

Valtteri

Bottas

Williams

1:16.552

1:15.506

1:15.102

5

Lettuce

Grosjean

Lotus

1:15.833

1:15.187

1:15.194

6

Pastor

Maldonado

Lotus

1:16.098

1:15.622

1:15.329

7

Nico

Hulkenberg

Force India

1:16.186

1:15.706

1:15.614

8

Kid

Kvyat

Red Bull

1:16.415

1:15.891

1:16.079

9

Daniel

Ricciardo

Red Bull

1:16.410

1:16.006

1:16.114

10

Sergio

Perez

Force India

1:16.827

1:15.974

1:16.336

11

Carlos

Sainz

Toro Rosso

1:16.611

1:16.042

12

Embryo

Verstappen

Toro Rosso

1:16.361

1:16.245

13

Sony

Ericsson

Sauber

1:16.796

1:16.262

14

;">

HWIOSCTBNA

McLaren

1:17.012

1:16.276

15

Felipe

not Massa Nasr

Sauber

1:16.968

1:16.620

16

Sebastian

Vettel

Ferrari

1:17.344

17

Felipe

not Nasr Massa

Williams

1:17.886

18

Roberto

Merhi

Marussia

1:19.133

19

Will

Stevens

Marussia

1:19.157
Sharp-eyed readers will note that Jenson Button's McLaren is conspicuous by his absence. He had a major failure in part of his power unit during Practice 3 and the team couldn't get it repaired in time. He'll be starting towards the back of the grid. Seb Vettel, who had a power unit problem of his own, has been penalized five spots for passing under a red flag in P3, and thus will be starting halfway through the Hairpin. Meanwhile, Embryo Verstappen received
two
penalties: five grid spots for causing the wreck towards the end of the race at Monaco, and a whopping ten spots for using his fifth engine of the year. He'll be starting somewhere near
Channel-Port aux Basques
, where he's likely to have a slow getaway considering he'll need to take a ferry to the mainland when the lights go out. Fortunately, the MV Leif
Ericson
(no relation to the Sauber driver) makes a good 18kts so it's only a seven hour trip to North Sydney, Nova Scotia. From there, it's 14 hours by passenger car to Toronto. He has his work cut out for him if he wants points.
Up at the top of the grid, nothing's changed. Oh, there was some thought that Nico Rosberg might possibly take pole over Lewis Hamilton, but it didn't happen... even Rosberg said his last try was a "rubbish way to end the session." With Vettel not making it out of Q1, Ferrari's Kimi Raikkonen felt free to stretch his legs, and it earned him his best starting position of the season. He should try that more often. The two Lotii of Lettuce Grosjean and Pastor Maldonado nearly came to grief in Q3 when both of them were released from their pit stalls simultaneously and wound up running side-by-side down the pit lane... I'm surprised there wasn't a penalty somewhere for unsafe release for that.
Otherwise, everything was pretty normal going. The race is tomorrow on NBC... the big network, kids! Break out those rabbit ears and pull the 12" b&w out of storage, it's race time! We'll see ya afterwards for F1U!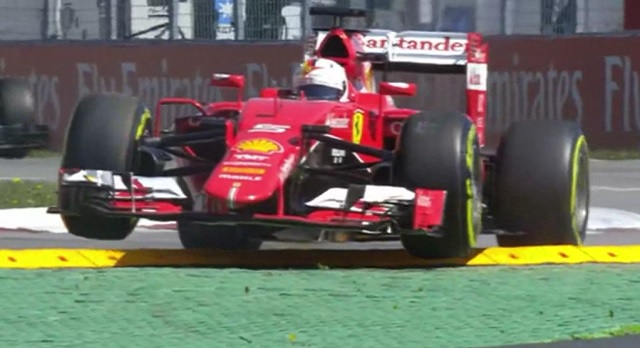 Posted by: Wonderduck at 04:16 PM | No Comments | Add Comment
Post contains 563 words, total size 14 kb.
37kb generated in CPU 0.0243, elapsed 0.1021 seconds.
47 queries taking 0.0862 seconds, 277 records returned.
Powered by Minx 1.1.6c-pink.