May 08, 2009
F1 Practice: Spain 2009!
So, the Legendary Announce Team assures us that there have been upgrades aplenty to the various cars, but there was only one that was truly visible. The good burghers at BMW have decided that their nose was the cause of all their problems, so they decided to do something about it.
First, the "old" nose style: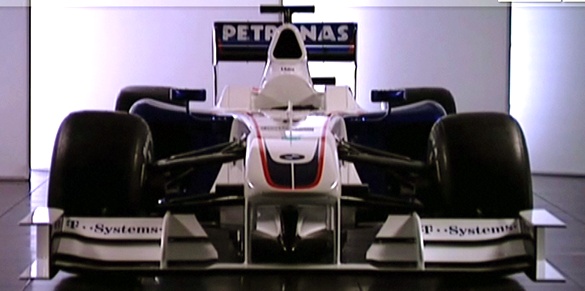 ...and now, the new nose style: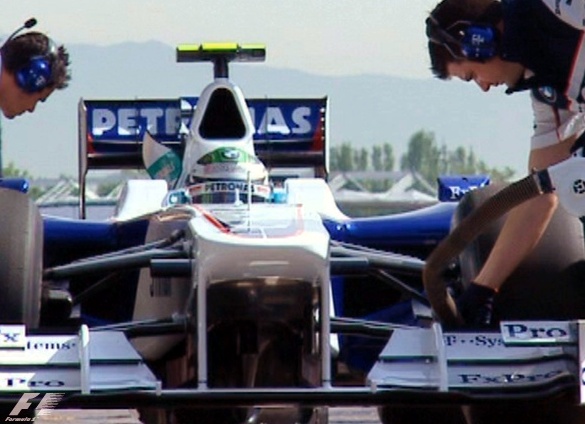 Higher and flatter, will this be the difference between backmarker and front row?
Well, in a word, "no." The BMWs were 16th and 17th in today's second practice, and that's out of 19 (Adrian Sutil never made it on-track, due to a fuel system issue that forced the team to disassemble his car from the air scoop back).
Other than that, Ferrari has brought out a whole new chassis, reportedly 12-15kg lighter than the "old" body. As tech guru Steve Matchett pointed out, supposedly the Ferrari engineers had designed the F60 to be as light as possible to begin with, which means that they must have started to whittle away at the base structure of the chassis. That means the body
must
be weaker than it was, carbon fibre notwithstanding. This could lead to the chassis body flexing in the turns under g-loading. This is not optimum.
Unless, of course, the team's designers overengineered the thing, in which case their slow pace is self-inflicted. Raikkonen, driving the new F60b, ended up 10th. Massa, in the "old" F60a, wound up 15th, almost a third of a second behind his teammate.
Quals tomorrow... and who knows what tomorrow'll bring?
Posted by: Wonderduck at 07:39 PM | Comments (2) | Add Comment
Post contains 263 words, total size 2 kb.
1
Man, this really has been Bizarro season. Williams, Renault, and Brawn had the fastest times today?
Well, the universe hasn't turned entirely inside out: Force India still sucks.
Posted by: Steven Den Beste at May 08, 2009 07:48 PM (+rSRq)
2
Yes, but they're expecting to get the Mercedes KERS unit in time for Turkey. When that happens, watch out, world!
*pause*
Yeah, I don't believe me either.
Posted by: Wonderduck at May 08, 2009 08:04 PM (DcSb+)
Comments are disabled. Post is locked.
20kb generated in CPU 0.09, elapsed 0.1961 seconds.
53 queries taking 0.1679 seconds, 219 records returned.
Powered by Minx 1.1.6c-pink.