October 08, 2010
F1 Practice: Japan 2010
When you're involved in both the Driver's and the Constructor's championship races this late in the season, many things have to go perfectly to have any sort of chance. The driver has to be supremely confident in both his skills and those of the team. The team has to be able to count on the driver to handle any new upgrades they throw onto the car and give them solid feedback on what works and what doesn't. Particularly in this day and age of testing bans, it's imperative for updated cars to get as many laps on track as possible during the practice sessions.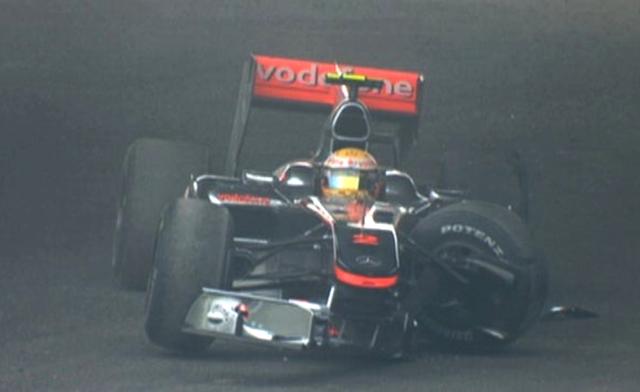 So when McLaren's Lewis Hamilton sent his MP4-25, festooned with the most upgrades of any car on the grid, sailing off track and into the wall during Friday's morning practice session, the team had to be crushed. The rather violent impact had torn off the front left suspension and trashed the brand new nose rather completely. That Hamilton, who has finished only one of the past four races, had only turned nine laps to that point meant that the team needed the reigning Driver's Champion, Jenson Button, to set off and run lap after lap to gather data on the new upgrades, tire wear, fuel consumption, and anything else you could think of, rather than splitting the duties with his teammate. This he did with his usual professionalism... until he went off track at the same place Hamilton did. That he managed to keep it off the wall, despite getting airborne as he rode over the curbs, was impressive as all get-out. It also turned out to be desperately important, as Hamilton only made it back on track with seven minutes or so left in Q2.
Just down the pit lane from McLaren, the boys from Red Bull were circulating endlessly around Suzuka. They didn't bring more than a couple of upgrades to the race, but one could argue that they don't need to. In any case the obvious reliability of the RB6 chassis, mixed with Seb Vettel's topping of the timesheets, would seem to make them the prohibitive favorites for Sunday's race, particularly as Ferrari didn't seem to be showing much more than an average pace.
But then there's the weather forecast. As has often been said, rain is the great equalizer in Formula 1, and boy is there rain scheduled for Saturday. The Legendary Announce Team said that the FIA nabobs were saying that up to two inches of precipitation could be in the offing, with the worst of it happening smack dab in the middle of Quals. Now, a little bit of the wet is usually a good thing for a F1 race. It throws an element of unpredictability, of randomness, into the scenario and opens the door for all sorts of wacky things to occur... but nothing is helped by having the contents of the Inland Sea suddenly transfer itself onto the Degner Curve.
We'll find out what happens in just a few hours!
Posted by: Wonderduck at 07:55 PM | Comments (4) | Add Comment
Post contains 506 words, total size 3 kb.
Posted by: Steven Den Beste at October 08, 2010 09:44 PM (+rSRq)
Posted by: Pete Zaitcev at October 08, 2010 10:43 PM (9KseV)
Posted by: Wonderduck at October 08, 2010 11:31 PM (blg68)
Posted by: Mallory at October 09, 2010 07:15 AM (WJ2qy)
Comments are disabled. Post is locked.
24kb generated in CPU 0.09, elapsed 0.3041 seconds.
47 queries taking 0.2636 seconds, 264 records returned.
Powered by Minx 1.1.6c-pink.