January 29, 2008
F1 Pr0n: Honda RA108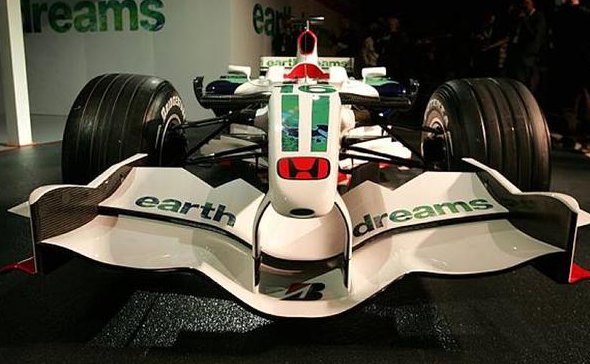 First the good news: that
gawdawful
"myearthdream" livery is (mostly) gone. The bad news is that it appears that Honda doesn't go in for glamour photos.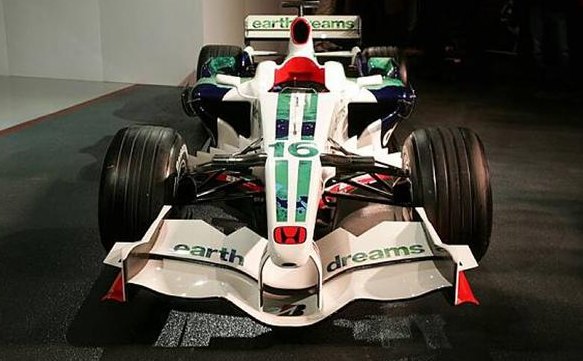 To be fair, what's left of the dumb "myearthdream" livery is handled pretty well. Those green stripes remind me, in a way, of the famous British Racing Green. No, it's not the same color, but you can see a tip of the cap that way. But they've brought the classic white back, and that's really all that matters.
But what's up with the sawtooth pattern on the front wing and the bargeboards?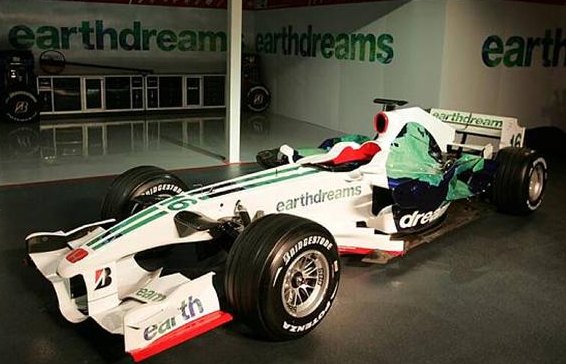 Nope, they had to leave the part of the myearthdream vinyls on the rear of the car. I think I can say, without fear of contradiction, "meh." The red highlights are a nice touch, though.
This is going to be really shallow of me, but having the car number on the tail like this is something I really dig. Too bad the other teams don't do that.
Technically, the main body of the car is supposedly narrower than last year's car. In an interview, Ross Brawn says that the RA107's main problem was that it was, essentially, TOO well-balanced... as if the entire car was balanced on the point of a pin. Any minor shift in the weight (like, oh, accelerating, braking, or turning) was enough to throw the car out of whack, thus ruining the handling characteristics. Yes, that would be bad. So, the RA108 is less heavily engineered, I guess? The team wants to earn points every race, they say, which isn't that high of a goal, but it's light-years ahead of 2007. Considering that they looked like they'd be contending for a championship after 2006, though, it's a letdown.
Posted by: Wonderduck at 07:59 PM | Comments (7) | Add Comment
Post contains 294 words, total size 2 kb.
Posted by: Author at January 29, 2008 11:17 PM (cFJHG)
Posted by: Mallory at January 30, 2008 07:51 AM (3sife)
Posted by: Steven Den Beste at February 03, 2008 11:51 AM (+rSRq)
Posted by: Wonderduck at February 03, 2008 07:51 PM (AW3EJ)
Posted by: Steven Den Beste at February 03, 2008 09:05 PM (+rSRq)
Posted by: Steven Den Beste at February 03, 2008 09:10 PM (+rSRq)
Posted by: Will at February 04, 2008 05:54 PM (WnBa/)
Comments are disabled. Post is locked.
27kb generated in CPU 0.04, elapsed 0.102 seconds.
53 queries taking 0.0802 seconds, 276 records returned.
Powered by Minx 1.1.6c-pink.