May 06, 2015
F1 Pr0n: 2015 McLaren Revamp
Back in the preseason that now feels so far away, when the McLaren MP4/30 debuted it looked a little something like this:
This morning, McLaren decided that it didn't look ominous enough for the European leg of the F1 calendar and debuted a new livery.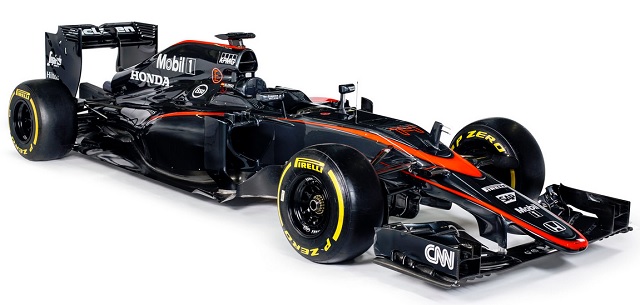 The infamous "glare with wheels" is now completely gone, and the car looks better for it. The new red striping looks pretty flash too if you ask me.

I don't understand why there haven't been that many teams that go all black in the past. Oh, of course there's the historical "nation colors" that gave Ferrari its famous red livery, and British Racing Green isn't just a phrase. But the only team I can think of that normally used all-black was
UOP Shadow
in the early '70s.
Minardi's PS01
was mostly black, with white on the upper section of the nose and stripes on the sidepods... and that's about it. So big props to McLaren for going for drama in lieu of useful speed.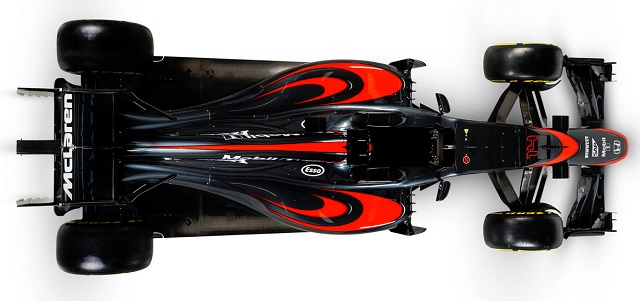 It's like a high school freshman designed the livery. How cool is that??? The red stripes have gotta be worth at
least
10-20mph on the track, right? I'll let ya know after practice on Friday!
Posted by: Wonderduck at 11:41 AM | Comments (2) | Add Comment
Post contains 212 words, total size 2 kb.
1
Supposedly someone complained that the old silver reflected artificial light poorly, which matters this season due to a number of night races. That is their official excuse for getting rid of it.
Posted by: Pete Zaitcev at May 07, 2015 05:46 PM (RqRa5)
2
That wouldn't surprise me, Pete. While it's darkened over time, the "glare with wheels" nickname I gave the scheme years ago wasn't just because I was being a little funny.
Posted by: Wonderduck at May 07, 2015 06:03 PM (jGQR+)
26kb generated in CPU 0.11, elapsed 0.2125 seconds.
55 queries taking 0.1739 seconds, 279 records returned.
Powered by Minx 1.1.6c-pink.