October 18, 2017
F1 on TV: United States 2017
Running a little behind this week, thanks to a combination of Cubs playing in the NLCS, stupid overtime, and a desperate need for extra sleep, but never fear, your guide to the television coverage of the United States Grand Prix is here! Let's look at that there track map, y'all!
They say everything is bigger in Texas, but in this case it just isn't true. The Circuit of the Americas down yonder in Austin is on the small side of larger tracks at just a skosh over 3.41miles... that's 5.5km in them there "keeelo-meeter" things. I mean, Suzuka is a longer track than COTA, but nobody really thinks of that wonderful place as "long".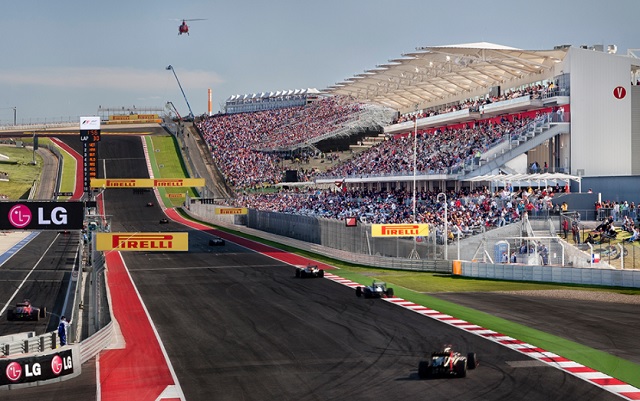 The one exception to the "everything isn't bigger at COTA" is the already legendary Turn 1, the apex of which is also the apex of Phil Hill. This bit of elevation change is the biggest single climb in F1, 133' of pure drag racing named for legendary American racer Cody Phil. Probably my favorite part of the track, just for the sheer ridiculousness of it. It's wonderful.
Speaking of wonderful, the Legendary Announce Team will be doing their usual great coverage of the race! Here's the broadcast schedule:
Practice 1: 10a - 12n live on NBCSN
Practice 2: 10p - 1130p not live on NBCSN... also may not be Practice 2. I dunno
Quals: 3p - 6p live on NBCSN (may also have P3 coverage on tape delay)
2017 United States Grand Prix: 2p - 4p live on NBC... yes, NBC!
Make sure you watch, it'll be a blast... particularly since Hamilton can win the championship here. All he needs to do is win, and have Vettel finish 6th or lower. I'll be along afterwards with the F1U!, of course. I'm even taking Monday off to allow me to pay closer attention to the race!
See ya then!
Posted by: Wonderduck at 09:33 PM | No Comments | Add Comment
Post contains 321 words, total size 2 kb.
24kb generated in CPU 0.09, elapsed 0.462 seconds.
47 queries taking 0.4084 seconds, 266 records returned.
Powered by Minx 1.1.6c-pink.