May 07, 2012
F1 on SPEED!: Spain 2012
It has been a while since Bahrain, hasn't it? Still, the form of motorsport that we all love/like/tolerate/whichever is back with the opening race of the so-called European Leg of the calendar. That's right, F1 is returning to Barcelona, Spain! Let's take a look at the track map, shall we?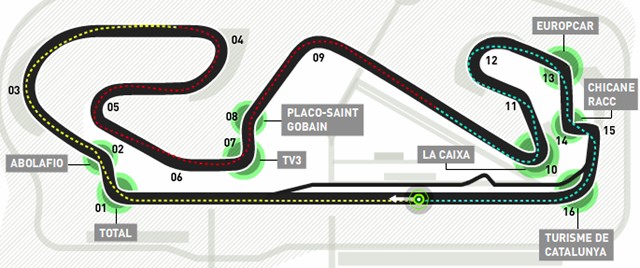 On the whole, I don't mind the Circuit de Catalunya. In many ways, it's a very good track. It's a mildly challenging circuit, but not so hard as to be difficult to drive. It's fast, but not so fast as to ignore low-speed handling. It's a relatively new track, being opened in 1991, but not so new as to have the taint of Hermann Tilke hanging over it. It's not a particularly good circuit for passing, but it has its moments, and with KERS/DRS there's enough to entertain. Yet there hasn't been a good dry race at Barcalounger in a decade, if not longer. What's the problem?
The problem is twofold. One, THERE IS NO PROBLEM. It's a run-of-the-mill track, meaning in effect that it's dull as dishwater. It's just...
there
. I've never really heard a driver praise the circuit much, nor trash it. In the world of the F1 Circus, decked out in a tent of thousands of colors, Barcalounger is a uniform beige.
The second problem is that it's such an average track, in such a generous climate as Spain, that every team loves to go to the test sessions there, and indeed, F1 has tested there every year the layout has been open. The upshot to this is that there will never,
ever
, be a surprise here. The teams know the placement of every bump in the circuit, every crack in the asphalt, they know the chemical makeup of the paint used on the curbs, hell, even what type of kittylitter is used in the run-off areas. Because they know everything there is to know, there's nothing the track can do to affect the race itself. That's good, in a way, as it leaves it up to the cars and drivers... but when the cars are so close in performance, and the drivers are the same way, it becomes a simple processional, guaranteed. There IS a chance of rain in the forecast for Sunday, so there is that.
Whichever way it goes, los hombres buenos de la SPEED will be bringing us their usual excellent coverage, both online and on TV. Here's the schedule:
Friday
:
P1: 3a - 430a streaming
P2: 7a - 840a live
Saturday
:
P3: 4a - 5a streaming
Quals: 7a - 830a plausibly live
Sunday
:
Grand Prix of Spain: 630a - 9a live
Of course, F1Update! will be all over it, just like Wonderduck is all over a duck chow enchilada with a side order of refried beans. See ya then!
Posted by: Wonderduck at 08:18 PM | Comments (5) | Add Comment
Post contains 472 words, total size 3 kb.
1
Looking forward to more F1. I'm not normally an F1 watcher. I aboslutely adore racing/driving sims, but could not tell you who was driving what car if my life depended on it. I love reading your F1 breakdowns (aside from all the acronym lookups,
) and it means I can keep up with what is going on.
Posted by: Tom Tjarks at May 08, 2012 10:46 AM (T5fuR)
2
Ha! I bet you HRT doesn't know it like the back of their hands...
Posted by: Avatar_exADV at May 08, 2012 05:46 PM (pWQz4)
3
Yes, you're right, Avatar. You win.
Posted by: Wonderduck at May 08, 2012 09:10 PM (6CHh4)
4
But why don't I feel like a winner? ;_;
Posted by: Avatar_exADV at May 08, 2012 10:28 PM (pWQz4)
5
It's because of how you paint your Orks.
Posted by: brickmuppet at May 09, 2012 09:13 PM (EJaOX)
Comments are disabled. Post is locked.
25kb generated in CPU 0.0126, elapsed 0.2131 seconds.
47 queries taking 0.2045 seconds, 281 records returned.
Powered by Minx 1.1.6c-pink.