September 23, 2009
F1 On SPEED!: Singapore 2009!
F1 marches on.
This time around, we head to Singapore, a track with a difference. And what difference is that?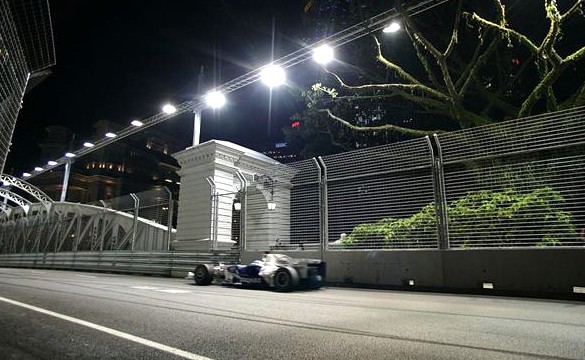 Yep, it's the only night race on the F1 calendar. Oh, make no mistake, Abu Dhabi will have part of their inaugural race at night, it's true, but Singapore is entirely without sunlight. Last year's race had some... um...
interesting

moments
in it, for which Renault received a two-year suspended ban, but will the second year match up? Let's take a look at the track map, shall we?
The street circuit at Singapore (and it is a
true
street circuit, unlike Valencia) is probably the most
interesting
track on the calendar to my eyes. Oh, don't get me wrong, it's not as fun as Spa, or as difficult as Monaco, or anything like that, but it's full of... um...
easter eggs
for the watcher.
The cars race past some interesting buildings, including the legendary
Raffles Hotel
and the Fullerton Hotel as well. There's a straightaway that's actually a bridge (between turns 13 and 14). It actually runs beneath the some grandstands in the short chute between 18 and 19. It passes under a highway near turn 1. There's a shorter bridge between 12 and 13. All in all, it's a fun track to look at.
To drive, however, not so much. To a man, the drivers decried the circuit, calling it dangerous and unforgiving. Felipe Massa called the curbs around the track "little tortoises that would wreck the car if you get something wrong." Lewis Hamilton said that it was twice as hard to drive as Monaco, particularly when you take into account the hot and humid Singapore weather. The release point for the pit lane was also a major accident waiting to happen, as it had cars rejoining the track just before the entry to the first turn. Some points of the track were also incredibly bumpy, to the point where drivers were concerned that their suspensions were at risk just from driving on the circuit.
Well, they can't do anything about the weather, but modifications to the circuit have been made for 2009. The pit exit has been repositioned to come after turn 1, and the entry is now before turn 22, instead of actually
in
the turn. The tortoises have been filed down, and some curbs have been repositioned to boot. As a result, the track has been slightly lengthened, from 5.067km to 5.073km. The turn 10 chicane, which was named "Singapore Sling" in a poll of local F1 fans, has been tightened up a touch, so as to slow it even more. Finally, the worst of the bumps in the street have been resurfaced.
As one would expect with a street circuit, Singapore is a high-downforce track, much like Monaco in that regard. It's also a very tough track for brakes, maybe as hard as the Canadian track (though in a different way). With 23 turns, they get hot fast, then stay that way for the whole race, meaning heavy wear. Canada has slow turns coming after long straights, meaning the brakes get too cool and don't work as well. That means they're used harder for those turns, meaning more wear.
The good folks at SPEED will be mostly bringing us their usual sterling coverage, of course. Friday's second practice comes to us live from 830am to 1010am. Saturday's coverage of Quals is scheduled from 9am to 1030am, but may be shortened by a half-hour due to conflicting coverage of the American LeMans Series "Petit LeMans" race, which begins at 10am. If that's the case,expect them to show only the last few minutes of Q1, if at all. The race comes to us LIVE on Sunday from 630am to 9am, with a replay from 130pm to 4pm.
A programming note: there will probably be no Quals post on Saturday here at The Pond, and any post on Practice will come very late, if at all. The F1 Update! will, however, arrive as usual on Sunday.
See you then!
Posted by: Wonderduck at 10:26 PM | Comments (2) | Add Comment
Post contains 677 words, total size 4 kb.
1
They gave Renault a suspended sentence for deliberately fixing a race?
I can't believe it.
Posted by: Steven Den Beste at September 24, 2009 01:31 AM (+rSRq)
2
It was good to see your F1 recap! Looking forward to the night race.
As far as Renault goes, bet that suspended sentences really hurts them. *rolling eyes* At least Flavio got the book thrown at him.
Posted by: Mallory at September 24, 2009 07:24 AM (WJ2qy)
Comments are disabled. Post is locked.
25kb generated in CPU 0.0139, elapsed 0.5844 seconds.
47 queries taking 0.5759 seconds, 278 records returned.
Powered by Minx 1.1.6c-pink.