August 22, 2011
F1 on SPEED!: Belgium 2011
...and we're back! The F1 Circus' summer vacation is over, the motor homes and carriers have converged on a little town in the Ardennes Forest, and the crew of F1 Update! has awakened from their forced hibernation. Ladies and Gentlemen, it's time for Formula 1 to return to Spa!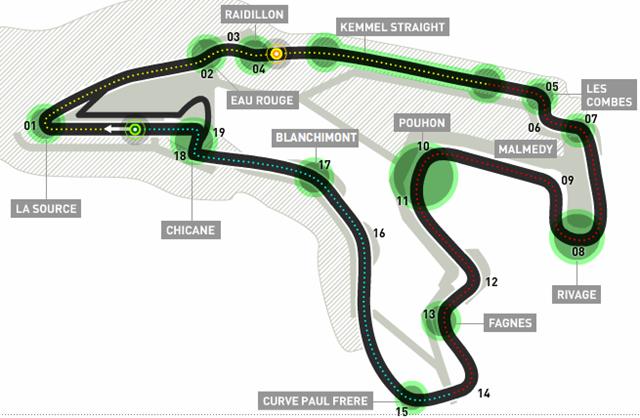 For most of the world, going to a spa for the weekend means a calm, relaxing experience, sometimes involving mud getting into places it shouldn't and fish nibbling dead skin off your toes. For Formula 1 drivers though, going to Spa for the weekend means excitement, tension, stress and danger lurking behind every corner of this 4.35-mile long circuit, arguably the best on the F1 calendar.
One cannot speak of Spa without referencing the track's signature piece, the combination of Eau Rouge and Raidillon. The run from La Source to Eau Rouge is downhill, but at Eau Rouge the track suddenly climbs steeply
up
hill. Indeed, the vertical direction change is so abrupt that you will hear what sounds like the drivers pulling their foot off the accelerator. Nothing could be further from the truth; what you're hearing is the engine suffering from the compression resulting from the sudden changes. Meanwhile, you also have a horizontal direction change as you negotiate the blind third turn. THEN you have another change of direction at Raidillon, the site of some of the
most dramatic, violent accidents
in F1 history. In the old days, saying that you took Eau Rouge flat out was a sign of a driver's bravery. In today's F1 cars it's not quite as difficult to accomplish, but one never, ever, takes Eau Rouge lightly. In fact, news came down today that DRS is not to be used through the turn during practice and quals.
The other signature piece of Spa is the weather. It's practically guaranteed to rain sometime during the F1 weekend, and one can probably count the historical number of totally dry races on the fingers of both hands, and it's likely you'd have a digit or two left over. This year, rain is expected on Friday with chances on both Saturday and Sunday.
All of which can be seen on SPEED! Yes, the Legendary Announce Team will be back in all their glory, providing us with their usual sterling coverage. Here's the way the schedule breaks down:
Friday: 3a-430a Practice 1 (streaming). 7a-840a Practice 2 (live).
Saturday: 4a-5a Practice 3 (streaming). 7a-830a Quals (live).
Sunday: 630a-9a 2011 Grand Prix of Belgium (live). 230p-5p race replay.
All times are, as usual, Pond Central Time. The F1U! crew will be all over the weekend... or at least as much as we can be, considering that Friday will be the 12th day of work in a row and the 18th out of 19. There is a chance we'll not have much in the way of Practice coverage.
But F1 is back! All is right with the world... or something along those lines. See ya then!
Posted by: Wonderduck at 08:38 PM | Comments (3) | Add Comment
Post contains 499 words, total size 3 kb.
1
I just noticed "Malmedy" on your map, which pulled me up short. I'm sure you know why. Is that really where the massacre took place?
Posted by: Steven Den Beste at August 23, 2011 12:49 AM (+rSRq)
2
I went to SPA last year, great circuit but god the rest is awful, no electric ( we were camping ) it was shitty and boggy, the shops shut at 7.00PM exactly, nothing to visit , badly signed posted , a shame for such a great circuit ! I will watch it on TV now....
Posted by: Thomas Bland at August 23, 2011 05:36 AM (ahRZi)
3
@Steven: no, it's not. Part of the track is on Malmedy land, so I suppose it's a tip o' the cap to the people of that region.
@Thomas: I hear there's a great WWII museum in Spa itself, but the "little town" bit wasn't hyperbole. Sorry you had a crummy time!
Posted by: Wonderduck at August 23, 2011 07:22 AM (o45Mg)
Comments are disabled. Post is locked.
25kb generated in CPU 0.0188, elapsed 0.3564 seconds.
47 queries taking 0.3456 seconds, 279 records returned.
Powered by Minx 1.1.6c-pink.