November 08, 2010
Ducks In Anime Can Be Found In The Strangest Places
The world has changed. Tokyo, and by extension all of Japan, has suffered a major ecological disaster. Much of the city is underwater, and anything
not
submerged has been seriously damaged. Floating above this flooded city a small ship, maybe the size of a fishing vessel or tugboat, is slowly making it's way from one location to another. A young woman, wondering if she could see through the floodwaters and see sunken houses below, leans over the side of the vessel. As she strains for a better view, something unexpected begins to float by.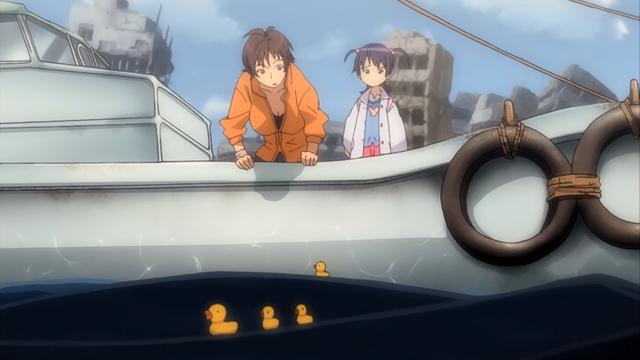 -
Witchblade
, ep01
Noticing that one of the rubber duckies has gotten separated from the rest of the duckie family, she leans over to guide it in the right direction... by splashing the water nearby.
As the small ship heads to its destination, we see it shrink away into the distance. The rubber duckie family, again complete, travels onward.
Where the duckies are headed or where they came from, we never discover, but it doesn't matter. What matters is that, even in this ruined city, rubber duckies exist and thrive. There is hope for the world.
To be honest, the story of the rubber duckies would probably have been better than that of the
Witchblade
anime, a hideously violent and pointless show. Not entirely its fault; it's not like the source material (which has no rubber duckies) was particularly good to begin with.
(hat-tip to gerberette for pointing me in the direction of the duckies!)
Posted by: Wonderduck at 11:59 PM | Comments (5) | Add Comment
Post contains 258 words, total size 2 kb.
1
I haven't seen it, but apparently
Witchblade
is one of those very mixed shows - some bits of it hideously violent and pointless, and others just about a mother and her daughter.
Those three pictures make me want to see it more than all the usual promotional material ever did.
Posted by: Pixy Misa at November 09, 2010 09:24 AM (PiXy!)
2
I regret that I will not be able to tell you if the tale of the duckies continues throughout the series as I find the show unwatchable and I have no intention of seeing anymore episodes. I could sit thru pointless violence if I felt any compassion or care for the characters, but I don't.
But those duckies are adorable!
Posted by: Gerberette at November 09, 2010 09:56 PM (FfGmL)
3
I suppose it's a YMMV situation, but I have to offer *some* praise for the
Witchblade
anime. I like to think of it as a cheesecake-and-violence wrapper around a family-
moe
core. It combines my fondness for hard-punching heroines and my appreciation for bittersweet family-formation drama.
And hey, the early minor villains are overzealous family protective service bureaucrats, which is always a plus. Even if Mahane *is* kind of a dubious mother figure...
Posted by: Mitch H. at November 11, 2010 10:46 AM (jwKxK)
4
Viva La Rubber Duckie! Haha. What a cute story.
Posted by: Digicolleen at November 11, 2010 12:24 PM (y3twI)
5
I liked the daughter's line when she caught one of the male leads looking at a girlie magazine: "Mom's are bigger."
Posted by: Jim Burdo at November 11, 2010 11:51 PM (JXm2R)
Comments are disabled. Post is locked.
22kb generated in CPU 0.03, elapsed 0.1209 seconds.
53 queries taking 0.1013 seconds, 222 records returned.
Powered by Minx 1.1.6c-pink.