January 11, 2013
CRAVINGS!!!
So there I was, in my office at the Duck U Bookstore and I really should take a picture of it and show y'all, if for no other reason than the entertainment value inherent with what my office looks like; I'm sure you think it's some sort of swank place with velour and velvet and high-end mahogany and a cigar humidor with a built-in wine cellar because what else would the office of a bookstore manager look like? You're forgetting the huge floor-to-ceiling ferns disguising the door to my private room with the velvet Elvises, or would that be Elvii? Anyway, two of those, the bar, and all the rye bread anybody can eat, and I go in there and hide when things get crazy (I'm in there a lot) and weep softly to myself as LL Cool J's "
Mama Said Knock You Out
" plays over the hi-fi and I try to regain my morale to face the world again and did I just say all that out loud?
Anyway, so there I was in my office at the Duck U Bookstore, doing paperwork like it was going out of style... didn't they say that computers were going to cut down on paper?... when I realized two things: one, that I kept looking at the opening to the private room, and two, I was ridiculously hungry. But not for just anything, oh no... I had a craving, a veritable
need
, for two foodstuffs: macaroni and cheese, and peas. Not mixed together. Separately: a bowlful of mac&cheese, and a bowlful of peas.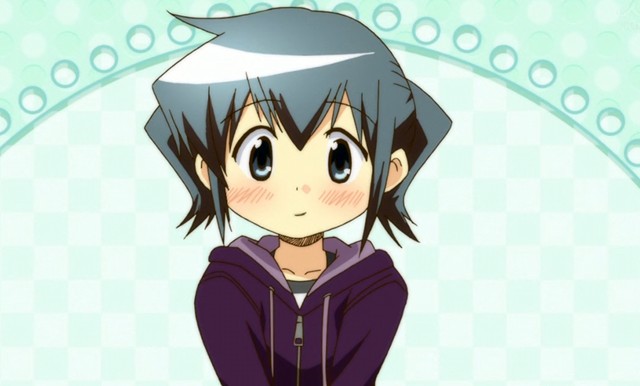 Oh sure, you're amused now, but in an hour, when you start to realize that you've gotta have some elbow pasta and cheddar, and little green spheroids of flavor, you'll realize that I'm not insane. Okay, yes, yes I am, but not because I had a craving for that. Anyway, I had that for dinner tonight... I had no choice... and oh my but it was tasty. Tasty tasty tasty. Om nom nom. It wasn't as good as the Infamous Yellow Meal
©
but it was pretty close. And now I don't have the incredible longing for mac&cheese and peas anymore, so that's a great thing indeed. Nice thing about food cravings, they go away pretty quickly after you eat it.
Um. Did I just do that? What's wrong with me? I tell ya, give a duck a blog and all heck breaks loose.
Posted by: Wonderduck at 09:07 PM | Comments (2) | Add Comment
Post contains 405 words, total size 3 kb.
1
What is that last picture from?
Posted by: Steven Den Beste at January 11, 2013 10:58 PM (+rSRq)
2
Blood-C
. Things 'bout to get all messy 'n' stuff up in dis joint.
Posted by: Wonderduck at January 11, 2013 11:05 PM (cymHZ)
Comments are disabled. Post is locked.
23kb generated in CPU 0.06, elapsed 0.1311 seconds.
53 queries taking 0.1075 seconds, 277 records returned.
Powered by Minx 1.1.6c-pink.