May 06, 2013
Words To Live By
Posted by: Wonderduck at 10:03 PM | Comments (2) | Add Comment
Post contains 4 words, total size 1 kb.
May 05, 2013
F1 On NBCSN: Spain 2013!
It has been a while since Formula 1 has graced the digital pages of The Pond, but the first long break of the season has come to an end and F1 is back! The high-horsepower Circus has made its way back home to Europe and what many consider the
real
beginning of the season. The first race on The Continent is, as always, the Spanish Grand Prix at Barcalounger. Let's take a look at the track map, shall we?
If there is an "average track" in Formula 1, this is it. The teams have tested here so much, they know it like the back of their hand. There are no surprises in store, nothing they aren't aware of, leaving it down to the cars, the mechanics and the drivers. Having said all that, it's
because
there are no surprises in store at Barcalounger that races here can often have the appearance of being a parade.
Not last year
, though, when Pastor Maldonado won his first race, Williams won their first race in years on Sir Frank's birthday, and then their pit garage exploded into flames. Yes, that counts as memorable.
The biggest news going into the race is that Pirelli folded under the pressure from Red Bull and has changed the tire compound on their Hards. It's now going to be closer to the 2012 rubber, longer lasting and ohbytheway, something that the Red Bull chassis loved. The rest of the compounds have not changed, but give it time. We'll find out just how much difference it'll make this weekend as Pirelli brings the Hard and Medium tires to Barcalounger.
As far as the race goes, the good folks at NBCSN will be providing their usual sterling coverage all weekend! Here's the broadcast schedule:
FRIDAY
Practice 2: 7a - 830a live
SATURDAY
Quals: 7a - 830a live
SUNDAY
2013 Grand Prix of Spain: 63a - 9a
As usual, NBCSN's schedule is online via the excremental Zap2It, so it should all be taken with a grain of salt the size of a salt lick.
As is also usual, F1Update! will be all over the race, and by "all over," we mean we'll watch it and give it the writeup it deserves. Because that's what we do now. See ya then!
Posted by: Wonderduck at 07:51 PM | No Comments | Add Comment
Post contains 384 words, total size 3 kb.
May 04, 2013
Random Anime Picture #77: Just Because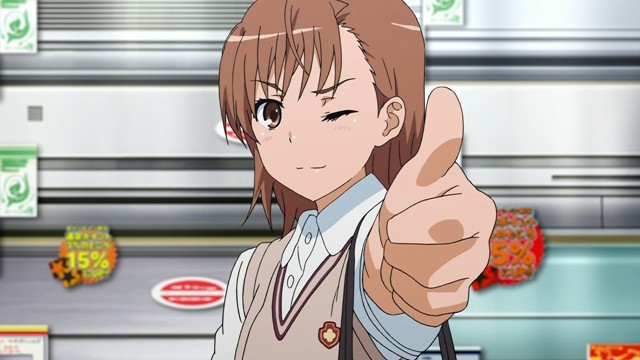 -
Toaru Kagaku no Railgun S
, Ep04
Posted by: Wonderduck at 11:30 PM | Comments (1) | Add Comment
Post contains 12 words, total size 1 kb.
May 03, 2013
I Truly Did NOT Expect This...
Via
Robert's Weekly Newsletter
came this little bit of information:
North American video distributor Media Blasters announced on Friday that they had acquired the license for the

Rio Rainbow Gate!

anime series.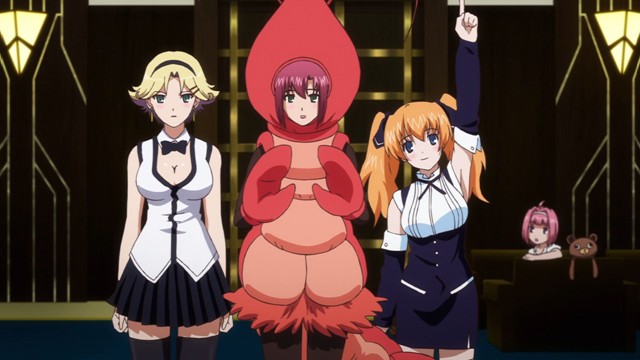 Of all the things I expected to hear, that was waaaaaaaaay down the list. I mean, WAY down the list. "Marianas Trench"-level down. On the other hand, Media Blasters has just become my favorite anime company ever... or the company I hate the most, one of the two, and I'm not sure which. Y'know what's even more amazing?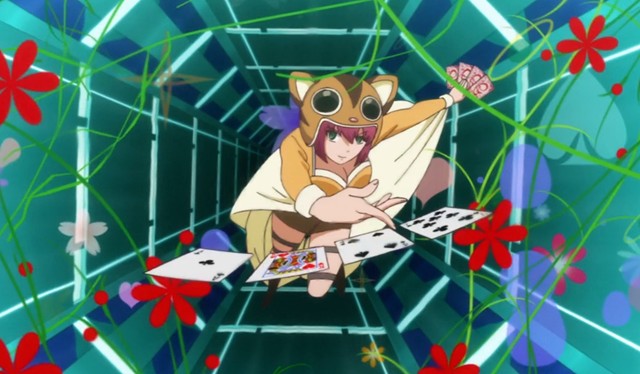 THIS is going to make me buy a LCD TV and a Blu-Ray player.
Rio Rainbow Gate!
is my killer app! How screwed up is that? And yet, I can't help but feel like I had something to do with it... it's my own damn fault, in other words. Longtime readers will remember, of course, that
RRG!
was the second series I'd done writeups for, and
I think the most successful
. Certainly it turned out to be better than I expected, though since I had expectations as low as whale snot, that's not saying much. Media Blasters has set no release date yet, but one might expect that I'm going to preorder the deluxe set as soon as possible.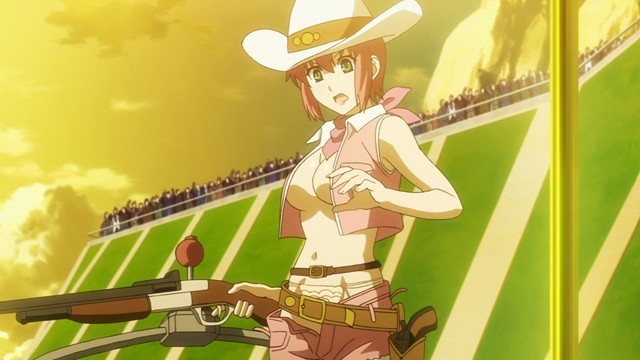 Rio Rainbow Gate!
has been licensed. I never thought I'd live to see the day. I didn't think ANYBODY would live to see the day. Thank you, Media Blasters, for showing us how to love... again.
Posted by: Wonderduck at 09:09 PM | Comments (11) | Add Comment
Post contains 251 words, total size 2 kb.
May 01, 2013
Something Strange And Wonderful
So the other day I was searching for pictures of the
USS

Liscome Bay
when the contents of a thumbnail caught my eye and made me do a metaphorical doubletake. I simply could not for the life of me figure out what I was looking at. Of
course
I had to click on it.
Click the pic for much bigger
And then I started to laugh. The USS
Thetis Bay
, CVE-90, with deck-parked PBY Catalinas as she ferries them back to California in 1944. I've never seen anything like that before! I looked a little closer, and realized there was also a
J2F Duck
on deck, to boot! The Hellcats pale by comparison. I guess it makes perfect sense to ferry PBYs like this... it's not like they could fly the entire way on their own, particularly when they've been beaten up like these ones... but you just don't expect to see them dwarfing the carrier they're on.
It reminds me of the
C-130 landing on a supercarrier
: sure, it works, but
man
does it look weird.
Posted by: Wonderduck at 08:28 PM | Comments (10) | Add Comment
Post contains 181 words, total size 2 kb.
43kb generated in CPU 0.04, elapsed 0.1433 seconds.
55 queries taking 0.0996 seconds, 305 records returned.
Powered by Minx 1.1.6c-pink.