February 04, 2012
Name This Mystery Ship XII
Might be a fun one this time... or it might be ridiculously easy. It'll be one of the two, for sure.
Usual rules apply: no Imagesearch or anything like that. I can't do anything about it, but your victory will be tainted and hagridden. If you DO win, you get a post on a topic of your choice! While I don't do politics, religion or pr0n (other than F1 Pr0n), anything else is fair game.
So get your guessin' shoes on!
Posted by: Wonderduck at 08:44 PM | Comments (8) | Add Comment
Post contains 86 words, total size 1 kb.
February 03, 2012
F1 Pr0n: Ferrari F2012
You know something's kinda wrong when no less a light than Stefano Domenicali, team principal for Scuderia Ferrari, comes out and publicly says "Well, actually, it's not really so pretty from my personal perspective. But this is a value that doesn't count in Formula 1... ...as our chairman has already said the fact that it is ugly or very nice doesn't count a lot. The most important thing is that the car has to be performing." In other words, "winning fixes ugly." Having said that, Ferrari better win a lot of races this season, because the new F2012 is a
lot
of ugly.
Though to be honest, from the front it looks not so bad at all. The front wing is supposedly evolved from the flexi-bendy wing they ran at the end of the 2011 season. For their sake, I hope they got the "oscillating like a USGS seismometer in a magnitude 9.5 earthquake" feature fixed. There were times when I wondered how the Red cars were able to stay on the track, even going in a straight line, because of that wing flapping like an ornithopter.
From the side, it still doesn't look so bad. Like the McLaren, there appears to be an angle (back-to-front) to the floor. The sidepods are deeply undercut, more like the Force India than the McLaren, though not the same sort of profile. Amazing how so many teams can do the same thing, but come up with completely different designs. It'll be interesting to see which one comes off the best. One thing that comes back from past designs is the weird double rear bodywork thingy on the engine cover. I've never been fond of that design element, and it doesn't look any better here. It looks like the engine cover came off the sprue badly and nobody bothered to trim the flash off.
...and now the hideousness of the nose becomes apparent. Yeesh... if anything, it may be worse than the
Lotus
Caterham and the Force India solutions. However, this does raise an interesting question: just how did McLaren's nose fit under the technical regulations while a team like Ferrari does...
this
? Interesting that there's another fin between the front wheels; haven't seen that before, have we? According to the team, the car is almost all brand new, with very little coming over from the F150° Italia. I gather the rear wing is pretty much the same, with just some very minor tweaking.
The Scuderia was to have a huge blowout at the Ferrari factory at Maranello, followed by a few laps at the team's test track, literally right across the street. One little problem, though: it's been snowing in Northern Italy. A lot. So instead of the big media presser and hot laps, we got... well, this:
I'm pretty sure they trucked it to the track. I mean, could you imagine driving a F1 car... in the snow...
on slicks
? I suspect the car would be in the wall, on its back, and on fire, within a few feet.
Renault
Lotus is next up on Sunday, followed by a F1 MegaPr0n on Monday, when Sauber, Toro Rosso, and defending constructor's champion Red Bull all roll out. See ya then!
Posted by: Wonderduck at 08:49 PM | Comments (9) | Add Comment
Post contains 541 words, total size 4 kb.
F1 Pr0n: Force India VJM05
We've had two rollouts to date, and the score is one normal nose (MP4-27), one platypus nose (CT01). The question is, which way would Force India's fifth design, the VJM05, go?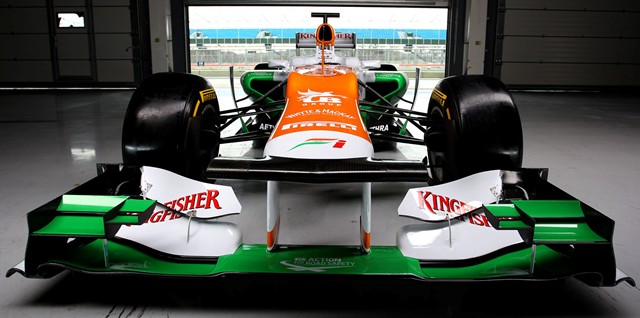 Platypus. Definitely platypus. The people who know these things say that Force India used the same wing for two years, with the team issuing upgrades and developments at various points over those seasons. It appears that the VJM05 is rockin' a new, more complex, front wing that some suggest will be flexi-bendy, like the Red Bull's. If they can pull
that
off, it'll be a major coup. Remember, Ferrari couldn't make it work, ending up with something that flapped like a hummingbird's wing. This had a rather unfortunate effect on the structural stability of the car.
The sidepods are longer than the McLaren's, but seem to have a bigger undercut to them. Other than that, the chassis seems to be fairly conventional. Smooth airbox.
The platypus nose looks hideous in this picture. Unlike the CT01, this one has a rounded nose, again similar in appearance to the Red Bull designs. Though we can't see it in these shots, I gather that the underside of the nose is also rounded, better to shed air in the direction of the underside of the car and increasing the downforce. The, for lack of a better term, "barge boards" just to the outside of the sidepods seem much more prominent than they do on the other two chassis that have been rolled out thus far. I'm sure they're perfectly legal, but I'll be switched if I like 'em. The nicest rule change in the past five years was the one that got rid of the proliferation of such things; these bring back unpleasant memories.
I suspect this is a make-or-break season for Vijay Mallya's team. It's been five years without a win, only one podium and just one pole, both of which look like flukes. There are reports that Mallya's financial empire is showing cracks; Kingfisher Airlines paid their salaried employees late four months running, for example. If this is truly the case, one could reasonably assume that F1 would prove to be something totally disposable... unless good things start happening in a hurry. We'll see how the VJM05 does down the road!
Ferrari's rollout will be covered tonight.
Posted by: Wonderduck at 09:24 AM | No Comments | Add Comment
Post contains 391 words, total size 3 kb.
February 01, 2012
F1 Pr0n: McLaren MP4-27
McLaren has always seemed to have been of two minds when it comes to their F1 cars. Either they're a little boring or they're completely goofball. Last year's MP4-26 went full goofball, what with the L-shaped air intakes on the sidepods and all. For 2012, it looks like the team from Woking has gone button-down collar and pocket protector on us. Ladies and gentlemen, the MP4-27.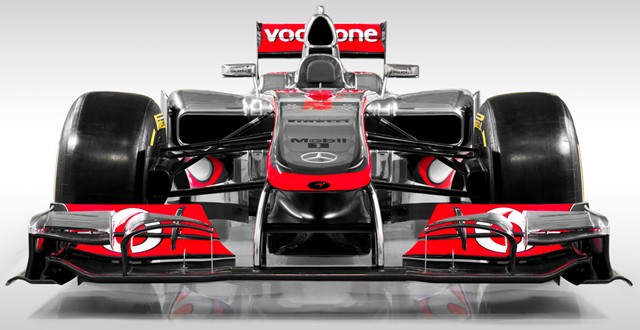 The first thing that leaps out at you is... the more or less normal looking nose. As we'll see in the next picture, all is not as it appears, though in comparison to the
Lotus
Caterham, it's boring. The air intakes on the sidepods are back to something a little more staid than last year, though they are somewhat... elongated. The section directly under the nose is a little busier than
last year
.
As with the Caterham before it, the MP4-27 has teeny sculpted sidepods, clearly to steer more air towards the back. As mentioned earlier, the nose doesn't have the stonking great stepdown like the CT01, but it does rather plummet. It's a graceful plummet, but compare it to the MP4-26, and you'll see the difference:
The rear wing of the new car also has... fingers at the bottom of the rear wing assembly. These started to appear on the cars last season, and I'm sure there's something good aerodynamically involved with them, but I'll be switched if I can figure out what it is. I'm not the big brain though, as anybody who's read The Pond could attest to.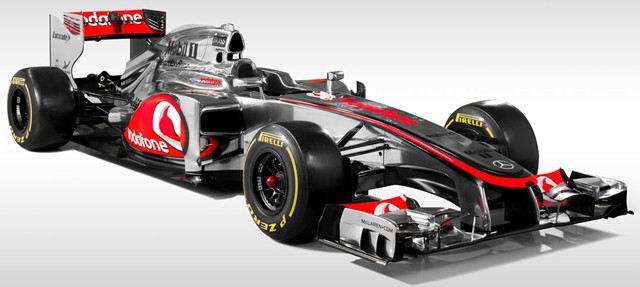 No matter how fast the MP4-27 goes, there is one thing you can say about it: it sure is purty. I think they need to go back to the silver rims though. The black just doesn't work.
Now for the best thing of them all: the annual McLaren centerfold! Just click "more" for some sweet sweet Glare On Wheels action, sans staples!
more...
Posted by: Wonderduck at 08:36 PM | Comments (5) | Add Comment
Post contains 326 words, total size 2 kb.
46kb generated in CPU 0.05, elapsed 0.1151 seconds.
54 queries taking 0.0833 seconds, 295 records returned.
Powered by Minx 1.1.6c-pink.