October 09, 2011
F1 Update!: Japan 2011
A sunny afternoon greeted the F1 Circus as the cars made their way to the grid. Would Jenson Button be able to extend the fight for the Driver's Championship for another race? Or would polesitter Seb Vettel score the single point he needed to lock it up today? THIS is
your
F1 Update! for the 2011 Grand Prix of Japan!
*THE RACE
: Over the years, Suzuka International Race Course has given us some great races, including quite a few that have decided championships. While we here at F1U! wouldn't classify the 2011 entry as a "great race," it certainly had its share of moments. When the lights went out, Red Bull's Vettel made a clean getaway from the first spot on the grid... but McLaren's Jenson Button had a better one, pulling nearly even with the reigning Driver's Champion before the cars had gone more than twenty meters. It then became a drag race down to the first turn, a drag race that Vettel seemed to think he was going to lose, as he began to squeeze the Glare with Wheels closer and closer to the grass on the inside of the straight. Eventually the Brit was shoved so far over that he raised a big cloud of dirt when his right-side wheels left the tarmac, a maneuver that let his teammate, Lewis Hamilton, sneak past for second place as the Thundering Herd entered the first turn. Unlike the rest of the season to date however, Vettel did
not
go flying off into the distance, leaving the competition fighting for second place. Instead the two McLaren drivers hung grimly onto his rear wing, Hamilton just out of DRS activation range of the leader and Button a couple of seconds behind Hamilton.
*ABRASIVENESS
: As had become clear during the first two days of the race weekend, the tires Pirelli had brought to the track (medium and soft compounds) were proving to be terribly vulnerable to the abrasive surface of the Suzuka Circuit. The prime tire was lasting around 20 laps, the options about half that, depending on the driver. Lewis Hamilton, who's never been thought to have a smooth flowing driving style, drove the rubber right off his options in eight laps, earning a slow leak on his right-rear tire in the process. With his car becoming less and less controllable, he backed off the throttle and let his teammate into second, five seconds behind the leader. He'd pit and come back out in sixth place, never to be involved in the outcome again. This began a general run into the pits by the field. While Vettel continued to hold the lead after the first pit cycle, it may have been significant that Button, the generally acknowledged master of tire conservation, stayed out for a lap longer than the Red Bull driver. When Button came back out, the lead had dropped to 2.5 seconds.
*AND THEN...
: Seb Vettel stayed out in front for another 10 laps until his second set of soft tires quietly sighed and gave up the ghost. He brought his RB7 in for his second stop on Lap 20, secure in the knowledge that his mechanics were the most consistent in F1, always getting him in-and-out in about 3.4 seconds. Except not this time. It's not like the Red Bull driver's stop was a bad one, right around four seconds. Most other teams would be perfectly content with taking four seconds to change four tires. Jenson Button swept into the pitlane on the next lap. When his McLaren came back onto the circuit, he was a couple of car-lengths ahead of Vettel, leapfrogging the Red Bull driver on the pit rotation.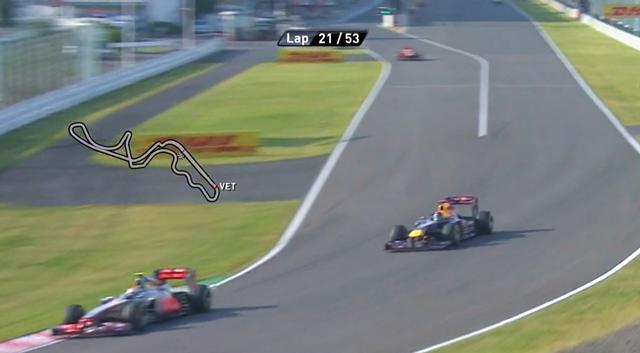 A half-second doesn't seem like much, but in F1, it's all the time in the world.
*CHECKERED FLAG
: From then on, the question became "would Vettel even
try
to pass for the lead?" Quickly enough, the question became moot as Button slowly pulled away from the Red Bull driver, opening up a two-second lead. When Vettel pitted on Lap 34 for his run to the end on the medium rubber, he lost another place on the pit rotation, this time to Ferrari's HWMNBN. Coming up quickly behind Vettel was his Red Bull teammate, Mark Webber, but there was no way the team was going to let them do anything stupid. A quick radio call from the pit wall to both Red Bull drivers on Lap 47, in effect telling them both not to take any risks, made it clear that they wanted Vettel on the podium. But could HWMNBN catch Button? At one point he got the lead down to 1.1 seconds, but Button had simply been conserving fuel. The moment there was any sign of a threat, on Lap 51, he ripped off the fast lap of the race and then took the checkered flag. HWMNBN finished 1.1 seconds behind, with Vettel a second behind him. Jenson Button had won the race, but by virtue of his third place finish, Vettel had won the 2011 Driver's Championship.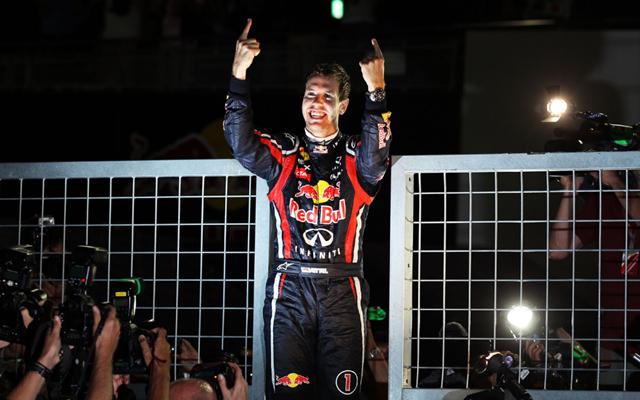 *DRIVER OF THE RACE
: Jenson Button may not have had a car that was faster than the Red Bull, but it was just as quick. In effect, this turned the race into a straight battle between drivers, one that Button won. He took better care of his tires while keeping his speed high, drove a flawless race, and took a well-deserved win. That it wasn't enough to keep the championship alive wasn't his fault.
*TEAM OF THE RACE
: Red Bull. One championship down, one to go. Neither driver made any particular errors. Heck, we didn't even get to see a Mark Webber Lousy Start
©
. The pit stop that may have cost Vettel the victory was good enough for just about any other situation... just not this one at this time.
*MOVE OF THE RACE
: The least likely place to pass at Suzuka is the infamous 130R. To try a move on the fastest point of the circuit while you're entering a flat-out sweeper requires either massive attachments or massive brain damage. Mark Webber pulled it off early in the race, but his victim (HWMNBN) was on old tires while the Aussie was on brand new rubber... hardly a fair fight. On Lap 46 though, Adrian F'n Sutil was fighting Gandalf Kobayashi for 9th place. Both were on similarly worn tires, both cars were solid midpackers, and both drivers have more-or-less equal skills. When Sutil made his attempt on Gandalf by going to the inside (and getting squeezed in the process), our first thought was "brain damage."
Full throttle onto the dirty side of the track at 185mph into a fast left-handed sweeper next to an insane Japanese driver on his home soil. This is not the recipe for a long and happy life.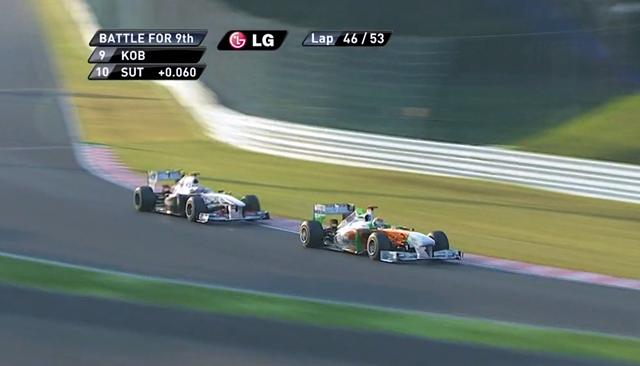 Nevertheless, Sutil took his Force India into the turn and kept it firmly planted in place despite not being on the optimal racing line through 130R. He took the position and we here at F1U! immediately awarded him the MotR award. We still think it's an example of "brain damage," though.
*MOOOOOOO-OOOOVE OF THE RACE
: For the most part, this was a cleanly driven race. Yes there was contact between Webber and Slappy Schumacher... and (wow, what a shock) Lewis Hamilton and Felipe Massa (again), but neither of those incidents were particularly egregious. So instead, we're giving it to the front-right tire changer for Toro Rosso.
I suppose it's not a great feeling when your tire just rolls off the hub in the middle of the race... but it did earn the airgunner a Mooooo! That's a fair trade, right?
*SELECTED DRIVER QUOTES OF THE RACE
:
more...
Posted by: Wonderduck at 02:15 PM | Comments (4) | Add Comment
Post contains 1672 words, total size 11 kb.
October 08, 2011
F1 Quals: Japan 2011
A gorgeous day at Suzuka, Japan for the Quals session for the 2011 Grand Prix of Japan. Will the Red Bullies continue their stranglehold on the pole position for the season? Or will McLaren, who were the fastest in every practice session so far this weekend, finally kick them out of the top slot? Let's take a look at the provisional grid:
.009 of a second. That's the total difference between a potential clean sweep of the season's poles for Red Bull... and a pole for someone else for the first time this year. Seb Vettel just barely pipped McLaren's Jenson Button for first place, but could have lost it at the last moment. Fortunately for him, Lewis Hamilton either messed up the sector (most likely) or was balked by both Slappy Schumacher and Mark Webber (Hamilton's story in the post-quals interview), meaning that he didn't get across the start/finish line in time to take a last shot at pole. As this is being written (130am Saturday morning, just moments after the Quals session went off the air) there is nothing being said regarding penalties as of yet.
A nice moment in Japan was Gandalf Kobayashi pulling down the fastest time in Q1 to the delighted roars of his home crowd. He then managed to get through to Q3 for only the second time this season. When the lights went green for Q3, Kobayashi's Sauber went out on track... alone. For at least half a lap, his was the only car on track. The Legendary Announce Team called it a "parade lap" for the Japanese fans, and I'm sure that's right since he turned into the pits and parked it without setting a time. He
had
burned his soft tires already, so it's not like he could have done much else, but a nice gesture by the rest of the field to let him out alone... even if it was just the other teams waiting for the perfect time to get their guys out. Particularly when Sauber rolled out their newest modifications for this race: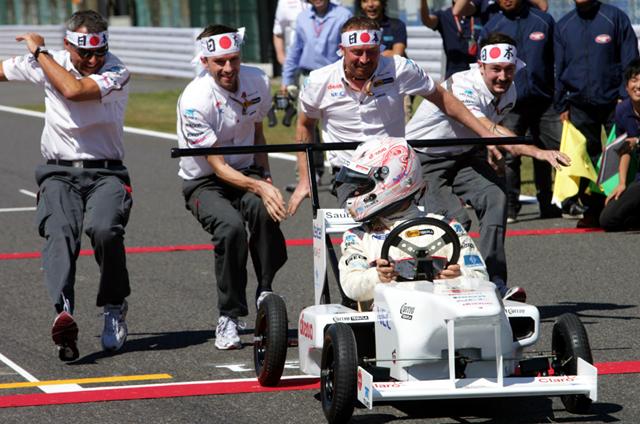 They may be under-funded, but they're still revolutionary as heck at the team from Switzerland.
In other news from Quals, Nico Rosberg's string of making it into Q3 at every race this year has come to an end, thanks to a hydraulic problem. He set no time in Q1, meaning that at least in theory he could be excluded from the race. That won't happen, but it could. Vitantonio Liuzzi's HRT had mechanical issues as well that didn't allow him to set a time. It's a little more likely that he'll be excluded, but still pretty much a long shot.
More if events warrant! The race is at 1am Sunday morning, Pond Central time, so your guess is as good as mine as to when the F1U! will be up. Sunday for sure. See you then!
Posted by: Wonderduck at 12:50 AM | Comments (1) | Add Comment
Post contains 653 words, total size 17 kb.
October 06, 2011
The Flight To Nowhere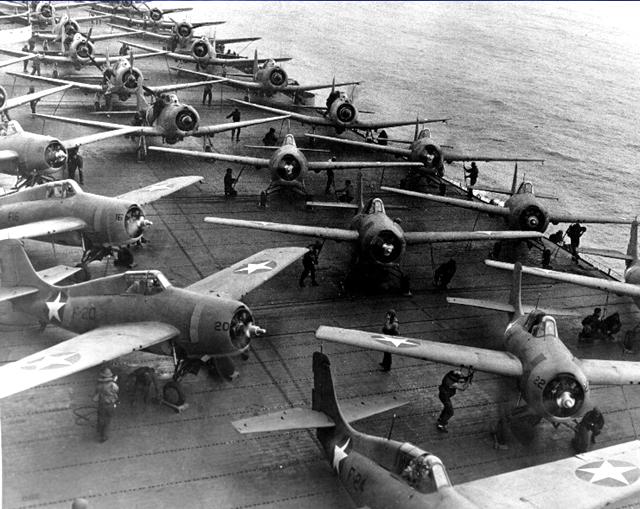 At 7am on June 4th, 1942, the signal was flashed to the American aircraft carrier USS
Hornet
: "Begin launching aircraft." The plan to ambush the Japanese
Kido Butai
had worked perfectly so far. The
Akagi
,
Kaga
,
Hiryu
and
Soryu
were some 155 miles away, long range for the 59 planes of the
Hornet
's Air Group launched that day, but quite doable.
By noon, only 31 planes had landed at Midway or on the
Hornet
. All were SBD Dauntless dive bombers. None of the TBD Devastators of Torpedo 8 or the F4F Wildcats of Fighting 8 had landed aboard, and never would. None of the SBDs of Scouting 8 or Bombing 8 had even seen the Japanese carriers. One third of the striking power that the US Navy had so carefully positioned had been completely wasted.
What had happened during those five hours became one of the US Navy's deepest (but open) secrets, suspected but unproven for over 45 years. It cost the lives of 31 airmen. It should have torpedoed the careers of two men destined to become admirals. It was The Flight To Nowhere.
more...
Posted by: Wonderduck at 11:00 PM | Comments (19) | Add Comment
Post contains 3052 words, total size 23 kb.
October 05, 2011
The Silence Will End
Working on what I'm calling "The Epic Post." If it continues on the way it is, we're looking at The Pond's first 4000 worder here... heck, if it keeps on going, 5000 words isn't entirely out of the question. Not giving out hints on what it is, either. It'll be a doozy, though.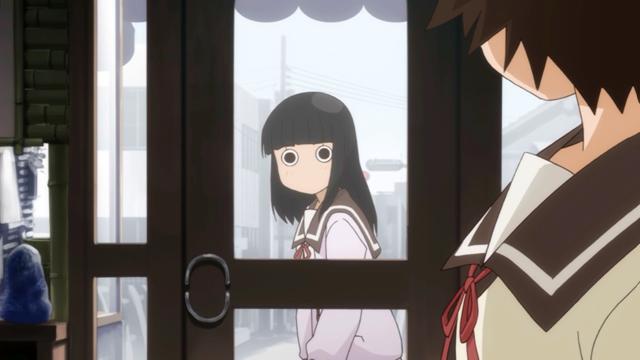 picture definitely not related
Posted by: Wonderduck at 11:06 PM | Comments (3) | Add Comment
Post contains 61 words, total size 1 kb.
October 03, 2011
F1 on SPEED!: Japan 2011
Though the Driver's Championship is all but wrapped up, the Constructor's is still up for grabs, and
that
means there's still something to race for. Which is good, because this week the F1 Circus will raise their tents at what is almost certainly the best of the non-European circuits: Japan's Suzuka. Let's take a look at the track map, shall we?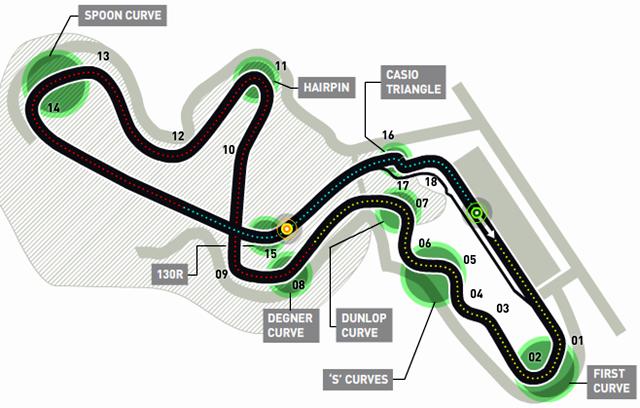 The first thing you notice about Suzuka is that it's a figure-of-eight layout, the only one in F1. Fortunately, or perhaps unfortunately if you're a redneck, the track doesn't really cross itself; the outbound part goes through a tunnel beneath the inbound. The next feature you notice are the "S Curves", a Gene Krupa-level rhythm section that determines your success on any particular lap of the circuit. Do it right, you've got a chance for a good time. Do it wrong, even a little bit, and you've ruined the lap completely and you'll have to fight to salvage what you can the rest of the lap. There's nothing quite like it anywhere else on the calendar.
It's a fast circuit that paradoxically is also a high-downforce track. Tires can take a beating around here from the high lateral loads suffered at places like the full-throttle 130R or the aforementioned S Curves. The track surface is variable; in 2009 some portions of the circuit were resurfaced, leading to changing traction levels depending on where you are in the lap. Pirelli is bringing the Medium and Soft compound tires this year, which should prove successful here.
As Suzuka is located on the eastern coast of Japan it tends to be somewhat damp around the circuit during race weekend. Indeed, the Great Suzuka Boat Races are something of a tradition in F1, and while they don't occur every year,
they certainly did in 2010
as Quals were actually postponed until just before the race on Sunday. It appears that this year, the weather forecast is for sunny skies.
Of course, the good folks at SPEED will be bringing us the whole weekend, as they usually do. Let's take a look at the schedule:
THURSDAY: 8pm to 930pm - Practice 1 (streaming)
FRIDAY: 1201am - 140am - Practice 2 (live), 9pm - 10pm - Practice 3 (streaming)
SATURDAY: 1201am - 130am - Quals (live)
SUNDAY: 1am - 330am - Grand Prix of Japan (live), 230pm - 5pm (replay)
As is usual, I'll be here with reports on the usual things, culminating with the F1 Update! after the race. Hope to see you here!
Posted by: Wonderduck at 12:04 PM | Comments (3) | Add Comment
Post contains 425 words, total size 3 kb.
October 01, 2011
Saturday Night Tunage XI: Motorsports Edition
DJ Wonderduck here, and I'm pulling on the racing coveralls tonight. That's right, this evening we'll be looking at a collection of music relating to Formula 1 and other motorsports! And boy, this one was NOT easy to put together... mostly because there isn't as much "racing" music out there as you'd like to think. And a lot of that stuff that's out there isn't very good... but there is some that's worthwhile! Lights out, let's roll!
more...
Posted by: Wonderduck at 09:02 PM | Comments (5) | Add Comment
Post contains 446 words, total size 4 kb.
77kb generated in CPU 0.07, elapsed 0.1467 seconds.
57 queries taking 0.0946 seconds, 315 records returned.
Powered by Minx 1.1.6c-pink.