March 12, 2010
F1 Practice: Bahrain 2010!
F1 is back, ladies and gentlemen, and today's practice sessions have pointed out something I surely didn't expect: everything's changed, and
nobody
has a clue what the
hell
is going on. It's just that simple... nobody knows which teams are fast, and even the fast teams are being looked at with raised eyebrows right now.
For example, the fast team for the second practice was Mercedes. Nico Rosberg was fastest of all, and Slappy Schumacher was third, but both drivers had problems dealing with their cars. In particular, Slappy spun repeatedly in the first session. Still, they were able to squeeze fast laps out there. But nobody knows what their fuel loads were... a heavy fuel load now could easily be worth five to 10 seconds a lap.
Lap times at Bahrain have gone through the roof. Obviously a lot of that has to do with the new section, but when lap times have climbed from 1:30 to 1:56, it's not
just
because of the longer track.
One thing that we
do
know, however, is that the new teams are brutally,
brutally
slow. Nico Rosberg's fast lap of the second session was 1:55.409. Bruno Senna, turning the first ever laps for the HRT HRT, maxed out at 2:06.968. That's right,
11.5 seconds slower
. The fastest of the newbies was Heikki Kovaleinninninnie's Lotus, at 2:00.873. Six seconds faster than the HRT HRT, but over five seconds slower than the Merc. Even Minardi was better than that, usually.
Another thing we've discovered today is that all that fuel weight is pure raw hell on the tires. For this race, Bridgestone has brought the super-soft and medium compounds. As has been the case in the past, the super-softs are only lasting for a few laps, except instead of "a few" meaning 10 or so, now "a few" means "two, maybe three" before they stop being tires and begin pretending to be wagon wheels. "Sure," I hear you saying, "but that's the softys. The mediums must be a lot more durable." Yes,
if
you consider six or eight laps to be durable. Of course a tire change pitstop is only going to take three seconds or so, and Red Bull is claiming that they've gotten it down to 1.8 seconds, but there's still the travel time down the pit lane. If you have to make three or four stops... *shaking head*. If Sauber is going to win races this year, this is how it's going to happen, because they are reportedly very easy on their tires... just as BrawnGP was last season.
Finally, it looks like Felipe Massa's recovery from the horrendous "spring upside the helmet" incident last season is complete... but Brazilian reporters are saying that he's seeming rather... tentative behind the wheel. He isn't as fast as HWMNBN, to be sure. Is that because of rust? Or something deeper?
So, the season is underway, and all is right with the world. But who's driving? Click "more" for your official F1 Update! driver list!
more...
Posted by: Wonderduck at 08:55 PM | Comments (2) | Add Comment
Post contains 991 words, total size 8 kb.
March 11, 2010
Ga-Rei Zero, Episode 11
If my memory serves me correctly,
last episode
saw the show catch back up to
Episode 02
, and the Schoolgirl in Black (formerly known as Yomi) kill off half the cast. Again. However, she only got one member of the Disposal Team, Kazuki. At the very end, Kagura's father (KDad) appeared in the nick of time, saving his daughter from joining the ranks of the corpses... and setting up a massive showdown between the two strongest Spirit Beasts, Ranguren and Byakuei. So who's power reigns supreme? We are set... let's get it on!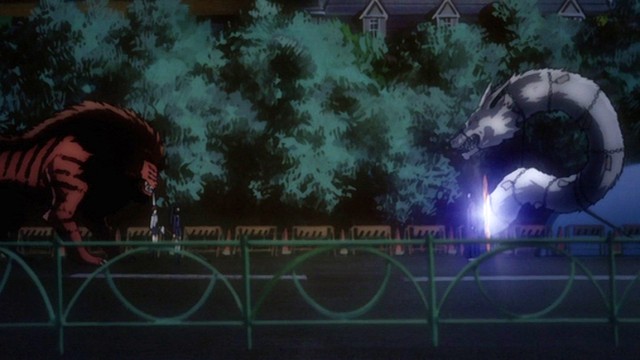 Cue two different staredowns and posturing. Of course. It's an anime fight scene, there has to be a staredown.
And if that wasn't enough, throw in some trash talking by the Schoolgirl in Black. If I didn't know any better, I'd think this was a pro wrestling match. Instead of, y'know, a fight that will likely end with the death of one of the two of them... and the destruction of half of the city of Tokyo.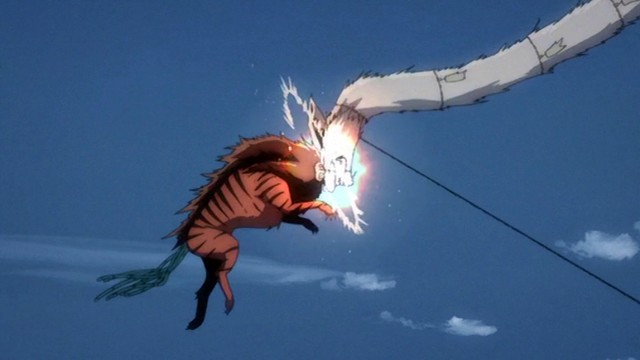 *bonk*

Bang a gong, we are on!
Ga-Rei Zero
, Episode 11: The
Awesoming
!
more...
Posted by: Wonderduck at 01:07 AM | Comments (5) | Add Comment
Post contains 3047 words, total size 28 kb.
March 09, 2010
Let Sleeping Ducks In Anime Lie
-
Railgun
Ep21
Oh, what the heck, let's make it a Twofer Tuesday!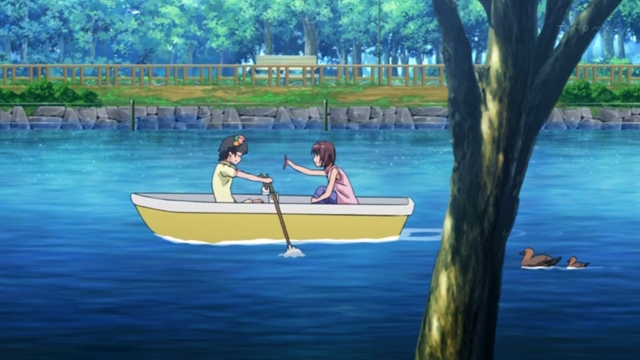 -
Railgun
Ep21
Posted by: Wonderduck at 09:58 PM | Comments (5) | Add Comment
Post contains 20 words, total size 1 kb.
March 08, 2010
F1 On SPEED!: Bahrain 2010!
The FIA tells us that the 2010 Formula 1 season officially opens with Friday's first practice session. But I have come amongst you, brethren and sistren, to tell you different. For I have heard the holy wail of St Fangio the Quick's blessed V10, and it tells me that here at The Pond, the season begins...
...now.
And things will be different this season. We no longer have refueling, so pitstops now are for tires only, and in testing were running sub-three-seconds. We've got three brand new teams, running nearly five seconds behind the frontrunners. We have six drivers that weren't on the grid last year, from rookies Bruno Senna and Vitaly Petrov to some guy nicknamed "Slappy." There's a new points system. There's no KERS anymore. And there's a new location for the first race of the season, cutting in front of Australia.
And even THAT'S new, because the people who run the Sakhir International Circuit in Bahrain have realized that maybe,
just maybe
, Hermann Tilke doesn't have the slightest idea how to design a successful racetrack. Let's take a look at the new layout: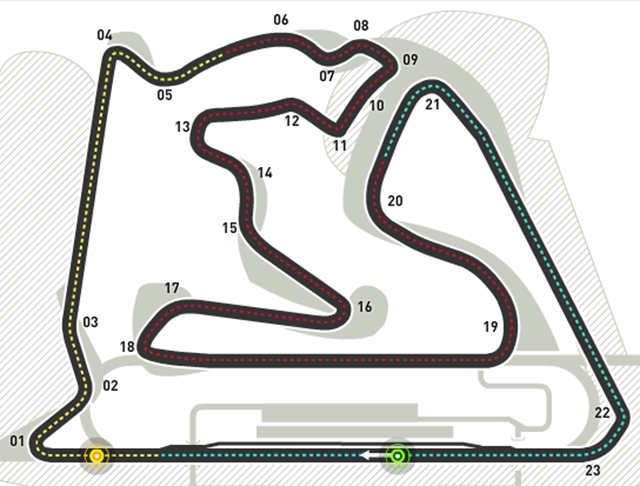 Well, that's a rather serious change. Everything from Turn 5 to Turn 15 (which is a reprofiled Turn 7 on the old layout) is new, as you can see if you compare the layout to
last year's map
. While the old circuit design may have been the best of Tilke tracks as far as passing went, it sure wasn't what anybody would've called conducive to overtaking. The new bit, which adds nearly a kilometer to the overall length, is supposed to facilitate passing by throwing in new braking zones for drivers to take advantage of. At least from looking at the map, I'd say Turns 11, 16 and 18 will be the new hot spots, with brave pilots maybe trying Turn 13 as well. Of course, nobody really knows because the teams haven't turned a wheel on it yet. It's worth mentioning that Renault's Robert Kubica doesn't think the new section will add any new passing opportunities.
Just another advantage of building a circuit in the desert, 12 miles away from the nearest city. Bahrain is probably the safest track in F1, complete with built-in sandtraps, runoff areas that you could build small suburbs on and the most modern infield medical complex in the series. And there's no neighbors to annoy when you update the complex, to boot!
It's pretty safe to assume that it won't be raining for the race, though there is always a chance for sandstorms. The organizers even thought of that, however, as they spray an adhesive over the sand around the complex before race weekend. Even with that though, the track should permanently be considered "dirty," with a thin layer of sand off the racing line.
We'll get our first look at the Bahrain "Endurance" Circuit, as it's called, on Friday March 12th, with SPEED's live coverage of the day's 2nd Practice session from 5am to 640am. Saturday brings us the first Quals session of the year, plausibly live from 5am to 630am.
Sunday, of course, is the beginning of Daylight Saving Time, so remember to shift your clocks ahead one hour at 2am! That way, when you set your VCR for the race, which will be coming to us live from 630am to 9am, you'll actually
get
the race. There'll also be replays at 1230pm to 3pm on Sunday and another from 1130am to 2pm on Monday.
Of course, the F1 Update! crew will be providing our usual post-race writeup. F1 is back, and it promises to be one heckuva season!
Posted by: Wonderduck at 02:17 PM | Comments (3) | Add Comment
Post contains 608 words, total size 4 kb.
Ducks In Anime By The Book
-
Read Or Die TV
, ep01
I hadn't watched ROD TV in a few years, but I really liked it the first time through. I didn't feel like catching up on
Railgun
(I'm two episodes behind) or watching
Summer Wars
(not enough time), so I figured what the heck, why not?
And there it was. I don't remember it being there the first time I watched the show, but with hardsubbing, it might have been covered up. I'll freely admit to being amazed.
First episode is just as fun as I remember it being, too, so that's a bonus.
Posted by: Wonderduck at 12:14 AM | Comments (2) | Add Comment
Post contains 104 words, total size 1 kb.
March 07, 2010
Yup... It's Spring All Over The Place
It's time to admit that Spring has come to The Pond. Take a look:
It's raining.
Okay, yes it's only 36 degrees outside, and yes there's still plenty of snow on the ground, and no there's no sign of leaves, buds or any other sign of impending rebirth on the trees, but it's
raining
. If it's raining, that means it
isn't
snowing. Must mean it's Spring.
Hey, at this time of year around here, you grasp at any straw you can get your hands on.
Posted by: Wonderduck at 10:53 AM | No Comments | Add Comment
Post contains 92 words, total size 1 kb.
What Have I Gotten Myself Into?
I just finished rewatching Episode 11 of
Ga-Rei Zero
, screencapping as I went. Epic, epic episode. How epic?
Dear god in heaven, I got
172
screencaps in 24 minutes!
I need to eliminate at least half. Fortunately, there's quite a few repeats-- different facial expressions in the same scene, three pictures where the only difference is the number of speed lines, that sort of thing-- but it still might be difficult to get it down that far without much screaming and tears.
Still: a
helluva
episode! It'll be up sometime either Tuesday or Wednesday... Monday, Friday and Saturday are already reserved for F1 coverage, after all.
(damn but that's a lot of pictures to sort through... eep)
UPDATE 343am: Two-and-a-half hours later I'm down to 108, and if I don't go to bed, I'm going to fall asleep at my desk. Goodnight.
Posted by: Wonderduck at 01:16 AM | Comments (4) | Add Comment
Post contains 148 words, total size 1 kb.
March 05, 2010
The Greatest Ducks In Anime Moment Yet!
Of
course
it comes courtesy of
Hidamari Sketch
...
-
Hidamari Sketch Hoshimittsu
, ep08
I swear, the staff of the show must be doing this just to make me happy.
Posted by: Wonderduck at 11:49 PM | Comments (1) | Add Comment
Post contains 35 words, total size 1 kb.
F1 Pr0n: Hispania Racing Team HRT
Okay, here's the moment you've all been waiting for: more pictures of the HRT HRT (yes, that's really it's name)!
Okay, the first thing I can say is that this car is going to be able to outbrake anything on the planet. Look at the size of those brake ducts! Merciful Monza, those things are
huge
! They'd be able to ingest a watermelon!
Then there's that front wing. Yesterday I called it "simple", and now I'm going to go a little bit farther and call it "really simple." I can make a more complex curve with a sheet of 3/4" plywood... and a plain sheet of plywood would probably create more downforce.
Let's look more, shall we?
more...
Posted by: Wonderduck at 09:29 PM | Comments (8) | Add Comment
Post contains 255 words, total size 2 kb.
March 04, 2010
F1 Pr0n Sneak Peek: Hispania Racing Team HRT
The last team to join the F1 ranks has finally dragged its car into the spotlight. Hispania Racing Team, once known as Campos Meta, gave a more-or-less rollout for their vehicle this afternoon. And here it is:

Um. Well. I have to say that I'm not exactly enamored of the color scheme but as someone once said, "paint doesn't win races." This is currently the only picture of the chassis floating around out there, so let us try and figure out what we can from it.
The first thing I notice is the front wing, which could charitably be called "simple." No complex curves, no movable elements surely, just a basic downforce-producing design. The nose, and indeed much of the rest of the car, reminds me very much of Virgin's
VR-1
. Considering the Dallara influence on that chassis (Nick Wirth, Virgin's technical designer, worked with the manufacturer on their IRL cars), and that Dallara built this one, it's not surprising.
Not much else really stands out in this picture, though. Hopefully we'll see more soon, because we sure won't be seeing much of it during the races. With the end of the final test session in Barcelona last week, F1's testing ban is now in place... so the first time this car will turn a wheel will be in Bahrain's 1st Friday Practice session!
More when it becomes available.
Posted by: Wonderduck at 07:01 PM | Comments (4) | Add Comment
Post contains 237 words, total size 2 kb.
Ga-Rei Zero, Episode 10
In the last episode
, Yomi turned into the Schoolgirl in Black after being abandoned by everybody close to her. Of course, this was
after
she was turned into a pincushion by the Big Bad, who then healed and implanted a piece of the Death Stone into her. Hell's comin' to breakfast, and it's hungry... so let's get cracking on Episode 10.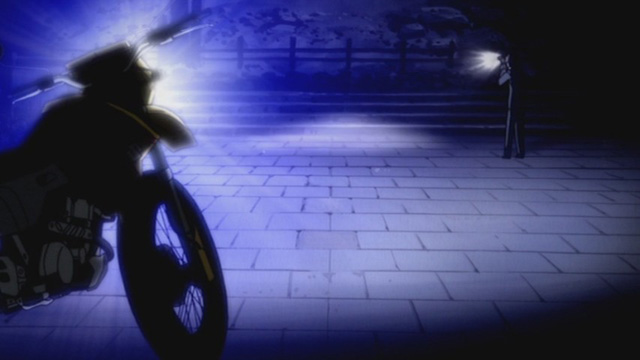 Tonight on
CSI: Tokyo
, Noriyuki appears to have shaken off his lethargy and angst (not that it was unwarranted) and is actively investigating at the site of Yomi's attack.
Yup, the old "stick in the hole" trick, so as to discover what direction the projectiles came from.
Of course, they all came from the same direction... a source other than Yomi herself. In Mr Laser Weasel's mind, this pretty much proves that she was attacked. Putting away his camera, he mutters to himself, "I suppose she...
got the point
."
Yeaaaaaaaaaaaaaaaaaaaaaaaaaaahhhhhhhhhhhhhhhhh!!!!!!!
more...
Posted by: Wonderduck at 12:20 AM | Comments (4) | Add Comment
Post contains 2341 words, total size 22 kb.
March 03, 2010
RIP USF1
USF1 is now, for all intents and purposes, completely dead. Over the weekend, the team requested permission to miss the 2010 season and have their slot on the grid held until 2011. On Tuesday, the entire staff of the fledgling American team was put on unpaid leave, pending the FIA's decision.
Today, the decision was handed down... and the answer was "No." The team no longer has a place on the grid for this year or next year. Considering that any legitimate investor will look at the team's track record and run screaming for the hills, there's practically no chance for USF1 to rise from the dead and reapply in 2011.
Nobody has seen Peter "Smarmy" Windsor for months. The one driver they announced is about to join Campos Meta (which, after financial troubles of their own, has been renamed HRT F1) as their reserve. Ken Anderson is squarely in the targeting reticule as having mismanaged the team into the grave.
At least StefanGP didn't get the slot. The FIA decided to go with a 12-team grid this year, instead of letting the obnoxious Toyota grave robbers take the slot. So there's some small blessing in all this.
Damned shame, this.
Posted by: Wonderduck at 08:36 PM | Comments (1) | Add Comment
Post contains 203 words, total size 1 kb.
March 01, 2010
Random Anime Picture #52: God Emperor of Academy City?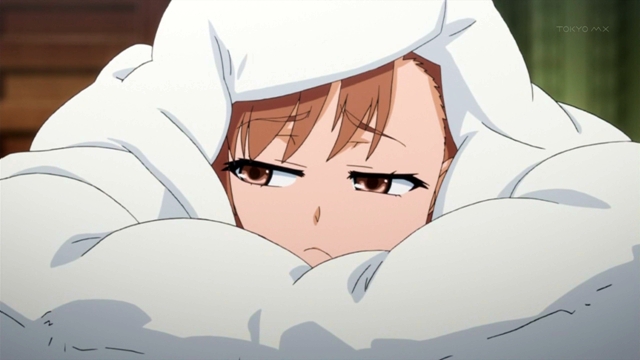 -
Railgun
Ep19
Who knew they had sandtrout in the
Railgun/Index
world?
Posted by: Wonderduck at 10:19 PM | Comments (1) | Add Comment
Post contains 20 words, total size 1 kb.
66kb generated in CPU 0.11, elapsed 0.2796 seconds.
57 queries taking 0.1974 seconds, 315 records returned.
Powered by Minx 1.1.6c-pink.