October 09, 2010
F1 Quals: Japan 2010, Take Two
The skies above Suzuka are reported to be sunny and clear, and the Quals for the 2010 Grand Prix of Japan went off without a hitch! Here's the provisional grid:
Pretty dominant performance for Seb Vettel, what with being fastest in every session. This would be Red Bull's first front-row lockout since Hungary. Lewis Hamilton would have been in great shape to run with the Bulls, but his five-spot grid penalty for a gearbox change will drop him back to 8th. It'll be interesting to find out what happened to Massa, particularly when his teammate is so much farther up the grid.
Any interesting details will have to wait until I actually see the session, of course, which won't be shown on SPEED for another 90 minutes. Of course, F1 Update! will be all over the race. If anything particularly blogworthy occurs, we'll pop in with a live update. Gonna be a late night here at Pond Central...
Posted by: Wonderduck at 08:33 PM | Comments (3) | Add Comment
Post contains 322 words, total size 13 kb.
Slow Boat To Japan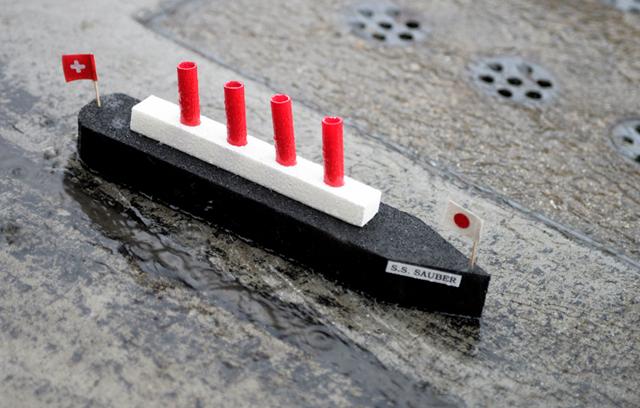 Best looking of the entries for the Great Suzuka Pit Lane Boat Race. Also the slowest, which isn't all that surprising considering Switzerland's naval status (
the America's Cup not withstanding
).
News from Suzuka is good. Looks like there's only light rain in the area, though with four or five hours to go, that can change. Right now however, there's no doubt that Lewis Hamilton is seriously thinking about drowning himself. He'll be taking a five-spot grid penalty for a gearbox change. Seems there was a little bit more damage than the team thought after his little encounter with the wall. It's amazing how fast one's view of a driver's chances can change... right now, Hamilton is pretty much being given up for dead by everybody, yet he's still in third place in the Driver's Championship. Wacky.
In one other bit of news, they've
finally
laid asphalt at the Korea International Circuit, host of the first Grand Prix of Korea in two weeks. Unfortunately, it was laid down on Friday, and it takes time for asphalt to cure. For everyday use by streetcars, bus traffic and trucks, it's only a short time. For the stresses a F1 car will put on the asphalt, however, it's substantially longer... longer than they've got. A couple-three years ago, the surface at Montreal was literally being ripped up by the high-downforce cars in the curves. They patched the track in time for the race, but then the patches tore up. Fortunately, no cars were damaged by the chunking, but it could have been a disaster if someone had driven into one of the... call them 'potholes'... at speed. F1 Tech Honcho Charlie Whiting is scheduled to inspect the track on Monday, after which a decision on the race will be made.
You realize that, in theory, we might go six weeks between F1 races? If they cancel Korea, and Japan is washed out, that's exactly what'll be happening... unless they reschedule Suzuka and move Korea to, say, the Mt Fuji circuit. Bring back the Pacific GP!
Back after qual results are up!
Posted by: Wonderduck at 12:36 PM | No Comments | Add Comment
Post contains 351 words, total size 2 kb.
October 08, 2010
F1 Quals: Japan 2010 (LIVE COVERAGE!)
According to the Legendary Announce Team, the rains came a couple of hours after Friday's second practice... and hasn't stopped since. In between then and now, it's either bucketed down or poured. As the cameras went live for Quals, the session was delayed for 30 minutes, with an announcement on what was going to be done at that point in 20. Saturday's practice session was for all intents and purposes a washout.
The weather is supposed to break sometime in the night Suzuka time.
UPDATE @ 1218am
: The safety car went out on track, and
it
was having problems. The big problem is that Suzuka actually has elevation changes, so the water flows downhill, towards the start/finish line. Degner in particular is a swamp, but many places have deep standing (or worse,
flowing
) water. The full wet tires are incredible pumps, blowing water out of their deep treads in prodigious amounts, but when the puddles are deeper than the tread depth they may as well as just be slicks... and that's the situation we're in. The FIA just announced that there's no decision as of yet, and there'll be another announcement around 1am Pond Central time. This isn't going to end well.
UPDATE @ 1237am
: SPEED is replaying Practice 2. Realistically, there's no way they can do quals today. This isn't the first time this has happened. In 2004, quals were hit by a tropical storm, the track was evacuated, and they ran the session on Sunday morning. So what happens if they decide not to run quals? The rules say if multiple drivers fail to set a time, their qualifying position will be the order in which they tried to set a lap, and then the order in which they left the pits. Failing that, car number order will be used to decide grid positions. Since nobody could try to set a time, and nobody left the pit lane, it'd go by car number, which means that Jenson Button would be on pole with his teammate second... but don't expect that to happen.
UPDATE @ 1am
: Another 30 minutes have been added to the announcement time. It's still pouring at Suzuka, and it's starting to get awfully dark.
UPDATE @ 105am
: We have racing! Okay, it's in the pit lane, but still...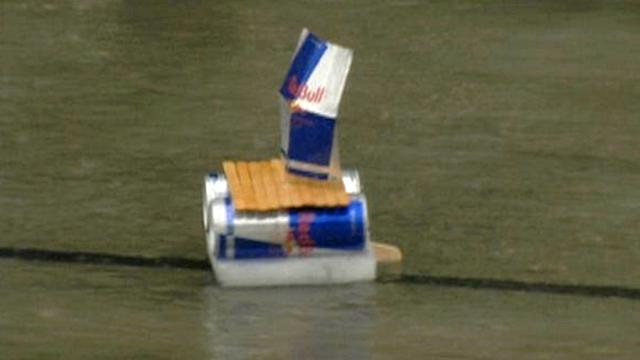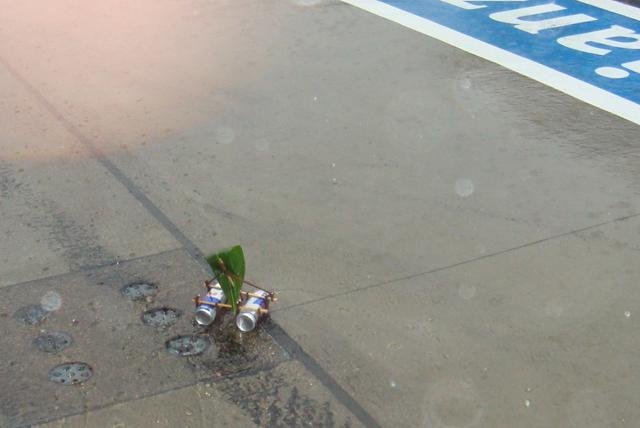 UPDATE @ 130am
: Qualifying has officially been postponed until 10am Sunday Japan time. That's approximately 6pm Pond Time, and SPEED will not be doing live coverage. Instead, they'll be running it at 11pm, right before race coverage. We'll be bringing qual results when they happen!
Posted by: Wonderduck at 11:16 PM | Comments (3) | Add Comment
Post contains 434 words, total size 3 kb.
F1 Practice: Japan 2010
When you're involved in both the Driver's and the Constructor's championship races this late in the season, many things have to go perfectly to have any sort of chance. The driver has to be supremely confident in both his skills and those of the team. The team has to be able to count on the driver to handle any new upgrades they throw onto the car and give them solid feedback on what works and what doesn't. Particularly in this day and age of testing bans, it's imperative for updated cars to get as many laps on track as possible during the practice sessions.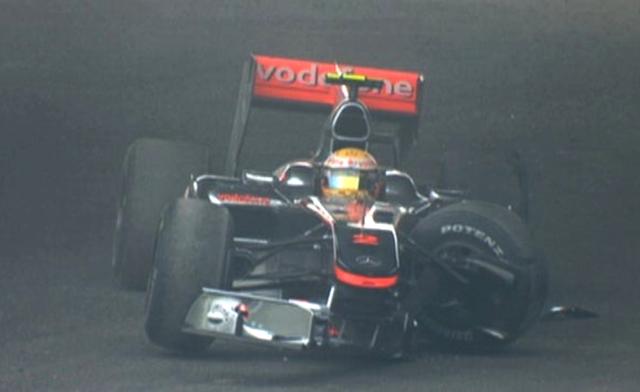 So when McLaren's Lewis Hamilton sent his MP4-25, festooned with the most upgrades of any car on the grid, sailing off track and into the wall during Friday's morning practice session, the team had to be crushed. The rather violent impact had torn off the front left suspension and trashed the brand new nose rather completely. That Hamilton, who has finished only one of the past four races, had only turned nine laps to that point meant that the team needed the reigning Driver's Champion, Jenson Button, to set off and run lap after lap to gather data on the new upgrades, tire wear, fuel consumption, and anything else you could think of, rather than splitting the duties with his teammate. This he did with his usual professionalism... until he went off track at the same place Hamilton did. That he managed to keep it off the wall, despite getting airborne as he rode over the curbs, was impressive as all get-out. It also turned out to be desperately important, as Hamilton only made it back on track with seven minutes or so left in Q2.
Just down the pit lane from McLaren, the boys from Red Bull were circulating endlessly around Suzuka. They didn't bring more than a couple of upgrades to the race, but one could argue that they don't need to. In any case the obvious reliability of the RB6 chassis, mixed with Seb Vettel's topping of the timesheets, would seem to make them the prohibitive favorites for Sunday's race, particularly as Ferrari didn't seem to be showing much more than an average pace.
But then there's the weather forecast. As has often been said, rain is the great equalizer in Formula 1, and boy is there rain scheduled for Saturday. The Legendary Announce Team said that the FIA nabobs were saying that up to two inches of precipitation could be in the offing, with the worst of it happening smack dab in the middle of Quals. Now, a little bit of the wet is usually a good thing for a F1 race. It throws an element of unpredictability, of randomness, into the scenario and opens the door for all sorts of wacky things to occur... but nothing is helped by having the contents of the Inland Sea suddenly transfer itself onto the Degner Curve.
We'll find out what happens in just a few hours!
Posted by: Wonderduck at 07:55 PM | Comments (4) | Add Comment
Post contains 506 words, total size 3 kb.
October 07, 2010
Wanderduck Visits Memorial Hall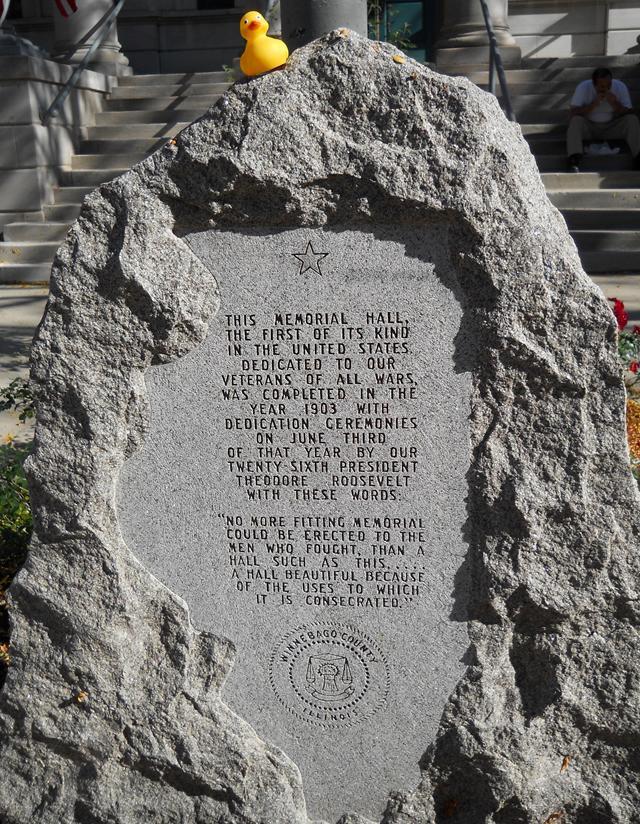 This afternoon, Wanderduck and I paid a visit to Duckford's
Memorial Hall
, as I was to be selling copies of
a book written by three of Duck U's professors
, while they were giving a speech. It had been many a year since I was last there, and I left wishing I could have stayed a lot longer. Reportedly, they have an actual WWI
Chauchat LMG
on display, and if only for curiosity value I wanted to see it: a less suitable weapon for trench warfare than the Chauchat would have to shoot the operator intentionally. Alas, I was on the clock and so couldn't tarry.
However, on the way out Wanderduck insisted I take his picture... and the results are as you see above.
Posted by: Wonderduck at 09:35 PM | Comments (3) | Add Comment
Post contains 128 words, total size 1 kb.
October 06, 2010
Odds and Ends, Bits and Pieces
I find myself with an armload of thoughts, none of which on their own is enough to merit a post of their own. However, throw them all in one place and they might just pass as something interesting.
I've discovered that having a real honest-to-god satellite TV system is a very scary thing. Until two weeks ago, Pond Central's apartment complex had an in-house system, maybe 40 channels, of middlin' quality. Still, it had SciFi, and that was all I needed when I first moved in nigh on a decade ago... after all, that's where
MST3K
was shown, and what else would I ever need? Later, I discovered the wonders of SPEED and the glory that is Formula 1, but that was so far in the future as to be laughable in retrospect. As mentioned, a couple of weeks ago the complex dumped their own satellite system for
DISH Network
. Of course, SPEED is on their second tier of programming, meaning that with the DVR reciever, I'm paying a silly amount of money per month. I grumbled about "a la carte" and the like, but signed up anyway... gotta have F1. It was only when I
really
looked at the second tier that I noticed a few hidden gems. Gems like the NFL Network, for example. Or the Documentary Channel. Or BBC America. Which shows
Top Gear
. Oh my, very yes indeed. And then there's the Sirius/XM music channels. Or, in my case,
channel
.
I've pretty much locked in the station known as "1st Wave" (that's on channel 6022, if you've got Dish), to the point where it's replaced my old transistor radio which hasn't moved off of a Chicago sports-talk station in months. 1st Wave plays "70s and 80s Alternative" music, a term that doesn't mean anything, as the term "alternative" as referring to music didn't exist until the 90s. Besides,
this is what I listened to back then
, how could it be alternative? Simple Minds, Squeeze, The Fixx, Bowie, the Ramones, Roxy Music and/or Bryan Ferry, Joe Jackson, Erasure, the Smithereens, Madness (
Night Boat to Cairo
, no less), Thomas Dolby, the PsychoFurs, Depeche Mode, The Smiths and on and on and on. Yes, please throw me in that briar patch.
I'm surprised at how hooked on
Black Lagoon
I became. Based on some of the comments in the "
recommend a show for a n00b
" thread, and nigh-constant prodding by
Brickmuppet
in e-mails, I finally gave it a look. Great googly moogly, why did I wait so long? Yes, it's violent, the humor is dark at best (and deep, deep black at worst), but the characters are outstanding... though almost all of them are morally twisted. Or psychopaths. Or morally twisted psychopaths. To say it's not for everyone is not taking it far enough. But for those who do venture into the back alleys of Roanapur, it's worth the trip. Muppet tells me that the English dub is first-rate, and that may very well be true, but I will never, ever hear it... because I have heard Revy speak in the Japanese track. She's the main female character, and she's voiced by
Megumi Toyoguchi
. She was the voice of Winry in
FMA
, Sylvia in
Princess Lover
, Parfet Balblair in
Vandread
, and Kirino in
Bamboo Blade
, amongst many many others. But there's something about Revy's voice that... well, the description I've used is "liquid sex." Doesn't matter that Revy is an amoral, murderous lunatic who'd be more than happy to blow your head off because you sneezed within three miles of her,
that voice
... It goes without saying that none of the other roles she's played sounds anything like Revy, of course.
One of the summer shows I was most excited about was
Amagami SS
, and I'm still enjoying the show immensely, but the recently ended Sae arc stretched my levels of disbelief a little thin. How so?
more...
Posted by: Wonderduck at 10:14 PM | Comments (4) | Add Comment
Post contains 823 words, total size 6 kb.
October 04, 2010
F1 on SPEED!: Japan 2010
From the slow, twisty, narrow Tilkefied Singapore street circuit, the F1 Circus now transitions to one of the oldest tracks on the calendar, the fast, smoothly flowing,
Haruhi

-appearing
, Suzuka Circuit. Located on the east coast of Japan, the track is one of the big favorites of the drivers, ranking up there with Silverstone and Spa-Francopants. It's also one of the wetter races on the calendar, with rain being more the rule than the exception. Let's take a look at the circuit map for this wonderful track: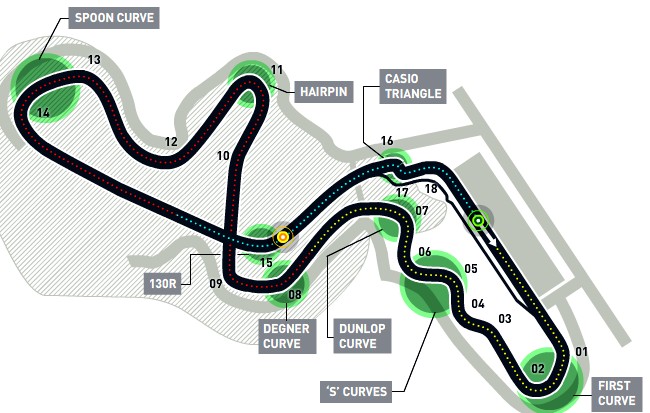 Suzuka is notable for being the only figure-of-eight layout on the calendar, not that you would know it from TV coverage, and truthfully the bridge section flashes by so quickly you barely notice. The circuit contains two or three legendary "named" turns.
130R
is arguably the fastest turn in F1, one of the few that's taken flat-out at the end of a long straight. To say it's a stern test of a driver's mettle is an understatement. Alas, it's no longer
the fearsome 130meter radius
(hence '130R') single bend that it used to be, turning it into a double-apex bend of 85m and a 340m immediately after. This made it easier to navigate, but not all that much, and it's still a rough turn.
Then you have the
S Curves
. If there's a better example of a 'rhythm section' on a race track anywhere in the world, I've never seen it. Drivers say it's essentially a horizontal rollercoaster, and if you mess up the line at the entry, you've just blown your entire lap as you struggle to toss the car around the bends. On the other hand, if you get it
right
you've just opened the door for all sorts of wonderful things like a quick run to the third of the named turns: Degner.
Degner
doesn't seem to be anything special, just a gentle-ish bend to the right. However, last year Turn 08 earned a dark place in everybody's heart with four separate accidents located there during
Quals
. High curbs, a bump in the track, resurfacing that ended just short of Degner... take your pick as to why there were so many wrecks in 2009, but it's possible that the gremlins will still be there this year. Cross your fingers...
Weather is forecast to be rainy all weekend, just to add another level of excitement to the already challenging circuit. F1's weatherpeople have been pretty lousy at predictions this year, though, so it's really anybody's guess what it's going to be doing come race day.
One really nice feature of Suzuka is that the race is at a decent time here in the US. Coverage begins on Thursday from 1159pm to 140am Friday, with LIVE pictures of 2nd Practice. Quals are from 1159pm Friday to 130am Saturday morning.
The 2010 Grand Prix of Japan coverage is Sunday morning from 1230am to 3am, with a replay from 130pm to 4pm for all you people who actually, y'know, sleep. All times are Pond Central, so Vaucaunson's Duck, you're getting the race at 1030pm on Saturday... you lucky bastard. Maybe you can convince Dr John to watch it, eh?
Finally, SPEED has started to stream coverage of Friday's 1st Practice live on their website! For Japan, the whole thing starts at 9pm at
speedtv.com
. For those that read the F1Updates! but don't own a TV, here's your chance to actually see some Formula 1 running. Now, the Legendary Announce Team doesn't commentate during these, so it's just ambient sound... which is great, too.
Of course, F1U! will be all over this race weekend... we'll see you then!
Posted by: Wonderduck at 09:21 PM | Comments (5) | Add Comment
Post contains 607 words, total size 4 kb.
October 03, 2010
Little Girl, Big Gun
A couple of days ago,
Steven was talking about
an anime fetish/trope/whatever, namely, "Little Girls with Big Guns." Last night, while I was waiting for my broadband connection to get fixed, I stumbled upon another example or two: Gretel from
Black Lagoon 2nd Barrage
.
You've gotta love the cute little plushy fob hanging from the barrel, neh?
In case you're wondering, it's a
M1918A2 Browning Automatic Rifle
, or BAR. Sort of halfway between an assault rifle and a machine gun, I suppose it's the predecessor of today's SAR.
Now, one can debate if Gretel actually falls into the category of "Little Girl," but that's an argument for another day.
Posted by: Wonderduck at 08:06 PM | Comments (6) | Add Comment
Post contains 113 words, total size 1 kb.
October 02, 2010
Technical Difficulties Continue... Sort Of.
For the past three nights now, my broadband connection has slowed to a crawl. I can hear you asking, "Wonderduck, just how slow is your connection?" Well, earlier this afternoon I was getting a steady and solid 170kB/s on uTorrent. Now? Less than 4kB/s, and I gather that's been the pattern since Thursday. Webpages, even simple ones like Google's front page, take minutes to load. I'd probably be getting better results from a dialup connection.
I'm not even sure this post will update correctly, but on the off-chance that it does, here's a frightened Sae.
-Amagami SS
ep11
Cross wingtips and knock wood, the Pond'll be back up to full speed before Monday, so I can do the F1 on SPEED! report for the Japanese GP, and before I start to suffer internet withdrawl.
Posted by: Wonderduck at 07:40 PM | No Comments | Add Comment
Post contains 139 words, total size 1 kb.
October 01, 2010
We Are Experiencing Technical Difficulties...
...please stand by.
(broadband problems, not computer related)
Posted by: Wonderduck at 11:42 PM | No Comments | Add Comment
Post contains 13 words, total size 1 kb.
74kb generated in CPU 0.07, elapsed 0.2002 seconds.
53 queries taking 0.154 seconds, 299 records returned.
Powered by Minx 1.1.6c-pink.