April 13, 2009
Induction Into The Order of the Honorary Duck
FOR MERITORIOUS SERVICE to The Pond, I hereby bestow upon Ken Talton of
Brickmuppet Blog
membership in
The Order of the Honorary Duck
, with all the rights and glory that brings unto him.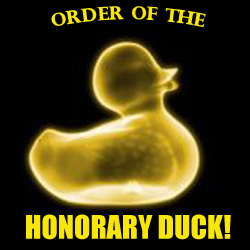 Ken becomes the fourth member of the Order of the Honorary Duck, joining
Pixy Misa of Ambient Irony
,
Don of The Kawaii Menace
, and
Jeff Lawson of Winter Garden
.
While Ken has in the past sent me various things he's picked up in Japan (a mini-Godzilla and some beautiful
Clannad
pencil-boards), nothing could have prepared me for the package that awaited me at the Duck U. Bookstore when I came in this morning.
While I was somewhat apprehensive about opening this rather large package, seeing how he has a history of
sending exploding kiwi after me
, I nevertheless bravely sundered the packing tape. Inside the box?
Yes, he sent me a copy of
Duck! Duck! Go!
, the rubber duckie racing game, as well as a huge number of other duckies. This is very close to the largest number of ducks to be added to my collection at one time, and may have pushed my flock over the 300-duck mark.
He's also amused me with various online chats, deluged me with
completely
inappropriate pictures, and helped me deal with whatever problem I've had. He's also offered to be a tour guide in Japan when I go... because of which fact, I've decided that I WILL go.
In other words, he's been a friend, even though I've never actually met him.
For all of these reasons, Ken Talton richly deserves induction into The Order of the Honorary Duck.
Thanks, Ken!
Posted by: Wonderduck at 07:14 PM | Comments (5) | Add Comment
Post contains 279 words, total size 2 kb.
April 12, 2009
Happy Easter 2009!
There were supposed to be jellybeans in this photo. It appears that one of my duckies has a sweet tooth.
Happy Easter to all!
Posted by: Wonderduck at 09:06 AM | Comments (3) | Add Comment
Post contains 27 words, total size 1 kb.
April 11, 2009
1/40th Scale Yamato... Made From Legos
This is quite... something.
Only slightly less useful than the real thing.
See more pictures of this 100,000-brick behemoth at
Project Yamato
.
Posted by: Wonderduck at 04:14 PM | Comments (1) | Add Comment
Post contains 28 words, total size 1 kb.
April 09, 2009
Dave Arneson Has Also Failed His Saving Throw
Dave Arneson, co-creator of D&D,
passed away

yesterday
late Tuesday night. He was at least as important to the seminal pen & paper RPG as Gary Gygax, though not quite as well recognized. Essentially, he took a set of rules for large-scale battles and turned them into something appropriate for one-on-one fights... and that turned into D&D.
I wonder if he'll get the
same sort of accolades
that Gygax did last year...?
UPDATE:
The Order of the Stick
understands the importance.
Posted by: Wonderduck at 09:44 AM | No Comments | Add Comment
Post contains 89 words, total size 1 kb.
Random Anime Picture #41: My Life At The Moment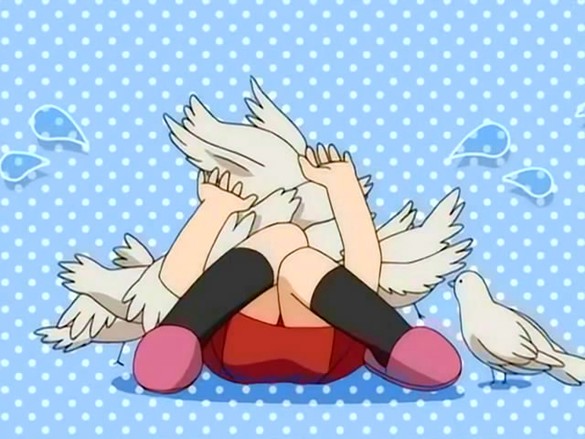 -
Hidamari x365
, ep11
That just about says it all.
Still have
lingering knee pain
, though I've (mostly) been able to do away with the cane. Biggest problem is hills and stairs.
My boss has come back from maternity leave, but now we're in our busy season as we get ready for both Summer and Fall semesters, and the buyback for Spring. Oh, and I have to be in the Duck U. Bookstore before 7am on Friday morning for a computer network upgrade.
Yarrrrgh
.
Anime viewing hasn't so much slowed as cratered, not from lack of interest but lack of time... and my brain isn't coming up with much in the way of pithy comments to blog on anyway. Well, at least there's still my ducks...
Posted by: Wonderduck at 08:27 AM | No Comments | Add Comment
Post contains 134 words, total size 1 kb.
April 06, 2009
The Greatest FanFic EVAR!*
There is only one line that I dare repeat from this:
"You came here expecting to find a madman, but instead, you found a GOD!"
Hitler had become a Super Saiyan.
...and if that isn't great enough for you, just go here to
read the whole thing
.
*yes, sarcasm is intended. The greatest fanfic ever
is actually this
.
Posted by: Wonderduck at 08:41 PM | Comments (5) | Add Comment
Post contains 62 words, total size 1 kb.
April 05, 2009
Opening Day Is Here!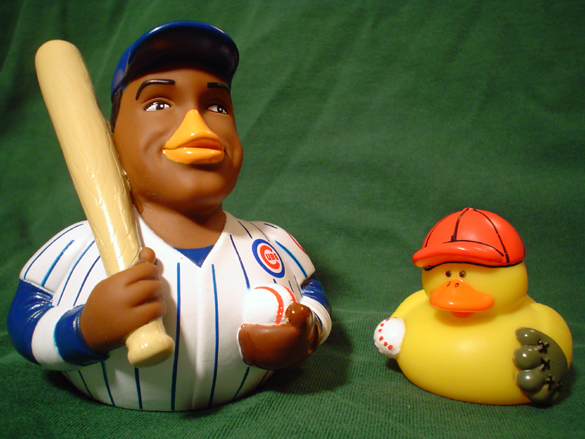 Yes, I'm aware that the Braves and the Phillies played on Sunday night. Don't care. It's not an official season until the Reds play their traditional afternoon game in Cincinatti...
that
's the first game.
Fortunately, the Cubs will be on the road (Houston) to open the season. Meanwhile, the White Sox have already postponed
their
opening day game at Comiskey due to snow.
Doesn't matter, though... baseball is back, and no amount of snow or cold can change that.
(yes, I'm aware that the Cubs duckie is creepy. ALL Celebriducks are creepy)
Posted by: Wonderduck at 11:29 PM | Comments (2) | Add Comment
Post contains 96 words, total size 1 kb.
F1 Update!: Malaysia 2009!
An unique race to say the least! THIS is your F1 Update! for the Malaysian Grand Prix!
*A DAY AT THE (SWIM) RACES
: If anybody at the FIA had bothered to ask a local, they would have been informed that, in Kuala Lumpur, every afternoon around 6pm there is usually a heavy downpour that lasts for some time. They also would have been informed that the sun tends to set around the time the race would be coming to an end.
The FIA asked neither of these questions and started the race at 5pm local time, so as to give the European audience a chance to wake up at a half-way decent time and still be able to watch live. So what happened?
The heavens opened up, the rains bucketed down, and the track began to flood. As reader The Wondering Brit said, "There's rain, and then there's
rain
."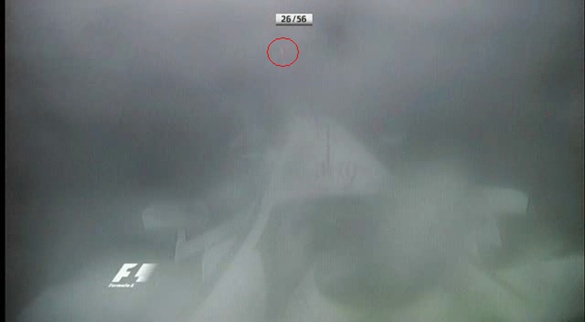 You'll note the red circle in the picture above. That circle is highlighting the Rain Light of the car in front of the Brawn, which might give you an idea of how hard it was coming down. Here's another example: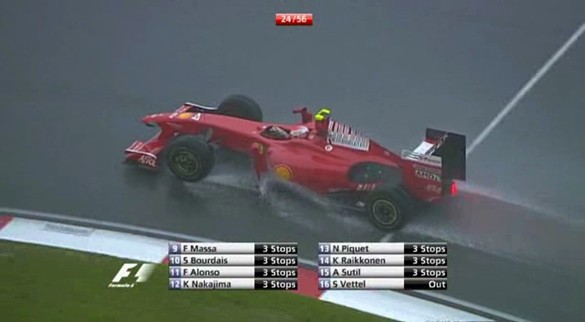 Note the way the water is spewing up around the sides of the car. On lap 31, the Race Directors called out the safety car, and one lap later they red-flagged the race. They then sat for about an hour, hoping for the weather to break. Instead, it just got worse, and for the first time since 1991, a Formula 1 race was stopped due to inclement weather.
As the race did not reach the 75% lap mark, all points scored are halved. Therefore, first place was worth 5, instead of 10, points, second is worth 4, third is worth 3, fourth is worth 2.5 points, fifth is 2, sixth is worth 1.5 points, seventh is worth 1, and 8th is worth one-half of one point. The full results list is
here
.
*DRIVER OF THE RACE
: Jenson Button. He's just won his second race in a row behind the safety car, but it's not like either was lucky. Today, Button had to make four pitstops for tires as the weather vacillated between good, awful, and frogswallower. Meanwhile, 2nd place finisher Nick Heidfeld only stopped once. Despite that, Button was
still
22 seconds in front at the end of the last completed lap.
*TEAM OF THE RACE
: Toyota. Third and fourth place, and if there had been another lap finished it would have been second and fourth. Great job for a team that needs results
now
.
*MOVE OF THE RACE
: On lap 13, Renault's HWMNBN and Red Bull's Mark Webber engaged in an amazing duel that lasted nearly two entire circuits of the track. The Renault was heavy on fuel but had KERS. The Red Bull was lighter, but had no boost button. The result was a back-and-forth battle where Webber would pass HWMNBN in one turn, and in the next the Renault would catch the Red Bull. It was only when the heavy Renault staggered wide under braking that Webber finally finished off one of the best fights in recent memory.
*MOOOOO-OOOVE OF THE RACE
: While a bovine lurks just under the surface of every driver in F1, this week they all get a pass: while everybody was sliding, spinning and generally pirouetting their high-tech cars around the circuit, the track conditions were more to blame. No, today's Mooooo-ooove goes to Team Ferrari for bringing Kimi Raikkonen in for full-wet tires five laps too early. By the time the rain DID start, he had already shredded his monsoons, even though Kimi was a full 30 seconds a lap slower than everybody else as he tried to keep some tread on them. To be fair, this
was
a calculated gamble by a team that had nothing to lose, and we don't disagree with the call... we just had to give it to someone, and this gamble is the only "mistake" bad enough to be remembered.
There's only one Driver Quote Of The Race, yet it encapsulates the entire Malaysian Grand Prix:
"What a crazy race!" - Jenson Button (
note: real quote
)
That's it for the rain-shortened Malaysian Grand Prix. Two weeks from now we'll be in Shanghai, China... see you then!
Posted by: Wonderduck at 02:55 PM | Comments (7) | Add Comment
Post contains 713 words, total size 5 kb.
April 04, 2009
F1 Quals: Malaysia 2009!
Could Brawn make it two poles in a row?
Yup. Here's the provisional grid:
Rubens Barrichello had to change a gearbox and will suffer a five-spot grid penalty. Sebastian Vettel, of course, has a 10-spot penalty from last week's wreck with Kubica.
The biggest surprise, however, is down at 16: Felipe Massa. Ferrari and Massa are both guilty of complacency. He did four laps in Q1, and was fourth after 12 minutes... at which point, the team thought "heck, he's in, let's get ready for Q2."
And then the track, which had been washed clean by a monster downpour on Friday night, began to come alive as more and more rubber was laid down. Times began to plummet and Massa's 1:35.642 began to look less and less solid. Yet Ferrari did nothing... it was as if the team didn't even notice. By the time there was any reaction from the team, it was too late to get the Ferrari back on the track and around to start a hot lap. Just like that, Massa was out in Q1, a pathetic 16th.
Other than that, there wasn't much in the way of odd excitement. Don't get me wrong, it was thrilling to watch the back-and-forth between the two Brawns, Jarno Trulli, and Seb Vettel, all of whom were P1 at one time or another, but the strategies and driving were normal F1 level. Nobody jumped above the norm. Which was still pretty cool, and Jarno Trulli is making a bid for the "smoothest driver" award for sure. If he doesn't have a couple of poles and wins this season, it'll be a huge surprise.
Maybe his first will be Sunday... we'll find out then!
Posted by: Wonderduck at 09:36 PM | Comments (4) | Add Comment
Post contains 419 words, total size 23 kb.
April 03, 2009
F1 Practice: Malaysia 2009!
This'll have to be quick, as I've got my fantasy baseball league auction tomorrow, and I've got to spend a good long while researching... otherwise I'm gonna be screwed. So without further ado...
Ferrari topped the timesheets in the second practice, BMW was down at the bottom, the McLarens were right in the middle.
Except for that last one, pay no attention to the results. Nobody really knows what anybody was trying to do, as is normal during practices.
Two interesting things, though. First, Kimi Raikkonen's KERS-equipped Ferrari had a tiny little problem today...
I'm fairly sure that when thick acrid smoke starts billowing from your cockpit, it's not a good thing. It's likely the batteries overheated... probably terminal for them, but replaceable. Don't be surprised if this happens to someone during the race: it's supposed to be in the high 90s.
Second, the left-rear wheel cover came off of the Williams of Nico Rosberg while he was going around 160mph or so: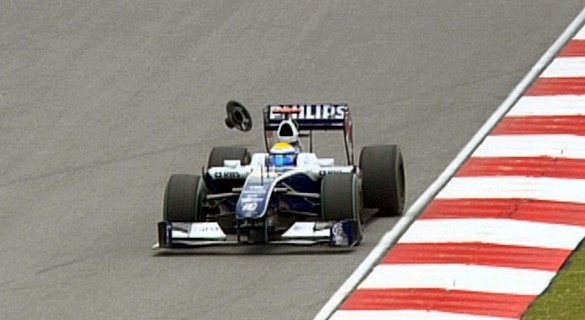 ...followed just a few moments later by the left-rear wheel cover of the Williams of Kazoo Nakajima, while he was going around 160mph or so:
Y'know, boys, someone just might want to take a look at that. I'm fairly sure that's not supposed to happen.
Unless it's an elaborate belated April Fool's Day joke. "Okay, Nico, Kazoo, press that purple button..."
Oh, and HWMNBN has an ear infection. Gosh. What a shame. Seriously.
Posted by: Wonderduck at 09:03 PM | Comments (2) | Add Comment
Post contains 240 words, total size 2 kb.
April 02, 2009
Hamilton Excluded From Australia Results!
Well, this is interesting. Lewis Hamilton has been excluded from the results of the Australian Grand Prix due to his part in the incident that earned Jarno Trulli a 25second time penalty.
What the TV cameras saw, and what the stewards based their initial decision on, was Trulli's Toyota spinning behind the safety car, and Hamilton (rightly) passing the stopped Toyota. Trulli then repassed Hamilton, which is against the sporting regs.
What we and the stewards didn't see, but a spectator with a video camera
did
, was Trulli rejoining the parade behind the safety car, behind Hamilton's McLaren. Hamilton then slows down dramatically and stays at the slower speed, a manuever which led Trulli to believe that the McLaren was broken. Trulli then passes Hamilton, which WOULD be legal if Lewis' car was sick.
So all of that clears Trulli and restores him to third. But that's not why Hamilton was DQ'd. He was excluded for, basically, lying to the stewards after the race about what happened. The FIA's statement reads:
The Stewards having considered the new elements presented to them from the 2009 Australian Formula One Grand Prix, consider that driver No 1 Lewis Hamilton and the competitor Vodafone McLaren Mercedes acted in a manner prejudicial to the conduct of the event by

providing evidence deliberately misleading to the Stewards

at the hearing on Sunday 29th March 2009, a breach of Article 151c of the International Sporting Code.
McLaren released a statement in the wake of today's hearing, saying that they do not intend to appeal.
So. McLaren and Ferrari are now dead-even again... with zero points. Trulli's third place adds six points to Toyota's haul.
It's never simple, is it?
Posted by: Wonderduck at 07:37 AM | Comments (3) | Add Comment
Post contains 287 words, total size 2 kb.
April 01, 2009
Wonderduck MUST have an Ultraduck!
Wiebetech, I salute you!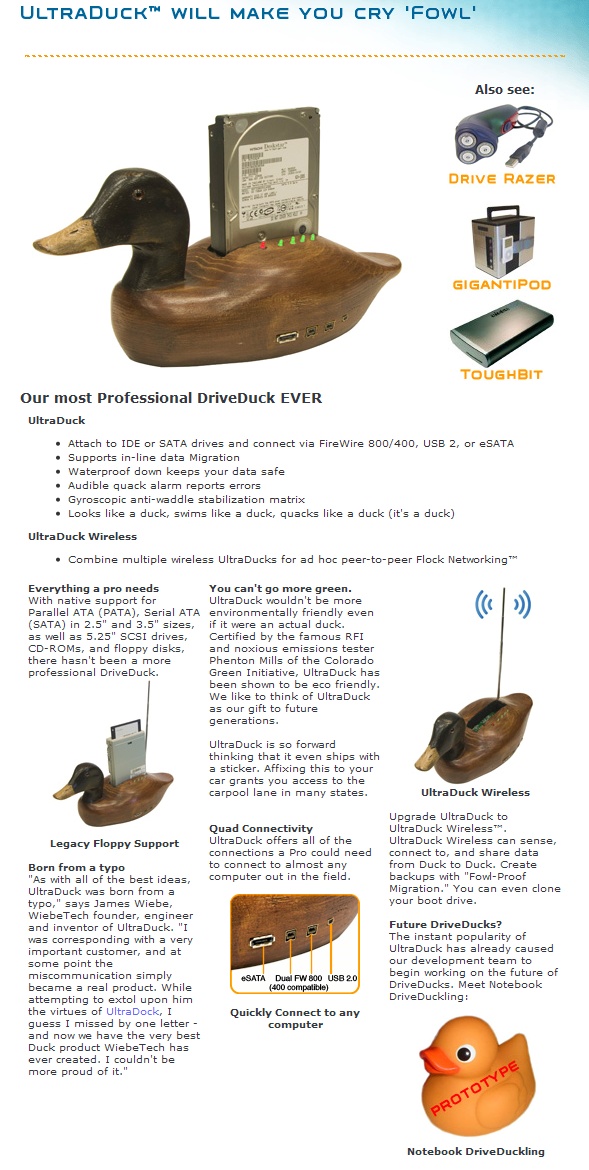 Posted by: Wonderduck at 08:41 AM | Comments (4) | Add Comment
Post contains 9 words, total size 1 kb.
82kb generated in CPU 0.1, elapsed 0.2777 seconds.
55 queries taking 0.2039 seconds, 292 records returned.
Powered by Minx 1.1.6c-pink.