September 12, 2008
F1 Practice: Monza 2008!
It never rains at Monza. Never. Never ever. So what happens in P1 today?
It rains. A LOT. How much?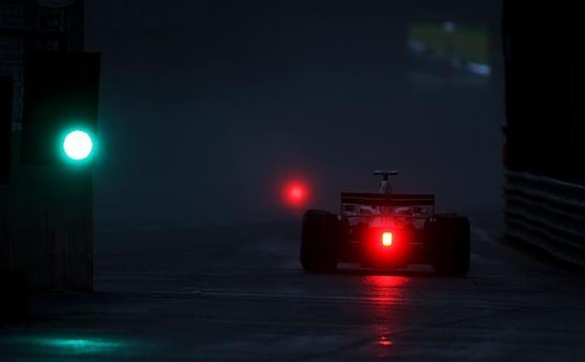 Oh, maybe that much. That's not an edited photo, no color or brightness modification whatsoever... it really was that dark at one point. Okay, so it's dark and rainy, big deal. Well, yes. It REALLY rained.
Yeah, about that much. P1 wound up being red-flagged with about five minutes left in the session. That rain left the track soaked, with some puddles of standing water on the back half of the circuit.
So P2 started on full wet tires, but the times dropped dramatically as the sun came out and the track dried. An example? Laps at the top of the session were around 1m45sec. At the end? 1m24sec. Just because the asphalt dried out.
Other than Nelson Piquet Jr high-centering his car on a "sleeping policeman" in the first chicane, though, there wasn't much else going on. Everybody was going very quickly, but Ferrari, McLaren and BMW proved to be the class of the field, as usual, with the Toro Rossos lurking closely behind. Not only is this Ferrari's home track, but it's the perfect circuit for their cars, one that rewards raw horsepower and low drag. There really aren't any low speed portions to Monza, unlike Spa's Turn 10-15 section for example.
So don't be surprised if Ferrari owns the front row in quals tomorrow... see ya then!
Posted by: Wonderduck at 10:32 PM | Comments (1) | Add Comment
Post contains 244 words, total size 2 kb.
September 11, 2008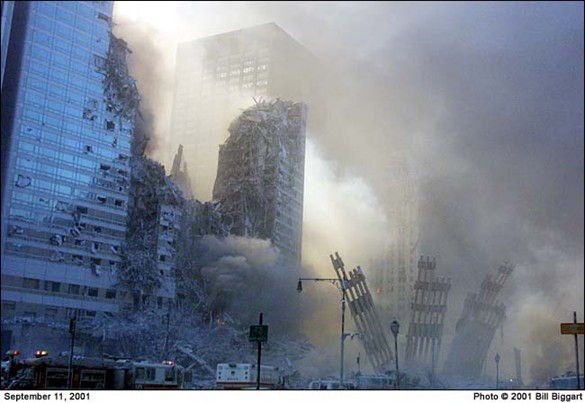 (
via
)
Posted by: Wonderduck at 08:56 AM | No Comments | Add Comment
Post contains 1 words, total size 1 kb.
September 10, 2008
Random Anime Picture #25
-
Kamen no Maid Guy
, ep03
Why exactly did I ignore this show for so long?
Posted by: Wonderduck at 10:48 PM | Comments (1) | Add Comment
Post contains 19 words, total size 1 kb.
September 09, 2008
Tacos Tacos Tacos...
Last year, BeeTrain brought out the third and final installment of their "girls with guns" trilogy,
El Cazador de la Bruja
(
NOIR
and
Madlax
being the other two). At the time, Pond Central was still cursed with dialup, so I wound up dropping the show after four episodes, all the while vowing to catch up with it down the road.
Well, I finally did. During the past few days, I've watched the whole series, and enjoyed it greatly. It's not as good overall as
NOIR
, but there's a lot more humor in
El Cazador
, so that part evens out. We won't even be talking about
Madlax
here, as it's not even in the same league as these two. The main characters, Nadie and Ellis are very likable, and work well as co-leads. The setting is one you don't see often in anime: Mexico-ish (the show doesn't explicitly state they're in Mexico, but I'll go out on a limb here), and the animators got the look (or what they think Mexico should look like) down cold. The plot is a little weird, with some supernatural elements thrown in. There's action, drama, comedy, and for those who who had problems with the director's decision not to show blood in NOIR, there's blood here, but never excessive, and always plot-based. Unfortunately, the supernatural aspects (which to me seemed silly at times) alone knocked
El Cazador
down from the level of the (more or less) reality-based setting of
NOIR
.
Of course, saying that
El Cazador
isn't as good as
NOIR
, which is on my short-list of favorite shows, is kind of like saying that Willie Mays wasn't as good as Babe Ruth. It may be true, but you're still making a serious comparison to the best of all time, and there's no shame in not quite matching up.
I would highly recommend this show to anybody who likes NOIR, The Dirty Pair, or a bit of action with your drama/comedy mix.
I give you fair warning, though: there's an earworm 'round these parts.
more...
Posted by: Wonderduck at 11:33 PM | Comments (7) | Add Comment
Post contains 357 words, total size 3 kb.
F1 on SPEED: ITALY 2008!
Just to get it out of the way, McLaren officially filed their protest regarding the 25sec penalty levied against Lewis Hamilton at Spa last week. Nominally, Felipe Massa is still the winner, and will as such until the protest is heard "at a time forthcoming."
So with that spectre hanging over our heads, let's get our focus out of the backrooms of the FIA and on the track, where it belongs.
And what a track it is. The track where speed is king, the circuit where speed was born, one of the legendary racetracks in all the world,
La Pista Magica
:
Monza.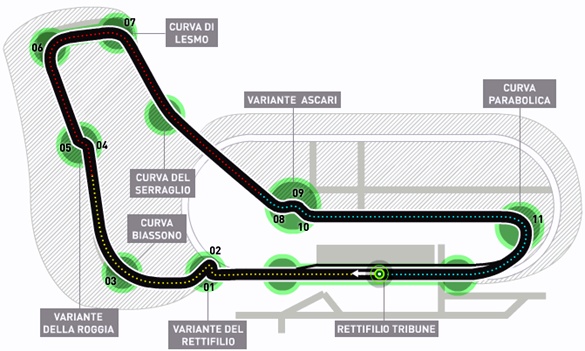 A casual follower of the sport would look at Monza and say "why is
this
legendary?" And in comparison to tricky technical circuits invented by Hermann Tilke, they'd be right. It's not a particularly challenging-looking track... only 11 turns, 7 of them in three chicanes? That's nothing! But turns are not what Monza is about.
Monza is about nothing but flat-out, engine-killing speed. 77% of a lap at this circuit is spent with the gas pedal jammed through the floorboards, the highest percentage in F1. Drivers hit 210mph just before turns 1, 4, 8 and 11... and turn 11, Parabolica, is perhaps the fastest curve in F1... 178mph if you're doing it right. Strangely, it's followed by one of the slowest, Variante del Rettifilio. From 210mph to 45mph in less than 100 yards.
If you could only have four circuits in F1, Monza would have to be one of them (I'd say Spa, Monaco and Silverstone for the other three).
Of course, our friends at SPEED will bring us their usual coverage of the race weekend, starting from
7a to 840a Friday
morning with live coverage of 2nd Practice. The track has been around for so long, however, teams barely need the practice. Still, they'll be out there driving the tires off.
On
Saturday
, from
7a to 830a
, we'll have plausibly live coverage of Quals. With a high-speed track like Monza, passing is a little tricky, so a good position on the grid is crucial, perhaps moreso than most places.
Then
Sunday
brings the tifosi out to cheer on Team Ferrari, who's factory is just down the road. The coverage begins at
630a
, and goes until
9am
.
See how the FIA stewards will bend McLaren over this time!
Who knows who'll be leading the Driver's Championship afterwards? We'll know afterwards!
Of course, F1 UPDATE! will be here all weekend as well!
Posted by: Wonderduck at 07:59 PM | No Comments | Add Comment
Post contains 418 words, total size 3 kb.
September 07, 2008
F1 UPDATE!: SPA 2008!
(UPDATED WITH PHOTOS OF THE INCIDENT)
At Spa, the rain giveth, the rain taketh away... but to whom was giveth, and to whom was taketh? And what the h*ll is the FIA
thinking???
THIS is
your
disgusted F1 UPDATE! We've thrown away the usual format of F1U! due to the events of the race and immediately following...
*NOW

THAT'S

WHAT WE CALL

RACIN'
: The skies over the Ardennes Forest were dark and leaden when the race began, with the torrential downpour of 45 minutes earlier ample testament of what could happen. As it was, the track was pretty much dry when the lights went out... except for the start/finish straight and La Source. That stretch of track, which might be considered somewhat important to the start of a race, was still sodden, and that promised an exciting start. Sure enough, one of the more confused beginnings ensued. Lewis Hamilton stayed in front through the first turn but Massa, starting alongside Hamilton, wound up getting shuffled down to fifth or sixth. 11th place-starting Jarno Trulli was touched by the hand of St. Fangio the Quick and rocketed up to fourth, passing other cars as if they were standing still... which they nearly were, as all the other cars were braking for La Source. Trulli, who held off braking until it was very nearly too late, wound up being rear-ended by SeaBass, who broke a chunk off his nose. Trulli, even though he continued on gamely, was never seen again. It seriously appeared as if half the field ended up having to use the runoff area in that first turn. Hamilton then began to gallop off into the distance, opening nearly a five second lead in one lap.
Then La Source, still damp and slick as whale snot, sent his McLaren skidding and flumphing off-track. While he recovered, Kimi Raikkonen zipped past, with Hamilton rejoining the race in second. And that's how it stayed until three laps to go in the race.
*HERE COMES THE RAIN
: With 20 laps remaining, the FIA announced that rain "was expected in 20 minutes", putting the weather on track about lap 36 of 44. As usual, the FIA's forecasters were wrong... by about five laps. In the meantime, the Lewis/Kimi battle was shaping up to be one of the best of the season. The Ferrari of Raikkonen managed to pull out to as much as a six second lead, but after the second round of pitstops both Hamilton and Kimi put on hard tires. Neither car ran particularly well on hards during practice and quals, but the McLaren had run better than the Ferrari. The same was true during the race, as Hamilton began to carve great chunks off the lead. With three laps remaining, the two were separated by less than a second. Then it began to rain, and
that's
when the race really began.
*RAINING ON THE PARADE
: Into the final chicane, Hamilton made his move on the outside of Raikkonen. Kimi was having none of it and refused to budge. The two cars touched slightly, which had the effect of causing Lewis to cut the chicane. Coming right back onto the course, Hamilton had the lead, but he had to immediately back off and let Kimi take the lead back due to the sporting regulations. By cutting a corner like that, one cannot gain a competitive advantage. Slowing down, he let Kimi by on the start/finish straight, then immediately tucked himself down under the gearbox of the Ferrari. The two cars scissored back and forth approaching La Source, each driver trying to figure out where the other was going to dive. Hamilton made his move to the inside into La Source, just barely getting by. How close was the pass?
Yes, that's Raikkonen's front wing rubbing on the right-rear of Hamilton's McLaren. It was a clean move, and about as daring in the rain as one can get. But it wasn't over yet! Down the Kemmel straight, both cars were twitching slightly. Into Les Combes, Kimi had a big twitch, the rain playing hob with traction. Both drivers tip-toed through the upper part of the track, with Kimi close aboard the McLaren. What they didn't realize is that a Williams had spun and was retaking the track just ahead of them, under yellow flags (though that isn't visible in this shot):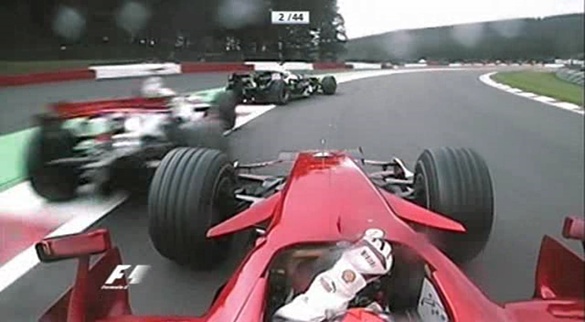 Both drivers wound up having to dodge to the outside of the turn (and the mobile chicane of the Williams), with Raikkonen taking the lead (under yellow, a no-no) as Hamilton wound up having to take to the grass. The lead was short-lived, though, as Kimi, suffering from the rain, wound up spinning in the next turn. Hamilton, still accelerating, passed Raikkonen, who never left the track but lost a ton of momentum. At this point, sixty seconds back or more, the BMW of Nick Heidfeld, who was ninth, had pitted for Intermediate tires. The two leaders, however, couldn't dare to do so. Two turns later, Hamilton slid out wide over the curb, but Raikkonen lost it completely, pirouetting into the wall just short of the final chicane. This put Felipe Massa into second place. Neither Hamilton or Massa went for the Inters, knowing that either could win if they just kept the car on track and the other spun, but that stopping for wets would throw the race away. What followed was one of the slowest four miles in F1 history, as both drivers may as well have been on ice. The final lap was nearly 45 seconds slower than laps being turned when it was dry! Even so, Hamilton was 10 seconds or more faster than Massa on the last lap and "cruised" home for the most exciting finish in years.
*MEANWHILE...
: SeaBass and Toro Rosso was in line for the last step on the podium. Not stopping for Intermediate tires, he gamely plunged ahead like the two leaders, just trying to keep it on the track. Behind him, however, HWMNBN , Robert Kubica and SeaBass' teammate in Toro Rosso Sebastian Vettel did stop for wet tires and were charging like mad, running SeaBass down like he was standing still. All three of them passed the French Fish in or near the final chicane, dropping him all the way down to seventh. But wait, if those three cars passed him, shouldn't he have been sixth? Remember when we mentioned that Grizzly Nick Heidfeld had pitted from ninth a couple of laps earlier? He blew past everybody, picking up six spots in the final two laps to earn the final spot on the podium, putting paid to a fantastic Belgian Grand Prix.
*LATER...
: And then, the FIA had to louse it all up.
more...
Posted by: Wonderduck at 03:21 PM | Comments (11) | Add Comment
Post contains 2020 words, total size 13 kb.
September 06, 2008
F1 Quals: SPA 2008!
If you told me this morning that it was likely to rain during today's quals session at the Spa-Francopants circuit, I would have said "...and the surface of the sun is hot, it's fairly cold in Antarctica, and you're likely to see big eyes in anime."
So of course it was completely dry all day. To further scramble my entire world view, SeaBass and his Toro Rosso was fastest in Q1. At least Honda was really slow, so there's still
some
things happening the way they're supposed to. If you start hearing stories about sunburned penguins, though, head for the hills.
Oh, the grid? McLaren-Ferrari-McLaren-Ferrari. Color me surprised. Here's the provisional grid:
Pos
Driver
Team
Q1
Q2
Q3
1
Lewis Hamilton
McLaren-Mercedes

1:46.887

1:46.088

1:47.338
2
Felipe Massa
Ferrari
1:46.873
1:46.391
1:47.678
3
Heikki Kovalaininnie
McLaren-Mercedes
1:46.812
1:46.037
1:47.815
4
Kimi Räikkönen
Ferrari
1:46.960
1:46.298
1:47.992
5
Grizzly Nick Heidfeld
BMW Sauber
1:47.419
1:46.311
1:48.315
6
HWMNBN
Renault
1:47.154
1:46.491
1:48.504
7
Mark Webber
Red Bull-Renault
1:47.270
1:46.814
1:48.736
8
Robert Kubica
BMW Sauber
1:47.093
1:46.494
1:48.763
9
SeaBass

STR-Ferrari
1:46.777
1:46.544
1:48.951
10
Sebastian Vettel
STR-Ferrari
1:47.152
1:46.804
1:50.319
11
Jarno Trulli
Toyota
1:47.400
1:46.949


12
Nelson Piquet, Jr

Renault
1:47.052
1:46.965


13
Timo Glock
Toyota
1:47.359
1:46.995


14
David Coulthard's Chin

Red Bull-Renault
1:47.132
1:47.018


15
Nico Rosberg
Williams-Toyota
1:47.503
1:47.429


16
Rubens Barrichello
Honda
1:48.153




17
Jenson Button
Honda
1:48.211




18
Adrian Sutil
Force India-Ferrari
1:48.226




19
Kazoo Nakajima
Williams-Toyota
1:48.268




20
Giancarlo Fisichella
Force India-Ferrari
1:48.447
Kudos to Toro Rosso again for showing that they DO have speed, even though they're 9-10 on the grid. SeaBass' performance was legit, even though the team does have a ways to go. I've completely lost any chance there was on predicting how BMW is going to do in quals OR in the race... they're just too inconsistent now. It's clear that they're the third best team on the grid, but it's also clear they really aren't close to the Big Two anymore.
40 years ago at Spa, Bruce McLaren, the founder of the team of the same name, won his first race for his team. It seems appropriate, therefore, that Hamilton and Kovalaininnie are in great shape for the race. I wonder, though, if they're short fueled? They WERE faster than the Ferraris all day, but that doesn't mean anything
per se
.
It seems that the Red Cars do better when it's warm and dry... and if there's one thing you can say about the Swimming Pool at Spa, it's that it won't be either come raceday. However, Kimi Raikkonen has won the last three Belgian Grand Prix ('04 & '05 for McLaren, '07 for Ferrari... of course, there was no race in '06 as they were remodeling the course that year), so it's hard to bet against him.
And then there's the rain. If it rains, about the only thing you can say is that Felipe Massa will drive like he's on rails... that lead right into the nearest gravel trap. Other than that, it'll be a crapshoot.
Let's hope for rain!
Posted by: Wonderduck at 03:43 PM | Comments (1) | Add Comment
Post contains 516 words, total size 11 kb.
September 05, 2008
F1 Practice: SPA 2008!
"If it rains at Spa... park it."
-Unnamed F1 Driver.
The second Friday practice went green, and everybody piled out onto the track in the Ardennes Forest. Usually, the teams will trickle onto a circuit during a practice session, but not today... for the radar screen showed rain coming.
Unfortunately for everyone, when the rains did come about 20 minutes into the session, it was basically a heavy drizzle: too wet for dry tires, but not wet enough for intermediates. So, following the guidelines of the old aphorism mentioned above, everybody went back to their paddocks and waited. As the Legendary Announce Team pointed out, there are times when the only thing you can accomplish in practice is learning how to stuff your car into the tire barriers. This was one of those times.
After a half hour or so, SeaBass went out to give it a whirl... and wound up crawling back into the pits. Still too wet. So we sat some more. Fifteen minutes passed, and Sebastian Vettel went out alone. Three laps later, with none of them within 4 seconds of the fast lap in dry weather, the teams decided that the track was dry enough to get some more running in.
Until Kimi Raikkonen lost it in the Rivage hairpin. He backed into the tire wall, breaking off his rear wing. Unbeknown to everybody, when he hit the barrier, he gave them a hard enough shot that the rain that had accumulated in the stacked tires squirted out, like squeezing a wet sponge. The water began to trickle downhill... and across the track.
At this point, Giancarlo Fisichella came charging through Rivage, and just as he exited the turn hit this thin stream... and
really
lost it. Out came the red flag, stopping practice as they had to carry the Force India off-track, dangling from a mobile crane.
While there were 15 minutes of mostly uninterrupted practice after that, today just showed what can happen at Spa when the rain comes. The producers at SPEED got to drag out the infamous clip of the start of the 1998 race... the most expensive crash in motor-racing history.
All together now: AIEEEEEEEEEEE!
13 cars wrecked, four whole teams out,
total carnage
! And, amazingly, the only injuries were to Rubens Barrichello, who had some bumps and bruises. Hopefully, we won't have a similar incident this year... because remember, folks, it's supposed to rain all weekend.
Quals on Saturday.
Posted by: Wonderduck at 10:38 PM | Comments (6) | Add Comment
Post contains 413 words, total size 3 kb.
September 03, 2008
Phantom Phan!
Back in 1976, when I was just a young duckling, my family moved from Chicago to Duckford. On July 4th of that year, Momzerduck and I went downtown for the parade, and that is when I was first exposed to the wonder that is drum & bugle corps.
More specifically, I heard and saw a corps known as the
Phantom Regiment
, which is based in Duckford. In fact, their offices are just down the hall from the Duck U Bookstore these days. I've usually managed to catch their full show at least once every year since then, and with them on campus during the summer, a bunch of their practices to boot. I never got the chance to see this year's program, "Spartacus", though.
That's a damned shame for a couple of reasons. First, it broke my personal string of 32 years of seeing them. Second, they were picked to be one of the teams in this year's Drum Corps International. See, DCI is the SuperBowl of Corps competition; you take the top 10 "World Class"-level corps, and in the course of one night, all ten do their routines while judges grade their performances. It's the Big One... and while the Regiment has tied for first once, they've never won it flat-out. They've come in second and third a number of times, and they are probably the single most popular corps, but they've always fallen just slightly short of winning. These days, there's almost a feeling that they'd never win one... not that they're not good enough, but, just like a batting champion getting close calls from an umpire, teams like the
Santa Clara Vanguard
or the
Blue Devils of Concord, CA
might get a break here or there... because they've won before, and the Regiment hasn't. Now, I'm not knocking those other teams, don't get me wrong. The Blue Devils have won 12 DCI championships, the Vanguard six. You don't do that by being lucky. But bigger fans of DCI than myself have said that the Regiment has deserved to win more than a few times, but haven't for one reason or another.
So this year looked like maybe more of the same. A great program of classical music and the Regiment's usual precise staging, a killer performance, and a solid third place. But then... something special happened:
Posted by: Wonderduck at 09:34 PM | Comments (4) | Add Comment
Post contains 422 words, total size 3 kb.
Tales from the Duck U Bookstore
So now that the new semester is in full swing and things are slowing down a tad, we actually have time to relax a little bit. Instead of running around at full speed from the moment we walk in to the moment we close the doors, we can now do things that are not exclusively work-related... like use the bathroom, or have lunch.
Earlier today, I stepped outside for some fresh air and to admire the beautiful Duck U campus (no sarcasm there, by the way... it really is gorgeous). So imagine my surprise when I saw THIS sitting in the middle of the Quad:
Whiskey
...
Tango
...
Foxtrot
?
A... submarine? First I had to make sure I wasn't seeing things... submarines just don't exactly appear in front of the Library at Duck U... or, in fact, in front of any of the U.'s buildings, not even the Arts Center, where weird things happen every day.
A pleasant stroll brought me closer to the thing, revealing the strangest markings for a submarine I'd ever seen:
Well, the name is appropriate, at least. But who's ever heard of rocket pods on a submarine? Or what appears to be a face on the side? Before I could investigate further, however, a
horde of kiwis
approached, and I had to get back into the Bookstore. By the time I got back outside, the submarine had vanished as mysteriously as it had appeared.
It is a puzzlement.
Posted by: Wonderduck at 06:27 PM | Comments (1) | Add Comment
Post contains 247 words, total size 2 kb.
September 02, 2008
F1 On SPEED: BELGIUM, Man, BELGIUM!!!
From the world's only sterile street circuit at Valencia, the F1 Circus warily heads into the Ardennes Forest to race on what is probably the world's finest modern track: Spa-Francorchamps. Spa has everything one could want from a race course... big elevation changes, high speeds, heavy braking, decent passing zones, and the constant threat of rain. Let's take a look at the map:
Spa-Francopants is probably best known for the test of manhood and courage called "
Eau Rouge
." Now, on the map it doesn't look like much, just a gentle kink to the left, followed by an arcing turn 3 leading to Raidillon, turn 4. But looks can oft be deceiving. You see, the run from about the pit exit to Eau Rouge is a steep uphill slope, with Eau Rouge near the crest of the hill. This makes the turn completely blind, and only the best (or bravest, or craziest... your choice) drivers can take the turn flat-out without lifting off the gas. Over the years, there have been some truly epic accidents here as cars make Eau Rouge, and lose it on turn 3.
This doesn't mean, however, that the rest of the track is chopped liver. Theres only a handful of turns that are taken at less than 100mph (18, 19, and 1, primarily), and the run from 12 down to those three is downhill, with Blanchimont being another test of courage.
As you can imagine, this is a fast track. That's good, because it's also the longest track on the calendar at almost 4.5 miles; a hypothetical "best possible" lap takes about 1m45sec. However, because there are so many high-speed turns at Spa-Francoamerican, having a good amount of downforce is critical... one cannot just go for nothing but speed here.
Because Spa is so long, it's quite common to have rain falling (sometimes quite heavily) at one spot on the circuit, while it's completely dry at the opposite spot on the track. There's a reason why the crew of F1 UPDATE call Spa "The Swimming Pool."
Thankfully for all of us, the good folks at SPEED have a good set of water-wings and will be bringing us plenty of coverage of
Michael Phelps
Lewis Hamilton and the F1 gang! First up will be live coverage of
Friday
's second practice from
7a to 840a
. Bring your snorkel and flippers, as the entire weekend has around a 60% chance of rain... which almost guarantees that it'll be raining on race day.
Saturday
, from
7a to 830a
, we get plausibly live coverage of Quals. Will Ferrari be able to cope with the cool weather that their car seems to hate so much, or will McLaren or BMW step up and take pole?
Then
Sunday
from
630a to 9a
, we've got the Grand Prix of Belgium live and in color, brought to you by the Legendary Announce Team. It should be a fun one (as opposed to the bland dullness of Valencia), even in the dry... Spa-Francoisstilldead is just that good!
Of course, the F1 UPDATE! crew will be there... here... whatever for all of it!
Posted by: Wonderduck at 07:12 PM | Comments (5) | Add Comment
Post contains 522 words, total size 3 kb.
85kb generated in CPU 0.09, elapsed 0.2319 seconds.
54 queries taking 0.1591 seconds, 311 records returned.
Powered by Minx 1.1.6c-pink.