October 15, 2008
MegaMonza
They call Monza 'The Magic Track.'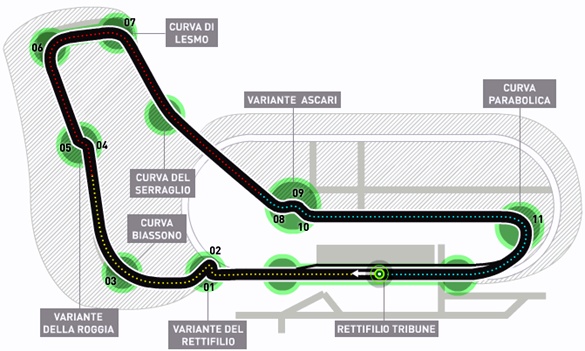 The above is how it runs now... but once upon a time, Monza was even faster. Ladies and Gentlemen, may I introduce you to the REAL Monza!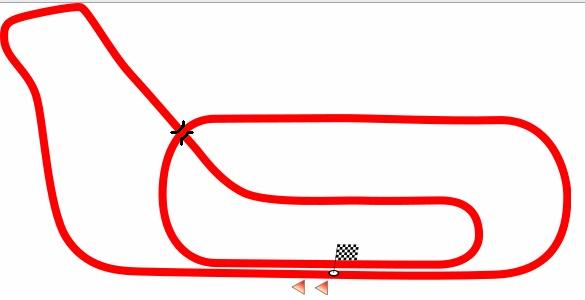 No, your eyes aren't deceiving you. It's the familiar Monza track mixed with a high-banked oval. If you've seen the movie
Grand Prix
(and if you haven't, why not???), the climatic scene where Ferrari driver Jean-Pierre Sarti crashes is at the bridge marked above. In fact, here's what the bridge looks like now:
Could you imagine today's cars trying to race through
that
? Merciful heavens.
The MegaMonza was a full six miles long, and it's hard to imagine brakes being used very much during a lap, just at the Curva di Lesmo (what is now Turn 7). Actually, I suspect that a F1 car couldn't handle MegaMonza these days... they're just not designed for the sort of banking found there. Like this:
Heck, they had problems with the nine-degree banking at Indianapolis. But, oh, it'd be
glorious
...
Posted by: Wonderduck at 10:37 PM | Comments (7) | Add Comment
Post contains 171 words, total size 2 kb.
October 14, 2008
F1 on SPEED!: China 2008
One year ago
, Lewis Hamilton could have clinched the Drivers Championship as a rookie... and instead drove his car into a graveltrap the size of a postage stamp.
THIS year, Lewis Hamilton can clinch the Drivers Championship in his second year. Let's take a look at the track map, shall we?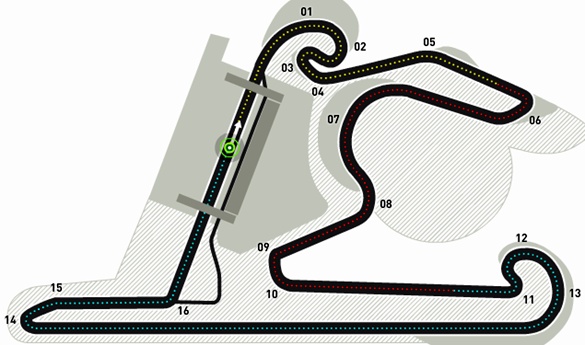 Allegedly designed to mimic the Chinese character "shang", meaning "ascend", it's the prototypical Hermann Tilke circuit: twisty and impossible to pass on. It seems telling that the only lasting memories I have of the Shanghai International Circuit are uniformly negative: Hamilton in 2007, and in 2005 the double-whammy of Slappy Schumacher running over the Minardi of Robert Doorknob on the way to the grid and Juan Pablo Montoya's race being ended by a drain cover.
I'm not fond of this circuit, as you can tell. It's
dull
. The only signifigance to the race at all is it's location on the calendar: someone can win a championship here. It's a medium downforce track, not particularly hard or easy on brakes, the medium tire compound is favored, a little over half the lap is run at full throttle... in other words, an average track. The only little bit of flavor on the track is the turn they call "Indianapolis", which if memory serves is Turn 13. It actually has a little bit of banking, making it now the only banked turn in F1.
Essentially, Shanghai is like the old joke about Chinese food: in an hour, you want more.
The good burghers at SPEED will be bringing us live coverage of everything from Shanghai, beginning (as usual) with coverage of
Friday
's Practice 2 from
1am to 240am
. Quals are on
Saturday
at the same time,
1am to 240am
. The Grand Prix of China is on
Sunday
, from
130am to 4am
, with a replay from 130pm to 4pm. (all times central)
Of course, F1U! will be here as well... will we have a champion? Or will we have to go to Brazil to find the answers? See you then!
Posted by: Wonderduck at 10:43 PM | Comments (8) | Add Comment
Post contains 342 words, total size 2 kb.
October 13, 2008
Okay, Librarian, I'm Game!
Over at her livejournal, The Librarian
poses an interesting little thing
:
Set your music player on random. List out the first line of each of the first ten songs. Skip instrumental songs (duh) and songs whose first line is in fact the title. Guess as many as you can before you look at the other comments.
Right! Here's my ten...
1) K-L-F is gonna rock you, 'cause you hafta move to the flow of the pyramid blaster.
2) So, she says it's time she goes, but wanted to be sure I know, she hopes we can be friends.
3) I used to travel in the shadows and I never found the nerve to try and walk up to you.
4) She's the one who knows me, a little tiger with a glint in her eye.
5) Are you chained like a spectre, are you afraid to craft my doom?
6) Say come on fhwdgads, say come on fhwdgads.
7) Kids in their PJs, big bowl of nachos. Another perfect day in Rhododendron Park.
8) Arigato iwanai yo, zutto shimateoku.
9) Barking and grunting and shouting like fools, in stairwells and bathrooms and dry swimming pools.
10) We got the message, I heard it on the airwaves... the politicians are now DJs.
Answers below.
more...
Posted by: Wonderduck at 12:31 AM | Comments (3) | Add Comment
Post contains 222 words, total size 4 kb.
October 12, 2008
F1 UPDATE!: JAPAN 2008!
A wacky race, and another wacky steward's decision have made the Driver's Championship closer than ever... THIS is your F1 UPDATE! for the 2008 Grand Prix of Japan!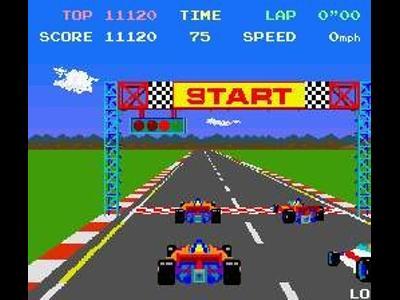 Pole Position

screenshots never get old...
*SELF-INFLICTED
: The situation was exactly what McLaren and Lewis Hamilton would have asked for going into the race. Lewis on pole, Massa a few rows back, Hamilton's teammate in between them both. All Hamilton had to do was get a good start and keep Kimi Raikkonen from wrecking the McLaren into turn one, and Lewis would be a near lock for the Driver's Championship. Hamilton then proceeded to empty his bladder down the leg of his firesuit, spinning his tires as the lights went out, allowing Kimi Raikkonen and Heikki Koveleininninnie to get past him off the grid. Even this wasn't truly a disaster, as Hamilton didn't need to actually race either of those worthies. He just needed to stay ahead of Felipe Massa and increase his lead in the Driver's Championship.
So of course, Hamilton raced down the straightaway in a banzai move inside of Kimi, locked his brakes so badly that he put huge flatspots on his front tires. He is later given a drive-through penalty for forcing Kimi off-track because of this move. Hamilton wound up losing the car going into turn two, going waaaaaay offline and letting HWMNBN and Robert Kubica get by. Somehow in the course of the next lap, Hamilton slips down to fifth... behind Massa, probably because of his ruined front tires. An attempt to pass the Ferrari into the Hairpin looks to be successful, but Massa aggressively rams the McLaren, sending it into a spin and letting the entire field go by before Lewis can get the pointy end of his car facing the right way and rejoining the race. He limps into the pits, and even though Massa is given a drive-through penalty for causing the spin, the damage is done and Lewis is never a threat for the rest of the day. He scores no points, and may God have mercy on his soul.
*SELF-GRATIFICATION
: Massa finishes the race in eighth, despite his drive-through penalty for spearing Lewis Hamilton. To be blunt, he shouldn't have been there. On lap 50, SeaBass made his last pitstop and rejoined the race, ahead of Massa by about half a carlength, more or less, but with a lower speed. Going into turn one, SeaBass didn't give an inch, and had the inside line to boot. Massa, apparently expecting the Toro Rosso to roll out a (Ferrari) red carpet and let him by despite the fact that they were racing for position, clumps into the side of SeaBass and spins. A few laps later, it's announced that the the incident will be reviewed after the race, and the Legendary Announce Team says that it's a sure thing that if a penalty is given, it'll be on Massa for running into the Toro Rosso. More cynical, the F1U! staff knew that the penalty would go the other way... and they were right. Instead of being given a 10-grid-spot penalty for the next race, Massa instead was given seventh place, as SeaBass was given a 25-second penalty for causing the accident. Does anybody need more proof that the stewards are in Ferrari's hip pocket... or someplace else a little closer to the centerline of the body?
*DRIVER OF THE RACE
: HWMNBN. In Singapore, the safety car came out at
just
the right time and put HWMNBN in first place, giving him the chance to win which he did not relinquish. Today, however, there was no safety car. HWMNBN, for all his personality issues, is an outstanding driver in a Renault that has (finally) come alive. Staying out of the mess at the first series of turns, he found himself in second place, and eventually took over during the pitstop sequences. After that, he drove a near-perfect race and earned a well deserved victory. We at F1U! still don't like him much, but he certainly was the Driver of the Race.
*TEAM OF THE RACE
: Renault. First-fourth, and they've probably locked up fourth in the constructor's championship. The resurgent French team is looking to make it a four team fight next year.
*MOVE OF THE RACE
: On lap 60, Massa was drafting behind the RedBull of Mark Webber as they came down the main straight. Generally, Webber is a hard man to get by, but he was on a one-stop strategy and his tires were completely shot; Massa had come from seven seconds behind Webber in three laps. Always game for a fight, the Aussie slid to the inside to make the Brazillian try to pass him on the outside of turn one. Massa, though, decided that he didn't want to do that and dipped inside of Webber, who kept moving over. Both cars kept drifting farther and farther inside until the Ferrari was racing in the pit-out area.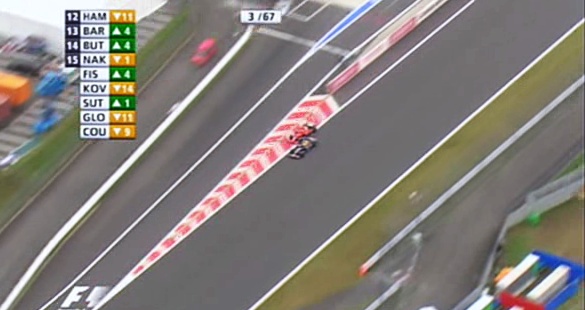 Eventually, the better tires on the Ferrari forced the RedBull to brake earlier, completing the pass. The
F
errari
I
nternational
A
ssistance program may be trying to give The Red Cars the titles, but this was a pretty gutsy pass, worthy of the MotR.
*MOOOOOOOO-OOOVE OF THE RACE
: Celebrating the bovine in the best drivers in the world, the Mooooooo-ooove is given to the worst driving job in any particular grand prix. Today, the prize is given to the man who is arguably the best driver in the sport, Lewis Hamilton. Blowing the start, then toasting his tires, then forcing a less-than-solid (but still valid) pass on Massa, resulting in the McLaren pointing the wrong way in traffic? Nice job, kiddo, if you wanted to give up the championship again, you've just gone a long way in doing so. Here's your Mooooooo-oove.
*DRIVER QUOTES OF THE RACE
:
more...
Posted by: Wonderduck at 03:15 PM | Comments (4) | Add Comment
Post contains 1395 words, total size 10 kb.
October 11, 2008
F1 Quals: JAPAN 2008!
If you're McLaren or Lewis Hamilton, that quals session went exactly how you'd want it to. If you're Ferrari or Felipe Massa, you're beating your head against the steering wheel... and wondering if your Championship chances just went out the window.
Let's take a look at the provisional grid:
| Pos | Driver | Team | Q1 | Q2 | Q3 |
| --- | --- | --- | --- | --- | --- |
| 1 | Lewis Hamilton | McLaren-Mercedes | 1:18.071 | 1:17.462 | 1:18.404 |
| 2 | Kimi Räikkönen | Ferrari | 1:18.160 | 1:17.733 | 1:18.644 |
| 3 | Heikki Kovalaineninnie | McLaren-Mercedes | 1:18.220 | 1:17.360 | 1:18.821 |
| 4 | HWMNBN | Renault | 1:18.290 | 1:17.871 | 1:18.852 |
| 5 | Felipe Massa | Ferrari | 1:18.110 | 1:17.287 | 1:18.874 |
| 6 | Robert Kubica | BMW Sauber | 1:18.684 | 1:17.931 | 1:18.979 |
| 7 | Jarno Trulli | Toyota | 1:18.501 | 1:17.541 | 1:19.026 |
| 8 | Timo Glock | Toyota | 1:17.945 | 1:17.670 | 1:19.118 |
| 9 | Sebastian Vettel | STR-Ferrari | 1:18.559 | 1:17.714 | 1:19.638 |
| 10 | SeaBass | STR-Ferrari | 1:18.593 | 1:18.102 | 1:20.167 |
| 11 | David Coulthard's Chin | Red Bull-Renault | 1:18.303 | 1:18.187 | |
| 12 | Nelson Piquet Jr | Renault | 1:18.300 | 1:18.274 | |
| 13 | Mark Webber | Red Bull-Renault | 1:18.372 | 1:18.354 | |
| 14 | Kazoo Nakajima | Williams-Toyota | 1:18.640 | 1:18.594 | |
| 15 | Nico Rosberg | Williams-Toyota | 1:18.740 | 1:18.672 | |
| 16 | Grizzly Nick Heidfeld | BMW Sauber | 1:18.835 | | |
| 17 | Rubens Barrichello | Honda | 1:18.882 | | |
| 18 | Jenson Button | Honda | 1:19.100 | | |
| 19 | Adrian Sutil | Force India-Ferrari | 1:19.163 | | |
| 20 | Giancarlo Fisichella | Force India-Ferrari | 1:19.910 | | |
Hamilton has Pole Position, and Ferrari's drivers are reversed from the way the team would have wanted them. Throw in Heikki and HWMNBN as a buffer between Hamilton and Massa, and suddenly this is looking like a desperate situation for the Brazillian driver's championship hopes. Essentially, it's the perfect situation for Lewis.
Now, it might be that Massa is heavy on fuel, but I don't think so. He was just too fast earlier... it feels like he was just beaten. Now, the Renault of HWMNBN is probably a little light on gas, but Heikki almost surely isn't.
The Toyotas certainly put on a good show, with Der Glockenspiel being right up at the top of the charts until Q3. Who knows if it's real speed, or low-fuel speed? Robert Kubica's faint chances for a championship are still alive, but on life-support. He has to win out and hope that the guys ahead of him both break down... not likely.
Notable is the fact that both Toro Rossos made it to Q3. They've really come alive; seems like they've finally gotten their car dialed in. Could we be seeing the birth of a new member of the Big Teams? Or will the Minardi-child slump back next year?
Of course, Honda blew chunks. Force India is just bad, but that's what you expect from a new startup like them (yes, yes, I know: "Jordan/Midland/Spyker", but still...). But what in the world is Grizzly Nick doing down there, unable to get out of Q1? Very odd.
Well, we'll see what happens tomorrow at the race. Looks like the weather will be good, if a little cool. That'll favor the McLarens a touch, as the Ferrari uses their tires better when the track is warmer.
We've already had seven different winning drivers for five different teams. Since I started writing about F1 (with e-mails to Official First Reader Mallory, in 2004), there's never been so many winning drivers and teams in a season. Could you imagine Toyota winning finally? Of all the teams that haven't won, they're the most likely to do so. Mind you, that's not likely, but as we saw in Singapore, luck plays a part. See you Sunday morning!
Posted by: Wonderduck at 12:52 AM | Comments (8) | Add Comment
Post contains 557 words, total size 11 kb.
October 10, 2008
F1 Practice: Japan 2008!
A bright sunny day over Fuji today, a dramatic change from last year's weather. Of course, nothing much happened in practice, as usual, but we did learn some interesting tidbits of trivia. For example, Sebastian Vettel and Alexander "Man-Mountain" Wurz are going to climb Mt Fuji Sunday night... AFTER THE RACE!
I remember being young. Sheesh.
Toyota's Timo Glock was fastest in P2. He probably had enough fuel left on board afterwards to get back to the pitlane, but not a whole lot more, but there you are. Toyota, on their home track (literally; Fuji Speedway is
owned
by Toyota, just like Suzuka is owned by Honda), in their home country (even though the team is based in Germany), set fast lap in both Practice sessions.
This should not be considered indicative of future performance.
What
should
be considered indicative of future performance is the humiliating pace set by Jenson Button's Honda: almost two seconds slower than Glock in P2. Yeesh. Is Honda the new Spyker/Midlands/Jordan, a laughingstock, a subject of ridicule? Well, yes. Of course, they have Ross Brawn, the #1 technical mind in the sport and the architect of Ferrari's domination (along with some guy named Schumacher) on their pitwall, but he joined the team too late to have any real say in how the car was going to be designed this year. Still and all, it seems unfathomable to think they'll make any splashes anytime soon.
Those green tires look stupid. To make matters worse, the white stripe on the "option" (or soft) tire disappears amongst the green stripes, so now you can't even tell what tire the cars are on. That was the whole point of the paint-in-groove concept in the first place!
Look for teams to be using the hard compound tire for the majority of the race, by the way. The softs get run ragged in just a handful of laps, particularly the rears. A lot of little fishtails out there, particularly on 100R and the Hairpin, and that plays hob with the rear rubber.
One last amusing bit: the main straight is nearly a mile long. They need FIVE cameras to cover the length of it: one at each end, and three spaced equally down the length, just to follow a car! By far, the longest straight in F1; only Indianapolis (which isn't on the calendar anymore) was close.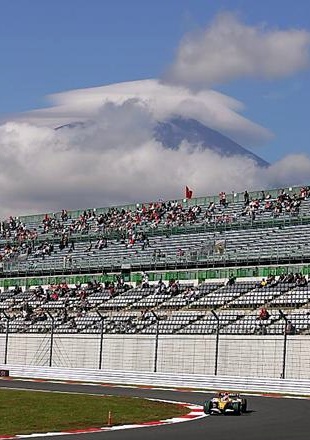 If you were wondering why it's called "Fuji Speedway",
there's your answer.
So, Quals tomorrow.
Posted by: Wonderduck at 01:05 AM | Comments (1) | Add Comment
Post contains 415 words, total size 3 kb.
October 08, 2008
ARIA: It's The Little Things That Count...
So I've watched ARIA season 1 ("The Animation") on DVD and it's just as good as I remembered it. But tonight, I was rewatching the outstanding
Episode 9 of season 3
("The Origination"), when something struck me... something that made me smile and applaud (metaphorically, of course) the staff and writers of the series all over again.
Episode three of the first series is when we're first introduced to Alice, the Pair from Orange Planet. She's something of a prodigy at the gondola, yet still in school. In the episode, it's revealed that, in fact, she was featured in "
Undine Magazine
", what I figure is the
People
of Neo-Venezia.
As Alice walks to school, she is approached by two admirers who'd like an autograph:
She turns them down, saying (in effect) "I haven't done anything yet." A sensible attitude, but it kinda crushes the spirit of the two girls.
Jump now to episode 9 of season three. Alice has just gone through her school's graduation ceremony, and is in the process of leaving the school grounds. Before she does, however, she's approached...
...by the
same two girls
! This time, one of them asks for a button off her jacket, and Alice agrees.
The first time I watched it, I thought it was nice, but I didn't catch the link back to the beginning of the show. Now, though, I'm just impressed as all get-out by either the forethought put into ARIA, or the memories of the creative staff (whichever you'd prefer).
It's a little thing, but hugely important in showing the development of Alice's character over time... and it's the little things that count.
(incidentally, the two screencaps show what can be done with a halfway decent budget, too...)
Posted by: Wonderduck at 11:13 PM | No Comments | Add Comment
Post contains 296 words, total size 2 kb.
F1 on SPEED: Japan 2008!
With the recent news of F1 retreating completely from North America in 2009, as Montreal is off the official calendar, ringing in our ears, we head into the final three races of the 2008 season. This weekend we return to the legendary Fuji circuit for the Grand Prix of Japan. Last year, of course, the intelligentsia of the FIA decided to go away from Suzuka, which is pretty much the racer's favorite circuit, to follow the money.
So why is Fuji "legendary"? That's simple: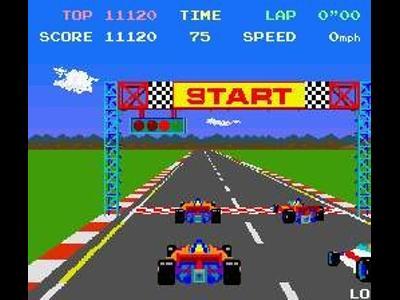 One of the greatest video games of all time:
POLE POSITION II
! Is there anybody of a certain age that fed quarters into machines that doesn't remember the computerized voice saying "prepare to qualify"? I think not! It was also the first game that I ever truly mastered. I preferred the sit-down version, of course.
Last year, we had the
incredible rain race
that ran the first 17 laps behind the safety car, and may as well have been run in the Pacific Ocean for all the water around. Because of that, of course, we don't really know how the newly reformatted Fuji circuit runs in the dry. Maybe we'll find out this year? Let's check the track map:
Pretty much a medium-low downforce circuit. Turns 2 thru 5 may as well be a straightaway for all the slowing down that goes on. 100R is pretty neat, and is probably the signature turn for the circuit. Unfortunately, the remodeling of the track (to make it "safer") removed the absolutely great turn that was a huge arc from the now-turn 10 to turn 16, just like an oval's. "Too fast", they say now, and I suppose it's so, but it'd've been nice to see it. Ah well.
At least SPEED will be there (raincoats at the ready) for our enjoyment! However, here's the best part for us here in the US: it's watchable without waking up waaaaaaay too early! Coverage of Friday's second practice begins at
1159pm THURSDAY
(well, actually midnight, but play with me here) and goes
until 145am
. I'm usually up that late anyway!
Quals comes to us live at
1159pm FRIDAY, until 130am Saturday
. I'm not even going to try and predict who'll come up on Pole Position this race. We've had five teams win races this season (Ferrari, McLaren, Renault, BMW and Toro Rosso)... and this track fits all of them.
The race comes to us live at
11pm on Saturday until 130am Sunday morning
. There's a replay from 330p - 6p Sunday afternoon as well, if you don't like staying up late.
One... um...
interesting
feature of this particular race will be the debut of the FIA's "Make Cars Green" program. Well, not the debut
per se
, but F1 will be participating in the MCG thingy by... what? Biofuel? Hybrids?
Green tires.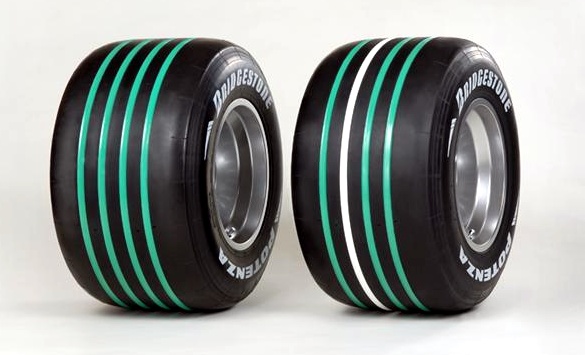 Well, green paint in the grooves. Oil based paint. BUT IT'S GREEN!!! OMGWTFBBQ!!!!!11!!!eleventy!!
*sigh*
Posted by: Wonderduck at 06:53 PM | Comments (2) | Add Comment
Post contains 492 words, total size 4 kb.
Posting Problems
My internet connection was down almost all day on Tuesday, and now I'm struggling to upload pictures to The Pond. Using Firefox I'm eventually told "the connection was reset."
Hopefully later tonight, I'll be able to do the F1 on SPEED post with the usual track map and the like, but I'm not holding my breath for it.
Darn shame, too, since it's the Japanese Grand Prix this weekend, and it's back at Fuji Speedway, one of the circuits that the drivers love.
Posted by: Wonderduck at 08:46 AM | No Comments | Add Comment
Post contains 85 words, total size 1 kb.
October 05, 2008
Caring For My Flock
My rubber duckies are a wonderful part of my life that bring me humor and joy every day. However, as Wing Leader of the Pond's flock of duckies, I have some regular duties to perform for them.
The biggest one is cleaning them. I routinely dust and clean a few of them every week, of course, but once or twice a year comes the Grand Cleaning, where each and every duckie gets a bath at the same time. Today was the day. However, Pond Central's bathtub hasn't been used as a bathtub the whole time I've lived here (I prefer showers), so I can't just put them there.
If any of you, my readers, have a rubber duckie or two (or ten) that need to be cleaned, here's the way I've come up with over the years.
You will need the following items: one large pot or bowl, one pot or bowl of whatever size you have handy, two or three towels, liquid soap, a kitchen sink, and a very soft-bristled toothbrush.
Place one of the towels to the side of the sink.
In the kitchen sink...
Step 1) Fill a large bowl or pot with warm, soapy water. I use baby shampoo, so the duckies won't cry.
Step 2) Fill another bowl or pot with clean warm water.
Step 3) Keep the faucet running with warm-to-very warm water. Make sure it runs into the clean water bowl, to keep that water circulating and clean.
Step 4) Immerse dusty ducky in soapy water.
Step 5) Remove the now-soapy duckie from the soapy water, dunk duck in clean water.
Step 6) Extract rinsed duckie from the now-slightly-soapy clean water and re-rinse under the running faucet water.
Step 7) Using fluffy towel, pat the damp duckie dry.
Step Eight) Place less-damp duckie on the other fluffy towel to finish drying. Give duckie a magazine or a good book to read while it dries.
Do NOT use a hair dryer. One, the heat will soften the vinyl/rubber of the duckies, which is bad. And two, ducks don't have hair, they have feathers.
For duckies that have well-defined wings or costumes, such as the
Halloween Duckies
, use the toothbrush to clean between the feathers.
In the case of the Flock, repeat this process 230 times. It usually takes me between three and four hours to perform the Grand Cleaning, your times may vary.
And a wonderful time is had by all.
Posted by: Wonderduck at 09:56 PM | No Comments | Add Comment
Post contains 411 words, total size 2 kb.
October 04, 2008
100 Years and Counting...
Game One was bad.
Game Two was embarrassing.
Game Three was lost.
The LA Dodgers swept the Chicago Cubs in the NL Divisional Series, three games to none.
Dammit.
Posted by: Wonderduck at 11:16 PM | Comments (3) | Add Comment
Post contains 33 words, total size 1 kb.
In Praise of RACS
This past Tuesday, the
ARIA Season 1 boxset
was released and I, being a huge fan of the series, needed to order it. There was no question of where I'd be heading to place the order:
Robert's Anime Corner Store
. Huge selection of just about anything anime or manga related, decent prices, yadda yadda yadda. Lots of on-line places have those things.
But here's where
RACS
is different: Customer Service. After I placed the order, I gave them my Duck U. e-mail address... which makes sense, because I usually have packages shipped to the Bookstore (that's where I am during the day, after all). The problem is, Duck U's IT department has upgraded their e-mail filters from "hungry" to "rapacious", and after 24 hours, I hadn't gotten the usual confirmation e-mails from
RACS
... they never even made it to my "junk folder", being killed before they reached my mailbox altogether.
So I e-mailed
RACS
' customer service (from my everyday e-mail addy) explaining the situation, how I gave the wrong e-mail address, never got the e-mails, blah blah blah. A short time later, I get a response, and this is where
RACS
truly stands above all the other 'Brand X' websites out there:
Robert himself
replied.
The
President of the company
dealt with my problem, and took the time to say hi while he was doing so. I know he's dropped by The Pond before, and I've even exchanged e-mails with him once (about 18 months ago), but still: PRESIDENTS DON'T
DO
THAT! At least, not unless the person is screaming to high heaven about lawsuits and so forth (which I wasn't), and even then, they're more likely to lawyer up.
For that reason, if I need to order something, I will
always
go to
RACS
first. If you're in the market for anime, you should too. Thanks, Robert!
Besides...
Noemi's cute
.
Posted by: Wonderduck at 10:29 AM | No Comments | Add Comment
Post contains 315 words, total size 3 kb.
October 02, 2008
Random Anime Picture #27: A Crushing Putdown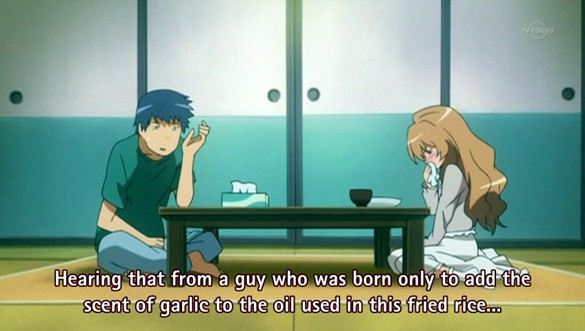 -
Toradora!
ep01
I had absolutely no expectations for this show, but, for at least one episode, I was amused and entertained. He's a nice guy with scary eyes, so everybody is afraid of him. She is called the "Palmtop Tiger", because she's the ultimate
tsundere
.
Cue wacky hijinks.
I don't know why that putdown seems so effective to me, but...
Posted by: Wonderduck at 10:26 PM | No Comments | Add Comment
Post contains 67 words, total size 1 kb.
October 01, 2008
Ikkitousen Great Guardians OVA 1
So now we come to the most important part of
Ikkitousen Great Guardians
: the obligatory OVAs. The question is, of course, how will they be able to top the OVAs for
Ikkitousen Dragon Destiny
? They didn't quite hit "hentai" with those, but they couldn't come much closer. Will they go completely bugnutty this time? Let's find out!
Why am I thinking "Bergman" right now?

We start with most of the female cast gathered around a table... ooh! Strip poker, maybe? For this series, that'd be different, and sure would seem like it'd hold a lot of promise.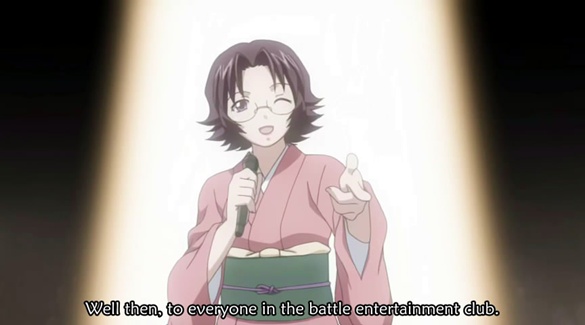 I suspect that I AM going to be "entertained".
Hakufu's mom as MC? This bodes well... or ill, depending on your point of view. But
what
is the "Battle Entertainment Club", and just what the heck does it do?
Why did the ice in my glass just melt?
Oh. Oh my. Better than strip poker.


more...
Posted by: Wonderduck at 10:47 PM | Comments (4) | Add Comment
Post contains 292 words, total size 5 kb.
91kb generated in CPU 0.0357, elapsed 0.3729 seconds.
54 queries taking 0.3515 seconds, 340 records returned.
Powered by Minx 1.1.6c-pink.