February 29, 2008
Anime Night: We Like Pie
So The Librarian had a work-related event this evening that wouldn't place her at The Pond until 830p... a little late for us to follow our usual routine. Instead, we decided that we'd do dinner instead.
Well, more correctly, I'D do dinner. She did pie. Specifically, a slice of pie, then an appetizer, then another slice of pie. For the record, I had a slice of pie as well.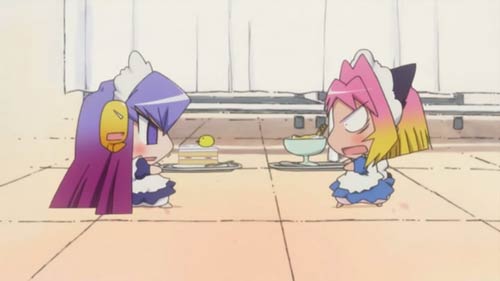 Plate wreck!!!
And a good time was had by
all
us. Anime came up for about five minutes ("
Gunslinger Girl
? Henrietta? Violin case upside the head? How could you not remember that? It was only last Friday!"), the rest of the time was spent being seventeen years old again.
Did you know that KC (of KC and the Sunshine Band) had a brother that invented fried chicken? They called him KFC (I should be congratulated for not spewing pie over The Librarian after that... and for not attempting to scoop her brains out with a spoon).
Yeah, we can be like that once in a while. In this case, it lasted about three hours; it ended with a game of tic-tac-toe in the parking lot (see, it was snowing, and we were the last people out, so we had this really clean flat space...) and brushing snow off our cars (and doing everything we could to dump the snow on the other's car).
So NOIR is on hold until next week, but we had more fun than a barrel of superballs anyway. It ain't always about anime, folks... just most of the time.
(thanks to DbD for the picture... I flat-out stole it.)
Posted by: Wonderduck at 12:45 AM | No Comments | Add Comment
Post contains 277 words, total size 2 kb.
Comments are disabled. Post is locked.
21kb generated in CPU 0.04, elapsed 0.1567 seconds.
45 queries taking 0.1342 seconds, 240 records returned.
Powered by Minx 1.1.6c-pink.