April 01, 2011
A Visitor To The U
I was on break at the University of Chicken this afternoon, pecking away at my meal of seeds, corn, oats and wheat, with a side of pizza, when I decided to step outside for a while. The weather wasn't particularly nice, but acceptable enough. At least it wasn't snowing like they said it was going to do, right? And me with my warm feathers in the bookstore, no less. Anyway, as I wandered around I found that the U Chicken had a special visitor!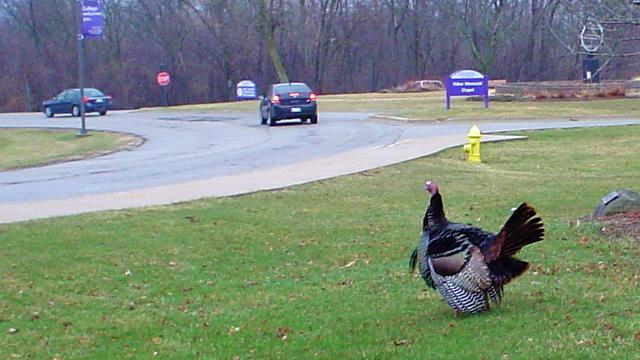 Mr Thomas A Turkey, esq., was a guest lecturer today, it seems. Not every day one of our cousins drop by... I was hoping for a visit by some potatoes, cranberries, and a plate of stuffing, but no such luck I'm afraid. I'm somewhat torn: on one wing, he's quite the ugly thing, but on the other, its plumage was fairly colorful. Odd dichotomy there.
Well, I'm no philosopher, I'm just a chicken. I'll let the ducks figure it out.
Posted by: Wonderduck at 07:10 PM | No Comments | Add Comment
Post contains 169 words, total size 1 kb.
Comments are disabled. Post is locked.
18kb generated in CPU 0.04, elapsed 0.1308 seconds.
51 queries taking 0.1136 seconds, 216 records returned.
Powered by Minx 1.1.6c-pink.