September 22, 2013
(Mini) F1 Update!: Singapore 2013
Oh my god.
This is your F1Update! for the 2013 Grand Prix of Singapore.
*THE RACE
: At the extinguishing of the lights, Hannibal Vettel had a less-than-perfect getaway from pole, while second-sitting Nico Rosberg had a good start. This gave us the glorious image of Rosberg leading the race into Turn 1.
An instant later, he overcooked it, missed the turn, ran wide, and relinquished the lead to the three-time World Driver's Champion.
And that was the last time anybody was ahead of Vettel all night. By the end of the first lap, he had a 1.9 second lead over Rosberg. By the end of the second, the lead was over four seconds and climbing. He made his super-soft tires last longer than everybody elses, pitted after his challengers and came back out with a ten-second lead. The only thing that could perhaps halt the bleeding was a Safety Car, which was duly called out when Daniel Ricciardo drove his Toro Rosso into a wall on Lap 24. This cut the lead back down, of course, but the rolling restart played right back into the hands of Vettel. It only took four laps for his ten second lead to come back, and in 12 laps he had a 30 second lead... plenty long enough to pit for tires and come back out in the lead. And so it came to pass that Vettel won the race by 32 seconds over the Ferrari of HWMNBN, who was himself nearly 10 seconds ahead of the Lotus of Kimi Raikkonen.
*WHAT DOES IT ALL MEAN?
: Nothing good, for both us the fans and for Vettel's competition. Red Bull has already shown that they can't be headed on slower tracks, and they've mastered fast circuits, too. There is no obvious reason to assume that Vettel won't dominate the rest of the season. Our only hope is for mechanical failures to rear their ugly head. This is not as far-fetched as it may seem, as the team seems to be suffering gearbox problems. Indeed, Mark Webber's gearbox burst into flame on the last lap, causing him to pull over short of the line... which caused a whole bunch of additional problems. Y'see, after the race was finished and the surviving racers were on the cooldown lap, Webber jogged out onto track to catch a lift with HWMNBN.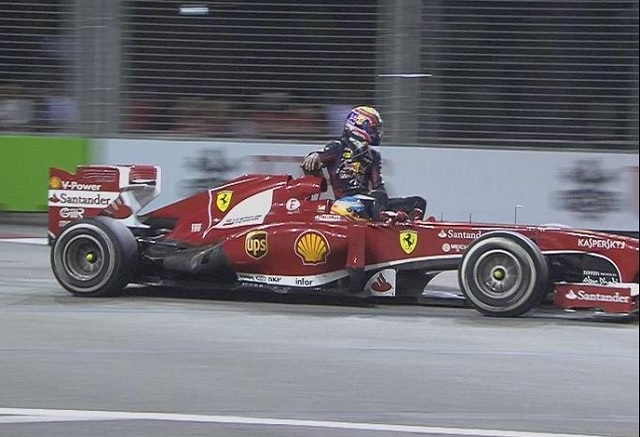 This caused two or three other cars to have to make frantic avoiding manuevers so as to not run into the back of the stopped Ferrari.
Here's CCTV footage of the incident
, which earned both drivers reprimands. As it was Webber's third of the season, he's earned a 10-spot penalty for the next race.
*ON THE OTHER HAND
: Historically, Vettel is doing things we've seen but rarely in history... dominating his sport in a way only a few people have ever done. Michael Jordan, Slappy Schumacher, Wayne Gretzky, B*rr* B*nds... and Vettel. We should be aware of that fact, and admire it. It's an amazing streak, but it's killing the enjoyment we here at F1U! have for the races.
*FINALLY
: Even McLaren's
Tooned!
was
a recap episode
this race. Well, if the other teams have given up, why not the animation team, too?
Two weeks until Korea... we'll see you then!
Posted by: Wonderduck at 07:02 PM | No Comments | Add Comment
Post contains 548 words, total size 4 kb.
Comments are disabled. Post is locked.
21kb generated in CPU 0.0219, elapsed 0.0987 seconds.
45 queries taking 0.084 seconds, 199 records returned.
Powered by Minx 1.1.6c-pink.