May 09, 2010
F1 Update!: Spain 2010!
A beautiful if breezy day in Barcelona today, which boded well for Red Bull and ill for everybody else. But did it work out that way? THIS is
your
F1 Update! for the 2010 Grand Prix of Spain!
*YUP...
: When the lights went out, Red Bull's Mark Webber outran his teammate and McLaren's Lewis Hamilton to the first turn, fought off passing attempts through the turn, then disappeared over the horizon. Along the way to his first win of the season, he managed to lap everybody up to 9th place, and was only 10 seconds from the battle for 7th. If one race can answer the question "who's got the best car on the grid," this race emphatically answered "Red Bull."
*...AND NOPE
: Except for one thing. The other RB6, driven by Seb Vettel, showed the
other
side of the Red Bull, the fragile side. Somewhere in the back third of the race, the electric motor that controlled the adjustable wing on the left side of the nose failed with the flap in the "up" position. This blocked airflow to the cooling duct for the front-left brakes, and with 15 laps to go they gently failed. While he was able to continue on, his car was crippled. Braking was accomplished using the rear brakes only and early (and dramatic) downshifting. Even with all that, he had problems negotiating some turns. Vettel ended up on the podium, but on the third step after his crippled car was passed by HWMNBN... and only because of a catastrophic failure on Lewis Hamilton's car. While it's become clear that the RB6 is somewhat more fragile than the average F1 car, Webber's lack of breakdowns makes one think that perhaps Vettel puts added stress on his chassis because of his (successful!) driving style.
*UNLUCKY
: When Vettel's car broke, Lewis Hamilton had it made. He'd held second place since the first round of pitstops around lap 15, but was nowhere close to Webber. The other Red Bull had grimly hung onto the McLaren's rear wing, ready to pounce if he made an error, but the brake failure took even that threat away. Thus, Hamilton had 2nd place sewn up... all he had to do is make it to the finish line. During
this very race in 2008
, Hamilton's teammate Heikki Kovaleinninninnie picked up a bit of gravel that got stuck in the left-front wheel rim and machined through the suspension, causing a terrifically violent accident. Today, Hamilton had something similar occur with two laps to go.
That screenshot is the exact moment the failure occurred, but if you go back and watch the video you can see the tire moving around on the rim a few seconds before everything went south.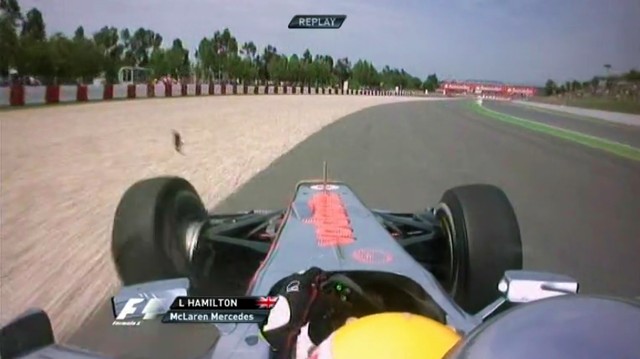 While it looks dramatic, the resulting accident was nowhere near as bad as Heikki's. Instead of going straight into the tire barrier, Hamilton had enough control to continue turning. As a result, he hit the barrier at an angle and skimmed off. No question it was a hard ride, but in the end it was nothing extraordinary. Except that it cost him 2nd while gifting HWMNBN the place.
*DRIVER OF THE RACE
: When you don't see the leader in the time between his last pitstop around lap 16 and the final lap, you know he's had an easy day of it, and that's exactly what happened today. Mark Webber won by 24 seconds over Ferrari's HWMNBN, and it really wasn't even that close... the Red Bull driver dialed down his engine with 10 laps to go. Basically the perfect race for the Aussie, and one that's got to make everybody up and down the field nervous... including his teammate.
*TEAM OF THE RACE
: Red Bull. Even though they lost the 1-2 finish when Vettel broke, they still finished with both drivers on the podium. The team coached Seb home with his crippled car, though it seemed like he didn't always listen to the pit wall. Still, as grim as Vettel's situation was, Webber's was the complete opposite. A solid day for a team that needed it.
*MOVE OF THE RACE
: There was only one of any note. An unlucky Nico Rosberg, who suffered a horrible pit stop and thus was dropped to the rear of the pack, got caught behind Nico Hulkenberg for nearly 10 laps. Finally, either in frustration or anger, Rosberg slipped inside the Hulk going into La Caxcia, not a normal place to pass someone. That's it. Here's your MotR, Nico. Maybe next week we'll have more to choose from.
*MOOOOOOOO-OOOVE OF THE RACE
: Today was the first race of the year where the backmarkers really caused problems on the track. In particular, HRT's Karun Chandhok proved to be rolling trouble. First he couldn't (or wouldn't) give Felipe Massa enough room to get past, claiming a front wing element off the Ferrari in the process. Then a few laps later, Toro Rosso's NKOTT, racing for points, tried to go around the outside of the slow n00b. The result?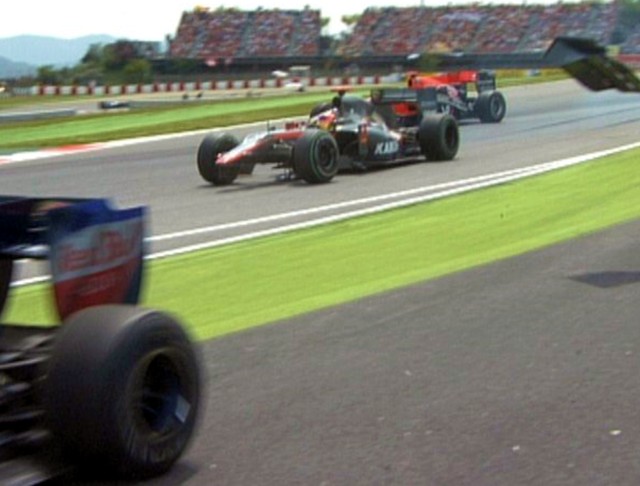 A spin for the Toro Rosso, a lost nose and a broken suspension for the HRT. Not pretty, and well-deserving of the Moooo.
*SELECTED DRIVER QUOTES OF THE RACE
:
"It's not a tea party, but I'm over the moon." - Mark Webber (
note: real quote
)
"I didn't see what happened, but then I was in third place. Then I didn't see what happened, but then I was in second place. If the race had lasted a few more laps, maybe I would have been in first!" - HWMNBN
"*twitch twitch... twitch... twitchtwitchtwitch*" - Seb Vettel
"I'm not happy that I could only defend, not challenge. I need to talk to Jean Todt about that." - Slappy Schumacher
"Towards the end of the race, my steering wheel readouts went dead, my tires went bad, and my clutch was dragging. So fifth isn't so bad. I'm still leading the Driver's Championship, right?" - Jenson Button
"When I hit the HRT and broke the front wing, my car got faster. Who needs aerodynamics?" - Felipe Massa (
note: Massa's race engineer, Rob Smedley, even commented about that over the radio during the race.
)
"It's hard to imagine, but I'm actually disappointed with 7th." - Adrian Sutil
"Color me red." - Robert Kubica
"I think we were on the verge of a tyre issue in the last five laps. If it weren't for that, we would have finished closer to the guys just ahead of me." - Rubens Barrichello (
note: What's this? Barrichello making excuses? Unpossible!
)
"My race was a bit of a mess." - NKOTT
"I can say nothing at this point that is either relevant or true." - Vitaly Petrov
"Before this race, I had run 19 laps all season. It's nice to actually finish for once." - Kamui Kobayashi
"I was second in the Driver's Championship and I loved the car. Slappy wanted some changes made, so they got changed. Now I finish 13th while he was fourth. It's not supposed to work that way." - Nico Rosberg
"AIEEEEEEEEEEEEEEEEEE!!!!!" - Lewis Hamilton
"Like, something happened, man, and I had to stop. Bummer." - Vitantonio Liuzzi.
"GRAAAAAAAAAHHR! HULKENBERG MEH!" - Nico Hulkenberg
"I dunno. *shrug*" - Jarno Trulli
"Hi Mom!" - Timo Glockenspiel
"I got on TV! I got on TV!" - Lucas di Grassi (
note: that's his Virgin in the Moooo-oove picture
)
"I got a drive-through for a pit lane infringement, but I'm not really sure why." - Seb Buemi (
note: real quote
)
"What? What did I do?" - Karun Chandhok
"Amazing how much damage an exploded tire can do." - Pete Rose
"AIEEEEEEEEEEEEEEE!!!!" - Bruno Senna
"While we were sitting on the grid, the gearbox tried to select two gears at once. I don't want to hear that sound ever again. It sounded like damned souls going through the digestive system of an irate badger." - Heikki Kovaleinninninnie
So, mercifully, that's the Spanish Grand Prix. Tune in next week for an INTERESTING racetrack: Monaco! See you then!
Posted by: Wonderduck at 09:47 PM | Comments (4) | Add Comment
Post contains 1336 words, total size 9 kb.
1
The best thing about this race was that it wasn't raining for a change. And Schumey had a better place on the track. But by the end of the race I'd grown a little weary of the "King of Spain." Guess I was already looking forward to next week's race in Monaco. :-)
Posted by: Mallory at May 10, 2010 12:42 PM (WJ2qy)
2
You gave DOTR to Webber, and I can understand that. But it seems to me that Vettel really deserves it. To drive with a broken car and still make the podium is an even more impressive achievement.
Posted by: Steven Den Beste at May 10, 2010 05:22 PM (+rSRq)
3
Well, it was a gift podium is the way I look at it. If Hamilton hadn't've crashed with 2 laps to go, Seb would have been 4th... and 50+ seconds behind his teammate. No doubt it was a grueling drive, those last 15 laps, but it's quite possible some of it was his own fault.
He'll get another DotR; I'm not sure Webbo will.
Posted by: Wonderduck at May 10, 2010 05:45 PM (JWQqT)
4
Best headline: "Schu moves leave Button disgruntled".
Posted by: Pete Zaitcev at May 11, 2010 11:30 AM (/ppBw)
Comments are disabled. Post is locked.
28kb generated in CPU 0.0136, elapsed 0.087 seconds.
47 queries taking 0.0785 seconds, 204 records returned.
Powered by Minx 1.1.6c-pink.