September 21, 2015
F1 Update: Singapore 2015
A clear night, with no hint of the expected smoke from burning Jakarta forests greeted the F1 Circus as they lined up on the grid... and a scrambled grid it was, with the dominant Mercedes cars on the third row, Ferrari and Red Bull splitting the first two rows between them, and an American in a F1 race for the first time in far too long. So what happened when the lights went out? THIS is
your
F1 Update! for the 2015 Grand Prix of Singapore!
*THE RACE
: The car was red instead of silver, but otherwise the opening stages of the race looked exactly like most of the rest of the season: the polesitter running away and hiding from the very beginning. Indeed, Ferrari polesitter Seb Vettel opened up a full
three seconds
' lead over Red Bull's Daniel Ricciardo in the very first lap. While he never opened up the scary huge gap that the Silver Arrows are known for, it was very clear indeed that it was going to take a mistake from Vettel to give anybody else a chance. And Seb Vettel didn't become a four-time World Driver Champion by making casual mistakes from the lead.
*AT THE BACK
: American Alexander Rossi sat in the 20th slot on the grid, his Manor purring in the way that only a F1 car can. The culmination of his life's work was about to occur: he was about to participate in a Formula 1 race and become part of a club more exclusive than the number of people ever to go to space. That he had practically zero chance of winning didn't matter in the least... at the age of 24, he had reached his dream. When the race began, his teammate Will Stevens, alongside in 19th, had a less-than-stellar start and Rossi immediately passed him and began hunting 18th.
*CONTINUING
: Vettel had opened up a nearly seven second lead when Felipe Massa exited the pits after a disastrous stop. A problem getting a tire on had taken too many seconds to fix, and the little Brazilian was undoubtedly annoyed. He would get even moreso in a moment, for as he pulled out onto the circuit Nico Hulkenberg came steaming into view, determined to take the racing line through Turn 3. Unfortunately, that's exactly where the white Williams was located, and it wasn't like Massa could teleport somewhere else.
Hulkenberg meshed tires with Massa, launching himself into a short, eventful flight ending in a broken suspension and much shattered carbon fiber as Massa gestured angrily. A Virtual Safety Car quickly gave way to the appearance of Berndt Maylander in the
real
Safety Car, wiping away Seb Vettel's lead.
*AND THEN...
: Daniel Ricciardo knew he had been handed a chance he couldn't throw away. If he wanted to win this race, he would have to glue himself to Vettel's rear wing on the restart and refuse to let him get away. Then, and only then, could he make a move to take the lead at Turn 1. While it seemed the Red Bull was still quicker in the turns than the Ferrari, it wasn't enough to overcome the straight-line speed advantage the red cars had over the purple, but Riccardo knew that if he was ahead, he could pretty much prevent Vettel from getting by. It was only when the Safety Car pulled off and the Ferrari driver somehow faked the Australian out of his firesuit that Ricciardo realized that he needed to pay more attention to the Ferrari of Kimi Raikkonen in third place than the Ferrari in front of him. However, he would soon be handed another chance.
*WHAT THE HELL?
: On Lap 37, frantically waving double-yellow flags told the story: be careful, slow way down and be prepared to stop if necessary. Almost instantly thereafter, the Safety Car came out again. And what catastrophe had occurred to cause this flurry of safety activity?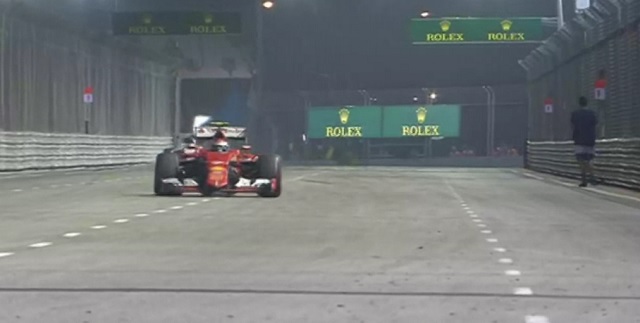 A young man had exited an open marshal's gate, jogged across the circuit, and then took to strolling down the track against the flow of traffic. Fortunately he did not come close to any car, nor did he hurt himself or others. Last reports were that he was taken into custody and jailed... in Singapore, a place not well-known for its legal leniency. For some reason, I can't find it in myself to feel sorry for him.
*OH, HIM? I SUPPOSE...
: Everybody and their mothers were expecting Lewis Hamilton to bring his Mercedes off the mat and make some sort of try for a podium finish. After all, that's the way its worked of late. It never happened. Oh, he showed good pace, equaling or even bettering Vettel at times, but something wasn't clicking. Or maybe there was a lot of clicking, as Hamilton retired his car early with a throttle problem.
*ENDINGS
: The second restart went no better for Daniel Ricciardo than the first, and was forced to watch from behind as the Ferrari of Seb Vettel swept across the finish line. Kimi Raikkonen finished third, putting both Ferrari drivers on a podium for the first time in a very long time indeed. Nico Rosberg, teammate of Lewis Hamilton and championship rival, finished in fourth, a result that caused little harm to Hamilton's chances of a repeat.
*OH, AND...
: American Alexander Rossi finished in 14th position and ahead of his Manor teammate. Surviving the Singapore Grand Prix, undoubtedly the toughest on the calendar, and beating your teammate in your first ever F1 race? It's not exactly the top step of the podium, but it's pretty darn good otherwise.
*SELECTED QUOTES OF THE RACE
:
"
Damn
, but I'm good. How ya like me now, Italy?" - Seb Vettel
"If I had an engine, instead of this stupid Renault thing behind me, I coulda taken him." - Daniel Riccardio
"Mrmrmbemememlbl mrmrlrrbrkrlllmlr brmrlrlrrbrbrbrlrmrr." - Kimi Raikkonen
"Well, the tires sucked, the track sucks, the weather sucks, the lights suck, and Singapore sucks. But Hamilton didn't finish. It's been a good weekend." - Nico Rosberg
"wellitwasreallyexcitingandivebeenlookingforwardtothisallmylifeanditwaseverythingicouldhave hopedforreallyandidliketothanktheteamforputtingtogethersuchagreatwelcomeandforfixingmycar
afteriwreckeditinp1andimsoexcitedthatimstillshakingalittlebitholycrapimaf1drivernowhowsthat
forapickuplinenowifonlyihadanattractivehaircutandidgetallthegirlsicouldeverwantandicantstop
talkingpleasedeargodmakeitstopmakeitstopmakeitstopicantbreathe" - American Alexander Rossi
Next up, we head to the Land of the Rising Sun and Suzuka International Circuit! Should we mention that there's a typhoon coming, just like last year? Maybe we'll get the Great Suzuka Boat Races again! See you next week.
Posted by: Wonderduck at 07:37 AM | Comments (10) | Add Comment
Post contains 1059 words, total size 8 kb.
Posted by: GreyDuck at September 21, 2015 12:12 PM (rX7cO)
Posted by: Steven Den Beste at September 21, 2015 02:04 PM (+rSRq)
Posted by: Wonderduck at September 21, 2015 04:42 PM (jGQR+)
Posted by: Ben at September 21, 2015 04:57 PM (DRaH+)
Posted by: flatdarkmars at September 21, 2015 05:50 PM (sm0m6)
Posted by: Avatar_exADV at September 21, 2015 08:13 PM (/lg1c)
Posted by: jon spencer at September 21, 2015 09:18 PM (JSYPT)
Posted by: jon spencer at September 21, 2015 09:21 PM (JSYPT)
Posted by: Wonderduck at September 22, 2015 01:35 AM (jGQR+)
Posted by: jon spencer at September 23, 2015 08:25 AM (JSYPT)
32kb generated in CPU 0.0249, elapsed 0.3404 seconds.
49 queries taking 0.3275 seconds, 212 records returned.
Powered by Minx 1.1.6c-pink.