May 16, 2010
F1 Update!: Monaco 2010
A beautiful day over The Principality, absolutely perfect for a little racing fun! Would the drivers provide? THIS is
your
F1U! for the 2010 Grand Prix of Monaco!
*TWOFER
: After squeaking out the pole from the Pole, Red Bull's Mark Webber had to have been feeling awfully confident as the lights went out. And as it turns out he was right to be, screaming away from the rest of the field as if they were standing still. It seemed that the only thing that could keep him from lapping the world was the four safety cars that came out during the race. That he spent the entire race waaaaay in front of his younger, supposedly more talented, teammate Seb Vettel had to make it all that much sweeter. Throw in the fact that he's now led every lap for the past two races and the Aussie has got to be livin' large right now.
*OHFER
: On the other hand, Virgin, Lotus, HRT, Williams and BK-Sauber have to be wondering which racing god they've pissed off. All five teams failed to get either of their cars to the finish line. This can't be what Peter Sauber was thinking when he got back into F1...
*DRIVER OF THE RACE
: Well, duh, Mark Webber. He didn't quite have enough of a lead to stop and have a drink at the bistro at Rascasse during the race, but it sure
seemed
like it at times... and I'm sure he would have done so if he could. Honorable Mention goes to Robert Kubica for bringing his Renault home in third. While he lost 2nd place to Vettel right off the line with a mediocre start, he kept the pressure on the younger of the two Red Bull drivers for nearly the entire race. If the Renault was a slightly better car he could have done more than just hang grimly on the RB6's rear wing, but you make do with what you've got, and Kubica did more than anybody could have honestly expected.
*TEAM OF THE RACE
: Red Bull. This season has all the signs of becoming a laugher if the RB6 can stay in one piece. When they do, you get the sort of result we saw in Spain and today in Monaco: runaways. Don't let the 1.6-second gap from Webber to Kubica fool you, that was only because of the safety car that came out with just a few laps remaining; it should have been closer to 10-15 seconds. The team has the best car, two of the best drivers (and arguably the best young driver in Vettel), the best aerodynamicist, tons of money to throw at any problem... it could get ugly for the rest of the field.
*MOVE OF THE RACE:
Take your pick between any of the four passes HWMNBN put in at the Chicane. Yes, they were all against the backmarkers, but only Jarno Trulli really got out of his way. All the others were actual fights for position, and all of them were impressive feats of car control and cojones. Honorable mention goes to Slappy Schumacher for his (not seen in the US) pass at Rascasse against HWMNBN... on the last lap, under safety car conditions. For the record: you can't do that. Almost got away with it, too. Instead, he was handed a 20 second penalty and dropped down to 12th... but it was audacious, I'll give him that.
*MOOOOOOOOO-OOOVE OF THE RACE
: We here at F1U! love Monaco, simply because there's always a clear-cut Mooooooo here. Except for this year. This year, we've got three excellent contenders for the trophy! The first would go to the McLaren crewman who neglected to remove the blank from Jenson Button's left sidepod radiator inlet as he made his way to the grid. Of course, this turned his engine into a steaming pile of slag that let go on Lap 2 while behind the first safety car. Bravo, that!
The second candidate is Mr Maturity himself, Rubens Barrichello. After something broke at the rear of his Williams on Lap 31, he went spinning and bouncing down the track at Massanet, coming to rest facing the wrong way. Understandably frustrated and angry at being sent into the barriers at around 150mph, he did something that he of all people should know was stupid and dangerous.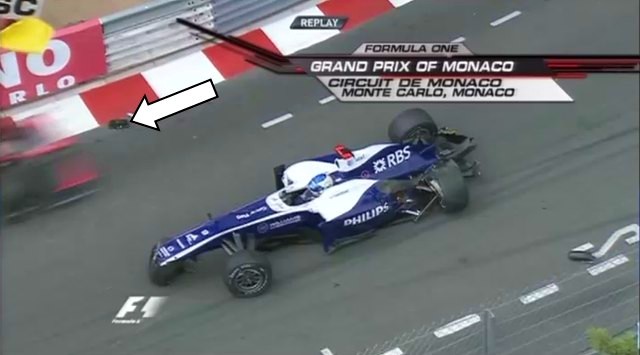 See what that arrow is pointing at there? It's his steering wheel, which Rubens threw out of the cockpit in his frustration. Now, after a spring came out the back of his car last year, nearly killing Felipe Massa, you'd think he'd know better. See that blur there? That's Karun Chandhok's HRT.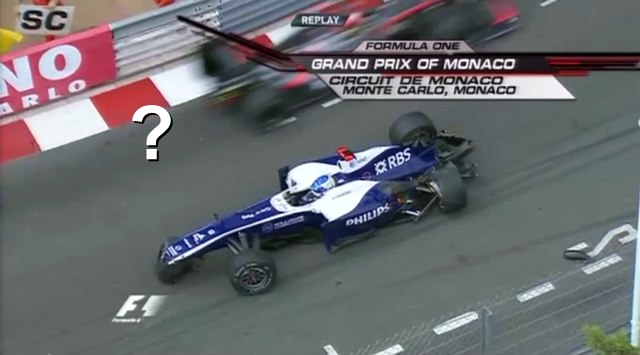 Where's the steering wheel? That's right, it's somewhere under the HRT... $20000 worth of steering wheel being dragged along by (or imbedded into) a F1 car: not cool, Rubens, not cool at all.
But there can be only one winner, and the Mooooooo-ooove for the 2010 Monaco Grand Prix goes to a prior winner of this race, Jarno Trulli. With a scant seven laps remaining, Trulli's Lotus was behind the HRT of Karun Chandhok, and while he was slightly faster than the Indian, he could not get past at all. Finally, he thought he saw an opening and lept into the breach. Unfortunately, he tried this at Rascasse, one of the narrowest and slowest corners on the circuit and a place where nobody tries to pass...
ever
. The result was both predictable and horrifying.
Commentators have said that the rollbar in the HRT's airbox did its job by protecting Chandhok from taking the rear of the Lotus in the face, and I suppose that's true. However, the tire mark on the HRT driver's helmet tells a slightly different story... a couple inches lower Trulli would have neatly decapitated the rookie. However, since he didn't, he earns the Moooooooo-oooove of the Race for the worst passing attempt at the worst place imaginable. Way to go, Jarno!
*SELECTED DRIVER COMMENTS OF THE RACE
:
"The greatest day of my life, I suppose." - Mark Webber (
note: real quote.
)
"I think we couldn't've done better today." - Seb Vettel (
note: real quote. Yeah, first and second with only two cars is about the best you can do. Guess they're not high on math in German schools?
)
"Well, that's pretty darn good, considering my car is a piece of kieshka." - Robert Kubica
"I need to call Karun, talk to him about collecting Ruben's souvenirs..." - Felipe Massa
"What am I supposed to do? Am I here to race, or am I here to look after my brakes?" - Lewis Hamilton (
note: real quote, said over the radio to his engineer. Dude, it's racing, deal with it...
)
"77 laps on one set of tires. Yeah, I'm good." - HWMNBN
"Hmph. Take that, old man." - Nico Rosberg
"Hi. I'm Adrian Sutil. You didn't see much of me today." - Adrian Sutil
"Weren't my shades on the grid fabulous?" - Vitantonio Liuzzi
"It was a good race for me in the sense that I was able to finish without any accidents." - Seb Buemi (
note: real quote. It's the little victories that count the most, sometimes...
)
"I have nothing to say that is either relevant or true." - NKOTT
"You can talk about your Sporting Regulations and your Regulation 40.13; well, Schumi 3:16 says I just passed your @$$!" - Slappy Schumacher
"Car broke. Nichevo." - Vitaly Petrov
"AIEEEEEEEEEEEEEEEEEEEEEEEEEEEEEEEEE!!! Still, I got this neat steering wheel from Rubens..." - Karun Chandhok
"AIEEEEEEEEEEEEEEEEEEEEEEE!!!" - Jarno Trulli
"Ever try driving around here with broken steering? It's not fun, lemme tell ya." - Heikki Kovaleinninninnie
"Hydraulics failure. Why is it always hydraulics failure?" - Bruno Senna
"The steering wheel didn't feel normal. Then I crashed." - Rubens Barrichello (
note: real quote. Guess that's why he threw it away, huh?
)
"Gearbox full of neutrals." - Kamui Kobyashi
"I had a 'wheel problem'. I'm not sure, exactly, what that is. I think we had more of a 'this car sucks' problem." - Lucas di Grassi
"Have you ever seen a F1 car crab-walk like that before? It would have been really cool, if I hadn't've been driving it... and it wasn't at Monaco." - Timo Glockenspiel
"First it was the hydraulics, then while I was sitting in the pits and the team was just looking, the brakes caught on fire. Flame-broiled carbon/carbon discs, made your way." - Pete Rose
"Whomever left that blank in the sidepod is going to find out how deep the harbor is." - Jenson Button
"AIEEEEEEEEEEEEEEEEEEE!!! Still, it was a pretty cool accident, the way all the car parts exited the tunnel ahead of the actual car..." - Nico Hulkenburg
Okay, so, that's Monaco. Two weeks until Turkey, see you then!
Posted by: Wonderduck at 11:58 PM | Comments (8) | Add Comment
Post contains 1464 words, total size 10 kb.
1
Credit where credit is due: HWMNBN started dead last and finished in the points. That's impressive,
especially
at Monaco.
Posted by: Steven Den Beste at May 17, 2010 11:17 AM (+rSRq)
2
What do you bet that steering wheel came out of Rubens' pay check? Temper, temper.
And where did Prince Albert get that jacket he was wearing? It looked way too small, like he might have borrowed it off his kid.
Posted by: Mallory at May 17, 2010 11:50 AM (WJ2qy)
3
In-car
footage
from Chandhok's car. The "Your On-Board is Unavailable" graphic at the end is a bit of an understatement.
Posted by: JP Gibb at May 17, 2010 06:52 PM (S3r8/)
4
Steven, he had a good drive, but if there hadn't've been a SC on the first lap, the chances are high that he wouldn't've gotten any points at all, or maybe one. Luck played a huge part in it.
JP, holy crepe! Thanks for the link!
Posted by: Wonderduck at May 17, 2010 07:15 PM (JWQqT)
5
Actually, you may be right. Looks like almost all he had to do was survive. Only 12 of 24 cars finished the race, and the top ten finishers get points.
I wonder if we'll see a race where someone DNF's and still gets points.
Posted by: Steven Den Beste at May 17, 2010 08:20 PM (+rSRq)
6
It has happened before. A driver need only complete 90% of the race distance to be eligible for points.
In the 1996 Monaco GP, only three cars finished the race. Three drivers, HH Frentzen, Mika Salo and Mika Hakkinen, scored points despite not finishing (Frentzen withdrew on lap 74, Salo and Hakkinen went out on lap 70 via collision).
So it's not unheard of, and there may very well be more recent examples.
Posted by: Wonderduck at May 17, 2010 08:53 PM (JWQqT)
7
Monaco just wouldn't
BE
a race without some hapless prat going airborne.
Posted by: vonKrag at May 18, 2010 12:59 PM (VGXAE)
8
Next day, Sir Frank admitted that he misjudged Webber. Oh, did I promise to giggle?
Posted by: Pete Zaitcev at May 19, 2010 10:36 AM (/ppBw)
Comments are disabled. Post is locked.
30kb generated in CPU 0.0133, elapsed 0.4111 seconds.
47 queries taking 0.4013 seconds, 208 records returned.
Powered by Minx 1.1.6c-pink.