June 30, 2013
F1 Update!: Great Britain 2013
We here at F1U! didn't notice the skies over Silverstone today, but it wasn't raining, that's all that's really important. So it wasn't raining when the cars formed up on the grid behind polesitter and "hometown lad" Shiv Hamilton. One could only assume, however, that points leader Hannibal Vettel was feeling confident and relaxed as the 22 drivers waited for the lights to go out. But what happened after that? That's why you're here! THIS is
your
F1 Update! for the 2013 Grand Prix of Great Britain!
*LIGHTS OUT!
: Here at F1U!, we understand that Red Bull driver Mark Webber has a problem. We call the "Mark Webber Lousy Start
©
" and are just amazed every time it happens. Other than in Australia, however, he's been pretty good this season. Not today, though... today, he made up for lost opportunities. When the lights went out, Shiv Hamilton made a clean getaway from pole, as did Hannibal Vettel in his Red Bull. Hamilton's teammate Nico Rosberg's start wasn't quite as good as Vettel's, which dropped him into third. And then, there was Webber. Our first thought was that he had been balked by a slow-starting Rosberg, but replays proved us wrong: it was a classic "MWLS
©
," and a real doozy at that. As they approached Turn 1, he was already down to 10th, and soon to be playing the part of pinball. He was plonked by the Lotus of Lettuce Grosjean, kicked off the track and into the runoff area of Turn 1 with quite a bit of damage to his front wing. Dropped to 15th, it looked like he was out and gone from view. Meanwhile, Felipe Massa apparently woke up today feeling like the man he was before the incident with The Spring. He jumped to 5th place from 11th on the grid and was looking quite racey indeed.
*ONE TWO THREE!
: Hannibal Vettel's
modus operandi
when he starts a race from the pole is "get away clean, do everything possible to get one second ahead of second place by the time they turn on the DRS system, then run away and hide." It's a good plan, and has worked very well for him. Upon occasion, it's worked for other drivers as well. Today, Shiv Hamilton was giving it a shot, and sure enough, everything was coming up roses for him. He had a 1.5 second lead over Vettel when DRS was activated for the field, and was over two seconds ahead on Lap 7. It was early, but things at least seemed like they were going well for the Mercedes driver. Then, suddenly, everything went south. His left-rear tire nigh-on exploded, sending pieces of rubber spraying across the racetrack and greatly reducing the amount of traction available. He managed to limp his car around half the circuit back to the pits, but dropped from first place to last in the time it took to do so. One could only imagine the glances down to the Pirelli office on the pit lane. Of course, this promoted Hannibal Vettel into the lead, Nico Rosberg to second, the Force India of Adrian F'n Sutil to third, and Felipe Massa to fourth. Until Lap 10. It was on Lap 10 that Felipe Massa's Ferrari blew
his
left-rear tire in almost the same place as Hamilton. The glances at Pirelli's office suddenly changed to stares. Then, on Lap 15, while Jules Vergne was under attack by the Lotus of Kimi Raikkonen, we saw our third tire failure of the day.
It goes without saying that it was a left-rear, of course. That made three in seven laps, and four on the weekend (McLaren's Sergio Perez suffered a left-rear failure during practice). The stares at the Pirelli offices had become glares. Unsurprisingly, given the amount of carbon fiber and rubber debris strewn around the circuit, Race Director Charlie Whiting called out a Safety Car, only the third we've seen at Silverstone since 2006. Whiting later admitted that he considered red-flagging the race at that point.
*HOO-BOY
: A number of drivers came in for new tires at this point. Soon we were hearing radio calls from Ferrari and Red Bull to HWMNBN and both Hannibal Vettel and Mark Webber, saying the same thing:
we see cuts on the inside of your left-rear tires,

stay off the curbs
. Tire pressures were duly increased and drivers tried to be slightly less aggressive.
*YOU'RE KIDDING
: When the race resumed on Lap 21, it was very much like we've been used to at the beginning of a race: Vettel rabbitting off into the distance, Rosberg grimly keeping in touch but failing to do anything to close the gap. For the next 15 or 16 laps, that's the way it stayed; Vettel with a two or three second lead over Rosberg, while Vergne retired his Toro Rosso. The damage it suffered when the tire let go was too much for safety's sake. When Vettel came in for his last tire stop and resumed in the lead, it looked like the race was won.
*AND THEN...
: On Lap 42, the partisan British crowd at Silverstone reacted before the announcers did, a huge cheer coming up from every throat on the front straight: Hannibal Vettel slowed, then stopped, just past the start/finish line.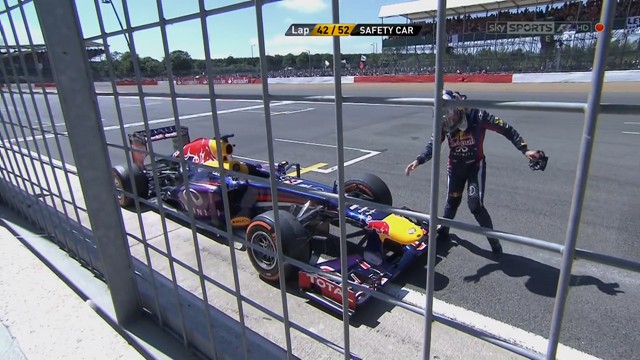 His gearbox failure brought out the second safety car of the day, sending many of the leaders scrambling for the pit lane again for a new set of tires. The lone exception was Kimi Raikkonen, who quickly was saying to the Lotus pit box that "they'd made a mistake." In many ways, Nico Rosberg was the big loser from all this: while gifted first place, he also lost a thirteen second lead. The standings were Rosberg, Raikkonen, Sutil, Ricciardo, Webber, Perez, Button and HWMNBN.
*GO GO GO OH NO NOT AGAIN
: The safety car came in on Lap 45, giving us a seven-lap sprint to the finish. Mark Webber, he of the Lousy Start back at the beginning of the race, began to gun down those ahead of him: first Ricciardo, then Sutil, putting him in third and hunting himself some Finnish Lotus driver. And then, on Lap 46, Sergio Perez suffered a failure of his left-rear tire. Again. The fourth tire failure of the race didn't bring out a safety car, but the glares at the Pirelli offices had become daggers.
*THE END
: Webber fought his way past a recalcitrant Raikkonen (and if that looks hard to type, you're right) to take second on Lap 48, and he began to track down Nico Rosberg, a mere 1.37 seconds ahead. Meanwhile, the Finn's old tires proved to be too much for him to overcome. First HWMNBN, then Shiv Hamilton, got past him, dropping him to fifth. Back up at the front, Webber cut the lead to Rosberg down to 0.765 seconds, but could get no closer as the race ended. HWMNBN finished third, with a charging Hamilton 0.632 seconds behind
him
. Both the Aussie and the Brit had to be ruing what had happened at the beginning of the race.
*DRIVER OF THE RACE
: Boy, is
this
one hard to call. Webber started 4th, dropped to 15th, and finished 2nd. HWMNBN started 10th, dropped to 11th, and finished 3rd. But Mercedes' Shiv Hamilton started on pole, suffered the first tire failure, dropped to dead last, then worked his way back to fourth place. That's a pretty decent performance, all told.
*TEAM OF THE RACE
: Mercedes. 1st - 4th is a pretty good way to finish, particularly given all that went down with Hamilton during the day. Honorable mention goes to Force India for finishing 7th and 9th, with Sutil holding a podium position for a good chunk of the race.

*MOVE OF THE RACE
: On Lap 49, Shiv Hamilton was behind Adrian F'n Sutil's Force India, and looking to get past in a hurry. When he made his move, it looked like there was no way he could make it work... he was
so
far back. Sutil braked, Hamilton didn't, and he still made it look like the car was on rails as he zipped up the inside and blew the doors off the Force India. Just an astonishing pass on TV. After watching it frame-by-frame on my computer, it wasn't as impressive, sure... but at the time, we here at F1U! Central dropped our forks into our deep-dish pizza in amazement.

*MOOOOOOOO-OOOOVE OF THE RACE
: On Lap 31, HWMNBN had come in for new tires. The 2.8 second stop seemed quite impressive, and the Ferrari lollypop man released him to rejoin the race... right into the path of the incoming Lotus of Lettuce Grosjean.
How he avoided the Lotus, the McLaren pit crew, the Lotus lollypop man,
and
an unsafe release penalty is entirely beyond me. Here's to Ferrari's pit lane crew, and here's your Mooooo!

*SELECTED DRIVER QUOTES OF THE RACE
:
"Boy. What a shame for Hamilton, huh?" - Nico Rosberg
"One more lap, boyo." - Mark Webber
"No, the race was the right length." - HWMNBN
"I'm okay with 53 laps instead of 52." - Shiv Hamilton
"Mrmrmbrlmr rmrm mrmrmrlrmlrmrrlrmbrlrnrrmmrmrlrbrlnrl." - Kimi Raikkonen
"That could have been a podium. Thanks, Pirelli!" - Felipe Massa
"We stayed out at the last stop, and paid for it. But if we had come in, we would have paid for that, too. Oh well." - Adrian F'n Sutil
"Well, that was a chaotic race." - Daniel Ricciardo (
note: real quote
)
"On one hand, 9th doesn't seem so bad. On the other hand, starting from dead last, it seems pretty good. I'm confused." - Paul di Resta
"Hi, just squeaking into the points, don't mind me." - Nico Hulkenberg.
Right, next weekend we'll be in Germany, and people will be screaming about tires all the way until then. Will anything get done about it? Nope! We'll see you at the Nurburgring!
Oh, and here's McLaren's
Tooned!
Posted by: Wonderduck at 08:59 PM | Comments (5) | Add Comment
Post contains 1659 words, total size 11 kb.
Posted by: Steven Den Beste at July 01, 2013 06:49 AM (+rSRq)
Posted by: Steven Den Beste at July 01, 2013 01:41 PM (+rSRq)
Posted by: Pete at July 01, 2013 03:21 PM (RqRa5)
Posted by: Steven Den Beste at July 01, 2013 04:18 PM (+rSRq)
Posted by: Wonderduck at July 01, 2013 05:18 PM (rY5SD)
Comments are disabled. Post is locked.
32kb generated in CPU 0.0122, elapsed 0.0905 seconds.
47 queries taking 0.0816 seconds, 205 records returned.
Powered by Minx 1.1.6c-pink.