September 02, 2012
F1 Update!: 2012 Grand Prix of Belgium
A stunningly pretty blue sky greeted the field as they rolled towards the grid on the 7.004km Circuit de Spa-Francorchamps. Jenson Button led the field but how long would that last once the lights went out? Only one way to find that out: go racing! THIS is
your
F1U! for the 2012 Grand Prix of Belgium!

*YESTERDAY, ELATION. TODAY?
: As the leaders sat on the grid, waiting for the back of the field to take their places, cameras were focused on Monisha Kaltenborn, CEO and part-owner of Sauber F1 Team. Yesterday, her look of pure joy as Gandalf Kobayashi took second place in Quals was a wonder to behold. Now however, her look was one of concern and fear as Shadowfax, Gandalf's trusty steed, began to billow clouds of smoke.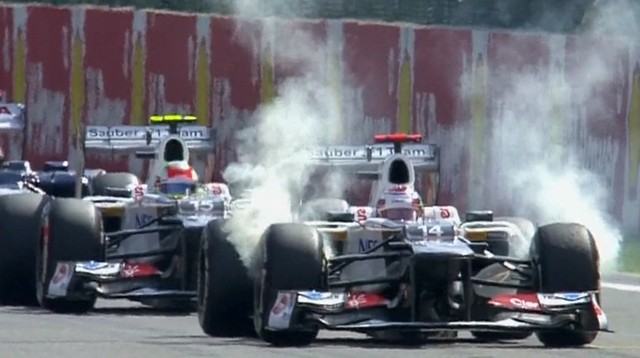 The smoke was coming off of overheated brakes; not a bad thing, per se, unless they burst into flame, and that almost
never
happens. One can only wonder what Gandalf's teammate Sergio Garcia, positioned directly behind him, thought. As it turned out, this little occurrence was soon to be quickly forgotten.
*LIGHTS OUT... OH MY GOD!
: This was actually heard in the Official F1U! Viewing Center today as the race began, for many reasons. First, Akhoond Maldonado had either the greatest start ever or he jumped the lights rather drastically, one of the two. While the Stewards would later declare that he had jumped the start after viewing the telemetry and timing data, and Maldonado himself made it sound like he thought he jumped the gun ("My hand slipped off the clutch...") the Legendary Announce Team made a convincing argument that he, in fact, did not. To be sure, in drag-racing terms, his reaction time was zero-point-zero-zero-zero and he aced the tree, but visually he looked to be okay. It was only when the F1U! Technical Team got a HD version of the feed that we could see his Williams moving slightly just a couple of frames before the lights went out. In retrospect, we should have known better: it
was
Maldonado, after all. But then the real reason for the verbal explosion occurred.
In the always-crazy dash down to La Source, Lettuce Grosjean decided that he
really
wanted to be on the inside edge of the track, despite starting on the direct opposite side of the circuit... and nothing was going to get in his way. As it turned out, he was very wrong about this, as the McLaren of Lewis Hamilton happened to be right where the Lotus was headed. Grosjean's right-rear tire made contact with Hamilton's left-front, jerking the McLaren to the right, then once it was on the grass and uncontrollable, it snapped back and plowed directly into the rear of the Lotus.
The two cars, steering completely wrecked, plowed straight ahead as the cars ahead of them made the right turn into La Source across their nose. The Sauber of Sergio Garcia was ruined on the spot, Gandalf's steed took damage and would never be in contention again. It goes without saying that Hamilton and Lettuce were out on the spot. The Ferrari of HWMNBN was dead as well...
...and very nearly its pilot with it. Fortunately, the Spaniard was uninjured except for a sore back caused when the Ferrari got airborne off the wheels of Shadowfax. Hamilton's McLaren bounced off a different tire of the Sauber and caught air as well.
As a result of this incident, caused when he didn't look where he was going, Lettuce Grosjean has been given a one-race ban and will not participate next week at Monza. The official statement from the Stewards reads, in part, "
The stewards note the team conceded the action of the driver was an extremely serious mistake and an error of judgement. Neither the team nor the driver made any submission in mitigation of penalty.
" He was also fined €50000. As one would imagine considering the amount of carbon fiber shards carpeting the track surface, the safety car was called out, and the field would circulate behind it for four full laps.
*HERE WE GO AGAIN
: Once Bernd Maylander took the AMG-Mercedes SLS into the pits, Jenson Button led Kimi Raikkonen and the two Force Indias as the race restarted. Almost immediately, Button began to pull away from the field, opening a nearly three-second lead on the Lotus by the end of the lap, helped by Raikkonen being passed and then held up by the FIndia of Nico Hulkenberg. Then it became a race of tires. Unseen by US viewers, Akhoond Maldonado plowed into the Marussia of Tim O'Glockenspiel and retired. For this and his jump-start, Maldonado earned two separate five-spot grid penalties for Monza... we here at F1U! wonder just what the record for individual penalties in one race weekend is. Maldonado must be in the running, having earned three between Quals and the race.
*

HOW

MANY STOPS?
: Surprisingly, it quickly became clear that the frontrunners were planning a one-stop tire strategy. Button didn't pit until Lap 21, at which point everybody else behind him save Seb Vettel had already stopped. He had enough of a lead on the Red Bull driver to emerge from the pits still in first place, at which point the F1U! Strategy Crew wrote "race over" in the logbook. It became merely a question as to whether Button, a driver known for his smooth tire-friendly style, could make his rubber last 23 laps around the longest track in F1... and who would finish second behind him, and could
they
make a one-stop work.
*YEP, AND NOPE
: Both of the Red Bulls and Kimi Raikkonen's Lotus were having problems with straight-line speed, a major blunder around this fast circuit. The Finn had too much rear wing, causing huge amounts of drag, down the Kemmel Straight, while Vettel and Webber had their gearing set wrong, resulting in their engines bouncing off the limiter much too early, limiting their top speeds. This caused all three to give up any chance they had of catching the McLaren and battle amongst themselves for whatever final positions they could grab. Vettel made his one-stop strategy work, keeping his tires fresh and finishing in second place. Kimi's tires faded away, ruining his try for a one-stopper and placing him solidly in third after a snarling dogfight with Nico Hulkenberg. Webber, on the other hand, was essentially crippled by his limited top speed, which made him relatively easy pickings for Felipe Massa of all people. Massa finished fifth, Webber sixth, a full 20 seconds ahead of Slappy Schumacher. The closest anybody came to Jenson Button, though, was that three seconds at the restart.
*DRIVER OF THE RACE
: As much as it pains us, Seb Vettel gets this award over Jenson Button. While Button drove a fine race, Vettel started from 10th place on the grid to take second, passing his own teammate and Slappy Schumacher in nasty struggles along the way. Just an all-around swell drive for the reigning World Champion.
*TEAM OF THE RACE
: Force India finished fourth and 10th today, after starting ninth and 11th. They avoided the first-corner carnage, drove professional races, challenged some of the biggest names in the sport, and heck, Paul di Resta earned a point despite a non-functional KERS unit. Fantastic result for a team that needed it.
*MOVE OF THE RACE
: On Lap 33, Kimi Raikkonen was crawling all over the pewter tail of Slappy Schumacher's Mercedes, but just wasn't able to find a way around down the back half of the circuit, the pit straight, or La Source. Out of La Source, however, and in the run down to Eau Rouge, Kimi's nose was tucked right under the rear wing of Slappy.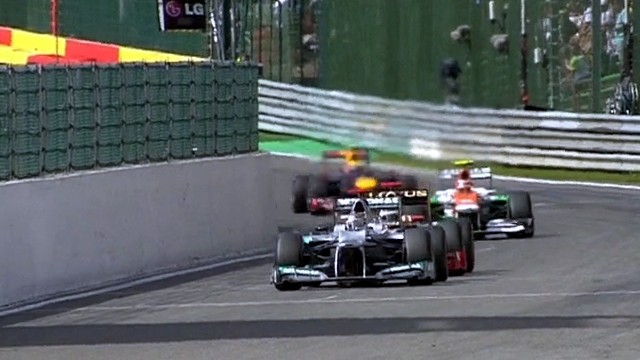 Now you may notice that white line stretching across the track just ahead of the nose of Slappy's car. That is the DRS detection line, which decides which cars get to use DRS on the Kemmel Straight (just after Eau Rouge) and which ones don't. You have to be within one second of the car ahead to be able to use the DRS... Slappy Schumacher will not be able to do so, as there's no car ahead of him. Kimi, on the other hand,
will
be able to; with his top speed limited by his mis-set rear wing, he'll need it just to stay in contact with the Mercedes.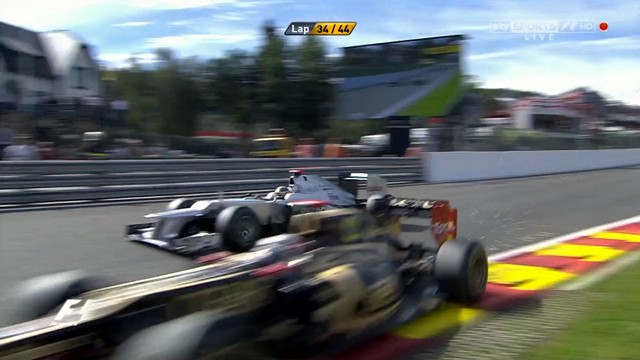 Then Kimi went completely insane, diving inside on Slappy in Eau Rouge, a place you pass
only if you have a death wish or supreme confidence in your abilities
.
Slappy, realizing he was being passed by an insane Finn, gave him room and let him go, perhaps secure in the knowledge that he'd be able to use DRS at the top of the hill and just catch him back up. Oops. Not only could he
not
do that, the Force India of Nico Hulkenberg
could
... and nearly caught him in the process. For having two huge ball-bearings of steel and a working brain to calculate the best time to pass the German, we hereby present Kimi Raikkonen with the Move of the Race. Sneaky clever!

*MOOOOOOOO-OOOOVE OF THE RACE
: By rule, we can't give it to Lettuce Grosjean, as it occurred on the first lap. So, instead, it goes to Akhoond Maldonado.
I think this picture sums up his entire career. Three penalties in one race weekend, two of them in six laps? Congratulations, Akhoond, you just got another Moooooo!
*SELECTED DRIVER QUOTES OF THE RACE
:
"Everybody was saying that I have to support Lewis and his race for the championship. I didn't see him supporting me very much this race, hmm?" - Jenson Button
"I'll take that, yep." - Seb Vettel
"mrmrmbl mrmmrmrmrmlbl mrmrblblllbm mrmbrlbrlmmbrbrbrrrlrb heh heh heh." - Kimi Raikkonen
"RAWR! HULK RACE!" - Nico Hulkenberg
"Fortunately, the team didn't ask me to let HWMNBN by this race. I'm not sure how I would have accomplished that." - Felipe Massa
"Meh, not bad. It's a race." - Mark Webber
"I quite enjoyed my 300th race." - Slappy Schumacher (
note: real quote. Also note that it wasn't his 300th race start, but his 300th race weekend.
)
"It was a shame I lost a lot of time behind Rosberg." - Jules Vergne (
note: real quote. The Mercedes pit wall must be in agony right now
)
"Helluva crash, huh?" - Daniel Ricciardo
"No KERS, no chance. Finishing 10th is like a win in that situation." - Paul di Resta
"Dear god, Toro Rossos are complaining about my pace? Kill me now." - Nico Rosberg
"Yes, he (Maldonado) is my teammate. That doesn't mean I like him." - Bruno Senna
"During the race I didn't really know how bad the damage to the car was, but I could see a tyre print on the cockpit all the time." - Gandalf Kobayashi (
note: real quote
)
"I have nothing to say that is either relevant or true." - The Red Menace
"FSCK Maldonado." - Tim O'Glockenspiel
"Since everybody else seems to feel this way, I don't like Maldonado either." - Charles ToothPic
"I seemed to be spinning a lot for no reason today. Embarrassing." - Heikki Kovaleinninninninnie
"I took a piece of front wing in the chops during The Accident, but since I'm 208 years old, all it damaged was my false teeth." - Pete Rose
"AIEEEEEEEEEEEEEEEE!" - Narain Kittylitter (who had a tire work free late in the race)
"I got caught up in the first turn incident and that compromised my race." - Akhoond Maldonado (
note: real quote. Yes,

that

also compromised your race...
)
"Wha? Who? Huh? Wha? Aiee? Wha?" - Sergio Perez
"I'm fine... *cough cough* STOP SPRAYING ME WITH FIRE EXTINGUISHER!" - HWMNBN
"Damn, WTF?" - Lewis Hamilton (
note: real tweet
)
"Um... oops?" - Lettuce Grosjean
So that's it for a rather interesting Grand Prix of Belgium... next week is Italy and Monza! See you right then!
And before you think we forgot, here's Episode 04 of McLaren's Tooned!
Posted by: Wonderduck at 08:47 PM | Comments (4) | Add Comment
Post contains 2000 words, total size 14 kb.
Posted by: carnett at September 02, 2012 10:10 PM (59ZXW)
Posted by: Steven Den Beste at September 03, 2012 01:19 AM (+rSRq)
Posted by: Wonderduck at September 03, 2012 07:14 AM (QsGp9)
Posted by: Steven Den Beste at September 04, 2012 07:41 AM (+rSRq)
Comments are disabled. Post is locked.
33kb generated in CPU 0.0125, elapsed 0.0816 seconds.
47 queries taking 0.0737 seconds, 204 records returned.
Powered by Minx 1.1.6c-pink.