June 03, 2015
Your Weekly Asuka, Ep09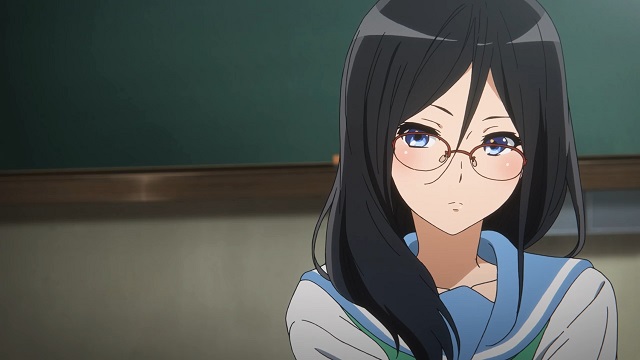 -Hibike! Euphonium
, Ep09
Stress is neither a good nor a bad thing in life. It is simply something that is omnipresent in our world. Some forms of stress can be enjoyable for one person, yet a horrible experience for the next... roller coasters, for example. Some stressors are almost uniformly negative, like the death of a loved one. One fact of life, however, is that everybody reacts to stress differently. Some people can't sleep, or have digestive problems, or the index finger on their right hand twitches uncontrollably in a manner guaranteed to creep people out when they see it. And some, like Our Goofy Cute Obsession here, become short-tempered. While she surely has nothing to worry about from this episode's auditions, Asuka clearly is feeling the stress from them.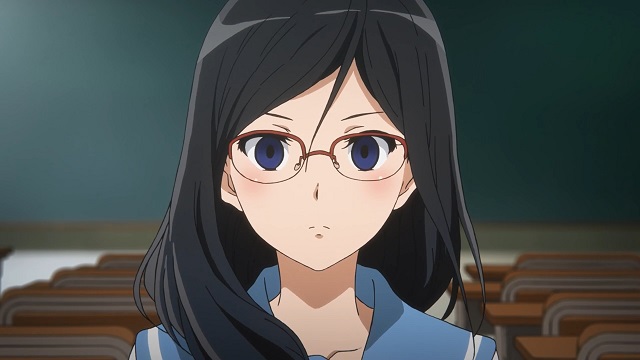 The way she bites off Sapphire's head and bathes in her blood might have been a little over the top, but her anger at the way the contrabass player was moping through the rehearsal was completely in character for Asuka. We've seen that she's devoted to her music and can be
quite the hard-driving taskmaster
... throw in the added stress of auditions, and you get the dead eyes of a pissed off euphonium player.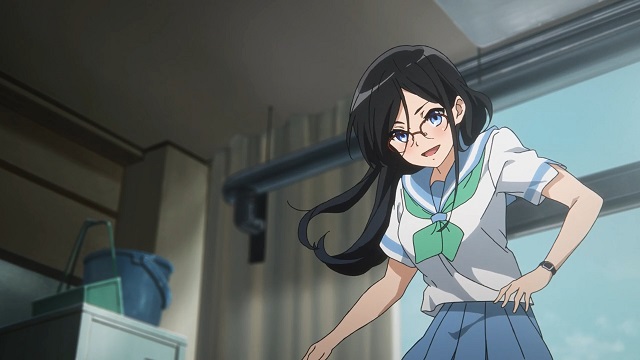 Fortunately she doesn't stay that way the entire episode, and by the end she's back to her bouncy self... and it's no surprise that she didn't have anything to worry about from the audition process. What I've found interesting is the online reaction to her this episode. Practically overnight she went from The Most Popular Girl In The Room to despised, just because she got short-tempered about people's attitudes. Quite astonishing, and entirely unexpected.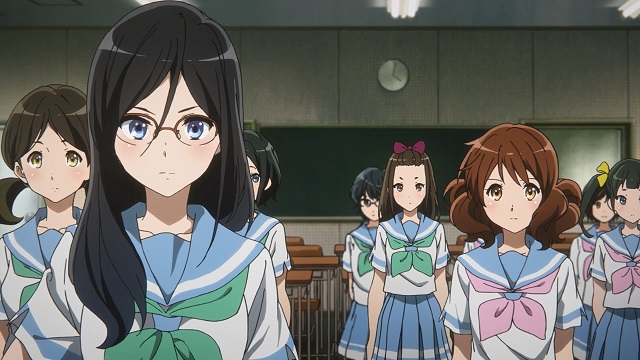 I suspect she wouldn't give a tinker's damn if she knew, as long as the band played well.
Posted by: Wonderduck at 09:24 PM | Comments (2) | Add Comment
Post contains 300 words, total size 2 kb.
June 02, 2015
F1 on TV: Canada 2015
From the champagne and caviar of Monaco, the F1 Circus crosses The Pond to the land of Labatt's and poutine, Canada. It's quite the jump from a tiny fishing village on the coast of France to the bustling metropolis of Montreal, or quite the plunge if you're talking about gross domestic income, but that's where the cargo planes have taken us this time. Let's take a look at the track map for the 2015 Grand Prix of Canada:
Once again we've come to the Ile Notre-Dame, a man-made island in the St Lawrence River and the location of Circuit Gilles Villeneuve. We've been here every year since 1978, save twice: 1987 and 2009, and if one has to bet on a track to give us a good race, I'd put my money on this one every time.
So what is it about this circuit that makes that happen? Well, it's ridonkulously fast. Oh, it's no Monza, sure, but from Turn 7 to the braking zone for the Hairpin is basically flat out, as is the run from the exit from the Hairpin to the Chicane at Turn 13/14. It's a fairly narrow track, meaning there's not much room for error, but it's filled with passing opportunities. I've seen passes at every single turn
except
the final chicane. Then there's the ever-present threat of rain... this is the site of
the longest race in F1 history
, over four hours, in 2011. Also one of the best races,
also
in 2011. It's the place the first Safety Car was ever called out, and since then it's averaging more than one per race. It's the home of the Montreal Marmot Massacre and the Wall of Champions. It's where SuperAguri hit their highpoint (~SUPERSATO~ passing Alonso for points!). And it's just a lovely, lovely track... even during the times the concrete was breaking up. There's just enough challenge to the driver to make it fun, and if they're having fun, chances are we will too.
So when does all this fun take place? I'm glad you asked! Let's take a look at the schedule:
Friday
Practice 2: 1p - 230p live on NBCSN
Saturday
Quals: 12noon - 130p live on NBCSN
Sunday
Prerace: 1230p - 1p live on NBCSN
2015 Grand Prix of Canada: 1p - 3p live on NBC
Its the first of three races we don't have to stay up until ungodly-o'clock (or wake up at
what
-time-is-it? AM) to watch, hooray! Check your local schedule for exact times and channels. All times Pond Central. Subtract two hours for random apartments in Oregon, add one hour for random boats just off the coast of Virginia, and sneeze if you're on Guam. No reason, I just want you to sneeze.
What with all this competition that's been happening recently, I expect some action. Everybody but Mercedes have used some of their allotted "tokens" to upgrade various pieces of their Power Units (remember when we used to call them "engines"? Ah, good times, good times...), so it's even possible that someone other than Mercedes will take that final step up on the podium.
I'm not
betting
on it, but it's possible. See ya then!
Posted by: Wonderduck at 03:44 PM | Comments (7) | Add Comment
Post contains 534 words, total size 4 kb.
31kb generated in CPU 0.0134, elapsed 0.1215 seconds.
47 queries taking 0.1121 seconds, 285 records returned.
Powered by Minx 1.1.6c-pink.