October 05, 2014
2014 GP Of Japan, As It Happens.
1:14am Pond Central Time
: The field started behind the Safety Car, did two laps, the red flag came out, and the entire field formed up in order in the pit lane. We're now waiting it out.
The race organizers, Honda (yes, that Honda... they own the track), really dropped the ball on this one. They were given the opportunity twice to start the race earlier, as much as four hours earlier... and turned it down. For once, the FIA and Bernie E are blameless.
Gazebos covering the cars. Fans are wet and sad looking, despite the rainbow of ponchos.
More as info comes
. Race will restart at 1:25am PCT
1:25am PCT
: And we're off again, still behind the Safety Car. The teams are saying that there's going to be about 20 minutes without rain. HWMNBN just died on track, he looked immensely peeved with the world as he stalked off-track. Looks like water got into the electronics, maybe.
1:30am PCT
: Both Mercs are having problems. Rosberg's telemetry is intermittent, Hamilton's brakes are acting up.
1:45am PCT
: At the end of Lap 9, the Safety Car is coming in and the race is (finally) under way. Back if anything happens!
3:13am PCT
: The race is red flagged and called off on Lap 44. Marussia's Jules Bianchi was involved in a huge accident at Turn
15
07. Adrian Sutil was involved somehow as well. We never saw it exactly; the BBC says that Sutil slid off in the rain, then when his car was being recovered by a front-end loader, Bianchi crashed at high speed into the loader. Many grim faces, no celebrating on the podium, no champagne. This one I think is really bad. I mean
really
bad. More info as known or in the morning. Later in the morning, I mean.
3:36am PCT
: Jules Bianchi was taken from the circuit by ambulance in an unconscious state. The helicopter couldn't fly due to conditions, but the regs say if an ambulance can get to the nearest hospital in 20 minutes or so, the race can still go on. The hospital in Nagoya is 30 minutes away, apparently, but Bianchi's ambulance has a police escort.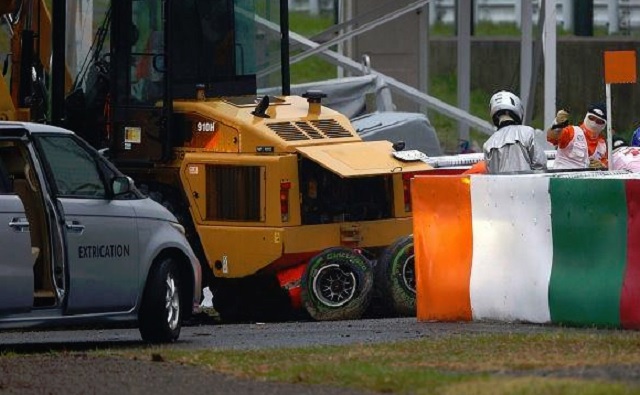 More info in the morning, I've got to pack it in.
Posted by: Wonderduck at 12:14 AM | No Comments | Add Comment
Post contains 381 words, total size 3 kb.
October 04, 2014
Runup To 2014 Grand Prix of Japan
Less than a half-hour from racetime, and Will Buxton just did a drop-in from the grid. It's raining, it's wet, but it's looking like AT THE MOMENT that it can be raced in. The typhoon hasn't actually hit yet, it looks like it'll bullseye Tokyo after the race is over... but pass by Suzuka a lot sooner. I saw one report saying that around one hour into the race, the winds will pick up to about 45mph. That'll throw a huge wrench into the cars... they kinda aren't built for that.
More as events warrant.
Less than 20 minutes to racetime, cars are making their way to the grid with huge rooster tails. Buxton is saying the rain is letting up slightly. I now understand why weather forecasters tend to drink a lot.
10 minutes to go, and Lotus is confirming that
we'll be starting behind the safety car
. That means no formation lap, once they leave, the race starts. Reminder: two laps and half-points are awarded. If they call the race at that point, Nico Rosberg will have a 1/2-point lead in the championship. Cor blimey.
Okay, it looks like it's about that time. I'm going to join the F1U! Analysis Team around the television, but if anything big occurs, I'll be back!
Posted by: Wonderduck at 11:37 PM | No Comments | Add Comment
Post contains 221 words, total size 1 kb.
Cloud Cover At Suzuka
So there's some cloud cover at Suzuka at the moment.
Just a little bit, yeah.
UPDATE: But all is not clouds!
Posted by: Wonderduck at 10:42 PM | Comments (2) | Add Comment
Post contains 25 words, total size 1 kb.
F1 Quals: Japan 2014
As Typhoon Phanfone turned into the equivalent of a Category 5 Hurricane, the F1 Circus took to the track to see who got to be the first behind the Safety Car for tomorrow's Grand Prix of Japan. Here's a look at the provisional grid:
This has the potential to be just an ugly race. For example, let's say it doesn't rain (unlikely though that may be)... polesitter Rosberg is a full second ahead of fourth place. If it does rain, the Merc has proven to be fast that way as well. However, no car is fast when the water level on-track is above the level of the front wing.
Much of the concern about the race up until recently hasn't been about the race itself, but about the next one. The way F1 schedules work, teams usually box everything up and are on air-freight Monday headed to the next destination. Problem is, the next destination is Sochi, home of the inaugural Grand Prix of
the Soviets
Russia next Sunday. With 150mph winds and a storm track that's looking more and more like it'll pass close aboard, air travel is likely to be delayed until Tuesday optimistically. Still, the FIA/Bernie Ecclestone has made the decision: both races will begin at their scheduled times. As Will Buxton, the Legendary Announce Team's voice from the pit lane put it, however, "there's every chance there won't be a race tomorrow."
Which will give us plenty of time to hear about the real bombshell that dropped out of the blue around 4pm Pond Central time. To whit, four-time world driver's champion Sebastian Vettel is leaving Red Bull Racing at the end of the 2014 season. According to team boss Christian Horner, Vettel will be going to Scuderia Ferrari. We're still waiting for confirmation from the Red Team about this, but Vettel confirmed it after Quals today, as well. To take Vettel's place at Red Bull, Kid Kyvat will be promoted from Toro Rosso next year.
HWMNBN is almost certainly leaving Ferrari, and dear god, all signs point to him moving back to McLaren. As you remember, Honda is coming back into F1 in 2015 as the engine manufacturer for McLaren, and they reportedly have zero interest in the current McLaren driver lineup; Button is almost certainly gone. Of course, it's with McLaren that The Spaniard earned his "HWMNBN" monicker, after all. The mind simply boggles at the unlikeliness of that turn of events.
More to come as things shake out. Race is at Midnight, Pond Central time, see ya there! Bring a poncho and umbrella.
Posted by: Wonderduck at 01:23 AM | Comments (10) | Add Comment
Post contains 581 words, total size 16 kb.
October 03, 2014
BIG F1 News Coming, Stay Tuned To Quals Report
Holy mackerel, did a lot of stuff shake free in the past few hours. Stay tuned to the Quals report, I'll cover it all there.
Some of the news might even have to do with the race!
Posted by: Wonderduck at 08:58 PM | No Comments | Add Comment
Post contains 46 words, total size 1 kb.
October 02, 2014
...And We're Back!
According to
the Great and Glorious Pixy
, one of the servers that MuNu/MeeNuVia reside upon coughed up a memory module and fell over.
Everything seems to be fixed now, so regular service should resume shortly. Don't be totally surprised if things go down while gremlins are stomped on. Thanks for your patience, folks, and all hail Pixy for his efforts on our behalf! A better webmaster/service provider/guy we could not ask for.
Edit: reticulating splines.
Posted by: Wonderduck at 09:38 PM | Comments (2) | Add Comment
Post contains 78 words, total size 1 kb.
October 01, 2014
#DayOfDredd
Today, October 1st, is The Day Of Dredd, the day all good citizens of Mega-City One rally in support to see our favorite Judge on the big screen again. Now, I'll be honest. I'm not a Dreddhead by any means. I've read some of the stories, and found it to be particularly British in its flavor, in a way that didn't quite resonate with me. However, I found the 2012 movie to be very entertaining, and representative (if not 100% accurate) of the Judge Dredd universe.
I'm not asking you to do anything if you don't want to. However, I am of firm belief that
Dredd
deserves a good sequel, and if signing the official online petition will help in getting one made, well, there ya go. You know what to do, or don't do, as you will.
Go to
www.2000ADonline.com/dreddsequel
to sign the official petition today.
Then you will sleep the sleep of the peaceful, for you will not stare into the fist of Dredd today.
Posted by: Wonderduck at 05:28 PM | Comments (1) | Add Comment
Post contains 168 words, total size 1 kb.
53kb generated in CPU 0.06, elapsed 0.1735 seconds.
49 queries taking 0.1334 seconds, 266 records returned.
Powered by Minx 1.1.6c-pink.