April 04, 2013
Random Anime Picture #73: Run Away!
-Strike Witches The Movie
When I'm unmotivated, I can always fall back on the last refuge of the lazy blogger: random anime pictures!
Posted by: Wonderduck at 10:05 PM | Comments (2) | Add Comment
Post contains 29 words, total size 1 kb.
April 03, 2013
Ego Crushing
I'm a blogger. Well, allegedly. By definition, I have to have a fairly substantial ego; I write because I think I have something to say that complete strangers on the internet will find fascinatingly interesting. Oh, don't get me wrong, I'll deny the existence of my ego until I'm blue in the face, because that's who I am, but have no fear, it's there, it's real and it's spectacular. Which makes my encounter on Tuesday so disturbing.
You see,
I met an honest-to-gawd Hero
. I met a man who flew the F-4 Phantom II, F-15 Eagle, F-16 Falcon, the U-2, the SR-71, the B-52 and the B-1.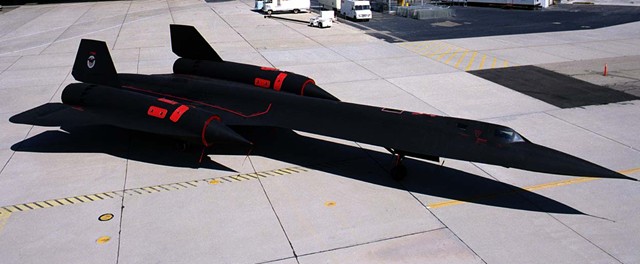 "My

other

drive is a F-15 Eagle. Top that."
He earned a Silver Star, two Bronze Stars, a Distinguished Flying Cross, and two Purple Hearts.
He's an author of a book of poetry
, poetry that he created as a Prisoner Of War during his six years as a POW in the Hanoi Hilton. Poetry that he had to memorize, as he was allowed neither paper nor pencil, and disseminated to his fellow POWs via "
tap code
." Of course, if he was caught at it, he'd be savagely beaten. He retired a Major General in the US Air Force after a 37 year career. Oh, did I mention that he's a Formula 1 fan, and has raced
Formula 5000
and other open-wheel cars?
"My

other

drive is a SR-71 Blackbird. Top that."
And along the way, he picked up the skills of an excellent public speaker, too. Funny, intelligent, clever without being in your face about it, he was one of the most entertaining speakers I've ever heard. The only thing I couldn't figure out is where he kept his wheelbarrow.
This was a guy who's real life makes that "Most Interesting Man In The World" character look like... well, like a blogger. As I said, I have an ego, and a robust one at that. I consider myself the equal of any man, and better than many. This guy's simple existence made me doubt whether I'm the equal of his damn socks. It's a sobering experience.
So of course, I'm blogging about it. Smell the irony.
Posted by: Wonderduck at 10:49 PM | No Comments | Add Comment
Post contains 365 words, total size 3 kb.
April 01, 2013
27kb generated in CPU 0.02, elapsed 0.121 seconds.
53 queries taking 0.0987 seconds, 282 records returned.
Powered by Minx 1.1.6c-pink.