November 11, 2012
Veterans Day 2012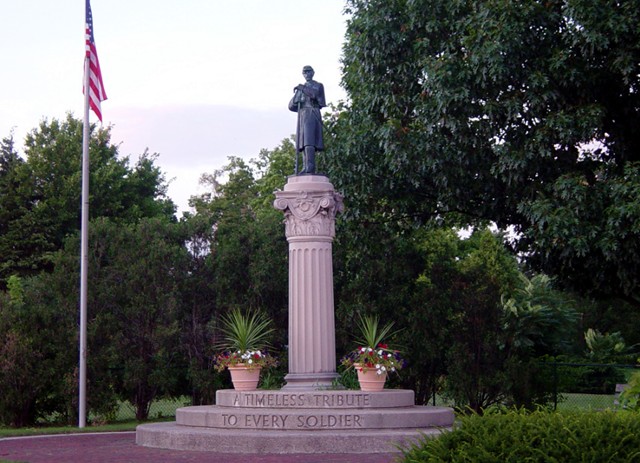 To those who are or have served, thank you. Without you, we couldn't do the goofy stuff we do today.
Posted by: Wonderduck at 10:38 AM | No Comments | Add Comment
Post contains 23 words, total size 1 kb.
November 10, 2012
I'm On A Horse
I've been playing
Skyrim
again. This is my horse, Shadowmere.
As you can tell by the glowing eyes, Shadowmere is kind of a badarse. I've seen him go head-first into a dragon's breath, come out the other side on fire, and start kicking all sorts of dragon butt. There's another talent Shadowmere has, however... one that's much more valuable.
more...
Posted by: Wonderduck at 10:28 PM | Comments (6) | Add Comment
Post contains 203 words, total size 2 kb.
November 08, 2012
A Nightly Walk
What have we here
, thought Mouse as he saw the figure stroll by. It was a dark night, but there was enough light from the tavern windows to see that the... man? Woman?... was well-dressed in a foreign style.
Perfect, nobody local will miss... him
, Mouse decided as he slipped away from the tavern and through the shadows. Mouse wasn't the best thief in the world, but he was plenty good.
Good enough to take this guy without having to work hard. He's not even paying attention... well, his loss is my gain
, he said to himself. He had given himself the nickname "Mouse" a long time ago, because his mother had thought that "Marei" was a nice name for a boy. That he could scurry through the darkness like an small rodent helped with the nickname, too. He'd made a good living taking pouches and wallets in the Dark Quarter of the City, and often enough further up The Hill too. That's where he got the blade he now loosened in its scabbard, the blade that his appraiser friend told him was part skymetal. Not the whole thing, but from the point maybe an inch down was coaxed out of a rock that fell from where the stars were. Mouse supposed his friend was telling the truth; he'd offered 200 gold and a Forestling Knife in exchange, after all.
Two hundred would have made for a good month or two
, Mouse smiled,
or one helluva weekend
.
Mouse had worked his way down an alley and gotten past the foreigner now, and taken position in a dark alcove.
He's totally lost in his own world. Maybe a scholar? They're supposed to be absent-minded
, snickered Mouse.
I'll be teaching him a lesson in a moment
. He pulled the knife out and waited for the scholar to walk by, all the while holding his breath. A moment later, he struck, the knife easily slipping through the expensive-looking robe and into the heart underneath. This surprised Mouse not at all. On those fortunately uncommon times he'd had to fight his way out of a blown heist, the skymetal blade had shown that it could punch through steel armor as easily as it could slice cheese.
Even that Darneshhi cheese, the one with the chewy crust-like thing on it, that'd be tasty for dinner... maybe Scholar here will have a purse big enough. Hey, did it get

warm

all of a sud...
Mouse's skeleton flared brightly, incinerating him from the inside-out as the skymetal blade turned a glowing white before it, too, disappeared from the searing heat.
Ow, that hurt
, crossed the mind of the well-dressed mage.
More than it did the last time someone snuck up on me, come to think of it... magic blade, maybe? The damaged flesh does seem to be knitting back together a little slower than normal... well, no matter. Where was I?
The mage continued his nightly stroll. He was sure S'nleen would berate him for not paying better attention to his surroundings, but when he got to thinking like that
...and what thoughts they were. Where does magic come from, anyway?
Every wizard, spellcaster, parlor mage or farmer with a nasty disposition towards rats thought the question at least once in their lives,
but I might actually be able to find the answer.
The night's walk lasted a very long time.
Posted by: Wonderduck at 07:37 PM | Comments (1) | Add Comment
Post contains 567 words, total size 4 kb.
November 07, 2012
Inventory... Yay?
Inventory is over and done with. While we won't know the official numbers for about two weeks, preliminary reports are that it didn't suck.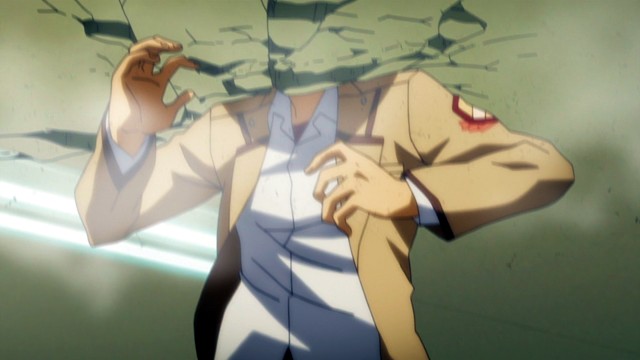 My regular irregular blogginating will resume Thursday. More or less.
Posted by: Wonderduck at 06:19 PM | Comments (1) | Add Comment
Post contains 36 words, total size 1 kb.
November 06, 2012
A Major Milestone
While the American people go forth and vote for their choice of either a head of cabbage or a... head of cabbage, something truly important occurred today... to whit:
That's the DuckMobile's odometer at roughly 6pm this evening. A 1996 Toyota Camry with 111111 miles on it? Heck, I'm going to have to drive a stake through its engine block and bury it at a cloverleaf interchange to see it go away.
Okay everybody, go back to watching the news to see which head of cabbage wins.
Posted by: Wonderduck at 09:15 PM | Comments (5) | Add Comment
Post contains 90 words, total size 1 kb.
Inventory! Yay!
We've got inventory at the Duck U Bookstore this afternoon and tomorrow. Yay?
You may not see me until Thursday.
Posted by: Wonderduck at 07:46 AM | Comments (1) | Add Comment
Post contains 22 words, total size 1 kb.
November 04, 2012
F1 Update!: 2012 Grand Prix of Abu Dhabi
The sun was beginning to set over the Yas Marina Circuit as 22 cars took to the grid, and two took to the end of the pit lane, in preparation for today's race. A sense of excitement was nearly palpable amongst the fans, both at home and the 40000 in the stands, thanks to the demotion of Seb Vettel... this race was wide open, and everybody knew it. As a result, the Driver's Championship standings were also up for grabs again. But how did everything shake out in the end? THIS is
your
F1 Update! for the 2012 Grand Prix of Abu Dhabi.
*LIGHTS OUT
: It's a long run to the first, left-handed, corner at Abu Dhabi, which gives plenty of time for...
things
, both good and bad, to occur as the Thundering Herd makes its way there, and we had plenty of both today. To begin with, Mark Webber, starting 2nd, had one of his patented
Mark Webber Lousy Start
©
s to the race, allowing both Hakham Maldonado and Kimi Raikkonen to quickly get past, and Jenson Button to slip by moments later. Indeed, Raikkonen took the opportunity to also get by the Williams of Maldonado to take second place and begin to race after polesitter Lewis Hamilton. Further back, four midpackers tried to side-by-side through Turn 1, a trick which never works in
any
form of motorsports. Nico Hulkenberg's Force India wound up being craned off, Lettuce Grosjean had a puncture, and Bruno Senna's Williams... suffered nothing visible from a rather hard clout. Back up at the front of the field, Ferrari's Fernando Alonso, racing for his Driver's Championship chances, outraced Webber for fourth place down the second back straight. When the field crossed the line for the first time, the order was Hamilton, Raikkonen, Maldonado, Alonso, Webber, and Button. Further back, Red Bull's Seb Vettel was 20th with a damaged front wing and beginning his long climb up the field.

*CALM BEFORE THE STORM
: After an action-packed first lap, everything settled down, at least up front. To be sure, there was jockeying as Alonso hounded Maldonado for third, but nothing up front changed. There had to be a portion of everybody minds, however, that was curious what the Drivers' Championship leader was doing. "Working his way through the field" is what he was doing. By Lap 4 he was 16th. Lap 7 saw him claw his way up to 14th, and by the end of Lap 8 he was 13th. All was not wine and roses, though. The front wing damage was severe enough that Adrian Newey, designer of the RB8 and member of the Red Bull pit wall, was seen inspecting a spare nose, obviously checking to see what sort of structural stability the damaged wing had left... and not looking all that happy with what his mental tallies came up with.

*F1 DODGES A BULLET
: Nico Rosberg had to be cursing his luck. He had started seventh, but broke his front wing against Lettuce Grosjean's Lotus and needed to pit at the end of the first lap. Now he was working his way back up the field and closing fast on the HRT of Narain Kittylitter as they worked their way through the twiddlybits of Sector Three. As the two came down the sole fast patch in the Sector through the dog-leg Turn 15, the Mercedes was well-positioned close behind the HRT to outbrake it into 17, or overpower it through 16. A thin wisp of smoke was seen issuing from Kittylitter's car, though, and the Indian suddenly slowed at a dramatic clip. Surprised, there was nothing Rosberg could do.
The Mercedes climbed right overtop of the HRT, its right-rear corner not taking Kittylitter's head off by only a few inches. After clearing the remains of the backmarker, the Mercedes flew a few more yards before settling back to the track with quite a bit of violence.
Rosberg would slide into the TecPro barriers at a speed seemingly unreduced from before the impact. Fortunately, both drivers would exit their cars unaided and with some speed. Neither were obviously injured, though Rosberg will probably be sore in the morning. Nearly before the Mercedes stopped moving, the Safety Car was called out and Berndt Maylander began to do his thing.
*SAFETY? CAR
: During a Safety Car period, you usually see a rush of cars heading for the pit lane. Today, not so much. In fact, the top 10 runners stayed firmly on circuit, fearing the loss of track position would be impossible to make up as Yas Marina is notoriously hard to pass on. Even Seb Vettel, now in 12th place but with a damaged front wing, seemed loath to come in... until the decision was made for him. As he horked the car left and right to keep his tires and brakes warm, the Toro Rosso in front of him did the same, but out of sequence with the Red Bull driver. In effect, when Vettel was accelerating, the Toro Rosso was braking. On Lap 13, the asynchronicity proved to be too much and Vettel had to take evasive action... at a part of the track where he was not alone.
Fortunately, the trackside DRS notifier is made out of styrofoam for just this reason, but the RB8 was going fast enough that the impact broke off
another
chunk of the already-damaged front wing. The team immediately told him to pit, and suddenly Vettel was back in 21st place.
*GREEN GREEN GREEN
: At the end of the lap, the Safety Car came back in, and Vettel spent the next five laps climbing his way back up to 14th place while the top five was Hamilton, Raikkonen, Maldonado, Alonso and Webber. While back in the backfield there was some action (see Move of the Race), up front it looked like Hamilton had the race solidly in hand. Raikkonen couldn't close on him, and nobody could close on the Lotus driver. The only question was how much damage control Vettel could execute for his Drivers Championship chances.

*WE SPOKE TOO SOON
: And then Lewis Hamilton was seen coasting to a stop in the grass.
The team later said it was a fuel pressure problem and Hamilton said it just happened instantly... first it was going great guns, then the engine was completely cold and quiet. In any case, the leader had just withdrawn from the race, ceding first place to the Lotus of Kimi Raikkonen. A half-lap later, Fernando Alonso passed Maldonado for second place and sent his Ferrari off in pursuit of the 2007 World Driving Champion. With Hamilton's retirement from the race, he was also eliminated from the 2012 chase for the Championship as well. At the end of Lap 26, Kimi Raikkonen led Fernando Alonso by 6.5 seconds, followed by Jenson Button, Maldonado, Sergio Perez, Felipe Massa, Mark Webber... and Sebastian Vettel.
*LET THE PITSTOPS BEGIN
: The Grand Prix of Abu Dhabi is a 55-lap race. Despite starting on the soft Option tires, which theoretically shouldn't be able to last very long, the first of the heavy hitters (Vettel excepted, but his was a special case)
still
hadn't stopped by Lap 28. To be sure, there'd been a long Safety Car period, but even given that, the tires had to have been going off soon. On Lap 29, Fernando Alonso made the first move, pitting from second and shifting onto the medium-compound Prime tires, obviously going for a one-stop strategy. The team knew that the race was still up for grabs and they wanted to give their man the best chance possible to win it: Alonso was stopped for only 2.7 seconds. Over the next couple of laps everybody but Raikkonen and Vettel stopped for tires, giving us the incredible standings of Raikkonen, Vettel, Alonso, Button and Senna. Vettel had picked up 22 places in 31 laps, and if Lotus didn't service their man cleanly, had a chance to be in the lead! Kimi came in on Lap 32 with a nearly 23-second lead.
He came out in first, but not by a whole heckuvalot. The thought amongst the F1U! team was that Vettel would have to pit again, that 40 laps would be too far for the Prime tires to go, even with Vettel driving... which brings up an interesting strategy dilemma. If the RB8 pitted, he'd throw away any chance, small though it may be, for a race victory, but on fresh Option tires, he could make up a lot of time and positions quickly. OR, he could push the old Prime tires for the remaining 23 laps and have a shot at winning... or dropping down the field if the tires fell off the cliff. An interesting dilemma, and earlier in the season the decision would be an awfully tough one to make. In Race 18, with Vettel not needing a victory, however, the choice was easy. Red Bull brought in their man on Lap 38, and he fell to 4th place, behind Raikkonen, Alonso, and Button. He then got some help.
*AGAIN WITH THE SAFETY CAR
: When you get a number of cars gathered together that all have roughly the same performance, things can get a little dicey if the drivers aren't all of
superb
skill levels. On Lap 38, Paul Di Resta, Sergio Perez and Lettuce Grosjean were all dicing for fifth place, with Mark Webber hovering closely behind the three. Di Resta attacked Grosjean, which gave Perez a chance to try passing around the outside of Turn 11. However, the Force India cut the corner of Turn 13, sending the Sauber into the run-off area on the outside. When he returned to the track, he found the Lotus of Grosjean there and the two made sharp contact. Perez was tipped into a spin, Lettuce's front suspension was shattered, and his car staggered across the track.
The Red Bull of Mark Webber had no place to go. His right rear wheel was ripped clean off, taking the rear wing with it. While he skidded to a halt in the grass off-track, and Perez was able to limp to the pits, Lettuce's Lotus died on the racing line. Berndt Maylander was duly summoned, and suddenly any lead Raikkonen had over Alonso, Button and yes, Vettel, was gone.
*ENDGAME
: When the Safety Car period ended, the standings were Raikkonen, Alonso, Button, Vettel, Maldonado, Gandalf Kobayashi, Massa, Senna, Jules Vergne, and Paul diResta. Kimi had a great restart and began to pull away from the Ferrari, by Lap 50 opening a 2.129 second lead. But Alonso, aware that Button was probably going to fall to Vettel, began to push Kimi hard. The lead began to drop lap by lap. On Lap 53, Vettel got past Button, and Alonso had cut the lead to 1.384 seconds. As the Finn and the Spaniard crossed the start/finish line on Lap 54, the lead was less than a second, but somehow opened to 1.090 seconds when they crossed the DRS line... just a smidge too far apart to allow the use of the speed-boosting device. Finally, on the last lap, the Ferrari got to use the DRS, but was too far back to make it really count. Alonso was driving his car on the limit, almost drifting through the final few turns in his last desperate attempts to catch up to the leader. To no avail. Kimi Raikkonen brought his Lotus across the finish line for his first win since he unretired, just .805 seconds ahead of Fernando Alonso, who was four seconds ahead of a hard-charging Seb Vettel in third, completing a remarkable drive, and bringing the Race of the Year to an end.
*DRIVER OF THE RACE
: Any other race, Kimi Raikkonen would be the obvious choice. Retired for three years and earning a win in his first season back? Yeah, that'd be enough for a Driver of the Race award... usually. Not today. Seb Vettel started from the pit lane, worked his way up the field, fell back to 20th, then worked his way up the field
again
to finish on the podium, just behind his main competition for the Drivers Championship. He limited the damage to his lead to just three points, earning 15 to Alonso's 18. The possibility existed that he'd lose it all today... that he didn't can only be credited to great driving and good luck. Drive of the race for sure.
*TEAM OF THE RACE
: Lotus.
Finally
.
*MOVE OF THE RACE
: This was a wild one. On Lap 16, the order was Charles ToothPic in 17th, then Grosjean, Vettel and Di Resta in 20th as they came down the long long back straight. Everybody but ToothPic could use the DRS, and Lettuce and Vettel decided to make their moves at the same time.
As one would expect, the Lotus and the Red Bull made it past the Marussia, though it did require some late braking on the part of Vettel going into the chicane to the
second
long straight.
It then became a straight drag race to Turn 11.
Vettel managed to outrun Lettuce, while Di Resta caught and passed ToothPic, and nearly the Lotus as well. All four of them get to share in the MotR for making it happen without wrecking. Good job everybody!
*MOOOOOOOO-OOOVE OF THE RACE
: We still don't know just what happened between Mark Webber and Felipe Massa on Lap 26. It looked like Webber passed Massa, the two touched, Webber left the track and when he returned, it spooked the Brazilian.
It seems ridiculous, but that's all I can come up with, because Massa just spun completely unbidden. The Red Bull wasn't even close to him. Whatever it was, congratulations Felipe, you just won a Moo!

*SELECTED DRIVER QUOTES OF THE RACE:
more...
Posted by: Wonderduck at 09:14 PM | Comments (4) | Add Comment
Post contains 2711 words, total size 18 kb.
Abu Dhabi 2012: How F1 SHOULD Be.
What an extraordinary race that was! It's going to take me some time to adequately write this one up... it had everything a race fan could ask for, up to but fortunately NOT including fisticuffs. That was about the only thing lacking, however.
As a reminder, no discussion of the race until the F1U! is posted. I'm pretty laid back about stuff in my comment section, but not about F1 results, and definitely
not
about this race. I
will
break out the banhammer and I
will
use it. Please don't make me. Don't even
hint
about the results.
While you're waiting, here's the new McLaren
Tooned!
for your enjoyment.
Posted by: Wonderduck at 12:19 PM | Comments (3) | Add Comment
Post contains 120 words, total size 1 kb.
November 03, 2012
F1 Quals: Abu Dhabi 2012 (UPDATED)
In the previous three races at Abu Dhabi, there have only been two men on the front row: Shiv Hamilton and Seb Vettel. Considering the way the end of this season has been going , it's practically a guarantee that Vettel'd be there, but would Hamilton hold up his end of the bargain? Here's the
highly
provisional grid for the 2012 Grand Prix of Abu Dhabi:
Sebby Vettel has had a fraught day. First he missed almost all of P3 with a brake problem on his RB8, then in Quals his car seemed to be suffering from a balance problem. Despite all this, he still ended up third on the grid... for the time being. Y'see, after the session ended this happened:
So a lot of things happened at once here, so let's run them down. First, the pit wall called Vettel and told him (with some energy, I might add) to "park the car, park the car." Quickly thereafter, the indicator on his steering wheel showed a shift from Third gear directly to Neutral. Then in an interview afterwards, Christian Horner, team honcho for Red Bull, told SKY that "the engine provider told us to stop." So many possible penalties to look for... gearbox change (for the jump from 3 to N), engine change (the cars are in parc ferme condition), unable to get back to the pit lane after Quals (
Hamilton lost pole position in Barcalounger for that one
), and too many engines used (this was Vettel's eight and final allotted engine on the season).
HWCBN(UCC) has got to be awfully happy at this possibility. I know I am. More to the point, the Ferrari driver may have an opening to cut the lead back down to single-digits or even take a lead again. We won't know for a while what, if anything, will happen to Vettel; I'll keep an eye out and update as information warrants.
UPDATE
: Vettel has been sent to the back of the grid for violating Article 6.6.2 of the Technical Regulations, which states that any car at the end of Q3 must have a liter of fuel available for testing. Not making it back to the pits under its own power is also a violation, but if the team can explain
why
it needed to be stopped, it is often allowed, and that's what occurred here. However, once Scrutineering got a hold of it, there wasn't enough fuel... depending on whose explanation you read, there was either 850ml or 150ml left in the tank. As a result, Vettel is sent to the back of the grid. However, the team
immediately
broke parc ferme to attempt to repair whatever required him to stop on track, and he'll be starting from the pit lane instead. If HWCBN(UCC) is going to have a chance at the Championship, he has got to make this opportunity count.
Posted by: Wonderduck at 09:15 AM | Comments (2) | Add Comment
Post contains 649 words, total size 19 kb.
November 02, 2012
F1 Practice: Abu Dhabi 2012
I've come to the conclusion that I don't really care about this practice session. It's been a long, crappy day at the end of a long, crappy week leading into next week when I have inventory. I only just got home from a day that started when I accidentally gave myself half a Hitler mustache, and to be honest, I don't want to watch the remaining 45 minutes of a practice session that I watched half of live. Ready for the news about the session? Vettel was fastest ahead of the two McLarens. Tah-dah!
Yes, I know what I sound like. I sound like someone tired and cranky and grumpy and tired of wondering by how much Seb Vettel is going to win by. We started the season off with seven different winners in the first seven races. We might end the season with ONE winner for the last seven races. Darn it.
Quals in the morning, and I'll be better for that. I promise, my fellow F1 fans.
Posted by: Wonderduck at 08:02 PM | Comments (3) | Add Comment
Post contains 174 words, total size 1 kb.
November 01, 2012
The PSA: Odds And Ends
This is my version of a DVD's director's commentary, just some jokes and pictures that disappeared in the making of the Halloween PSA, including an Epilogue! But first...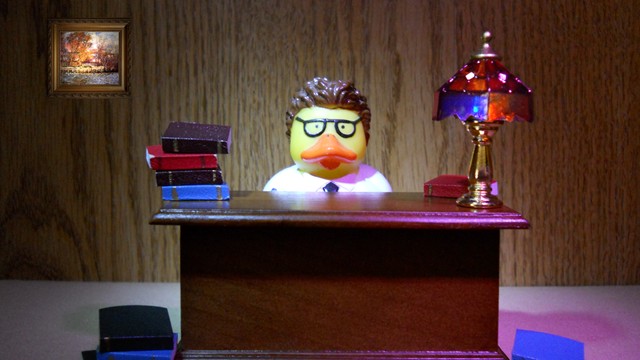 This is my favorite picture from the entire thing. The desk, carpeting, books and lamp are decorations for a dollhouse. Prof Mallard is balanced on a stack of quarters, and the whole shebang is positioned inside one of my bookcases. The faux wood makes for good paneling, no? Unfortunately, the best little joke in the entire PSA disappeared in the final product... his word balloon covered up the painting on the wall (which is photoshopped up there, of course). The painting? Renoir's
The Duck Pond
. That's just one of the little references I threw into the strip. For example, you'd think that the "D.D." in Prof D.D. Mallard's name might stand for "Donald Daffy" or something like that. Actually, it stands for "Delos David," a hat tip to
one of my favorite Heinlein characters
. It's unlikely that anybody else would get that, but if I can't amuse myself, what's the point, right?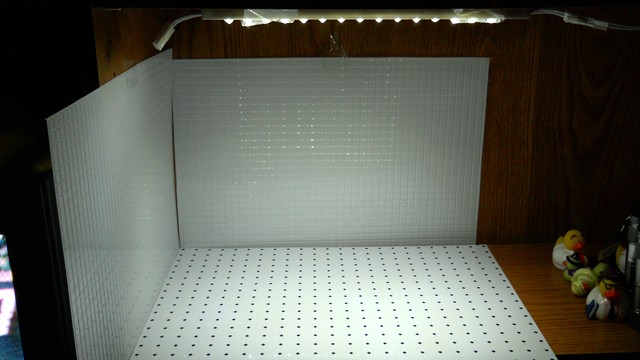 I posted an edited version of this picture almost a year ago
as a teaser to the "photojournalism project"
, but this shows the basic layout of the "lab" photographs. The key to the whole thing was the LED strip I found at Menards a while back. Looked just like the overly bright fluorescent lights you'd see in a white-tiled lab/holodeck/thingy. The floor and walls are, again, for a dollhouse, and it's ridiculous how much that crap costs! That's $25 of thin plastic sheeting right there... still, it looked good on camera, and that's what matters.
The Epilogue is below...
more...
Posted by: Wonderduck at 09:51 PM | Comments (2) | Add Comment
Post contains 392 words, total size 4 kb.
85kb generated in CPU 0.0379, elapsed 1.2113 seconds.
55 queries taking 1.1944 seconds, 320 records returned.
Powered by Minx 1.1.6c-pink.