October 07, 2012
F1 Update!: 2012 Grand Prix of Japan
The afternoon sky was a brilliant blue as the field took their places on the grid. Seb Vettel's Red Bull took pride of place on pole while points leader HWMNBN was back in 6th... could the Ferrari driver catch the young German? Could anybody? Would Vettel take another chunk out out of the Spaniard's lead? Or would someone like Gandalf Kobayashi, driving in his home race, make a major statement? THIS is
your
F1 Update! for the 2012 Grand Prix of Japan!
*RED LIGHTS GOING OUT / THE FIELD SITS ON THE GRID / SOON THERE WILL BE WRECKS:
As expected, Seb Vettel got a clean start and began to head for the hills. A surprise, however, was that Sauber driver Gandalf Kobayashi got a brilliant getaway and was ahead of Mark Webber within 10 car lengths. To say that the fanatical Japanese crowd was going crazy would be an understatement. Behind them, however, disaster lurked.
*TURN ONE APPROACHES / GROSJEAN HITS MARK WEBBER'S CAR / JEEZ, THIS SH*T AGAIN?:
As the field piled into the first turn, three separate incidents completely changed the complexion of the race. First, Kimi Raikkonen grazed HWMNBN'd left-rear tire, flattening it and sending the Ferrari into a spin that terminated right on the racing line as the back half of the field came thundering in. Then Lettuce Grosjean, giving the lie to his claims that he's learned how to race, tore his front wing off in the process of running into Mark Webber, who spins and suffered damaged tires. As if that wasn't enough carnage, Nico Rosberg slowed up to avoid that incident and got creamed by Bruno Senna. Webber was able to limp back to the pits, but Rosberg was out on the spot. HWMNBN should have been able to continue, but his engine died in the spin. Because of where the dead cars were located, Berndt Maylander and the Safety Car had to be called out.
*ONE LAP SAFETY CAR / VETTEL THE BEST RESTARTER / THEN HE RUNS AWAY:
We've seen this scene before: once the brief safety car period ended, Seb Vettel stole a march on Kobayashi, leaving him in the dust and, for all intents and purposes, ending the race. The only drama left was to see if the Red Bull would hold together or if there'd be another catastrophic failure that would cost him the race. By lap 6, he had a three second lead over the Japanese driver, who was being stalked by Jenson Button, who had Felipe Massa hanging onto his rear wing. By lap 10, the lead was six seconds; a text message from Honorary F1U! Staffer Vaucaunson's Duck suggested that the race needed "some sort of bizarre seagull accident". We countered with everybody's favorite flying turtle: GAMERA! Alas, no such luck.
*STOPPING FOR TIRES / WHAT'S THE SIGN OF A DULL RACE? / PASSING IN THE PITS!
: While Felipe Massa hung onto the rear of the McLaren, he couldn't do anything to actually threaten Button's position. So when that happens, what does a team do? They work strategy, is what they do. On Lap 14, Jenson Button came into the pits, followed by Gandalf the next lap. On the other hand, Ferrari kept their man out on track, telling him to run the tires off the car and push
Push
PUSH
. It worked. When Massa finally stopped on Lap 18, he came out in second place, having leapfrogged both of the men he could realistically reach.

*THE RACE IS OVER / VETTEL IS GETTING SCARY / JUST FOUR POINTS BEHIND:
And that's the way it stayed for the remaining 33 laps. Vettel dominated the race, earning his second grand slam (pole, win, lead every lap, set fast lap) in the process. Second place went to Massa who was nearly 21 seconds back. Gandalf Kobayashi earned his first career podium, ending up some four seconds behind and hotly pursued by Button's McLaren. The Brit was only a half-second back, after having taken some five seconds off the Sauber's lead in the final few laps. Jenson Button's teammate, Shiv Hamilton, was fifth, some twenty second in arrears. With the win, Vettel is only four points behind the stumbling HWMNBN in the race for the Driver's Championship, and looks head-and-shoulders the favorite for the rest of the season.
*DRIVER OF THE RACE
: In front of his countrymen, Gandalf Kobayashi drove a great race, from his fantastic start to his "none shall pass" defense of third during the last couple of laps. In the process, he may have secured his seat with Sauber for next year. As an aside, hearing the Japanese crowd chanting Kobayashi's name after the race was something special.
*TEAM OF THE RACE
: There's nobody to give it to other than Red Bull. They solidified their lead in the Constructor's Championship, apparently have instituted a technical change that's given their car a huge boost of speed (a double-DRS, in fact), and look set to dominate the rest of the season.
*MOVE OF THE RACE
: On Lap 6, Sauber's Sergio Perez had been sitting behind McLaren's sixth-place Shiv Hamilton for a few laps, not quite able to close the gap to the Brit, but also unable to be shaken. Coming out of Turn 10 and heading into the Hairpin, the man who will be taking Hamilton's seat was a few car lengths back and seemingly no danger whatsoever.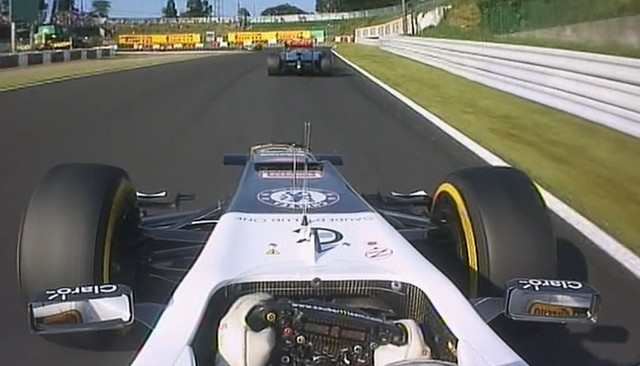 Which is
exactly
what the Mexican driver wanted Hamilton to think. As Hamilton slowed for the Hairpin, the man called "Checo" decided not to bother with the brake pedal and dove really low to the inside. Tires smoking, he finally stood on the brakes, but there was no way he was going to get whoa'd up in time.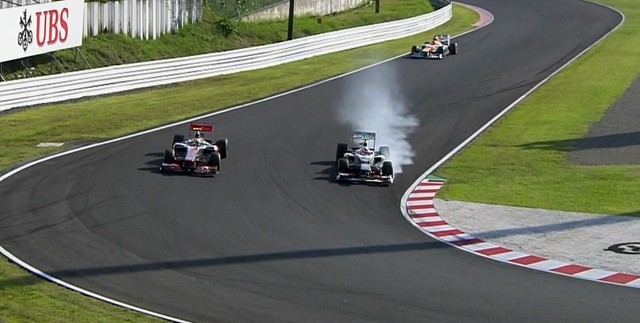 Until he did. Using the curb to help arrest his skid, he not only made the turn, but stayed in front of the McLaren which was on the better racing line.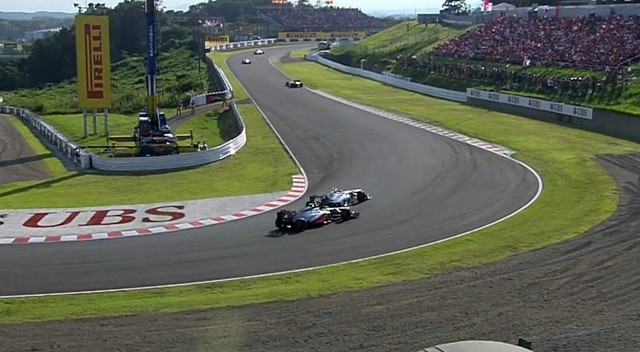 He didn't so much pass Hamilton as de-pants him in front of millions of viewers. You don't think he was trying to show the McLaren management that they made the right choice, do you? Congratulations, Checo, here's your MotR award!

*MOOOOOOO-OOOOVE OF THE RACE
: On Lap 19, Sauber's Checo Perez was sitting behind McLaren's sixth-place Shiv Hamilton. Coming out of Turn 10 and heading into the Hairpin, the man who will be taking Hamilton's seat was
a few car lengths back and seemingly no danger whatsoever
right behind Hamilton and was threatening the position.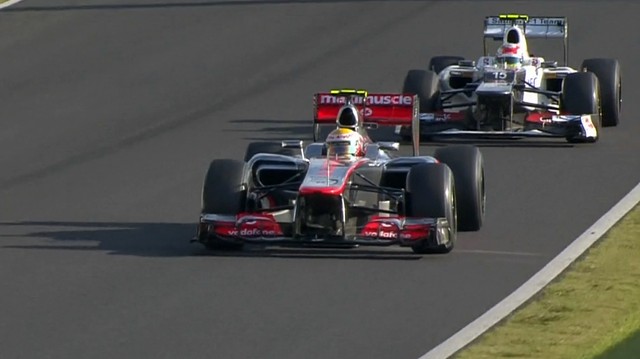 As Hamilton slowed for the Hairpin, the man called "Checo" decided not to bother with the brake pedal. This time, however, Shiv Hamilton, remembering the move the Mexican native had made 12 laps earlier, protected the inside line. So Perez decided to head for the outside... but something went wrong. The car began to wobble, and instead of smoothly slipping past the McLaren, it smoothly slipped off-track.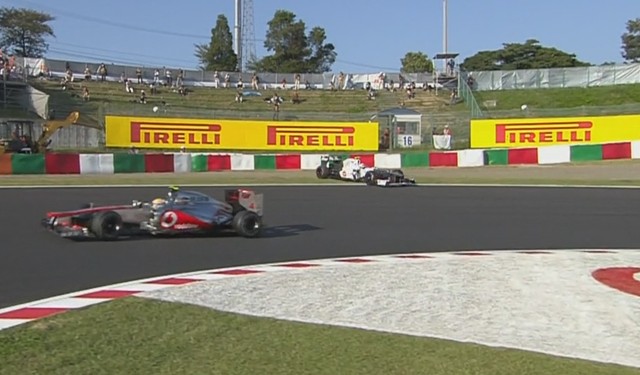 The Sauber smoothly slipped into a spin and ended up in the kittylitter protecting Turn 11, stalled and out of the race. We're not sure, but we here at F1U! believe this is the first time we've given both the MotR and the MoooootR to the same driver as he attempted to pass the same victim in the same race. Well
done
, Checo! Here's your Mooooo!

*SELECTED DRIVER QUOTES OF THE RACE
:
more...
Posted by: Wonderduck at 12:32 PM | Comments (7) | Add Comment
Post contains 1679 words, total size 12 kb.
October 06, 2012
Music While You Wait
While the hours tick down until the Grand Prix of Japan, I am enthused to bring you some music that I've never heard before this morning. For all of you who don't like music, here's a shaved alpaca: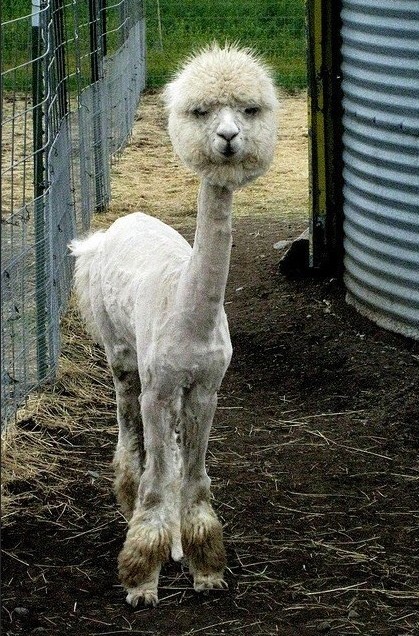 For those of you who do like music, click and let's go!
more...
Posted by: Wonderduck at 08:35 PM | Comments (3) | Add Comment
Post contains 224 words, total size 2 kb.
F1 Quals: Japan 2012
An overcast sky hung low over the Suzuka International Racing Circuit as Quals got under way, a shocking contrast to the beautiful sunny day we had for both Friday practice sessions. The good news is that there wasn't even a hint of rain in the sky, so we had an unimpeded run for pole today. Let's take a look at the provisional grid for the 2012 Grand Prix of Japan:
Oh look, Seb Vettel is on pole in Japan, what a shock. This is the fourth season in a row he's been the top qualifier at Suzuka. Right next to him, we find his teammate Mark Webber, making this the first Red Bull front row lockout of the season. What a difference a year makes; last year at this time there had been
seven
such performances by Red Bull. Roughly a half-second behind the leader, we find Jenson Button,
de facto
lead driver for McLaren... except he's got a five-spot grid penalty. As you may remember, Shiv Hamilton wound up out of the race at Singapore with a failed gearbox. It turns out that Button's gearbox had the same problem, it just hadn't yet reared its ugly head. McLaren made the decision to change his gearbox, resulting in the grid penalty. This promotes Gandalf Kobayashi into third place on the grid, the best starting position ever for a Japanese driver in his home race.
Nico Hulkenberg gets the same penalty as Button; Slappy Schumacher has been slapped with a 10-spot penalty for his overrun attack on Jules Vergne at Singapore. For quite some time in Q1, it was looking like Slappy would be starting from somewhere in the vicinity of Hokkaido. It wasn't until he completed his final flying lap in that session a full minute after the session ended that he wasn't 24th.
A late spin in Q3 by Kimi Raikkonen killed off a bunch of drivers' final runs for pole; HWMNBN in particular has stated that he was probably going to get 3rd on the grid before the yellow flags forced him to back off. Speaking of Kimi, after the session he was asked what happened. His response: "I spun." When asked about the impact his spin had on the other drivers, he said "I don't care about the others." Thanks for that, Kimi.
So that's the grid for Japan! The race is at 1230a Sunday, so while I may stay up for it, I don't think I'll be able to do the F1U! until Sunday morning... still and all, we'll see you right here then!
Posted by: Wonderduck at 01:28 AM | Comments (1) | Add Comment
Post contains 597 words, total size 17 kb.
October 04, 2012
F1 Japan 2012 Practice 1: Liveblogging!
(Pre-Session) And it's another attempt at liveblogging! This time we find ourselves at Suzuka International Circuit for the first free practice session for the 2012 Grand Prix of Japan. It all gets under way at 8pm Central Pond Time, and if you'd like to follow along with me, direct your browser to
SPEED Streaming
and refresh The Pond from time to time! As in the past liveblogging sessions, the session is 90 minutes in length. I'll be using the time remaining as the time notation: if you see (1:02:30), that means 27.5 minutes have gone by in the session. Read from (1:30:00). Your mileage may vary. Ask your doctor if Wonderduck's Pond is right for you. Burma Shave. And now we wait...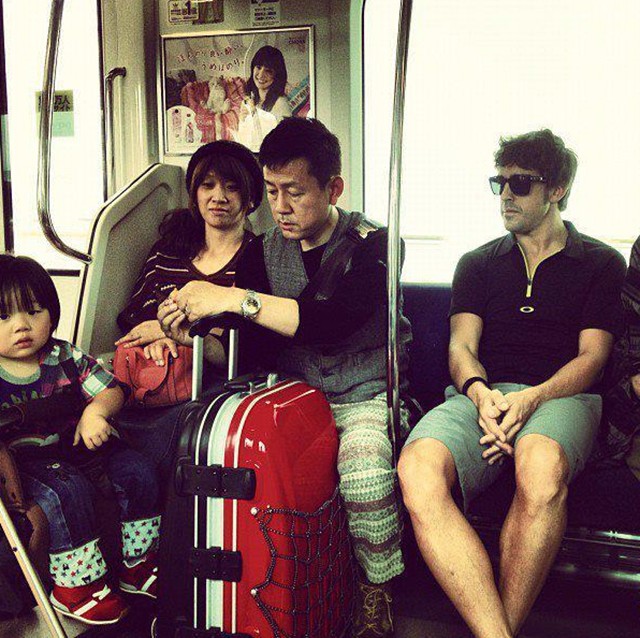 While HWMNBN terrorizes a Japanese family on a train, I suppose I should say something about the announcement that Slappy Schumacher has decided to retire (again) at the end of the season. It's no great surprise, to be honest. His comeback was singularly unsuccessful, to be honest. One podium, no poles, no victories in three years... and his teammate consistently outperformed him. That's not a good thing at all. He's surely helped Mercedes get their team off the ground, but... *shrug* He's still one of the best ever, and he should be remembered that way, but he probably shouldn't have come back. Any bets on him winding up in DTM or LeMans?
(1:30:00) And we're green! First on the circuit is... exactly who you'd think it'd be in Japan, Gandalf Kobayashi! Good news, FujiTV is not providing the world feed this year! This means we won't be watching Gandalf the entire time, even if he's in 18th.
Further updates will be below the More...
more...
Posted by: Wonderduck at 06:12 PM | Comments (7) | Add Comment
Post contains 1396 words, total size 10 kb.
October 02, 2012
Jenson Button: Just Geeky Enough To Like
I stopped rooting for a specific driver when Zsolt Baumgartner's career came to a halt. There was a short resurgence when I realized that Takuma "Suicide" Sato was insane, but it ended when he left Formula 1. Similarly, the part of me that cheered for one team only died when Minardi took its final bow. It twitched a bit when SuperAguri took its place on the grid, then stopped moving for good the day that team shut down (and had pieces of their cars sold to the highest bidders).
I say all of this so you, my readers, do not take this as my designating someone as my favorite driver, but Jenson Button has cemented himself as a-okay in my book. Why, you ask? Well, here's his new twitter profile picture: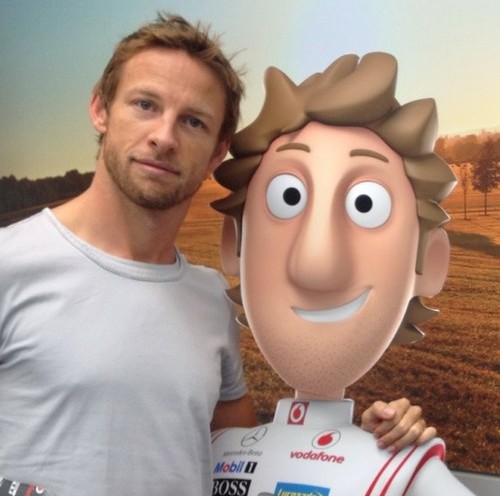 For some reason, I just can't see Seb Vettel or HWMNBN doing something like this, can you?
Posted by: Wonderduck at 06:06 PM | Comments (5) | Add Comment
Post contains 155 words, total size 1 kb.
62kb generated in CPU 0.14, elapsed 0.3898 seconds.
56 queries taking 0.29 seconds, 301 records returned.
Powered by Minx 1.1.6c-pink.