September 09, 2011
F1 Practice: Italy 2011
Practice sessions are only rarely interesting, and on those occasions when they are it's rarely because of what's happening on track. I mean, I've stated that the only reasons I watch Practice 2 is to get myself refamiliarized with that race's circuit (after all, we only see the tracks once a year) and in case something odd happens, for good or ill.
Well, during today's Practice 2 session, the "odd" happened. For the first session, and the first hour of the second, everything went according to plan... except for the two McLarens being much faster than everybody else, to the tune of 1.5 seconds. Despite some astonished reactions from websites and individuals, there's nothing we can really take from this. Never trust anything you see in Practice, speed-wise, since we haven't the faintest what teams are actually trying to accomplish. For example, it's quite possible that, say, Red Bull, were doing fuel runs the entire session, trying to get good mileage estimates for the race, while McLaren were doing full speed runs.
In P2, Lewis Hamilton looked to still have the fastest car during that first hour. Speculation is rife that the Glares On Wheels are running more rear wing than their competitors. This would give them a huge amount of downforce (in comparison) in the turns while not costing them in the least over the rest of the track during Practice and Quals, when the DRS can be used at any place on the circuit. During the race, this could come back to haunt them as they'll be quicker through the turns, but slower on any non-DRS straightaway (there will be two independent DRS zones at Monza... I guess Bernie coughed up the cash for another Dell!).
Then, with sixty minutes gone in the session, the odd things began to happen.
more...
Posted by: Wonderduck at 08:33 PM | Comments (1) | Add Comment
Post contains 504 words, total size 3 kb.
Mashup Madness!
While we all wait for my brain to decompress enough to get around to writing up the Friday Practice post for the Italian GP weekend, I've gotta share these excellent mashups I've stumbled upon recently.
First up,
Sad But Superstitious
:
Stevie Wonder and Metallica... who wouldathunkit?
Second,
One Of These Heatwaves
:
Martha & The Vandellas and Pink Floyd... who wouldathunkit? Actually, I have a confession to make... this was probably the first mashup I ever heard. I've had the mp3 for quite a few years. So it's not something I stumbled upon recently. So sue me.
Third, from the game DJ Hero,
We Will Robot Rock You
:
Stick with it... the first 40 seconds are a little slow. I have a feeling that Freddy would have loved this. Oh, almost forgot... Queen and Daft Punk... who wouldathunkit?
Finally,
Casbah Circulation
:
The Clash and an image song from Bakemonogatari? Who woul... nevermind, you know the drill. Too bad about the "glitchy" parts, as the masherupper calls them... the mp3 doesn't haven't 'em, by the way.
Off to get my brain working again, back in a while.
Posted by: Wonderduck at 05:49 PM | No Comments | Add Comment
Post contains 187 words, total size 2 kb.
September 07, 2011
Why Blog?
A few days ago, I got to wondering just why I blog in the first place. It surely wasn't for the public acclaim, fortune and fame. It wasn't because I had something important to say... or indeed, anything to say at all. So why do I do it? Why do I spend hours staring at a computer screen, trying to convey...
something
... to the various denizens of the intartubes, most of whom don't care what sort of effort and research I may put into a post?
Kinda like this, except without the pencil. Or the paper. Or the android. And with more ducks.
So really, nothing like this at all.

I've read that the primary reason that bloggers blog is narcissism, that they think so much of themselves that they figure that
everybody
will be enthralled by their every word. I suppose for some (most?) that's the case: look at the preponderance of "I Love
Me
!" blogs, facebook pages and tweets out there. Anybody who knows me would immediately start laughing at the thought of me being a narcissist... probably to the point of hypoxia.
I started The Pond all those years ago because the Official First Reader of The Pond, friend Mallory, suggested that maybe some other people might find the e-mail I sent her after every F1 race funny too. After some poking and prodding from her, I finally gave in. After a short post about
Azumanga Daioh
caught the eye of Big Papa
Pixy Misa
, founding father of MuNuVia (and later MeeNuVia), he invited me to join his burgeoning empire. And here I've sat, ever since. I reconnected with The Official First Friend of The Pond, Vaucaunson's Duck, more or less through The Pond, an amazing feat since we pretty much hadn't spoken much since our time in high school.
Somewhere along the way,
Steven Den Beste
started to linkify me for reasons that baffle me to this day. Via that connection, I starting conversing with the
Brickmuppet
off-blog. My expansion into WWII history brought in
The Old Man
, flatdarkmars, David, Peter the not-so-great and readers too numerous to mention. Various and sundry anime posts caught the eye of Siergen,
Avatar
,
Ed
,
Author
,
Ben
,
Don
,
Ubu Roi
,
Jeff Lawson
, and Robert from the
Anime Corner Store
every now and again... and plenty of other people as well.
GreyDuck
and
Colleen
started dropping by when they found out about the rubber duckies... I think everybody else just tolerates the ducks, otherwise. Heh.
But the F1 Update! has always been the heart and soul of The Pond, I suppose. The Official First Overseas Reader,
Flotsky
, dropped in because of them. People have said that they didn't give a rat's hindquarters about motorsports at all until they started reading the F1U!s. And hey, The Pond started because of Formula 1. But as of late, F1 has also been my bane; it takes a lot of time on race weekend to adequately cover a F1 race: just watching Practice 2, Quals and the race itself is six hours more or less, not to mention the hours it takes to do the writeups for them... and the F1U! itself usually takes as long as any two or three other posts combined, somewhere in the vicinity of three or four hours.
So why do I do all of this? Surprisingly, the answer is pretty simple, and can be boiled down to one word:
Friends.
Friends like Pixy, Steven, 'Muppet, The Old Man, flatdarkmars, David, Peter the-not-so-great, Siergen, Avatar, Ed, Author, Ben, Don, Ubu, Jeff, Robert, GreyDuck, Colleen, Flotsky, Mallory, Vauc, and all the other myriad readers of The Pond I haven't named. You guys make it worthwhile when the jerks come out. When I don't have the energy to write much. And you understand when I don't write at all. And I never would have met any of you if it wasn't for The Pond.
That's why I blog.
Thanks, all you lot.
PS - If you weren't named, don't take it personally... there aren't enough pixels in the world for me to thank everybody the way I'd like to - Wonderduck.
Posted by: Wonderduck at 08:05 PM | Comments (13) | Add Comment
Post contains 691 words, total size 5 kb.
September 05, 2011
F1 on SPEED!: Italy 2011
Speed. Either one has it, or one doesn't. A car can be nimble, a car can be quick, a car can
jump over a candlestick
make lightning starts, a driver can wring the most possible out of a car... but when it comes to racing, ultimately if it can't go fast, it's rubbish. In Formula 1, nowhere is that basic tenet more true than at "La Pista Magica". The Magic Track. Monza.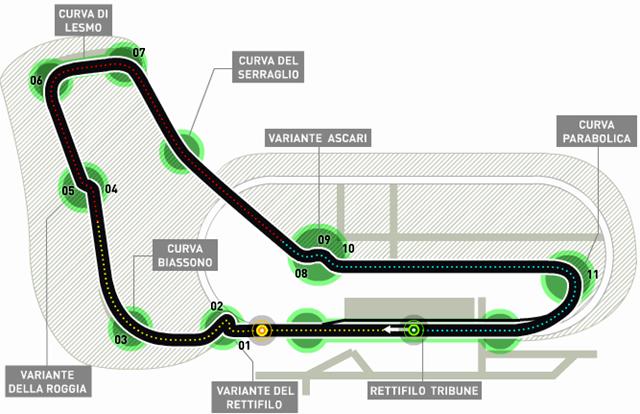 I have often joked of "The Church of Speed" here on The Pond, with its patron saint, Fangio The Quick. If such a religion existed, Monza would undoubtedly be its Holy Land (the NASCAR schism would surely designate Daytona as theirs, with St Earnhardt the most important figure. Woe be unto them, for they know not the true meaning of Speed). Possessing the fewest turns in F1, seven of which were added solely to slow the cars down (blasphemy!), Monza is the ultimate in low-downforce, low-drag setups. The fastest ever recorded F1 lap (162.949mph) was set here in 2004. It is the crucible all F1 chassis must go through: if you can't be fast here, you can't be fast... period.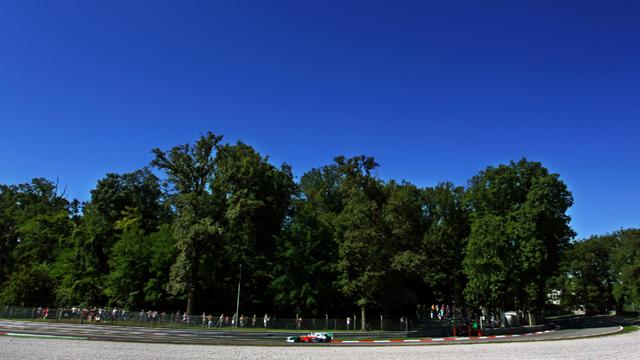 Yet Monza is also one of the prettiest tracks you'll ever find as well. Set into a national park, trees line the sides of the circuit in many places. It's this location that is also one of the dangers inherent to Monza. Since it
is
in a national park, there's a limit to what modifications can be made. Extra runoff area is impossible to come by since that would mean cutting down trees. Many turns (such as Parabolica, above) still have kittylitter instead of safer asphalt runoff zones. But then, it wouldn't be Monza if it was totally safe.
However,
you
can be perfectly safe at home watching the 2011 Grand Prix of Italy, thanks to the good offices of the Legendary Announce Team at SPEED, who as always will be bringing us live coverage of the race weekend's action. Here's the lineup:
Friday: Practice 1: 3am to 430am streaming. Practice 2: 7am to 840am live
Saturday: Practice 3: 4am to 5am streaming. Quals: 7am to 830am live.
Sunday: 2011 Grand Prix of Italy: 630am to 9am live. 330pm to 6pm replay.
Of course, F1U! will be all over the race like kittylitter in a graveltrap. See ya then!
Posted by: Wonderduck at 07:40 PM | Comments (2) | Add Comment
Post contains 396 words, total size 3 kb.
September 04, 2011
(Not Quite A) F1 Update!: Belgium 2011
So, some thoughts and notes about the 2011 Grand Prix of Belgium, from the vantage point of a week later.
*For the first time this season, we actually saw Seb Vettel win a race where he had to fight for it. To be sure, he led for much of the day, but it was never one of his "thirty seconds and a cloud of dust" wins. He had tire troubles, probably because he was set up for a wet race and had excessive camber on the fronts.
(JARGON ALERT:
Camber
is when a tire is tilted in or out when you look at it from head-on. Streetcars generally have no camber whatsoever. F1 cars usually have some
positive

negative camber
, where the tops are tilted in just a tad. This helps get heat into the inside edge of the tires in exchange for lowering the amount of tire making contact with the road.
Negative

Positive camber
is just be weird and would probably result in a serious accident within one turn. Apparently it makes turning effort easier, so if there wasn't power steering it might be useful. Or something.)
For whatever reason, Vettel suffered from severe blistering of his front tires, something that practically never happens. You'll see it on the rears, sure, but it's strange to see it on the fronts... and quickly, too. The problem actually started during his pole lap in Quals and Red Bull petitioned the FIA's tech director, Charlie Whiting, to allow him to start on a fresh set of soft tires. Whiting, quite correctly, told Red Bull to get lost. You start on what you qualified on, unless it's completely unsafe... and if it's unsafe, why is it the RB7 is having problems and nobody else is, hmmm? Vettel actually had to pit for a new set of tires on Lap 6 (of 44). He wound up being out of pit sequence of everybody else, which has its good points and bad. Good, obviously, is that you're on fresh tires when everybody else is running on old rubber. The bad is that when everybody else pits, suddenly
you're
the one on old rubber. The Safety Car brought out by Hamilton's wreck solved that, and Vettel pretty much led from there... but not in the usual dominating fashion.
*Vettel's teammate Mark Webber really needs to learn how to keep revs in his engine when the lights go out. He really upped his game this time around, abandoning his usual patented Lousy Start
©
s for a variation: the Hideously Awful Start
®
. He sat third on the grid, but was somewhere around 15th by the time the thundering herd reached La Source. It looked like he was a tiny fish being engulfed by a horde of much larger, faster fish. Only some of the dumbest driving I've ever seen in a first turn prevented him from falling farther back. To call the first turn "total mayhem" would be overstating things a bit, but it wasn't exactly tidy.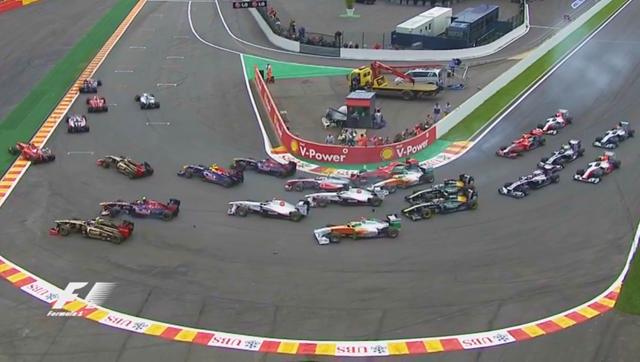 Everybody was bouncing off of everybody else, the Lotuses spun each other, NKOTT went out with self-inflicted damage, and Jenson Button suffered damage to his rear wing when Tim O'Glockenspiel forgot how to use the brake pedal. He ALSO suffered damage when debris from someone else "went through (his) front wing and sliced off (his) right mirror."
*In contrast to Mark Webber, Nico Rosberg had one of the best starts of the year. This is odd, because while the cars were sitting on the grid, his Mercedes looked like it was fogging for mosquitoes, what with all the smoke it was putting out. It's not uncommon to see a little bit of smoke come from a F1 car on the grid, but this was something else... more like a destroyer screening a battleship. Still and all, he jumped from fifth on the grid to second by the end of the first turn, then easily blew past Vettel down the Kemmel Straight. It didn't last long, as he was passed by Vettel for the lead on Lap 3 then was swallowed up by the rest of the heavy hitters shortly thereafter, but it was a glorious moment in a lackluster year for the Mercedes team.
*There would be two contenders for the Driver of the Race. Jenson Button had a miserable Quals and started the race from 13th... and ended up third, behind Vettel and Webber, and given a few more laps he could have made a go at 2nd. The other contender would be Mr 20th Anniversary himself, Slappy Schumacher.
He
started dead last... and ended up fifth. In the end, I'd give it to Button, but more because he had to pass HWMNBN for 3rd place towards the end of the race, no easy task. Schumi had to pass his teammate, who had to conserve fuel, for 5th. Still, great runs for both of them, and if you said that Slappy had a better race, I wouldn't argue.
*The Move of the Race... well, look: in F1, there are many truths. Cars go fast at Monza, slow at Monaco, Hungary is dull unless it rains, so on and so forth. One unspoken truth is that you can't go side-by-side through Eau Rouge. It's too narrow, the compression does odd things to the handling, you stand a great chance of finding yourself in hospital, et cetera, et cetera, et cetera. So when Mark Webber had a go at HWMNBN in Eau Rouge on Lap 9, you could hear sphincters slamming shut all around the world. They got kinda close to each other.
Now to be fair, HWMNBN had just come out of the pits and was on cold tires, so it's not like there wasn't a big speed differential between the two. In fact, if it were anywhere else, it would have been merely a pass, no big deal. But this was
Eau Rouge
.
I can only assume that HWMNBN believes he has something left to live for, and Webber does not. Honorable mention goes to the BBC announce team, for they were
classic
during this pass. David Coulthard's Chin had to be coaxed back to the microphone after, in his words, "having to turn away, I was sure there was to be an almighty coming together." Martin Brundle replied with "Let's watch the replay, maybe from behind a pillow..."
*The Moooooo-ooove of the Race belongs to Lewis Hamilton. He had a serious chance at winning this race, and by not checking his mirrors at the end of the Kemmel Straight, he threw it all away.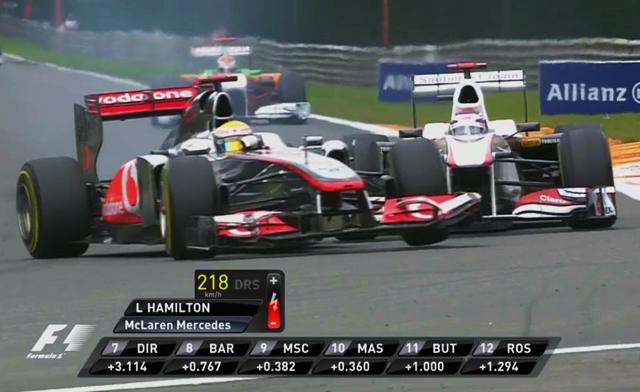 He had dispatched Gandalf Kobayashi just prior to Eau Rouge, but down the straight the Sauber got an almighty tow from the McLaren. That, combined with some serious late braking, put Gandalf on the racing line for the turn while Hamilton was just to the inside, not having retaken the line after the pass. Hamilton, obviously not checking to see if it was safe, began to move over to the racing line and ran into Kobayashi. This sent the McLaren pivoting away into the barriers.
It also sent whatever hopes Hamilton had for catching Vettel in the world championship race into the wastebin.
So, that's it from Spa. We've got Monza next week, the standard F1U! format should be back at that time. See ya then!
Posted by: Wonderduck at 08:54 PM | Comments (5) | Add Comment
Post contains 1228 words, total size 8 kb.
September 03, 2011
Ducks In Anime: Don't Call It A Comeback
The bad thing about hunting for rubber ducks in anime is that you can go for months without ever seeing one. Even shows where a rubber duckie would make the most sense, like one taking place in an onsen, will inexplicably skip the duckie... and yes
Hanasaku Iroha
, I'm very disappointed in you.
And then from out of nowhere, in a show you'd never expect to include anything as light-hearted as a duckie, you get rewarded.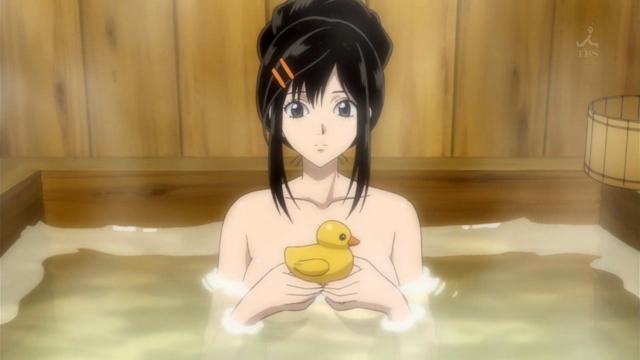 -
Blood-C
, ep08
I mildly enjoyed the first few episodes of
Blood-C
, but not really enough to keep up with it. I wasn't a fan of the first two installments (
Blood: The Last Vampire
,
Blood+
) and the addition of CLAMP to the team for
C
did nothing to keep me enthralled. I found myself wondering just exactly why Saya would do her hair like
that
, which is probably not what the creators intended. Then came the censoring of the fight scenes in later episodes, and I just gave up. But something told me to download this episode today... maybe it was a mystical link I have with duckies, maybe it was fate, maybe it was
Doki's preview picture
, I don't know. But there, in the middle of an dark, dark anime about a schoolgirl with a sword killing the bad things that go chomp in the night (and in the day, for that matter)... is a duck.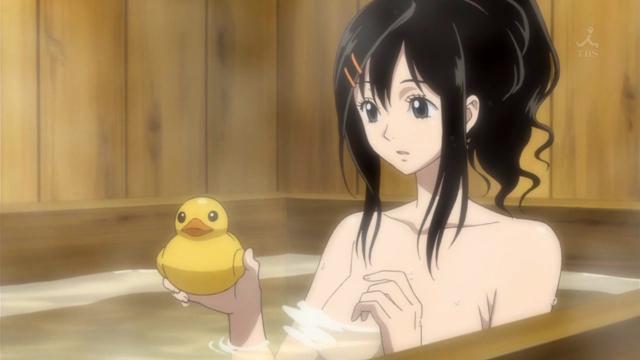 A nice duckie, too. Good sized, big eyes, floats well, an all-around attractive duckie.
Posted by: Wonderduck at 09:04 PM | Comments (3) | Add Comment
Post contains 254 words, total size 2 kb.
Going Shopping For Some Toys
My computer has three burning needs at the moment:
1) A new graphics card
2) A new external hard drive
3) A wireless mouse
The mouse I
already have picked out
, but I'd like some advice from the tech nabobs out there on the other two. I'm looking for a midrange graphics card that'll work with a 400w PSU, PCIx16 of course, but that doesn't cost an arm and a leg. I'm partial to Nvidia. Any thoughts?
For the external HD, I've been looking at the
LaCie Minimus
, for which the user reviews I've seen have been pretty good, but I'm open to anything. 2TB or more is preferred, but if someone knows about a great 1TB drive that's a must-own, I wouldn't say no.
I'm running Windows XP SP3 with an AMD Athlon 64 X2 3800+ with 3GB of RAM.
So, lemme hear your opinion!
UPDATE
: Brickmuppet, Nori is not a nerd.
Posted by: Wonderduck at 12:52 PM | Comments (6) | Add Comment
Post contains 158 words, total size 1 kb.
September 02, 2011
I Think It's Over
I've made it through Friday, bringing an end to the Bookstore Death March that has been my schedule for the past month. You know what that means, right? Break out the dancing gifs!
Of course, I was supposed to have last weekend off, and we all know what happened then. So I guess it's possible that it isn't all over after all... maybe a hail of frogs, or suddenly from out of nowhere: BADGERS! Maybe I'll get a call tomorrow morning saying I have to go back into the store...

"Dozo! Have a starfish!"
Right. I'll shut up about that. Regular blogination will resume as soon as I regenerate some hit points.
Posted by: Wonderduck at 07:33 PM | Comments (6) | Add Comment
Post contains 116 words, total size 2 kb.
September 01, 2011
Almost There
Just one more day. Day 19 in a row. I figured out that I worked 28 of 31 days in August and at one point, 23 out of 24. Yes, the overtime is sweet, but what good is it if you can't actually generate the energy to actually spend the cash?
Or to blog, for that matter. It'll come back soon enough... but for now, here's something goofy.
See? Goofy. Ho ho. Ha ha. It is to laugh.
Posted by: Wonderduck at 08:23 PM | Comments (4) | Add Comment
Post contains 80 words, total size 1 kb.
72kb generated in CPU 0.0249, elapsed 0.0971 seconds.
53 queries taking 0.0792 seconds, 330 records returned.
Powered by Minx 1.1.6c-pink.