May 08, 2011
F1 Update!: Turkey 2011
A beautiful sunny day awaited us today at the Istanbul Otodrom as the cameras went live on the Turkish Grand Prix. But would Seb Vettel enjoy the race, or would the someone else take the May flowers from him? THIS is
your
F1 Update! for the 2011 Grand Prix of Turkey.
*RACE
: As the F1U! crew, joined by F1tern Vaucaunson's Duck, settled into our comfy chairs, the lights went out to begin the race. It immediately became obvious that, barring car failure, this contest was going to be for second place. Seb Vettel jumped away from the line and never looked back, opening a 1.2 second lead at the end of Lap 1. Just a pleasant Sunday drive for the World Champion, who won by nearly nine seconds over his teammate Mark Webber, who led Ferrari's HWMNBN across the line by just over a second. After those podium positions, there was a 30 second gap back to Lewis Hamilton's McLaren.
*THAT'S A RECORD
: Pirelli's hopeful optimism towards the lifespan of their tires turned out to be somewhat misplaced. The first pitstops came on Lap 10, and for all intents and purposes never stopped. As a result, more stops were made in this race than ever before in F1 history: 80. The previous record-holding race started out in the wet, went dry, then sort of bobbled back and forth between the two, causing chaos in the pit lane. This one? All dry, and everybody save McLaren's Jenson Button and one of the Toro Rosso drivers made four stops.
*DIFFERING VIEWPOINTS
: Having the F1tern here for the race brought something unexpected to the F1U! team's eyes. We saw the race as being action-packed but somewhat dull, full of passing back in the pack that was more or less meaningless. On the other hand, the F1tern thought the race was action-packed and exciting, full of dramatic passes. The possibility exists that the F1U! team is old and jaded.
*DRIVER OF THE RACE
: It's very hard to not give this award to Ferrari's HWMNBN, who pulled his steed onto the podium when it looked like the red cars would never get there this year. It's also very hard not to give the award to Gandalf Kobayashi, who started dead last, fought his way up to eighth, and ended up tenth, very nearly equaling Mark Webber's 15-place improvement at China (18th to third). But it's impossible to not give the Driver of the Race award to Red Bull's Seb Vettel. Maybe it's the car, maybe it's because he's mostly driving with a clear track in front of him, but he dominated the Grand Prix of Turkey race weekend. Beginning from Saturday's P3 session, then in Quals, then the race itself, nobody was even close to the World Champion. It's a telling statistic that he's led 183 of the 220 laps run this season...
*TEAM OF THE RACE
: Red Bull. Duh. They blew away everybody in Quals, they blew away everybody during the race, and they had to rebuild Vettel's car after his 1st Practice wreck. That's a heckuva record for the team.
*MOVE OF THE RACE
: The combination of KERS and DRS have made passing much, much easier this season, giving the F1U! crew more than enough choices for the best move. The McLaren teammates, for example, had a scrum that lasted three full laps; Hamilton passed Button, who passed Hamilton, who came back and repassed Button, who turned around and repassed Hamilton again. Massa and Rosberg had a lovely little scrimmage on Lap 20. There were literally dozens of others, mostly in the DRS zone. But none of them came close to what happened on Lap 15. Slappy Schumacher led a hard-charging Gandalf Kobayashi, who had just gotten by Force India's Adrian
F'n
Sutil and Paul di Resta. Coming down from the flat-out Turn 11 towards Turn 12, Gandalf decided that he wanted Slappy's place, no matter what. Slappy decided he wouldn't make it easy for the Wizard. He moved to the inside, and Gandalf took Shadowfax onto the grass at 200 mph while Adrian
F'n
Sutil tried to take advantage of Schumacher's inattention, going wide to the outside.
Gandalf, past the elder statesman, lit up his tires through Turn 12, while Sutil whipped from the outside to the inside to get past the Mercedes driver. His tires smoking, he shouldered Schumi aside.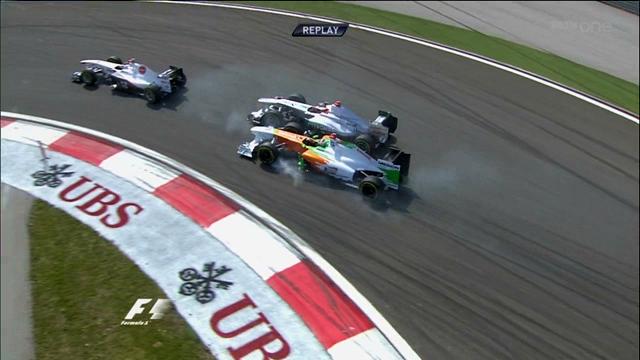 On the pull-out, di Resta tried to get involved as well, to no avail. Kobayashi had picked up three places through the whole thing, Sutil one, and Slappy lost two.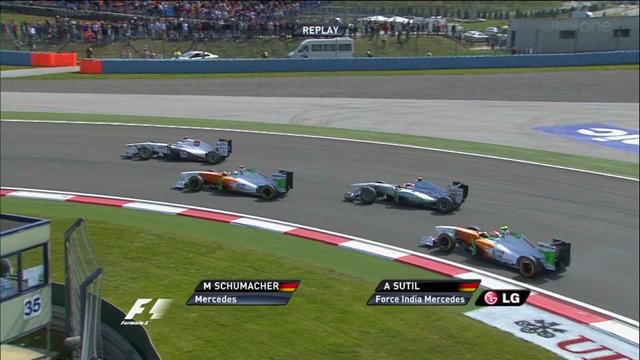 More importantly, it's clear that Schumacher's legendary status has worn off, with the younger drivers no longer giving him the respect they used to... which is the way it should be.
*MOOOOOO-OOOVE OF THE RACE
: 13 laps previously on the same bit of track, Renault's Red Menace, Vitaly Petrov, made a... shall we say
optimistic
... move on Slappy Schumacher, neglecting to apply his brakes until very late into Turn 12. He went to the inside of Schumacher and quite honestly had no chance whatsoever to make either the move or the turn. Slappy, however, was having none of it. He decided that the brilliant thing to do was to close down on the speeding Red Menace.
Result? The two bumped rather hard, the Renault ran over the Mercedes' nose, and the contact slowed the Red Menace enough that he could control himself through the turn. Schumi immediately pulled into the pits, but he still lost a ton of places and was never seen again. Good job, Slappy, here's your Moooooo-oove.
*SELECTED QUOTES OF THE RACE
:
more...
Posted by: Wonderduck at 08:47 PM | Comments (3) | Add Comment
Post contains 1067 words, total size 7 kb.
Mother's Day 2011
I miss Momzerduck. Days like today suck.
Posted by: Wonderduck at 09:39 AM | Comments (1) | Add Comment
Post contains 10 words, total size 1 kb.
May 07, 2011
F1 Quals: Turkey 2011
Uh-oh. Let's look at the provisional grid for the 2011 Grand Prix of Turkey:
Yep, our first Red Bull front-row lockout for 2011, but that's not what prompted the "uh-oh." No, that was brought on by how they accomplished the feat. Both Seb Vettel and Mark Webber did one run in Q3, looked at their times and said, "Nah, we're done. Come and get us." So while everybody else went out and burned another set of their allotment of soft tires trying to catch up to the Bullies, Vettel and Webber sat in the pits, sipping tea in the Red Bull motor home. I suspect they could have gone even faster, but just didn't bother. Pray for rain, race fans, pray for rain... otherwise this one could be really,
really
ugly. I mean, Nico Rosberg had the qualifying session of his life today, is sitting third on the grid, and he's
still
a half-second behind our polesitter, with one less set of fresh soft tires.
At the other end of the grid, we may have our first Steward's Decision coming, as Gandalf Kobayashi's fuel pump died on his out lap for Q1. He needed help to make it back to pits, being pushed by track marshals the last couple hundred yards, and obviously never made it back out. With no time set, he obviously didn't meet the 107% time, and is therefore prohibited from starting the race. However, Sauber can (and certainly will) go to the Stewards, say "technical difficulties, you know what our pace has been all weekend, let us in." I fully expect the Stewards to agree, but you never know.
So there we are. Race on Sunday, F1U! sometime thereafter. See you then!
Posted by: Wonderduck at 10:31 AM | Comments (2) | Add Comment
Post contains 448 words, total size 15 kb.
May 06, 2011
F1 Practice: Turkey 2011
The big news from today's practices at the Istanbul Otodrom was... the weather. We had rain throughout P1, and it made a huge impact on our World Champion. Or, rather, his Red Bull made a huge impact on the wall because of the weather. He got a little too wide on the exit of Quad-8, putting his right-side tires went over the back of the curb. This had the effect of skating the underside of the Red Bull over the curb, ruining the aerodynamics completely. The car spun back across the track and slammed into the barriers, deranging all four tires, breaking the nose, and jamming a couple dozen cubic yards of dirt and turf into the intakes in the process. It came back to the pit lane on the flatbed truck, went into the garage and never came back. Seb Vettel missed P2 as a result. Speculation from the Legendary Announce Team was that the chassis was damaged, which basically means it would be a writeoff and the mechanics would have to build up another car before P3 and Quals. We'll see how that affects Vettel on Saturday.
Other that that, there was no rain for P2, though the grass off-track was still soggy. This allowed Imam Maldonado to wreck his car three times during the two sessions... that takes skill. Can't imagine that Williams is too thrilled with him, but hey, $30million in sponsorship makes a big difference om a team's reaction when you bend the car.
HWMNBN had a grim-looking moment, when his Ferrari came coasting into the pit lane. A quick cut to the in-car camera replay allowed us the hear the problem:
something
on the Ferrari began to sound like an elephant with gastric distress after eating bad burritos for a week. Shift gears down,
blaaaaaaaaaaaaat
. Probably an exhaust problem (which does nothing to dispel the notion of the elephant), HWMNBN was back out after a few minutes, though driving gingerly. Understandable considering the... quality... of the sound. I would never want to hear that sound, ever, no matter the cause.
Finally, get well wishes go out to The Varsha, lead talker of the Legendary Announce Team. It appears that he's under the weather, and Lee Diffy will be filling in. Feel better soon!
Quals in the morning!
Posted by: Wonderduck at 09:41 PM | No Comments | Add Comment
Post contains 387 words, total size 2 kb.
May 05, 2011
Finishing Ga-Rei Zero
The Librarian and I watched another six episodes of
Ga-Rei Zero
tonight, which means we finished the entire series in two sittings. For us, that's a record... and it says something about how much she liked it. After Ep10, she asked what time it was, and how many episodes were left. Despite having to be at work early, she said roll 'em. I
knew
there was a reason I liked The Librarian.
Funimation did a decent job with the translation, near as I can tell. I think I prefer the fansubs I first watched, though to be honest that might just be because it's the one I saw first. Even having said that, I think "Bane Stone" isn't as ominous as "Death Stone." Calling the baddies "ghosts" and "phantoms" works, I suppose, but seems... clumsy. Worst of all, though, is that the people who fight the baddies are termed "Vanquishers," as opposed to "exorcists." That's just poor. It might be a literally correct translation, but it's
dumb
.
I haven't listened to the dub yet, though I suspect I will fairly soon. Nor have I watched any of the extras, and there Funimation gets bonus points. They put the extras on a separate DVD from the show, which is 12 episodes on two discs. While I'd prefer four episodes per DVD, I can't complain about the visual quality that we've got... everything is sharp, well-defined, and the colors are quite a bit better than the fansubs that are out there. The version I got is the "special" one, that also includes the entire series on Blu-Ray. As I have no BD player, I can't comment on their quality.
So
Ga-Rei Zero
, the package, contains five discs (three DVD, 2 BD) total... and a lot of fun. Obviously I like the series, otherwise I never would have done those writeups (or bought the DVDs!), but I was a little surprised at how much I enjoyed watching it again. I might have to revise its position in my Favorite Anime Of All Time list, from "
Honorable Mention
" to a numbered position. I think I was unfair when I said that the series "
just isn't that good
." It's no classic, true, but it's well worth the six hours you'll spend watching it. And really, isn't that all you can ask for?
Posted by: Wonderduck at 09:56 PM | Comments (2) | Add Comment
Post contains 390 words, total size 3 kb.
May 03, 2011
Guess... Really.
Throwing a curveball at you today. Why a pigeon?
Posted by: Wonderduck at 07:36 PM | Comments (12) | Add Comment
Post contains 11 words, total size 1 kb.
May 02, 2011
F1 on SPEED!: Turkey 2011
Okay, vacation's over... everybody back on your heads. The F1 Circus trundles its way to the Istanbul Otodrom for what might be the last Grand Prix of Turkey. Let's take a look at the track map: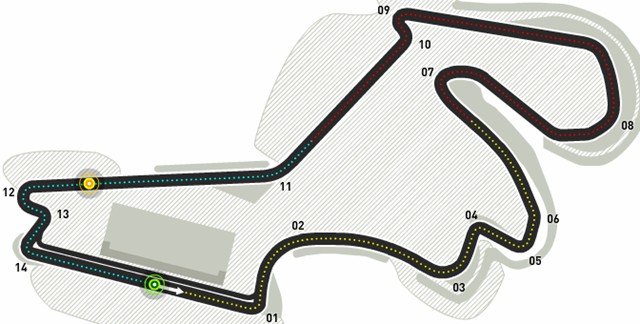 Yes, with a planned lineup of 19 races in 2012, and two new tracks debuting next year, three existing circuits are going to have to go away. Considering that Turkey's contract is up after this race, and Darth Bernie is saying that F1's fees for the race are going to double, it's a good bet that this will be the last we see of Hermann Tilke's magnum opus.
That this is Tilke's best circuit speaks poorly of the designer, but not the track. All in all, Turkey is a decent enough layout with one outstanding turn. I speak of Quad-8, of course. An increasing-radius four apex turn, it might just be the most exciting turn in F1's modern tracks, and it can at least stand in the same room with the classics without being made fun of.
Other than that, the rest of the circuit is decent, nothing amazing. Turns 2, 8 and 11 are quite hard on tires, as is the asphalt that makes up the track surface, so we should have a good ol' time trying to keep track of the pit stops on race day. Fortunately, the F1 Update! crew will have an intern for this race, as the Official First Friend of The Pond, Vaucaunson's Duck, will be visiting.
SPEED will be providing its usual sterling coverage of the weekend, of course. It all begins with streaming coverage of P1 on Friday, from 2am to 330am. P2 will be shown LIVE on SPEED from 6am to 740am on Friday as well. On Saturday, P3 will be streaming from 3am to 4am. Quals will be LIVE on SPEED from 6am to 730am.
Finally, the 2011 Grand Prix of Turkey will be shown LIVE from 630am to 9am on Sunday, with a replay from 1230pm to 3pm.
F1U! will be all over the race weekend, as usual. We'll see you here for all the festivities!
Posted by: Wonderduck at 10:33 PM | Comments (1) | Add Comment
Post contains 358 words, total size 2 kb.
May 01, 2011
Rio Rainbow Gate! The Lost Reviews: Ep03
So here we are: Episode 03 of
Rio Rainbow Gate!
. The second and last of the "lost reviews" for the series. Unlike the first of the lost reviews, for Ep02, Ep03 did get a little attention when it was first released, but nothing like what's about to occur. As you'll soon see, this particular episode is actually pretty important to the overarching plot of
RRG!
, as thin and watery as that is. The first time I watched it, I wrote it off as just another filler episode in a show chock full of them... now, with the benefit of knowing what happens, it becomes the catalyst for the rest of the series.
Which doesn't make it any better, mind you. It just makes it important that I inflict more psychic damage upon myself. Great. Well, without further ado, allow me to summon up the mind-flaying power of
RRG!
and Ep03!
A beautiful day on Casino Island! Quite the contrast to the constant thunderstorms plaguing the place in the later episodes, eh? Entirely created and totally owned by Our Heroine's boss, The Owner, who has just purchased an abandoned casino on the edge of the island. Wait, what? I'm confused. Casino Island and everything on it is 100% the property of The Owner, but he just bought a place that was there
before
the island existed? Logic, meet
Rio Rainbow Gate!
. I'm sure the two of you will
attempt to murder each other within seconds
get along famously.
Misery Castle was owned by a young woman who loved only two things in life: gambling and chicken wings. She ran a casino in the basement until she lost it all to a high roller. Since then, the Castle sat derelict on Casino Island (wha?) until The Owner took it over and decided to make it another of his classic attractions. The casino is in the process of being restored to its original condition, and he expects it to be quite the moneymaker.
Rio objects, pointing out that she's already working seven days a week and can't be expected to work here
and
at the main casino
and
train Anya too. No problem, because The Owner has hired another dealer, someone with experience. In any case, it's going to be a while before the place is ready to go. Our Heroine is somewhat taken aback... jealousy, Rio?... but doesn't complain. Much.
more...
Posted by: Wonderduck at 01:39 AM | Comments (3) | Add Comment
Post contains 2833 words, total size 21 kb.
69kb generated in CPU 0.06, elapsed 0.1885 seconds.
53 queries taking 0.1436 seconds, 293 records returned.
Powered by Minx 1.1.6c-pink.