April 04, 2011
F1 on SPEED!: Malaysia 2011
Leaving the season opener in Australia in the rear-view mirror, we head northwest a couple thousand miles to Malaysia this weekend. Let us take a look at the track map before we get to the good stuff: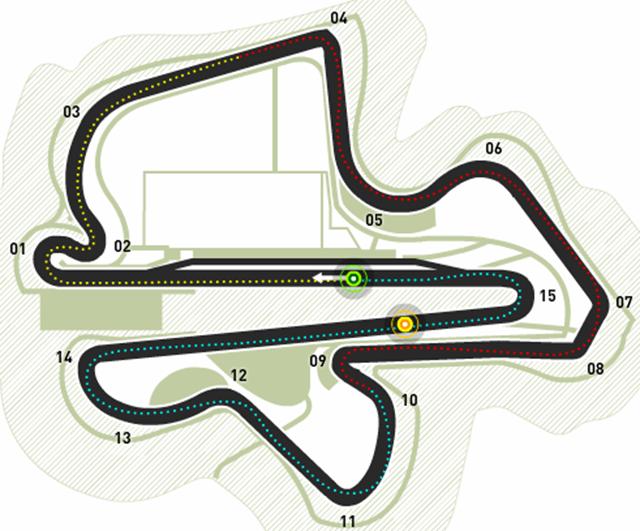 As one can see, the Sepang International Circuit is dominated by two massive straightaways that should allow the Drag Reduction System to really show what it can do, unlike Australia's too-short straight. There is one factor that is even more important to any race here than the track layout itself, and that's the weather.
For Australia, the weather was surprisingly cool, sunny but only around 65°F. The forecast for the race weekend in Malaysia is temperatures around 90°F, very humid, and a
lot
of rain every day. The heat and track surface will cause the Pirelli tires to wear faster. Indeed, the tire manufacturer is predicting four stops, instead of three for Australia. Of course, they didn't exactly get that right in some cases, so who knows? And then there's the weather. If indeed it's raining during the race, just how will the Inters and Wets hold up? Earlier this year, "the rain in Spain falls mainly on test days" was the mantra, but the number of laps turned were rather low... nobody
really
knows what the wear will be. They might be longer-lived than the dry tires for all we know.
Another thing we don't know is what will happen if we get rain during Quals. Throw everybody into a cocked hat, pick a name at random, and there's your polesitter. Well, except for Virgin and HRT, of course. One thing we did learn during practice at Australia is that, if anybody is on-track with wet weather tires, the DRS is turned off and nobody can use it. Probably won't mean anything, but you never know if that'll make a difference.
Fortunately, we've got our usual sterling coverage coming from the good folks at SPEED. To start with, we get Friday's first practice session, streaming live at speedtv.com, from 9pm to 1030pm on Thursday night. Practice 2 will also be live, though that'll be on SPEED itself, from 1am to 240am Friday morning. P3 will be streamed live on Friday night, from 11pm to 12midnight. Will HRT make an appearance this time around, or will they merely be spectators again? They say they'll be on-track, but they said that two weeks ago, too.
The all-important Quals session will be plausibly live from 3am to 430am on Saturday morning... no way the F1U! crew will be awake for that, uh-uh. Finally, it all comes down to the Grand Prix of Malaysia, live from 230am to 5am on Sunday morning. There will be two replays, from 130pm to 4pm on Sunday afternoon, and from 11am to 130pm on Tuesday, April 12th.
Of course, F1 Update! will be all over it as much as we are physically able! See you then!
Posted by: Wonderduck at 06:14 PM | Comments (4) | Add Comment
Post contains 491 words, total size 3 kb.
April 03, 2011
Rio Rainbow Gate! ep13
Captive's Log Day 89
: It's been nearly three months since I was last free. Nearly three months since the torture began. Nearly three months since my sanity began to fade. Nearly three months since I was first subjected to the nightmare that is
Rio Rainbow Gate!
. How was I to know what that first viewing would do to me, both short- and long-term? At first I resisted... I knew what the Production Staff was trying to do, and I refused to let them break me. Slowly, however, they weaseled their way under my barriers and I began to...
care
. Care about the show. Care about the characters. Care about the ultimate outcome. It was
Stockholm Syndrome
, a classic case if there ever was one. The bastards nearly had me then. Somehow, I got through it with some shreds of sanity and human decency left. Then I began to hate. I nurtured that hate and rage and anger as a way to get me through whatever they decided to do to me. It worked. I've managed to make it to the end. One last episode to go and then I'm a free man. There's nothing they can do to me that'll make the pain any worse, for I can see the end. I've done it. I'll have survived
Rio Rainbow Gate!
. Come, Production Staff, one last dance... for old time's sake. Then I'll quit you forever.
We pick up mere minutes after the end of Ep12, with the final Gate Battle still in progress. Our Heroine and her sister are locked in a cutthroat game of poker, the first to win fifteen hands is victorious. The winner gets all 13 Gates, becomes only the second Most Valuable Card Dealer ever, and will get to "see the rainbow," whatever that means. The loser? We'd rather not think about that, but it probably involves holographic flying sharks. When we last saw the game, Rina was up two games to zero. The situation has changed somewhat.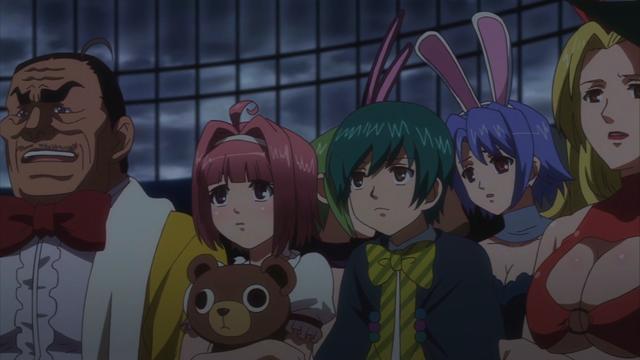 The looks on the faces of the Usual Suspects says it all. Stunned disbelief. Growing despair. A sense of loss, a sense of failure. Depression. Sadness. Hopelessness. In short, the entire
Rio Rainbow Gate!
experience, all in one screenshot. Our Heroine has lost thirteen hands in a row, and as we watch, the fourteenth goes to Rina as well.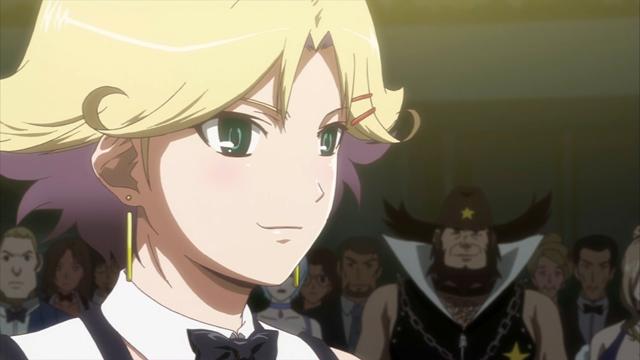 The amount of raw smug coming off of Rina is amazing as she mocks her sister's performance. The culmination of her life's ambition is at hand, her vengeance nearly complete.
And yet, for someone about to be completely embarrassed, Rio seems to be remarkably unconcerned... almost like she knows something nobody else does. In fact, her attitude begins to rankle Rina, who actually gets angry. The Owner yells from the crowd that Rio doesn't need to throw the game to make up for her past transgressions against her sister, that it's all right to win... and Rina goes full psycho, screaming accusations across the table. Rio just smiles and says something to the effect of "it's just the way the cards are falling. Isn't that the way casino games are supposed to work?" The final hand is dealt.
more...
Posted by: Wonderduck at 02:40 AM | Comments (10) | Add Comment
Post contains 2553 words, total size 20 kb.
April 02, 2011
बतखों from India
As readers of The Pond may be aware, Ph.Duck was in India for a couple of weeks not too long ago. After a fruitless search for any promotional materials for the upcoming Grand Prix of India (aside: nobody he spoke to had any idea what he was talking about), he brought me back these:
They're made out of papier-mâché, would you believe? They had one previous owner, for they were also Momzerduck's. The first time she visited Ph.Duck in India, she was there for a month and decided to lend a bit of her decorating touch to his abode. These two ducks became a tradition... each time she visited the Subcontinent (two times? Three? I don't remember...), they were placed on a shelf in the domicile. When she left, they stayed behind, in a storage box until she returned.
Now they've made the long trip to Pond Central.
Posted by: Wonderduck at 01:01 AM | Comments (2) | Add Comment
Post contains 151 words, total size 1 kb.
April 01, 2011
A Visitor To The U
I was on break at the University of Chicken this afternoon, pecking away at my meal of seeds, corn, oats and wheat, with a side of pizza, when I decided to step outside for a while. The weather wasn't particularly nice, but acceptable enough. At least it wasn't snowing like they said it was going to do, right? And me with my warm feathers in the bookstore, no less. Anyway, as I wandered around I found that the U Chicken had a special visitor!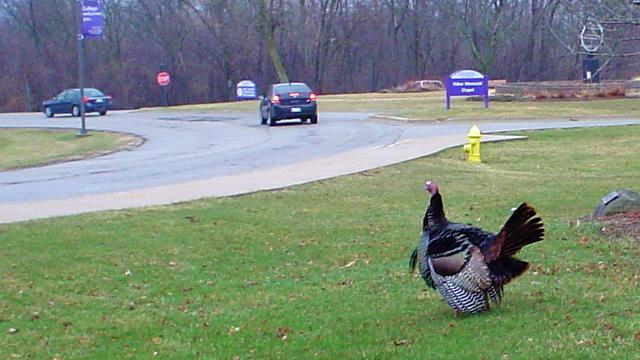 Mr Thomas A Turkey, esq., was a guest lecturer today, it seems. Not every day one of our cousins drop by... I was hoping for a visit by some potatoes, cranberries, and a plate of stuffing, but no such luck I'm afraid. I'm somewhat torn: on one wing, he's quite the ugly thing, but on the other, its plumage was fairly colorful. Odd dichotomy there.
Well, I'm no philosopher, I'm just a chicken. I'll let the ducks figure it out.
Posted by: Wonderduck at 07:10 PM | No Comments | Add Comment
Post contains 169 words, total size 1 kb.
40kb generated in CPU 0.0218, elapsed 0.7053 seconds.
48 queries taking 0.6943 seconds, 296 records returned.
Powered by Minx 1.1.6c-pink.