November 08, 2010
Ducks In Anime Can Be Found In The Strangest Places
The world has changed. Tokyo, and by extension all of Japan, has suffered a major ecological disaster. Much of the city is underwater, and anything
not
submerged has been seriously damaged. Floating above this flooded city a small ship, maybe the size of a fishing vessel or tugboat, is slowly making it's way from one location to another. A young woman, wondering if she could see through the floodwaters and see sunken houses below, leans over the side of the vessel. As she strains for a better view, something unexpected begins to float by.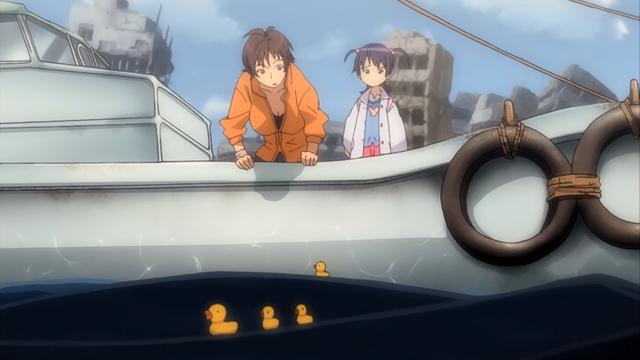 -
Witchblade
, ep01
Noticing that one of the rubber duckies has gotten separated from the rest of the duckie family, she leans over to guide it in the right direction... by splashing the water nearby.
As the small ship heads to its destination, we see it shrink away into the distance. The rubber duckie family, again complete, travels onward.
Where the duckies are headed or where they came from, we never discover, but it doesn't matter. What matters is that, even in this ruined city, rubber duckies exist and thrive. There is hope for the world.
To be honest, the story of the rubber duckies would probably have been better than that of the
Witchblade
anime, a hideously violent and pointless show. Not entirely its fault; it's not like the source material (which has no rubber duckies) was particularly good to begin with.
(hat-tip to gerberette for pointing me in the direction of the duckies!)
Posted by: Wonderduck at 11:59 PM | Comments (5) | Add Comment
Post contains 258 words, total size 2 kb.
F1 on SPEED!: Abu Dhabi 2010
And so it comes to this, the final race of the season. In many ways, this is the way it should be. While we're unlikely to have the championship come down to the final turn of the final lap like it did in 2008, one race for all the marbles just feels right.
And the Yas Marina Circuit in Abu Dhabi will be the venue. Let's take a look at the track map: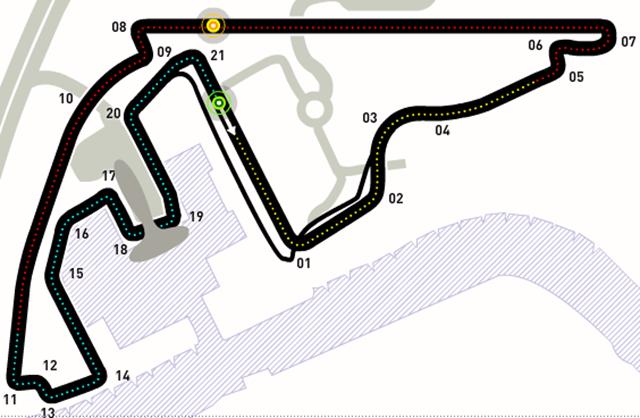 Dominated by two long straights and a third of not-insignificant length, you'd think the McLarens with their high top-end speed would own this place, and it may in fact work out that way, but I'd not bet on it. Most of the turns are low-gear, low-speed, which would play into the Red Bulls' hands, but I'd not bet on that, either. No, the easy way to wager would be on the Ferrari, just because of its balance between handling and grunt. Since that's the easy way, however, I'm not going to take it: HRT will own the victory after a hideous blimp accident clears the way for them.
Bridgestone is bringing their super-soft and medium compounds, just like last year. Drivers say it combines the best of modern circuits with the best of Monaco-style street circuits, which sounds like Korea's mission statement actually. If we have a race like Korea this weekend, I'll be happy... not expecting it, though. The main excitement last year was provided by rookie Kamui Kobayashi passing Driver's World Champion Jenson Button into Turn 8, then the processional began and the race turned dull. The most interesting part of the circuit is the pitlane, which goes through a tunnel under Turn 1 as it rejoins the track. It didn't cause any problems last year, but more than a couple of cars got squirrely there. One bump into the wall and we've got major headaches.
Well, we'll be seeing it all unveil live on SPEED!, beginning with Friday's 2nd Practice from 6am to 740am. Quals is Saturday from 6am to 730am. Then, finally, we see the second-ever Grand Prix of Abu Dhabi on Sunday, from 530am to 8am. There'll be a replay from 230pm to 5pm that afternoon. And then we're done for the year... and I have to admit to some relief.
In a completely unrelated topic, I'm going to toot my own horn here for a second. During last year's F1U! for the GP of Abu Dhabi, I said this:
*TEAM OF THE RACE
: It's hard to think that Red Bull won't be favored to win the 2010 championship. They probably have the best car on the grid, one of the best drivers in Seb Vettel (and teammate Mark Webber ain't exactly chopped liver, either), came in second in the constructor's championship (and Vettel finished second in the driver's championship), and had their fourth 1-2 finish of the season today. Not bad for a team that hadn't won a race before this year!
Perhaps not a prediction that went particularly far out on a limb, but there you go.
Posted by: Wonderduck at 09:18 AM | Comments (5) | Add Comment
Post contains 513 words, total size 3 kb.
November 07, 2010
F1 Update!: Brazil 2010
Sunny skies over the penultimate race of the F1 calendar, but will it be the final one in the Driver's Championship? Would surprise polesitting rookie upstart Nico Hulkenberg's delusions of grandeur transfer over once the lights went out? Would we have a tense, tightly fought contest? THIS is
your
F1 Update! for the 2010 Grand Prix of Brazil!
*NOPE
: As anybody could have predicted, once the lights went out, Red Bull's Seb Vettel immediately took the lead from Hulkenberg. By the end of the fourth turn, Mark Webber had gotten by the pilot of the Williams... and then the two blue cars streaked off into the distance. It took Ferrari's HWMNBN seven laps to get past Hulkenberg, by which time the Bulls had opened up an eight second lead... which would continue to grow by nearly a half-second a lap. Suddenly the only questions remaining was if Red Bull would let Webber pass Vettel, and if so, how'd they arrange it. Not even the late Safety Car made the race any closer, and that's how it ended: Vettel, Webber, with HWMNBN a distant third and Lewis Hamilton even farther back in fourth.
*HOPE? OR DOPES?
: Perversely, Vettel's win may very well have prevented him from winning the Driver's Championship, and made it much harder for his teammate as well. Consider the championship standings after today's race:
| | | |
| --- | --- | --- |
| 01 | HWMNBN | 246 |
| 02 | Mark Webber | 238 |
| 03 | Sebastian Vettel | 231 |
| 04 | Lewis Hamilton | 222 |
First place gives you 25 points, second 18, third gets 15 and 12 points are earned for finishing fourth. Fifth earns 10 points. If Webber had won today he would have 245 points, and Vettel 224. Vettel would be in third, and realistically would need a miracle to win. But
now,
he's in third, needs to win,
and
beat HWMNBN by 15 points... then it would come down to tiebreakers, and lord knows how
that'd
work out. In other words, he still needs a miracle, just one that's not quite so big. Instead of a race in Abu Dhabi that would have come down to a straight fight between Webber and HWMNBN, higher finisher wins the Driver's Championship, now Webber needs to win and hope that the Ferrari finishes in third. That's hardly impossible of course, but now the Australian needs help from someone else. And yes, we here at F1U! are quite aware that we're being hypocritical here, advocating for team orders when we decried Ferrari's use of them at the German Grand Prix. If you remember though, we weren't screaming about the team orders themselves, as we're realists and know that they're used in F1, but in the flagrant way Ferrari broke the rules.
*DRIVER OF THE RACE
: We aren't particularly chuffed about any of the drives put in today, so we should probably give it to Seb Vettel for winning when he needed to. But we're not excited about it.
*TEAM OF THE RACE
: Red Bull.
But then, all they did was finish 1-2 in the race and clinch the Constructor's Championship. Pretty good day when all is said and done. Shame they practically handed HWMNBN the Driver's Championship in the process, but you can't have everything.
*MOVE OF THE RACE
: On Lap 12 McLaren's Jenson Button was the first driver to pit for new tires. He came in from 10th and rejoined in 18th. The next lap, hometown hero Felipe Massa pitted from 9th and came back out on track in 17th, just ahead of the McLaren and with a decent amount of space between them. He should have been perfectly safe, but Button had other ideas. Running down to Turn 4, the reigning World Driver's Champion basically depantsed the Brazilian by using his slight speed advantage and taking advantage of the Ferrari driver's complacency, popping by so quickly that the red car didn't maneuver to block. For this surprise pass, we're happy to give the MotR to Button!
*MOOOOOOO-OOVE OF THE RACE
: There can be only one. Late in the race Force India's Vitantonio Liuzzi, reportedly driving for his career in F1, was all alone on track, nobody pressuring him from behind, and nobody distracting him to the front. So what does he do? Crashes in one of the more unlikely places on the track, Turn 2.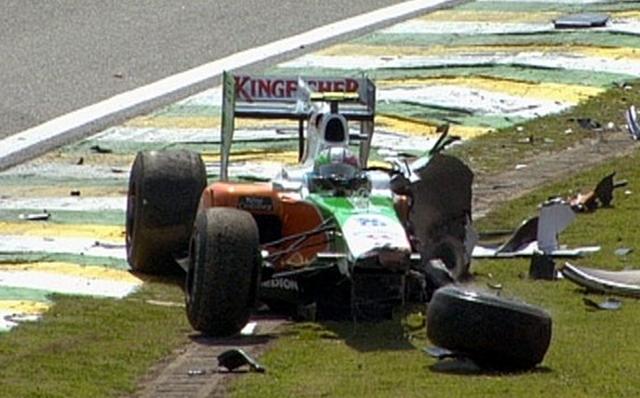 In the wet Turn 2 is horrible, near the bottom of a hill and often swept by torrential rivers of water. But in the dry, it's about as benign as it's possible for a F1 turn to be. So for wrecking your car, for bringing out the safety car, and for throwing what little chance you had to be in F1 next year away, Vitantonio Liuzzi, you've won the Mooooooooo-oove! Good luck in your next career, and watch out for those deep-fryers, they tend to throw grease.
*SELECTED DRIVER QUOTES OF THE RACE
:
more...
Posted by: Wonderduck at 01:56 PM | Comments (2) | Add Comment
Post contains 1272 words, total size 10 kb.
November 06, 2010
F1 Quals: Brazil 2010
Pundits always say that rain is the great equalizer in Formula 1. Guess what the weather was doing at the Autodromo Juan Carlos Pace during Qualifying today? Let's take a look at the provisional grid for Sunday's Grand Prix of Brazil:
No, your eyes aren't deceiving you, that really is Nico "The Incredible" Hulkenberg on pole. That's Williams' first pole position in 100 races, the 2005 European Grand Prix. It's Cosworth's first pole since 1999.
The rain was pelting down in Q1, stopped just after the beginning of Q2, and a dry line emerged with only a few minutes left in Q3. The first hotlaps in Q3 were done on the Intermediate tires, with the final run for pole being the land of the super-softs and the incredibly brave.
If you take the lap of Hulkenberg's life off the board, his
second
-fastest lap still would have had him on pole. He and the team just got it absolutely right... which doesn't mean that he's going to have a fast race tomorrow. See, the weather was crappy today but the forecast for tomorrow is for clear skies and dry tracks. The teams had to decide if they were going to go for a wet setup to help them qualify but which would hurt them in the race, or sacrifice qualifying pace and go for the race. Because of the changing conditions today though, it's hard to judge how everybody is set-up. My guess is that the Red Bulls and Lewis Hamilton split the difference, HWMNBN has a mostly dry setup... and as great a story as Hulkenberg is, he's essentially irrelevant to tomorrow. The Williams just doesn't have the grunt to be a contender for a podium slot in the race.
But darn, it's cool to see someone in a car that isn't red, silver or dark blue up at the top of the time-sheet! Rain changes everything.
See you tomorrow for the Brazilian Grand Prix F1U!
Posted by: Wonderduck at 01:35 PM | Comments (1) | Add Comment
Post contains 488 words, total size 14 kb.
November 05, 2010
F1 Practice: Brazil 2010
Friday's second practice was pretty much what you'd expect: Red Bulls up front and everybody else wondering if they could mount James Bond-like gadgets to their cars, and trying to figure out how much pace they'd lose with a couple of Sidewinder launch rails attached to their sidepods.
HWMNBN and Felipe Massa both showed good speeds, though both had their troubles. The points leader had his engine die in P1, and the Brazilian had a clutch failure in P2. Neither should suffer a penalty for their breakdowns however since they came on Friday. Indeed, the team claimed that they weren't at all surprised by HWMNBN's breakdown as it was a well-worn race engine that they expected to have go boom. That actually makes good sense... why put any more miles on the engine they intend to use on Sunday than they have to?
On the other hand, McLaren may as well not bother to show up at Abu Dhabi next week; both Hamilton and Button were a second or more off the pace. If they wind up with that sort of pace at Quals, they'll probably be DOA on Sunday, and both drivers need to win to have any chance for a comeback in the championship.
All is not wine and roses in the Red Bull camp, though. As predicted some races ago, the tension between Mark Webber and Seb Vettel is showing through at a particularly ugly time. Mark Webber said on Thursday that he believed that the team thought his drive for a championship was "an inconvenience. I wasn't supposed to be in the chase at all." His body language was reportedly that of someone under a ton of stress, full of slumping and sighs. He did get a dig in though: "For different reasons here and there, Seb's never led the Championship and I have." Vettel in a later interview with a German TV channel said "if Mark needs help then he should take the medical car."
Not good news for the Austrian team. It's clear that neither driver is willing to help the other if and when it comes down to that. Indeed, Webber was asked what he'd do if things broke poorly for him this race and suddenly Vettel had a better chance to win the Championship. His response, after a long pause, was telling: "I'd need to think a lot further about that."
Meanwhile over in the Ferrari camp, Felipe Massa has stated that he'll do whatever he can do to help HWMNBN win the championship. HWMNBN, on the other hand, has said that he'd be perfectly happy to have his teammate win at his home race. "It'll take 25 points off the guys following me," which is just as good as a win for the Spaniard. Of course, the specter of Massa pulling over to let his teammate by looms over the team, to the point where a Brazilian official has said that Massa lets HWMNBN by, he'll have Massa arrested for violating sportsmanship laws. Must be election time in Saõ Paolo.
Quals late Saturday morning, with the report coming sometime after that.
Posted by: Wonderduck at 10:07 PM | No Comments | Add Comment
Post contains 524 words, total size 3 kb.
November 04, 2010
Yuno's Duckie: An Appreciation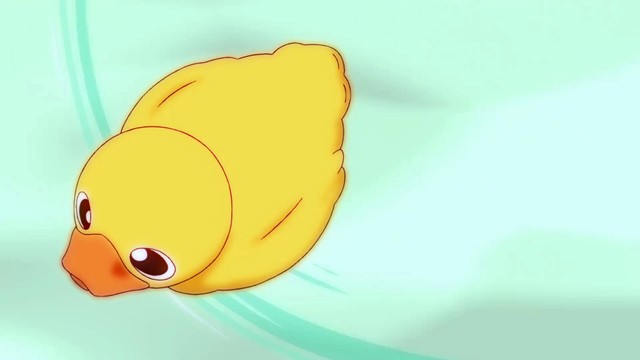 Some three years ago, the series
Hidamari Sketch
debuted on Japanese satellite station BS-i. The show followed the lives of four students, Yuno, Miyako, Sae and Hiro, all of whom are attending Yamabuki Art High School. As a prototypical "slice-of-life" show, there's not much in the way of plot other than that of going through life with your friends. In the third series,
Hidamari Sketch Hoshimittsu
, two new characters, Nazuna and Nori, joined the cast and quickly became part of the family.
Ever since the first episode there has been another member of the group. Yuno's rubber duckie has appeared in all but two or three episodes in the series' 44-episode run. HidaDuck has no lines, and doesn't quack even once, but a careful watcher of the show will realize just how important it is to the main character, Yuno. When she moves into the Hidamari Apartments, the first thing that she unpacks is HidaDuck. At one point, she's locked out of her apartment for five days. When she finally gets back in, she immediately apologizes to HidaDuck for leaving it alone in the dark for so long. I've said in the past that Yuno is "one of us," a collector who truly understands the joy of ducks.
But why is HidaDuck so special? To be sure, it's a cute rubber duckie, but no cuter than quite a few of the members of my Flock. It's particularly well-detailed, with distinct feathers on the wingtips and tail, but that's actually becoming more and more the norm amongst full-sized duckies these days. That it floats, and floats well, is a nice feature but again, not one that's particularly different (though sadly, quite a few rubber duckies these days float poorly or not at all).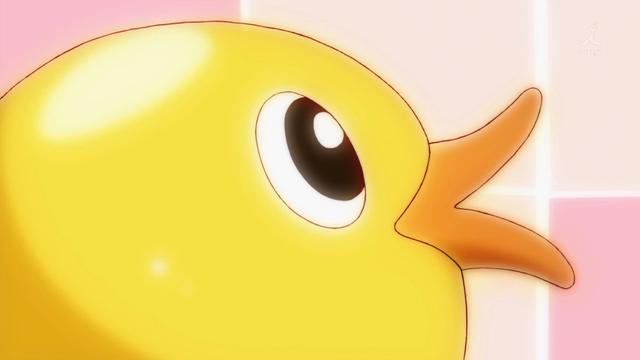 There are some aspects of HidaDuck that are uncommon, however. The eyes are quite large, bigger than those of most of the ducks in my collection. The opened bill isn't as common as one might think, particularly when you realize that the two halves are long and unsupported (almost all of my duckies with an open bill have much shorter halves at a shallower angle, and a "tongue" in-between). That's a good look for a duckie.
But all of that is nothing more than an attempt to quantify something unquantifiable, namely the appeal of Yuno's Duckie. Perhaps it's the fact that SHAFT has put so much care into making it consistent from episode to episode (though there was one time that they failed miserably). It seems pretty clear to me that they must be drawing from a real,
physical
, rubber duckie as a model. Maybe it's that Yuno obviously gets a lot of enjoyment from HidaDuck; she certainly talks to it as if it's listening, after all. Maybe it's because it's far and away the most visible rubber duckie in anime, and perhaps on all of television, Ernie's not withstanding.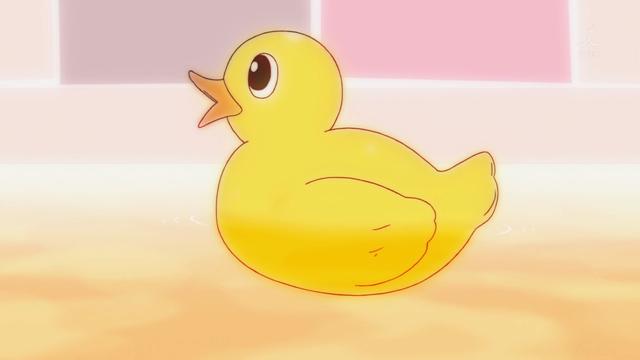 Or perhaps it's just that HidaDuck is a cute duckie. Really, what more reason does one need? A cute duckie is enough on it's own.
I'll admit that I tried to e-mail SHAFT to inquire about the availability of a HidaDuck, but I can't find an address on their webpage to do so. I refuse to give up, though.
Posted by: Wonderduck at 10:52 PM | Comments (4) | Add Comment
Post contains 545 words, total size 4 kb.
November 03, 2010
Because I Can
Not including the weekend's coverage of the Grand Prix of Brazil, I've got two separate posts in the pipeline. The first is in response to
the question posed by Vaucaunson's Duck
, namely why do I like the HidaDuck so much? The other is a good look at my five all-time favorite anime series, inspired by the neophyte fan that
I mentioned a few weeks back
.
But I find that I can't be arsed right now.
About much of anything, truth be told. Working on it.
Posted by: Wonderduck at 09:55 PM | No Comments | Add Comment
Post contains 88 words, total size 1 kb.
November 01, 2010
F1 on SPEED!: Brazil 2010
From the new track at Korea, we find ourselves hurled over 11000 miles to Saõ Paulo, Brazil, home of the Brazilian Grand Prix... and let's get it out of the way now: that's a lot of Grand Prix.
Let's get something else out of the way: I do
not
like this track. Let's look at the map...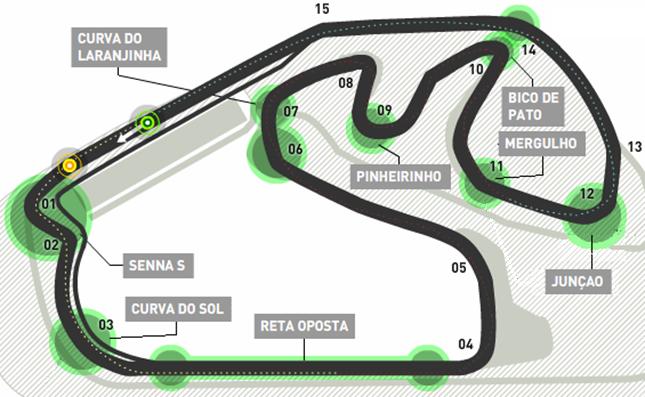 I admit that my dislike of the Autodromo Jose Carlos Pace rather sets me apart from many fans and most of the drivers, but I have never been fond of the site of the Grand Prix of Brazil. Indeed, now that the French Grand Prix has gone by the wayside (and good riddance to bad rubbish), only the nightmare of boredom that is Hungary is higher on my antipathy list.
Which is strange, because the Brazilian Grand Prix has coughed up some stunning races in recent years. Consider 2007, when Lewis Hamilton lost the Driver's Championship to Kimi Raikkonen by throwing his car off-track trying to make a pass he didn't need. Or perhaps 2008, when Hamilton redeemed himself on the last turn of the last lap, passing Timo Glockenspiel's Toyota to win the Driver's Championship by one point over hometown favorite Felipe Massa, who had won the race. Or even 2009, which had the longest quals session in F1 history due to torrential rains (and coincidentally saw the arrival of
Racey the Owl
) and the dual championships for rookie team BrawnGP and Jenson Button, with Massa, recovering from his horrible accident, waving the checkered flag.
Despite all this, I despise this circuit. More commonly known by the name
Interlagos
, meaning "Between The Lakes" in Portugese, the course is built, well, between two man-made lakes that provide water to the sprawling metropolis that is Saõ Paulo. These lakes have caused the circuit to wrinkle over the years, to the point where even after a resurfacing in 2007, it was easily the bumpiest track in F1. I don't like that. The pit-in is positioned so that the racing line through Turn 15 goes through it, and it always looks like cars are going to smash head-on into the pit wall at 160mph. I don't like that. I don't like the pit lane itself, the longest in F1. But most of all, I don't like the whole
atmosphere
of Interlagos. Even on the sunniest days it feels dull and gray. Watching the race often feels like a chore because of this. The whole layout seems uninspired to my eyes as well.
As mentioned before though, most of the drivers love Interlagos. The elevation change (down, from Turn 2 to the exit of Turn 3, then up, from around Turn 13 to the slightly banked Turn 15) gives them a sense of going somewhere, the fast parts are fast without being dangerously so, and the twisty bits are challenging without being ridiculous. So they say. I just hate it all. It's a visceral, emotional hate, with no logic behind it. I admit it, and can't help it.
That all being said, it's looking like Brazil is going to serve up another whopper of a race this Sunday. HWMNBN could in theory wrap up the Driver's Championship. Red Bull could lock down the Constructor's Championship. Or everything could go the way of Korea and we'll have a scenario where we'll have four or five drivers all within range of the Championship going into Abu Dhabi. No matter how you look at it, or how much you like (or dislike) the track, the GP of Brazil will almost certainly be the most important race of the year.
And SPEED will be there! Live coverage of Friday's Second Practice goes from 11am to 1240pm. Quals, on the other hand, are Saturday from 11am to 1230pm.
The Grand Prix of Brazil will come to us LIVE on Sunday, with coverage beginning at 830am, and the checkered flag dropping somewhere around 11am. As usual, all times are Pond Central, and don't forget that you need to set your clocks back an hour when (if?) you go to bed on Saturday night as the US reverts to Standard Time.
Also as usual, the F1U! crew will be all over the race like
an odd-toed ungulate on a blade of grass. See you then!
Posted by: Wonderduck at 09:03 PM | Comments (1) | Add Comment
Post contains 716 words, total size 5 kb.
73kb generated in CPU 0.08, elapsed 0.1631 seconds.
57 queries taking 0.1104 seconds, 298 records returned.
Powered by Minx 1.1.6c-pink.