August 10, 2008
Ducks In Anime: Apply Directly To The Forehead
-
Hidamari x365
, ep03
If there was a Hall of Fame for anime with ducks in them,
Hidamari Sketch
would be Babe Ruth. Practically every episode has this duckie in it at one point or another!
Which, if you stop and think about it, is about as good a recommendation for a show as any other. Most shows would be improved by the addition of rubber duckies to the lineup of characters. Shinji wouldn't be so friggin' angsty if he had one in
Evangelion
, for example. No more sad girls in snow in
Kanon
if Ayu had a rubber duckie or two. Everything that happens in
Elfen Lied
would have been avoided if the agency had though about giving the diclonuses (diclonii?) rubber duckies!
Dokuro-chan
would have been watchable with rubber duckies!
Okay, maybe not that last one.
Posted by: Wonderduck at 10:45 PM | Comments (2) | Add Comment
Post contains 145 words, total size 1 kb.
August 09, 2008
Tech Help Requested
Okay, here's the problem. Chiyo-chan keeps popping the DVD drive open, and/or attempting to read the DVD in the drive, seemingly at random. Even when there's NO disc in the drive, it tries to access it.
This makes trying to play games pointless, as it only takes a few minutes for the DVD to either eject or access at the wrong time, resulting in a program crash.
If I don't use the drive for a period of time (week to 10 days), the problem goes away. Of course, if I try to play a CD, or burn something, that starts everything up again.
As I've typed this, I've done the "close drive, watch it open on its own" routine five or six times.
Anybody have this happen to them? Anybody heard of this before?
Posted by: Wonderduck at 08:39 PM | Comments (10) | Add Comment
Post contains 137 words, total size 1 kb.
August 08, 2008
Random Anime Picture #24: Sanya
-
Strike Witches
, ep06
NOT... A... TRAP!
I told ya. But did anybody listen to me? Nooooooo...
Posted by: Wonderduck at 10:46 PM | Comments (1) | Add Comment
Post contains 21 words, total size 1 kb.
August 07, 2008
F1 UPDATE!'s Mid-Season Awards: 2008!
We find ourselves in the middle of the F1 Circus' Summer Vacation, and there's nothing going on to write about. So we've gotten together, argued over everything, and finally came to a consensus on a bunch of categories, both serious and... um... not so serious. Let's get right to F1 UPDATE!'s inaugural edition of our Mid-Season Awards!
*MOVE OF THE SEASON SO FAR
: Grizzly Nick Heidfeld, Britain. Twice in seven laps, on a very wet track, Heidfeld passed two cars in one turn. First it was Glock (to the outside) and HWMNBN (to the inside), then later it was Koveleinninninnie and Raikkonen. He went from sixth to second in these two passes, in nigh impossible conditions. Bravo, Grizzly!
*MOOOOOO-OOOVE OF THE SEASON TO DATE
: Lewis Hamilton, Canada.
IN THE FREAKIN' PITLANE!!!



more...
Posted by: Wonderduck at 09:58 PM | Comments (3) | Add Comment
Post contains 651 words, total size 5 kb.
August 05, 2008
Still Weatherblogging
Continuing with yesterday's impromptu weatherblogging, tonight is much more calm. No thunder, no lightning, no cows being thrown past The Pond's balcony, nothing like that. However, there is one thing that's the same: the humidity.
Hot + humid = a miserable Wonderduck. I've had a rather offensive sinus headache since yesterday afternoon, but today was unbearable. By 2pm I gave up on the day at work and came home, took my fourth and fifth tylenol, ate something, and went to bed hoping that when I woke up, my face wouldn't feel like it was either going to fall off or explode.
An accurate representation of how my head felt.

It's now after 8pm, and I just got out of bed. While I'm still a little rocky, I feel like a new duck, albeit one that's just cracked out of its shell. I don't think that blogging much tonight will help matters any, though, so I'm going to call it a night.
Posted by: Wonderduck at 07:29 PM | No Comments | Add Comment
Post contains 163 words, total size 1 kb.
August 04, 2008
Cross Your Fingers...
There are reports of tornadoes on the ground in the vicinity of the north side of Chicago... more specifically, in the area of Wrigley Field. The Cubs were playing the Houston Astros tonight at Wrigley, with a full house of around 41000 people in attendance.
The storms in question came through the Duckford area, and here at The Pond, it was actually quite terrifying. Nearly constant air-to-ground lightning strikes, and reportedly, the storm actually got stronger as it moved away to the east... towards Chicago. The weather folks say there's about 30000 people without power in Duckford, trees down, yadda, you know the drill. You can see the bow shape in the picture above, meaning that there's strong winds in there.
As I said, it was terrifying enough here at Pond Central... I can't imagine what it'd be like outside at Wrigley. Let's hope everything's okay... as I typed that, the weather folks say there's reports of heavy cloud rotation near O'Hare Airport.
All is well here at The Pond, the power never even fluctuated. Momzerduck and Ph.Duck report that they're okay, too.
UPDATE 840pm: A few minutes after I hit 'save' on this post, WGN radio, which has gone to continuous weather coverage, reported
80mph
winds blowing on Michigan Avenue and heavy, heavy rain. Still nothing heard from Wrigley, but considering that WGN (the flagship station of the Cubs radio network), isn't saying anything about it anymore, I'd say that a bullet has been dodged. Holy crap, a weather reporter says that there were
100mph
winds on the south side of Chicago, too.
UPDATE 850pm: "We've never seen anything like this at Wrigley Field before." No tornado, thankfully, but Cory Probst, the play-by-play team's info guy, says that the rain was incredibly heavy, there's standing water on the warning track (and this after an off-season renovation of the field to improve drainage), and there's loads of debris. Nobody's said anything about the game coming back on, and hopefully everybody at Wrigley is okay. The worst of the weather has moved into Indiana and Lake Michigan, reportedly. Neo couldn't have dodged the bullet any closer.
UPDATE 1025pm: The Cubs just retook the field after what must have been a miracle job by the groundscrew. And there are still plenty of fans there, too! The foul lines are pretty much gone, though, and I've
never
seen that before!
Posted by: Wonderduck at 07:31 PM | Comments (3) | Add Comment
Post contains 400 words, total size 3 kb.
August 03, 2008
F1 UPDATE!: Hungary 2008!
Well, that doesn't happen every day!
This
is your F1 UPDATE! for the Hungarian Grand Prix!
*RUNAWAY VICTO... OOPS
: During the Ross Brawn/Slappy Schumacher era, Ferrari was known for many things, but one huge reason for their success was that their cars were practically bulletproof. They practically never broke down, and when they did, it wasn't the engine. In the post-Slappy era, Ferrari hasn't been quite as invunerable, but they've been pretty solid. Today, Felipe Massa had a brilliant start from third on the grid, leaping over both McLarens by the first turn, then ran away from everybody. Lewis Hamilton managed to stay in contact with the Ferrari for a while, but a blown tire put paid to any chance he had of winning, and actually placed him outside the points at the time. With that gift, Massa had the race in the bag. And then...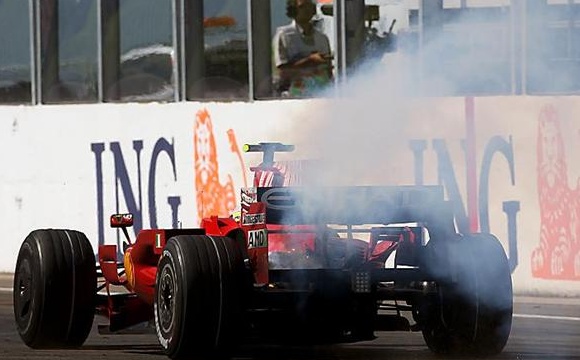 ...Massa's engine went splat. It rolled to a stop just past the start/finish line with three laps to go, leaving a puddle of various fluids under its carcass. Seventeen seconds later, McLaren's Heikki Kovaleinninninnie swept past to take the lead and a few minutes later, his first ever victory. Longtime readers know that the F1 UPDATE! crew have very little love for Ferrari, but even we feel a little bad for the Brazillian.
*SMOKE ON THE WATER, FIRE IN THE... PIT LANE
: Major problems with the refueling rigs at Hungary, as three separate teams (Toro Rosso, Honda and Williams) all had fires during their pit stops. If it was just one team, you could chalk it up to ineptitude. Three means there was something wrong. The supposition is that the rigs had problems dealing with the high ambient air temps today, the thermometer reaching 95F. Fortunately there were no injuries, and indeed no damage other than some lightly scorched paint jobs. You'd best bet, though, that the incidents added another layer of stress to an already tough job.
*DRIVER OF THE RACE
: Two weeks ago in Germany, Toyota's Timo Glock had a nasty accident when his suspension let go, sending him spinning backwards into a wall. He spent a couple of nights in a hospital with back pains as a result. In Hungary, though, he qualified fourth on the grid and drove a practically error-free race to set himself up for his first career podium on the third step. Then Massa's engine went splat, and suddenly Der Glockenspiel found himself with eight standing points and the second step on podium... and a huge grin.
*TEAM OF THE RACE
: McLaren. A win for Heikki, a fifth for Hamilton (and lucky to get it), and Ferrari losing a sure win? Yep, McLaren gets the team of the race for their performance, their third win in a row, and jumping past BMW in the Constructors' Championship. Sometimes luck is as important as skill.
*MOVE OF THE RACE
: Vaucaunson's Duck suggested Massa's pass on Hamilton at the start of the race for the MotR, and considering the paucity of passing today, we were seriously considering it, despite the general prohibition on 'off-the-grid' moves earning the award. Instead, we're giving it to what is, essentially, a non-move. On lap 54, Nelson Piquet Jr went into the pits. Upon exiting, he found Jarno Trulli rocketing down on him. The Renault was at a horrible disadvantage: slow out of the pits, heavy with fuel and on cold tires. The Toyota, on the other hand, was in the exact opposite situation: momentum, grippy tires, and a fuel load that wasn't new. Piquet, not wanting to relinquish the position to the Italian, went on the offensive, forcing Trulli to take an outside line (the long way 'round the turn), then hip-checked the Toyota even farther outside with a tire bump. Trulli slipped back, and Piquet kept the spot... a very nice bit of driving indeed.
*MOOOOOO-OOOVE OF THE RACE
: Usually there's a miserable performance of some sort in a race that points out the mere humanity of the drivers, but today? Not so much. So, instead, we're giving the Moooo-oove to Lewis Hamilton. First he drives too defensively and lets Massa get ahead of him at the start, then his aggressive braking style causes his tire to blow, costing him a win? Yep, that's a Mooo-oove, but a wimpy one. Sorry, Lewis, but we've gotta give it to
someone
.
*DRIVER QUOTES OF THE RACE
:
more...
Posted by: Wonderduck at 09:03 PM | Comments (2) | Add Comment
Post contains 1209 words, total size 8 kb.
Playing The Anime: Clannad (Tomoyo's Route End)
Wow. That was... intense. Usually in this sort of game, the climax comes when you get the girl to kiss you (or something along those lines), but in Tomoyo's route, that comes when you're about a third of the way through.
In the end, it boils down to "Boy meets girl, boy gets girl, boy loses girl, boy regains girl", which is pretty much the Original Trope for all fiction, more or less. Turns out that the protagonist is actually a pretty good joe when all is said and done, and despite the emotional wringer the plot puts him (and us) through, all turns out okay in the end.
Jason over at DbD
has been playing the game as well
, and has a great recap of Tomoyo's route (which I've been avoiding reading for some time). Like him, I want KyoAni to animate this whole thing instead of just the OVA (which I've been avoiding watching for some time)... the 56 Hit Combo would be impressive as all get-out, considering it's done by a bear.
But even this scene isn't the end, as there's a short epilogue which wraps up the loose ends quite nicely. As a piece of fiction (game or no), it's really quite good... and, like Jason, I too lost track of time during the run to the end.
Bravo, Key!
Posted by: Wonderduck at 01:40 AM | No Comments | Add Comment
Post contains 231 words, total size 2 kb.
August 02, 2008
F1 Quals: Hungary!
It's hard to imagine, but it's almost been a year since the last time McLaren had a front-row lockout. Well, no more, as the Glare On Wheels are 1-2, and Ferrari is sweating bullets. Oh, Felipe Massa performed adequately enough, locking down third on the grid, just ahead of BMW's Robert Kubica. Kimi Raikkonen's sixth place performance, however, is completely unacceptable for
that
team on
that
track. Unless there's some sort of miracle (and it's not going to rain), the Kimister is screwed, and his championship chances are fading quickly. I'm
so
broken-hearted.
But the big performance driver of the day has to have been Toyota's Timo Glock. It's not a huge surprise that a Toyota is far up the grid, but it's usually Jarno Trulli's, but not this race. Glock spent the entire day sitting towards the top of the timesheets, and indeed was 2nd quickest in Q2, which makes it the second quickest on the day. Who knew? Of course, he's probably got two laps of fuel on board, but still, it's a great performance for the Glockenspiel.
The provisional grid:
| Pos | Driver | Team | Q1 | Q2 | Q3 |
| --- | --- | --- | --- | --- | --- |
| 1 | Lewis Hamilton | McLaren-Mercedes | 1:19.376 | 1:19.473 | 1:20.899 |
| 2 | Heikki Kovalaininninnie | McLaren-Mercedes | 1:19.945 | 1:19.480 | 1:21.140 |
| 3 | Felipe Massa | Ferrari | 1:19.578 | 1:19.068 | 1:21.191 |
| 4 | Robert Kubica | BMW Sauber | 1:20.053 | 1:19.776 | 1:21.281 |
| 5 | Timo Glock | Toyota | 1:19.980 | 1:19.246 | 1:21.326 |
| 6 | Kimi Räikkönen | Ferrari | 1:20.006 | 1:19.546 | 1:21.516 |
| 7 | HWMNBN | Renault | 1:20.229 | 1:19.816 | 1:21.698 |
| 8 | Mark Webber | Red Bull-Renault | 1:20.073 | 1:20.046 | 1:21.732 |
| 9 | Jarno Trulli | Toyota | 1:19.942 | 1:19.486 | 1:21.767 |
| 10 | Nelson Piquet Jr | Renault | 1:20.583 | 1:20.131 | 1:22.371 |
| 11 | Sebastian Vettel | STR-Ferrari | 1:20.157 | 1:20.144 | |
| 12 | Jenson Button | Honda | 1:20.888 | 1:20.332 | |
| 13 | David Coulthard's Chin | Red Bull-Renault | 1:20.505 | 1:20.502 | |
| 14 | SeaBass | STR-Ferrari | 1:20.640 | 1:20.963 | |
| 15 | Nico Rosberg | Williams-Toyota | 1:20.748 | | |
| 16 | Grizzly Nick Heidfeld | BMW Sauber | 1:21.045 | | |
| 17 | Kazoo Nakajima | Williams-Toyota | 1:21.085 | | |
| 18 | Rubens Barrichello | Honda | 1:21.332 | | |
| 19 | Giancarlo Fisichella | Farce India-Ferrari | 1:21.670 | | |
| 20 | Adrian Sutil | Farce India-Ferrari | 1:22.113 | | |
Two streaks were broken today, however. Unless there's a penalty of some sort, Adrian Sutil will be starting dead last on the field for the first time in his career. Then there's the case of Grizzly Nick Heidfeld. For the first time since... last year?... he didn't make it out of Q1. Kinda makes you wonder why he's lost it when his teammate is fourth, doesn't it?
I really want this to be a good race. I also really want a million dollars. I have a feeling neither is going to occur in the near future. Still, F1 UPDATE! will be here tomorrow, as usual. However, it will be later than normal: Vaucaunson's Duck will be coming by to watch the race, but it won't be until mid-afternoon, Pond time, and then we'll probably have dinner afterwards. So, we'll be late but we'll be here... you be too.
Or... something like that, at least.
Posted by: Wonderduck at 09:18 AM | Comments (7) | Add Comment
Post contains 475 words, total size 10 kb.
August 01, 2008
F1 Practice: Hungary!
As is usual with practice, it was dull, boring, and really uninteresting. In fact, it was so bad that I didn't watch all of it. Hamilton was the fastest in P2, which means nothing, just like Ferrari being fastest in P1 means nothing.
Ferrari brought out their version of the long dorsal fin, which would be interesting if anybody really knew what it did. In F1, if someone does it, sooner or later everybody does it, and this year, it's the long fin.
Now, if you ask the teams, they'd probably say something like "it smooths the airflow over the rear wing." Uh-huh. Sure. I'd believe that on the RedBull cars, since the fin almost goes all the way back to the wing, but Ferrari's? It's got a huge cutout in it, much larger than the others.
In other bodywork news, in P2 McLaren took a cue from Honda, and debuted...
...handlebars on the nose.
That's just embarrassing. It's obviously done SO well for Honda, but I guess the team decided they need more downforce for Hungary. To be fair, everybody needs more downforce here, but c'mon. If there's any justice, they'll not run it during quals or the race.
See you Saturday for Quals!
Posted by: Wonderduck at 10:07 PM | Comments (2) | Add Comment
Post contains 208 words, total size 1 kb.
68kb generated in CPU 0.0192, elapsed 0.09 seconds.
53 queries taking 0.0764 seconds, 322 records returned.
Powered by Minx 1.1.6c-pink.