July 05, 2008
F1 Quals: Britain 2008
There's no other way of putting it: this was a
weird
quals session. The winds were howling, and some ominous clouds were racing for the track. Q1 started out dry, then it rained, and then it was bone dry again. Everybody was out on track to get a time in before the rains came, at which point nobody dared venture out. The second the rains stopped, though, we saw a few cars head back out, and we saw that the water was completely gone.
Q2 was normal (or as normal as knockout qualifying can be), except for one thing: the Ferraris were both down towards the bottom of the list of advancers.
Then all hell broke loose. Massa had the slowest time in Q3 of anybody who took to the track, perhaps due to his shunt in Practice 2. Robert Kubica never turned a lap, having suffered some mysterious problem with the back of the car. Lewis Hamilton went offroading in sector 3. Even Kimi Raikkonen's Ferrari looked like it was dragging a boat anchor around Silverstone. Then Mark Webber (MARK WEBBER?!?!?) in the Red Bull, who must have four ounces of fuel on board, leaped to pole... and held onto it for the last minute or so, which is an eternity in Q3.
But Heikki Kovaleinninninnie, driving like his hair was on fire, snatched the pole away from Webber... by
over a half-second
! Even the McLaren pit wall was amazed, getting on the radio and saying "you've got the pole by a mile... or a half second, in real terms." While it wasn't the Glare With Wheels the British fans wanted to see at the front of the grid, they still went bonkers.
The Provisional Grid:
Pos
Driver
Team
Q1
Q2
Q3
1
Heikki Kovalaininnie

McLaren-Mercedes

1:19.957

1:19.597

1:21.049
2
Mark Webber
Red Bull-Renault
1:20.982
1:19.710
1:21.554
3
Kimi Räikkönen
Ferrari
1:20.370
1:19.971
1:21.706
4
Lewis Hamilton
McLaren-Mercedes
1:20.288
1:19.537
1:21.835
5
Grizzly Nick Heidfeld
BMW Sauber
1:21.022
1:19.802
1:21.873
6
HWMNBN
Renault
1:20.998
1:19.992
1:22.029
7
Nelson Piquet Jr.

Renault
1:20.818
1:20.115
1:22.491
8
Sebastian Vettel
STR-Ferrari
1:20.318
1:20.109
1:23.251
9
Felipe Massa
Ferrari
1:20.676
1:20.086
1:23.305
10
Robert Kubica
BMW Sauber
1:20.444
1:19.788
no time
11
David Coulthard's Chin

Red Bull-Renault
1:21.224
1:20.174


12
Timo Glock
Toyota
1:20.893
1:20.274


13
SeaBass
STR-Ferrari
1:20.584
1:20.531


14
Jarno Trulli
Toyota
1:21.145
1:20.601


15
Kazuki Nakajima
Williams-Toyota
1:21.407
1:21.112


16
Rubens Barrichello
Honda
1:21.512




17
Jenson Button
Honda
1:21.631




18
Nico Rosberg
Williams-Toyota
1:21.668




19
Adrian Sutil
Force India-Ferrari
1:21.786




20
Giancarlo Fisichella
Force India-Ferrari
1:21.885


This was Kovalaininninninnie's first pole, and Red Bull's first front-row start ever. It's also the first time that Kubica has been outqualified by his teammate, Grizzly Nick Heidfeld, all season.
Y'know, if you had told me that the front row would be Heikki and Webbo, I would have laughed at you... and you would have agreed, simply because
nobody
would think that a Red Bull would be up that high unless something really weird happened.
And it did.
As if all of that wasn't enough to make this an interesting race, the forecast for the race is for rain... which might be why Massa is so far down the grid. Since the instant the light turns green for Q1 the cars are in
parc ferme
conditions (meaning that the mechanics can't perform any adjustments other than tires to the cars), could Ferrari have set Massa's car up for wet conditions? If so, they very nearly blew it, almost not making it out of Q2. Of course, if it DOES rain, he'll be in the catbird seat.
Well. We shall see, won't we?
Posted by: Wonderduck at 01:23 PM | Comments (1) | Add Comment
Post contains 610 words, total size 12 kb.
July 04, 2008
F1 Practice: Silverstone!
For once, a relatively interesting practice session this morning... if for all the wrong reasons.
The most important thing to come out was the dreadful news that, beginning in 2010, the British Grand Prix will no longer be held at Silverstone. Instead, it'll be held at
Donington Park
, a track which will need some serious renovation to be ready for F1. Indeed, the Legendary Announce Team were frankly skeptical that it could be done in time for the race. They also said that $100 million was earmarked for the renovations... which might be enough to bring the track up to the current level of Silverstone.
Darth Ecclestone has won.
Coming close on the heels of that bombshell came the announcement that David Coulthard's Chin will be hanging up it's helmet at the end of the season.
While this doesn't come as a surprise, it's still not something the F1 UPDATE! crew is jumping up and down about. In fact, to use a term we learned from The Chin, we think it's bloody
Pants
. Well, we still have half-a-season to enjoy his cantankerous old grump act... get off his damn lawn, you whippersnappers.
Now, in ON-TRACK news from Practice 2, there were quite a few incidents that may have bearing on the race. Foremost amongst them was Felipe Massa just destroying his Ferrari in P1. He drove through an oil slick left by HWMNBN at high speed and just punished the tirewall. Damage was so severe that Ferrari wrote off the car immediately and began to build up another from the spare chassis. Much to my surprise (as well as that of the Legendary Announce Team), Massa managed to get back out on track in P2 in the new car, just a few hours after the accident. Say what you want about the team (heaven knows I surely have!), their mechanics really know their stuff. Unsurprisingly, the new car was not handling well, but the team has plenty of time before Quals to get the setup right.
More scary, Jarno Trulli's Toyota crashed in the same place that Massa wrecked, but for a much different reason: his rear wing fell off.
Yes, you read that right: his rear wing fell off. At one of the fastest parts of the circuit. One minute, the car is fine. The next? "Hmmm... the handling's gone bad." In an interview with Smarmy Windsor afterwards, Trulli said that the whole rear of the car was wrecked, but the engine should be fine. We'll see, but that's not what they should be concerned about... they should be concerned about WHY the wing fell off.
Finally, we discovered that Montreal is not the only F1 track with a 'wildlife' difficulty level, courtesy of Sebastian Vettel:
"I knew I should have taken that left turn at Albuquerque..."
Bugs up there set a better lap time than either Honda.

Quals tomorrow.

Posted by: Wonderduck at 09:43 AM | Comments (8) | Add Comment
Post contains 484 words, total size 3 kb.
July 03, 2008
Random (not) Anime Picture #22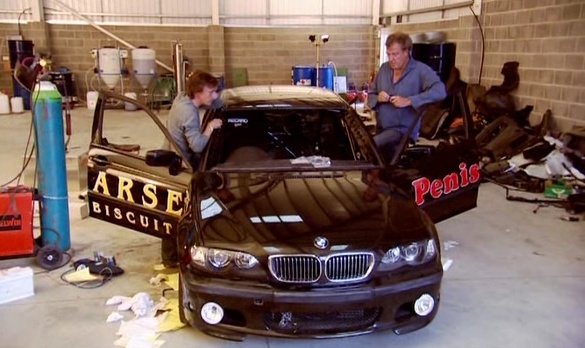 -
Top Gear
, season 10 episode 09
In honor of the British Grand Prix running this weekend, on Silverstone's 60th year of operation, I decided to use a shot from the
Top Gear
episode where the lads and The Stig participate in the Britcar 24 Hour race at Silverstone.
Yes, those are sponsor logos: Pearse Biscuits and Peniston Oil. Or maybe it's referring to Hamster and Clarkston.
I've become a fan of
Top Gear
. A big fan. If only it was shown here in the States, on a station I can get (i.e., no BBC America)...
Posted by: Wonderduck at 08:41 PM | Comments (2) | Add Comment
Post contains 100 words, total size 1 kb.
July 01, 2008
Random Anime Picture #21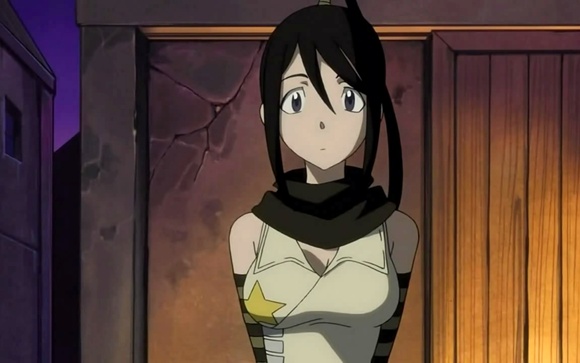 -Soul Eater
, I don't remember which episode
Funny, Tsubaki sure doesn't look like she's a living weapon. The full-sized version of this pic is my current wallpaper, actually.
(this post is by request of
Brickmuppet
, who whined that he missed the Random Anime Pictures while I was on hiatus... here ya go, Mr. Muppet!)
Posted by: Wonderduck at 10:38 PM | No Comments | Add Comment
Post contains 58 words, total size 1 kb.
44kb generated in CPU 0.05, elapsed 0.1772 seconds.
48 queries taking 0.1429 seconds, 268 records returned.
Powered by Minx 1.1.6c-pink.