June 02, 2008
F1 On TV: Montreal 2008!
This week, the F1 Traveling Circus makes its lone stop in North America for the Grand Prix of Canada. The Circuit Gilles Villeneuve has gotten an off-season facelift in the wake of last season's
nightmare crash of Robert Kubica
, with a modification of the walls that contributed to the accident. The towering launch-ramps they called 'curbs' have gone as well, replaced by something more humane.
Houston, we have liftoff...

This is a good thing.
The track is known as the roughest on the calendar on brakes. A long, relatively narrow circuit, it has some very long runs at high speed, followed by heavy braking, rinse, repeat.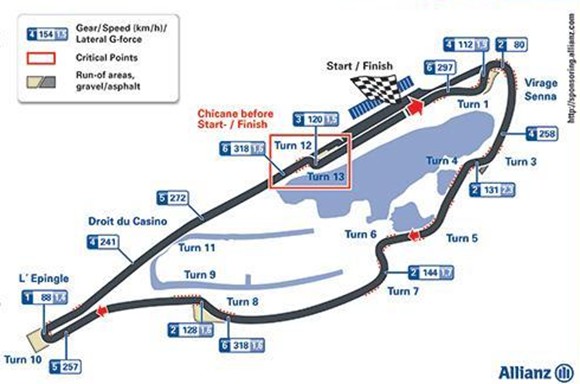 Track-map brought to you by

Allianz

: "We do things with other people's money."
For the record, Kubica's accident took place roughly around the location of the red arrown between turns 9 and 10, more or less.
Turn 13, the second half of the chicane leading to the start-finish line, is also the location of The Wall of Champions, so-called because of all of the drivers that have gotten the turn wrong and smacked the barrier just beyond it. Of course, with the curbs reduced, maybe that won't happen as much now.
Either way, we'll get to see it all, thanks to our friends at SPEED and FOX. Yes, that's right, we're now in the part of the season where coverage will be broadcast on the big network. Prior to last year, this was when fans across America would be driven to applying ice-picks to their eardrums by the miserable announcers (anybody remember
Derek Daly's "crashing" fiasco
?); thankfully, Fox is the parent network of SPEED, and therefore The Legendary Announce Team will be doing the call of the race. The only difference will be that Peter "Smarmy" Windsor won't be doing his usual grid-walk. What a shame.
SPEED, however, starts us off with LIVE coverage of Friday's second practice session from 1p - 230p. Let's see if we have another
near-thing with marmots
throwing themselves at the tires of Toyotas!
Saturday brings us plausably live coverage of the Qualifying Session from 12n - 130p on SPEED. The track seems custom-made for a Ferrari pole (of course, these days all tracks seem custom-made for a Ferrari pole), but McLaren does seem to be showing signs of life again, so who knows?
Sunday, though, coverage moves to FOX with the Grand Prix of Canada itself, from 12n - 2pm. SPEED will bring us a replay, complete with pre-race coverage (and Smarmy's gridwalk) on Wednesday, June 11th, from 1130a - 2pm.
So we go from the narrow confines of Monaco to the high-speed racing of Montreal... might be fun!
Posted by: Wonderduck at 10:01 PM | Comments (6) | Add Comment
Post contains 446 words, total size 3 kb.
June 01, 2008
Ducks In Anime: A Good Start...
Very mildly
-
Kanokon
, ep08
In an analysis of this scene, there are 11 ducks visible (though not in this picture, since some are blocked by Wolfie). Multiply that by 21, and you're close to the number of rubber duckies in my collection.
Posted by: Wonderduck at 09:03 PM | No Comments | Add Comment
Post contains 49 words, total size 1 kb.
28kb generated in CPU 0.09, elapsed 0.2029 seconds.
46 queries taking 0.167 seconds, 270 records returned.
Powered by Minx 1.1.6c-pink.