May 09, 2008
The Amazing Colossal Ducks In Anime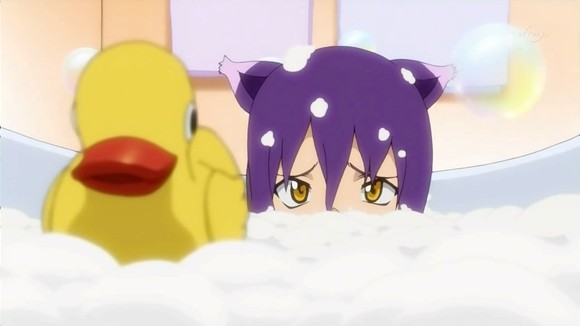 -
Soul Eater
, ep04
I'm honestly torn between
Toshokan Sensou
and
Soul Eater
as to which is the best show of the season. I'd have to say
Soul Eater
, if only because that's the one that I watch immediately as it hits my hard drive, while
Toshokan
can wait a while.
Funny, colorful, neat characters, a definite sense of style... I had no intention of watching the show to begin with, but it hooked me REALLY fast. Expect a writeup soon.
Posted by: Wonderduck at 01:06 AM | Comments (3) | Add Comment
Post contains 86 words, total size 1 kb.
May 06, 2008
Super Aguri Is No More (UPDATED)
It's official:
SuperAguri has withdrawn from this season's World Championship
. More to follow after I get back from work.
UPDATE:
The Pond is hereby declaring that it is no longer openly rooting for any team on the grid. This is a sad state of affairs. When I became a real fan of the sport in 2004, I was drawn to the travails of Zsolt Baumgarter and Minardi. When Minardi was sold to Red Bull and became Toro Rosso, I shifted my allegiance to the newest team on the grid, SuperAguri.
Honda originally created SuperAguri for one reason only: to give Japanese driver Takuma Sato a drive. In 2006, driving a modified 2002 Arrows chassis (one of which came from a display in the Melbourne Airport) to begin with, and a newer body later, the team performed like you would expect a starter team to: badly. Their best finish was 10th in the final race of the year. While Sato started every race, the other seat was passed between three drivers: "Fast" Yuji Ide (who was so bad he had his provisional SuperLicense revoked after the fourth race of the season), Franck "The Barber" Montagny, and Sakon "No Clever Nickname" Yamamoto. Nobody expected what would happen in 2007.
The first shock of the 2007 season came in the opening round, when
Takuma Sato managed to get into Q3, with his new teammate Ant Davidson qualifying 11th
. The next shock was when Sato earned the team's first championship point by
finishing 8th at the Grand Prix of Spain
.
But the greatest moment in team history had to be the
Canadian Grand Prix,
where Sato finished 6th, and but for a botched pitstop could have finished as high as fourth. However, even better than the points was Sato passing both reigning Driver's Champion HWMNBN (earning the "Move of the Race" and drawing crazy cheering from the F1 UPDATE! crew) and eventual 2007 Driver's Champion Kimi Raikonnen for position on track.
That proved to be the highwater mark for the season, as neither driver would finish higher than 11th ever again. Honda began to withhold car updates (at one point, "accidentally" forgetting to send the team the updated nose construction). The team's primary sponsor, SS United Group Oil & Gas Company, defaulted on sponsorship payments, forcing the team to lay off 30 workers. Still, the team showed that it could compete with the big teams, despite having 1/4th the budget and 1/6th the staff of some.
2008 started with financial woes, but things looked hopeful when it was announced that the Magma Group would buy into the team. That hope died when the deal fell through for reasons unspecified. Honda, who already had sunk massive amounts of money into the team with no hope of ever recouping its debt, bailed the team out for the Spanish Grand Prix, but then said no more.
And thus, Super Aguri passed into F1 history, joining such teams as Minardi, Midland, Jordan, Tyrrell, Lotus, and dozens of others. As of this writing, it is unknown what will happen to the team's drivers, though it would not be surprising for them to be picked up as testers by someone.
Goodbye, SuperAguri. You will be missed.
R.I.P. 2006-2008
"Made In Japan"
Posted by: Wonderduck at 07:01 AM | Comments (3) | Add Comment
Post contains 547 words, total size 4 kb.
May 05, 2008
F1 on SPEED: Turkey 2008 (and a SuperAguri update)
The best of the new tracks is on the docket this week, with the third running of the Turkish Grand Prix at the Istanbul Otodrom. Gotta love the four-apex Turn 8! Of course, our friends at SPEED will be bringing us everything live-ish.
To start with, we get LIVE coverage of Practice 2 on
Friday, May 9th from 7am to 830am
. Will Super Aguri be allowed to run (see below)? Will we get another car trying to hit the Quad-8 retaining wall (which is nearly 100 feet from the track)? We'll find out, won't we?
Saturday, May 10th from 6am to 730am
, is (plausibly) LIVE coverage of the Quals session! How will McLaren recover from their disaster in Spain? Will Heikki Kovaleinininninnie be in the driver's seat, or will his concussion open the door for Pete Rose (Pedro de la Rosa) to step in? Will BMW put both cars at or near the front? Or will the Red Cars continue their dominance?
Finally,
Sunday, May 11th from 630am to 9am
, will bring us the Grand Prix of Turkey, LIVE and in living color. Many questions will be answered, many more questions will be raised... that's the beauty of F1! There will be a replay from 1230pm to 3pm as well for those of you without recording devices.
Now, onto the latest news regarding the SuperAguri situation. As you remember, the Little Team That Could was bailed out at the last minute by Honda, so they were allowed to race in Spain. Since then, however, the team has been in talks with The Weigl Group, based in Germany. Honda, however, has doubts that they can adequately fund a F1 team, so has been reluctant to allow the sale to go through.
The result of this is that, first, the SuperAguri "mobile home" and team trailers had to DRIVE to Turkey, instead of taking a ship. F1 teams have been VERY leery of driving to Istanbul for fear of hijacking (a very real fear, reportedly). Fortunately, the various semis and other support vehicles made it without a snag... only to discover a horrible problem when they reached the track:
They weren't allowed into the paddock.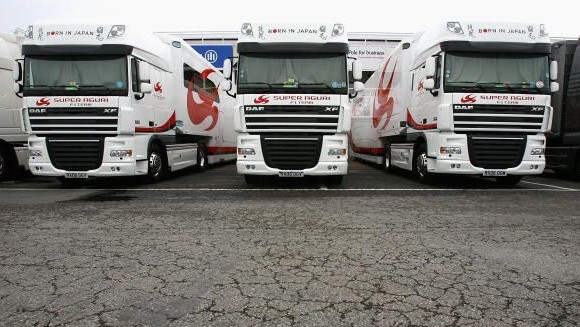 It seems that Nick Fry, Honda Racing CEO, called FOM (Formula One Management, the group that actually runs the events for the FIA) and said, in effect, that SuperAguri won't be racing because they don't have engines, and don't let them in. This is actually a face-saving move for Honda; if the team's vehicles don't enter the paddock, there won't be a scene if/when they have to LEAVE.
And so the team vehicles sit outside the track, waiting for permission to enter which may never come. Talks are ongoing with Weigl, and there should be some results to report on Tuesday... one way or the other. Part of me wants to think that Honda is stabbing SuperAguri in the back for embarrassing the factory team so badly last year; another, more logical, part of me knows that SA owes Honda a bunch of money already, and why throw more at them? The real answer probably is somewhere in the middle of the two extremes.
Personally, I think we've seen the last of the "Super Best Friends", as Legendary Announce Team member Steve Matchett insists on calling them. No more SuperSato, no more Ant, no more Montreal Marmot Massacres, no more banzai charges and kamikazi dives into the RedBulls...
...dammit.
Posted by: Wonderduck at 10:36 PM | Comments (1) | Add Comment
Post contains 581 words, total size 4 kb.
May 04, 2008
Reload of Evangelion 1.01: You Are (not) Alone.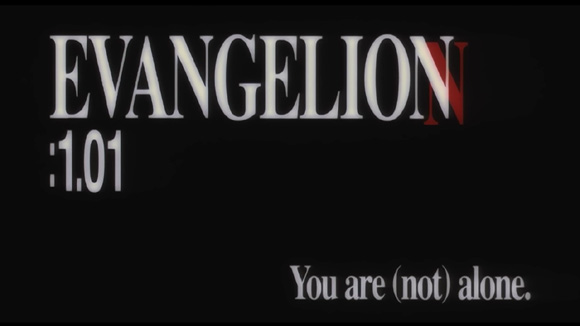 As anybody who's been an anime fan for more than a few hours knows,
Neon Genesis Evangelion
is pretty much considered one of those "required viewing" shows, along with such titles as
Akira
and
Ghost In The Shell
.
As well, anybody who's been an anime fan for more than a few weeks knows that Gainax, the production company that did
Evangelion
lo these many years ago, has been milking the show for all the money it's worth. To date, there's been the original anime and manga series, three movies, four artbooks, three new manga series, 17 CDs, 22 video games, an uncountable number of figurines, and four pachinko machines. A catalogue of only officially licensed merchandise in 1997 ran to 144 pages.
Well, Gainax has come back to the cow once more, with four "
Reload of Evangelion
" movies, the first three of which are a reimaging of the original anime, and the fourth to be an all-new ending (hopefully more understandable than the two endings currently extant). The first movie of the lot, "
Evangelion 1.01: You are (not) alone.
" came down the fansub pike a week or so ago. What does this movie have that everything in the past 13 years doesn't?
Honestly? Nothing. It is nearly a shot-for-shot remake of the original six episodes (though with some filler taken out; the 24 minutes of episode 05, where Shinji goes for a walk/runs away from NERV, are condensed to about five minutes here).
In fact, I was only able to identify two shots that were new... and one of them was a three second look at a high school shoe rack.
Okay, so the movie really IS a reimaging of the original. Was it worth it? Click "more" to find out.
WARNING: the extended entry has 25 screencaps, and is emphatically NOT safe for dialup.
more...
Posted by: Wonderduck at 05:35 PM | No Comments | Add Comment
Post contains 1248 words, total size 10 kb.
May 02, 2008
Not So Much, Instapundit...
Glenn Reynolds, the Instapundit his own bad self, had a
F1-related post today
:
DANICA PATRICK going Formula One?
Now, while I appreciate any attention paid to F1 by someone here in the US, the Good Perfesser is in
my
territory here, so lets look at what this really means.
What Danica is being considered for is a test. Generally this means plunking someone into a F1 car (maybe not even the current chassis) and letting them run a couple dozen laps or so, to see what happens. In many ways, a test session is F1's version of being invited to Spring Training. You might not be expected to "go north" with the Big Team, but sometimes good things happen. In the usual best case, the team would give the driver an extended look... probably as the team's Test Driver.
With Honda, that's a pretty decent gig, as Rubens Barrichello is approaching the end of his career, though he probably has another year or two of decent driving in him yet. The current test driver for Honda, Alex (Man-Mountain) Wurz, is a top-flight racer in his own right, highly praised for his technical knowledge and his ability to describe a car to the team's engineers. Of course, he has five seasons of actual F1 racing under his belt as well (last year with Williams, earlier with Benneton and McLaren). This makes him, at least as valuable to Honda F1 as their two race drivers, Barrichello and Jenson Button.
Button is Danica Patrick's "in" with the team, by the way. The two drove together in the British Formula Ford series, and were, at the time, friendly, though Button made some... unpleasant... comments regarding women drivers in 2005.
If Danica does well enough in test run with Honda F1, it's certainly possible that she could be signed as an actual race driver. Sebastien ("SeaBass") Bourdais tested with Toro Rosso in the off-season, and now is the team's (nominal) second driver, along with Sebastian Vettel, so it's hardly unheard of. Of course, SeaBass had a LOT more success in US open-wheel racing than Patrick, so that worked in his favor, too.
There is some question as to whether she's physically strong enough to drive a F1 car. It's common for a F1 driver to experience 5
g
s under braking, and 4
g
s or more in the corners. The problem is that, truthfully, nobody knows if a woman can handle a F1 car because its never been done before. I suspect she can, but it is a valid point.
So, Danica "going F1" really means that she might have the opportunity to turn a few serious laps in a F1 car. After that, it's anybody's guess, though currently there's no real opening at Honda.
Personally, I would love to see Danica get a F1 drive. The attention it'd garner here in the US would be great for the sport, and it'd have to stick in Bernie Ecclestone (F1 supremo)'s craw after HIS deplorable comments regarding women drivers.
And there's no way that'd be bad.
Posted by: Wonderduck at 11:48 PM | Comments (2) | Add Comment
Post contains 511 words, total size 3 kb.
41kb generated in CPU 0.06, elapsed 0.2478 seconds.
49 queries taking 0.1879 seconds, 271 records returned.
Powered by Minx 1.1.6c-pink.