September 04, 2011
(Not Quite A) F1 Update!: Belgium 2011
So, some thoughts and notes about the 2011 Grand Prix of Belgium, from the vantage point of a week later.
*For the first time this season, we actually saw Seb Vettel win a race where he had to fight for it. To be sure, he led for much of the day, but it was never one of his "thirty seconds and a cloud of dust" wins. He had tire troubles, probably because he was set up for a wet race and had excessive camber on the fronts.
(JARGON ALERT:
Camber
is when a tire is tilted in or out when you look at it from head-on. Streetcars generally have no camber whatsoever. F1 cars usually have some
positive

negative camber
, where the tops are tilted in just a tad. This helps get heat into the inside edge of the tires in exchange for lowering the amount of tire making contact with the road.
Negative

Positive camber
is just be weird and would probably result in a serious accident within one turn. Apparently it makes turning effort easier, so if there wasn't power steering it might be useful. Or something.)
For whatever reason, Vettel suffered from severe blistering of his front tires, something that practically never happens. You'll see it on the rears, sure, but it's strange to see it on the fronts... and quickly, too. The problem actually started during his pole lap in Quals and Red Bull petitioned the FIA's tech director, Charlie Whiting, to allow him to start on a fresh set of soft tires. Whiting, quite correctly, told Red Bull to get lost. You start on what you qualified on, unless it's completely unsafe... and if it's unsafe, why is it the RB7 is having problems and nobody else is, hmmm? Vettel actually had to pit for a new set of tires on Lap 6 (of 44). He wound up being out of pit sequence of everybody else, which has its good points and bad. Good, obviously, is that you're on fresh tires when everybody else is running on old rubber. The bad is that when everybody else pits, suddenly
you're
the one on old rubber. The Safety Car brought out by Hamilton's wreck solved that, and Vettel pretty much led from there... but not in the usual dominating fashion.
*Vettel's teammate Mark Webber really needs to learn how to keep revs in his engine when the lights go out. He really upped his game this time around, abandoning his usual patented Lousy Start
©
s for a variation: the Hideously Awful Start
®
. He sat third on the grid, but was somewhere around 15th by the time the thundering herd reached La Source. It looked like he was a tiny fish being engulfed by a horde of much larger, faster fish. Only some of the dumbest driving I've ever seen in a first turn prevented him from falling farther back. To call the first turn "total mayhem" would be overstating things a bit, but it wasn't exactly tidy.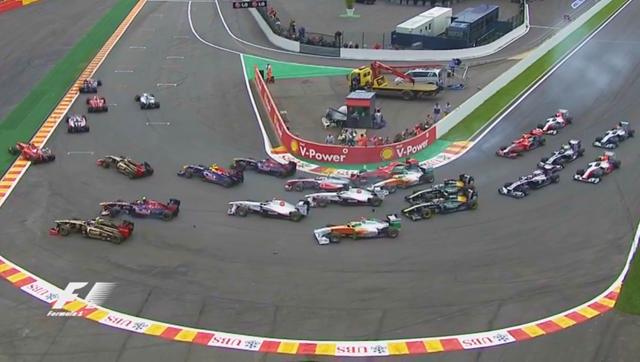 Everybody was bouncing off of everybody else, the Lotuses spun each other, NKOTT went out with self-inflicted damage, and Jenson Button suffered damage to his rear wing when Tim O'Glockenspiel forgot how to use the brake pedal. He ALSO suffered damage when debris from someone else "went through (his) front wing and sliced off (his) right mirror."
*In contrast to Mark Webber, Nico Rosberg had one of the best starts of the year. This is odd, because while the cars were sitting on the grid, his Mercedes looked like it was fogging for mosquitoes, what with all the smoke it was putting out. It's not uncommon to see a little bit of smoke come from a F1 car on the grid, but this was something else... more like a destroyer screening a battleship. Still and all, he jumped from fifth on the grid to second by the end of the first turn, then easily blew past Vettel down the Kemmel Straight. It didn't last long, as he was passed by Vettel for the lead on Lap 3 then was swallowed up by the rest of the heavy hitters shortly thereafter, but it was a glorious moment in a lackluster year for the Mercedes team.
*There would be two contenders for the Driver of the Race. Jenson Button had a miserable Quals and started the race from 13th... and ended up third, behind Vettel and Webber, and given a few more laps he could have made a go at 2nd. The other contender would be Mr 20th Anniversary himself, Slappy Schumacher.
He
started dead last... and ended up fifth. In the end, I'd give it to Button, but more because he had to pass HWMNBN for 3rd place towards the end of the race, no easy task. Schumi had to pass his teammate, who had to conserve fuel, for 5th. Still, great runs for both of them, and if you said that Slappy had a better race, I wouldn't argue.
*The Move of the Race... well, look: in F1, there are many truths. Cars go fast at Monza, slow at Monaco, Hungary is dull unless it rains, so on and so forth. One unspoken truth is that you can't go side-by-side through Eau Rouge. It's too narrow, the compression does odd things to the handling, you stand a great chance of finding yourself in hospital, et cetera, et cetera, et cetera. So when Mark Webber had a go at HWMNBN in Eau Rouge on Lap 9, you could hear sphincters slamming shut all around the world. They got kinda close to each other.
Now to be fair, HWMNBN had just come out of the pits and was on cold tires, so it's not like there wasn't a big speed differential between the two. In fact, if it were anywhere else, it would have been merely a pass, no big deal. But this was
Eau Rouge
.
I can only assume that HWMNBN believes he has something left to live for, and Webber does not. Honorable mention goes to the BBC announce team, for they were
classic
during this pass. David Coulthard's Chin had to be coaxed back to the microphone after, in his words, "having to turn away, I was sure there was to be an almighty coming together." Martin Brundle replied with "Let's watch the replay, maybe from behind a pillow..."
*The Moooooo-ooove of the Race belongs to Lewis Hamilton. He had a serious chance at winning this race, and by not checking his mirrors at the end of the Kemmel Straight, he threw it all away.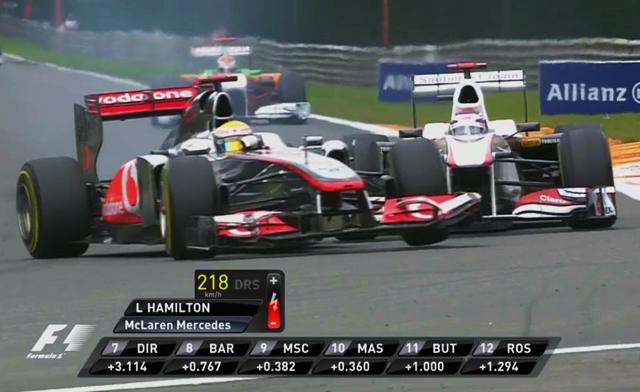 He had dispatched Gandalf Kobayashi just prior to Eau Rouge, but down the straight the Sauber got an almighty tow from the McLaren. That, combined with some serious late braking, put Gandalf on the racing line for the turn while Hamilton was just to the inside, not having retaken the line after the pass. Hamilton, obviously not checking to see if it was safe, began to move over to the racing line and ran into Kobayashi. This sent the McLaren pivoting away into the barriers.
It also sent whatever hopes Hamilton had for catching Vettel in the world championship race into the wastebin.
So, that's it from Spa. We've got Monza next week, the standard F1U! format should be back at that time. See ya then!
Posted by: Wonderduck at 08:54 PM | Comments (5) | Add Comment
Post contains 1228 words, total size 8 kb.
Posted by: Steven Den Beste at September 04, 2011 10:29 PM (+rSRq)
Posted by: Wonderduck at September 04, 2011 11:00 PM (o45Mg)
Posted by: RobertV at September 05, 2011 08:55 AM (gicZ8)
Posted by: RobertV at September 05, 2011 08:57 AM (gicZ8)
Posted by: Wonderduck at September 05, 2011 10:05 AM (o45Mg)
Comments are disabled. Post is locked.
27kb generated in CPU 0.0137, elapsed 0.0993 seconds.
47 queries taking 0.0907 seconds, 205 records returned.
Powered by Minx 1.1.6c-pink.