July 22, 2014
Mini-F1Update!: Germany 2014
Explanations are forthcoming, but for now, please accept this Mini-F1U! for the Grand Prix of Germany.
*THE RACE
: All Nico Rosberg, all the time. He led from lights out to checkered flag, and the closest anybody ever came to challenging him was at the beginning of the race. That challenge, however, was squashed by Turn 1. So, yes, boring race
that
way.
Behind
him, however, things were all a-quiver with excitement. Lewis Hamilton, starting 20th due to an accident in Quals and the resulting gearbox change, hacked and slashed his way through the field to finish third. In the closing laps, he was giving eventual 2nd-place finisher Valterri Bottas the hairy eyeball; only fading tires prevented Hamilton from making a serious attempt to pass. In other positions, Ferrari's HWMNBN and Red Bull's 4Time Vettel had a furious multi-lap duel, easily the most entertaining part of this race. HWMNBN showed why he's probably the best driver on the grid, taking his less than stellar F14T up against a better performing RB10 and came out on top. Alas, Vettel eventually turned the tables late with the help of DRS, but the two of them put on a show of driving skill like we've not seen this season. It turned out that the Spaniard needed every bit of that skill to stay in front of Vettel's teammate at the end of the race. On shot tires, he managed to finish a mere 1/10th of a second ahead of Daniel Ricciardo, and there was no chance he could have held him off for another lap.
*OTHER BITS
: We saw two incidents in this race that, thankfully, we've not seen in a while. First was the Lap 1, Turn 1 wreck caused by Williams' Felipe Massa squeezing McLaren's Kevin Magnusson.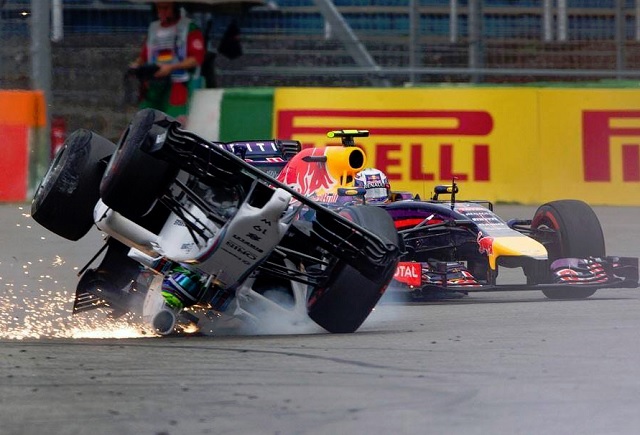 We here at F1U! hate seeing open-cockpit cars upside down. You never know what can happen in those incidents... fortunately, Massa escaped injury. The other incident was Daniil Kyvat's Renault-powered Toro Rosso having some... overheating issues:
The moment the Russian brought the car to a stop, it was almost entirely engulfed in flame and smoke. Scary moment, scary enough that the Formula One cameramen immediately went from a close-up zoom to a very, very wide shot. We can't see a driver roasting to death, after all... and it was quite possible that that could have happened. It didn't, thankfully.
*DRIVER OF THE RACE
: Hamilton. 20th to 3rd, thus limiting the points gain of his championship rival? Good job, that.

*TEAM OF THE RACE
: Williams. Bottas' 2nd place moved them into third place ahead of Ferrari in the Constructor's championship. Who'd'a thunk it?
*MOMENT OF THE RACE
: HWMNBN vs 4Time. Took a less-than-stellar race and made it must-see.
No quotes of the race this week.
This weekend is the Hungarian Grand Prix, our least-favorite race on the calendar. I'm not even going to bother with the track map; here's the TV times:
FRIDAY
Practice 2: 1030a - 12n, tape delay on NBCSN
SATURDAY
Quals: 7a - 830a, live on NBCSN
SUNDAY
Grand Prix of Hungary: 630a - 9a, live on CNBC
We'll be there. You do the same, 'k? K.
Posted by: Wonderduck at 07:12 PM | Comments (3) | Add Comment
Post contains 527 words, total size 4 kb.
1
Yay, Hulk! He was in the points,
again.
Posted by: Steven Den Beste at July 22, 2014 07:23 PM (+rSRq)
2
Coincidentially, I flipped my airplane on its back this Saturday, so I can sympathise with Massa to an extent.
Posted by: Pete Zaitcev at July 22, 2014 09:35 PM (RqRa5)
3
Here's hoping you had less contact with the tarmac than he did!
Take your time, Duck, we'll be here when ya get back.
Posted by: Avatar at July 23, 2014 05:53 AM (ZeBdf)
Comments are disabled.
22kb generated in CPU 0.0169, elapsed 0.1571 seconds.
47 queries taking 0.1496 seconds, 203 records returned.
Powered by Minx 1.1.6c-pink.