November 02, 2015
F1 Update: Mexico 2015
Here's the thing: we here at F1U! don't particularly want to do our usual update. Instead, what we're going to do is something a little more free-form, step aside from our usual bullet point format with generalized info about the race as a whole. We've realized that unless we're going to write 2500 words, there are plenty of better places to get lap-by-lap coverage. We digress, however... THIS is
your
F1 Update! for the 2015 Grand Prix of Mexico!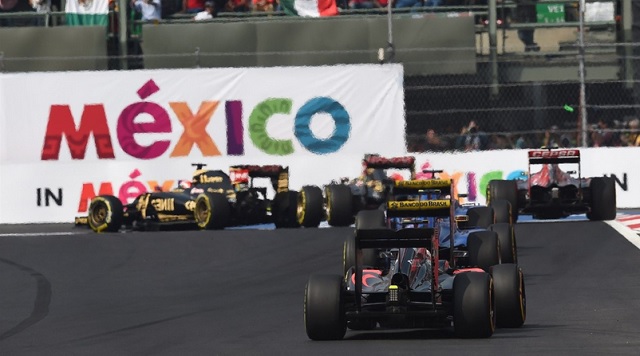 We had another Mercedes 1-2, with Nico Rosberg beating his teammate Lewis Hamilton (who did, of course, win the Driver's Championship at the US Grand Prix) rather handily. Williams' Valterri Bottas took the third step on the podium, followed by the Red Bulls of Kid Kyvat and Daniel Ricciardo. For the first time since 2006 neither Ferrari finished the race, and more about Seb Vettel's day later. However, on the whole the race was something of a disappointment. After Friday and Saturday's sessions, we were expecting to see cars slithering around like "grip" was a four-letter word. Which it is, but not
that
sort of four-letter word. Tails stepping out, slow speed spins, that sort of thing. Instead, we got very little of that. The reason for that is fairly obvious: the sun was out and the track surface was some 30°F warmer than it had been on Friday and Saturday. Warm pavement equals warm tires which means more grip... apparently just enough to keep cars glued to the surface. As a result, the race ended up much like any other, though the high altitude did limit the usefulness of the DRS. We saw very few DRS-related passes down the 1.2km long front straight... when you're already down 20% on drag due to a lack of air in the air, losing a bit more doesn't make that much of a difference.
One thing that didn't disappoint were the 115000 Mexican fans that showed up. From cheering insanely whenever Sergio Perez did anything (and practically having orgasms when he executed a pass at the above turn!) to chanting "Nico Nico Nico Ole Ole Ole!" just before the podium ceremony, they put on a show that was at least as entertaining as the race itself. It's no stretch to say that, at least for one race, the lunatic fans at Monza were given a run for their money. If they're always going to act this way, we here at F1U! don't care if the race is humdrum... the fans were incredible.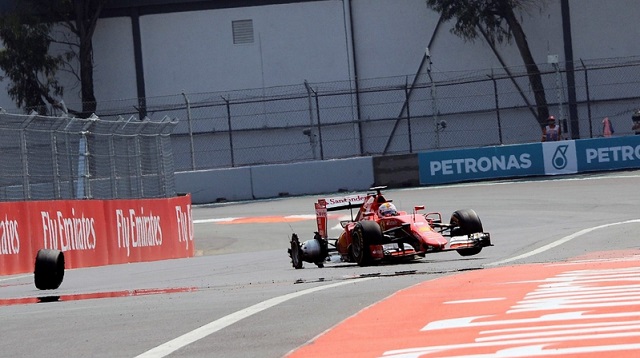 "Incredible" would be a good way to describe Seb Vettel's day. Filled with confidence that his Ferrari would be able to hang with the Mercedes, he had a less-than-stellar getaway from the start, was passed by Kid Kvyat almost instantly, then had a run-in with the
other
Red Bull that resulted in a punctured rear tire. It took only a short distance for the tire to fail completely, forcing him to finish the rest of the lap at a walking pace. Once the tire was replaced, he set his cap to make up for the delay. For a while, all looked fine. Soon enough it became obvious that the three-time Driver's Champion wasn't so much driving his car as he was
over
-driving it. An unforced spin that luckily ended without hitting anything brought frustrated radio calls. A pitstop that saw the Ferrari put onto the medium tires instead of soft brought another hail of radioed complaints. Things got so bad that he was lapped by Rosberg and he impeded Hamilton enough for blue flags to be thrown in his direction. The pit wall had to get involved, telling him to let the Mercedes by... to which he replied "I'm faster than him!" While perhaps true, he was still a lap down. His miserable race came to an end some 20 laps early, embedded in the wall on the outside of Turn 7. He escaped injury, but the Ferrari was toast. So, too, are his hopes for second in the driver's championship as it was his chief rival who won the race.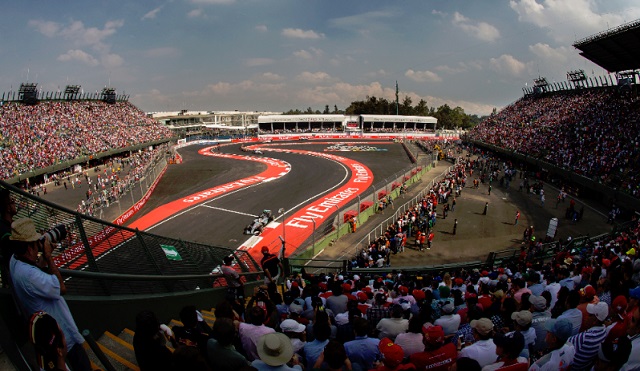 Finally, Lewis Hamilton seemed to be in something of a complaining mood during the race. From disobeying an order to come into the pits for new tires to disagreeing with tire choice, he certainly seemed to be feeling his oats as a new repeat champion. Or perhaps he realized that he wouldn't be able to pass his teammate on track so trying a very long one-stop strategy was his best shot. As it was, the team thought his his tires were being worn to the fabric backing, but that wasn't good enough for Hamilton. "I still think this was the wrong choice," was the call to the pit wall after the tire change in question. Understandably, the pit wall's response was brusque: "We can discuss it later." It's almost like he doesn't trust his team...?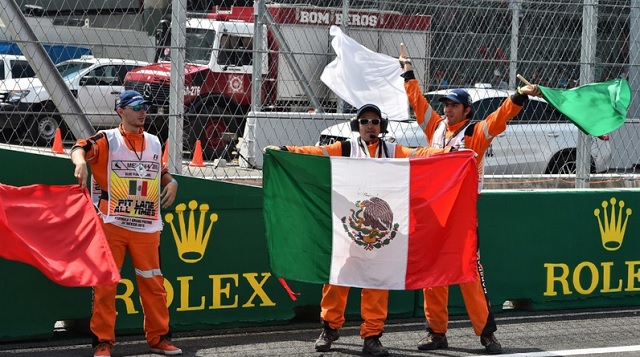 The penultimate race of the season is in two weeks at Brazil. We'll see you then!
Posted by: Wonderduck at 08:09 PM | Comments (1) | Add Comment
Post contains 834 words, total size 5 kb.
1
I liked the stadium. Great design, especially putting the podium there too. Sounds like the fans had a hell of a time.
Posted by: Avatar at November 04, 2015 03:50 AM (v29Tn)
26kb generated in CPU 0.0247, elapsed 0.2853 seconds.
49 queries taking 0.2686 seconds, 203 records returned.
Powered by Minx 1.1.6c-pink.